1957: We were introduced to the Fat Man as Fats Domino released his debut album This Is Fats.
1960: Ferrante & Teicher had one of the fastest-rising songs of the decade as "Theme From 'The Apartment'" moved from #85 to #36.
1960: Chubby Checker performed his smash hit "The Twist" on American Bandstand.
Elvis closed in on #1 with "It's Now or Never"
1960: It did it. Sixteen-year-old Brian Hyland's "Itsy Bitsy Teenie Weenie Yellow Polkadot Bikini" moved to #1 on this date as Brenda Lee took a back seat with "I'm Sorry". Elvis Presley loomed at #3 with "It's Now or Never" while Roy Orbison remained at 4 with "Only the Lonely". The rest of the Top 10: the Hollywood Argyles with "Alley-Oop", the Safaris were stuck at 6 with "Image Of A Girl", the Ventures shot up from 18-7 with "Walk--Don't Run", "Tell Laura I Love Her" from Ray Peterson, Hank Locklin tumbled with "Please Help Me, I'm Falling" and Fats Domino moved into the Top 10 with "Walking to New Orleans".
1963: The Searchers had the #1 U.K. song with "Sweets For My Sweet".
1964: A new group was out. Their name was the Animals and they first charted with "The House of the Rising Sun" on this date.
1964: Bob Dylan released his album Another Side of Bob Dylan.
1964: The Dave Clark Five moved from 60 to 22 with "Because".
1965: The Animals, the Spencer Davis Group, and Long John Baldry helped conclude the three-day National Jazz and Blues Festival in Richmond, Surrey, England.
1966: The Supremes released the single "You Can't Hurry Love".
1966: Los Bravos released the single "Black Is Black".
1969: The Beatles filmed the famous "road-crossing" scene for the cover of their upcoming Abbey Road album. Iain McMillan was the photographer, who took six pictures of the group walking in the crosswalk while balanced on a step-ladder. The band then recorded overdubs of "Oh! Darling", "I Want You (She's So Heavy)" and "The "End" for the album.
1969: This was a great show. Jethro Tull opened for Led Zeppelin at the Swing Auditorium in San Bernadino, California.
1969: But the place to be in 1969 was at the Plumpton Race Track in East Sussex, England, for the ninth annual National Jazz and Blues Festival. Sussex was the fourth location in the event's history, following Richmond, Windsor, and Sunbury. Pink Floyd and Soft Machine were among the acts on opening night.
1970: Black Sabbath, Cat Stevens, Peter Green, the Chicago Climax Blues Band, Fotheringay, and the Strawbs thrilled fans at the 10th annual National Jazz and Blues Festival at the Plumpton Race Track in East Sussex, England. The Festival spread to four days for the first and final time.
1970: Blood, Sweat & Tears 3 moved into the #1 slot on the album chart with CCR's great Cosmo's Factory close behind. The Soundtrack to "Woodstock" was the previous #1, followed by Let It Be from the Beatles and McCartney by Paul McCartney. The rest of the Top 10: ABC from the Jackson 5, Deja Vu by Crosby, Stills, Nash & Young, Self Portrait by Bob Dylan, Chicago II moving into the Top 10 and the Who with Live at Leeds.
1970: The Carpenters owned the #1 Easy Listening song for the fourth week with "Close To You".
Alive & Kicking had one of the great-sounding songs of the summer
1970: The Carpenters were up to three weeks at #1 with "Close To You". Bread's "Make It With You" was hanging around at #2 and Stevie Wonder's "Signed, Sealed, Delivered (I'm Yours)" was third. Eric Burdon & War moved up to #4 with "Spill the Wine" and Freda Payne had song #5--"Band of Gold". The rest of the Top 10: Three Dog Night's former #1 "Mama Told Me (Not To Come)" was #6, Alive & Kicking with "Tighter, Tighter" (above), the Jackson 5 had #8 with "The Love You Save", the Temptations with "Ball of Confusion" and the Five Stairsteps rounded out the list with "O-o-h Child".
1972: The Eagles performed at the Center Coliseum in Seattle, Washington.
1975: Cannonball Adderley ("Mercy, Mercy, Mercy") died of a stroke at the age of 46 in Gary, Indiana.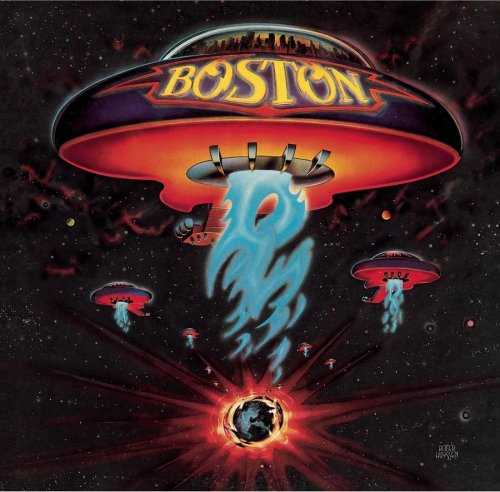 1976: Boston released their epic debut album.
1981: The Pretenders were in concert in Fort Pierce, Florida.
1981: Long Distance Voyager by the Moody Blues was once again the #1 album for the third week. Precious Time by Pat Benatar moved to #2 while Street Songs by Rick James was third. Foreigner moved from 13 to 4 with their album 4. The rest of the Top 10: Mistaken Identity from Kim Carnes, Hard Promises at 6 by Tom Petty & the Heartbreakers, Kenny Rogers remained at 7 with Share Your Love, REO Speedwagon was finally down to #8 after 35 weeks with Hi Infidelity, Styx and Paradise Theater and Air Supply landed at #10 with The One That You Love.
1981: "Jessie's Girl" by Rick Springfield held on to #1 but Diana Ross & Lionel Richie were gaining fast with "Endless Love", which moved from 14 to 2 on this date. Joey Scarbury's "Theme from 'Greatest American Hero' (Believe It or Not)" was at 3 while Kenny Rogers remained at #4 with "I Don't Need You".
1982: Mickey Thompson (Jefferson Starship) married Sara Kendrick.
1986: David Crosby was released from prison after serving his sentence for drug and weapons possession.
1987: "The Pleasure Principle", title song from Janet Jackson's album, topped the R&B chart.
T'Pau had one hit, but it was a great one
1987: U2 climbed to #1 and "I Still Haven't Found What I'm Looking For". George Michael was up to #2 with "I Want Your Sex" and Bob Seger's former #1 "Shakedown was #3. T'Pau's "Heart and Soul" was next followed by Suzanne Vega's "Luka" and Gloria Estefan with "Rhythm Is Gonna' Get You".
1988: If every day was like this, anyone could be a radio station Music Director. Def Leppard released the single "Love Bites" and UB40 released "Red Red Wine".
1992: Axl Rose cut a concert by Guns 'N' Roses short in Montreal, Quebec, Canada, because of a sore throat. Fans weren't too understanding because they rioted.
1992: Snap! topped the U.K. chart with "Rhythm is a Dancer".
1992: Madonna scored her 26th hit, 23rd Top 10 and 10th #1 song with "Used To Be My Playground".
1992: TLC had the #1 R&B song with "Baby-Baby-Baby".
1994: Boyz II Men released the single "I'll Make Love To You".
1998: The Spice Girls hit #1 for the seventh time in the U.K. with "Viva Forever".
2000: Oasis kept getting their concerts cut short by their fans. This time in Portugal, drummer Alan White was hit by a rock.
2000: The head of security for James Brown was arrested in connection with an Augusta, Georgia fire that destroyed Brown's offices.
2005: Marc Cohn was shot in the head after a tour bus was stopped in Denver--he miraculously survived.
2005: In today's "Inmates Run Rap Music" segment, rapper Young Buck and Lloyd Banks were arrested for possessing a handgun and loaded gun.
2006: Travis Barker of Blink-182 filed for divorce from wife Shanna Moakler.
Born This Day:
1927: Andy Warhol, who produced the Velvet Underground; died February 22, 1987 after a gall bladder operation.
1933: Joe Tex (Joseph Arrington, Jr. whose biggest hit was "I Gotcha'" from 1972) was born in Rogers, Texas.
1938: Connie Stevens ("Sixteen Reasons" from 1960) and popular actress, was born in Brooklyn, New York.
1938: Don Jacobucci of the Regents
1942: John "Jay" David, drummer of Dr. Hook & the Medicine Show
1944: Michael Johnson ("Bluer Than Blue" from 1978) was born in Alamosa, Colorado.
1949: Keith Carradine, actor and Oscar winner of best song from the movie Nashville ("I'm Easy) was born in San Mateo, California.
1949: Airrion Love, singer with the Stylistics, was born in Philadelphia, Pennsylvania.
1950: Andy Fairweather-Low, singer and songwriter with Amen Corner, a solo artist, and session guitar with with Elton John, George Harrison Bob Dylan, Ringo Starr, Eric Clapton, Jackson Browne and Ringo Starr, was born in Ystrad Mynach, Hengoed, Wales
.
1952: Anton Fig, who was the drummer for Bob Dylan and Cyndi Lauper, was born in Cape Town, South Africa.
1956: Ali Score, drummer with of A Flock of Seagulls
1957: Dennis Drew, founding member and keyboardist of 10,000 Maniacs was born in Jamestown, New York. (Note: some websites report Drew was born on August 7, but the correct date of birth, according to the newspaper 'The New York Times', is August 8.)
1958: Christopher Foreman, guitarist with Madness
1959: Rikki Rocket, drummer of Poison, was born in Mechanicsburg, Pennsylvania.
1961: The Edge (David Evans), guitarist of U2, was born in County Dublin, Ireland.
1961: Andy Fletcher, co-founder and synthesizer player of Depeche Mode, was born in Nottingham, England.
1961: Paul Jackson, bassist with T'Pau ("Heart and Soul" from 1987), was born in Telford, England.
1963: Joan Osborne ("One of Us") was born in Anchorage, Kentucky.
1967: Lorraine Pearson of 5 Star was born in Brent, London.
1968: Ian Moore, guitarist who has appeared with Bob Dylan, the Rolling Stones and ZZ Top, was born in Berkeley, California.
1970: Beck was born in Los Angeles.
1974: Brian Harvey, former singer with East 17, was born in Walthamstow, London.
1976: Joshua Chasez of *N Sync and producer for the Backstreet Boys, among others, was born in Washington, D.C.
1981: Bradley Mcintosh of S Club 7 was born in London.