Elvis had exploded onto the pop scene and into the national consciousness. He had posted a staggering 17 hit songs in his first year, achieving five #1 songs. Presley remained at the forefront of the rock & roll scene the following year. On January 6, he once again appeared on The Ed Sullivan Show and on this appearance, he indeed was shot only down to the waist. Some people have since speculated that Parker organized this appearance of censorship to generate publicity for his prized singer.
Critic Greil Marcus noted, however,
"Presley did not tie himself down. Leaving behind the bland clothes he had worn on the first two shows, he stepped out in the outlandish costume of a pasha, if not a harem girl. From the make-up over his eyes, the hair falling in his face, the overwhelmingly sexual cast of his mouth, he was playing Rudolph Valentino in The Sheik, with all stops out."

(1)
Elvis closed the show, against Sullivan's wishes, with the black spiritual "Peace in the Valley". Sullivan called Presley "a real decent, fine boy". RCA
released the single "Too Much" on the heels of the Ed Sullivan performance. That too hit #1 and just three months later, Presley released another of the biggest hits of his career--"All Shook Up" which went to #1 for nine weeks. "(Let Me Be Your) Teddy Bear" and "Jailhouse Rock" followed in the Elvis #1 hit parade, both of which reached #1 for seven weeks. "Teddy Bear" was from the movie
Loving You. The title song was written by Jerry Leiber and Mike Stoller, who also wrote four of the songs for Elvis' third movie, Jailhouse Rock. The movie co-starred Judy Tyler, and the title song is yet another Elvis song in The Top 30 Songs of the Rock Era*, a #1 song for seven weeks. The sound
track that also included "Treat Me Nice".
By this time, Elvis was an international star, one so big that even the Soviets could not keep down. The New York Times reported in its story "Presley Records a Craze in Soviet Union" that pressings of Elvis' music on old X-ray plates were commanding high prices in Leningrad.
Eager for his parents to finally live in a comfortable home, Elvis purchased an 18-room mansion eight miles south of downtown Memphis for himself and his parents--Graceland. In July, Loving You became Elvis' third consecutive number one album. Presley went on the road for three short tours during the year, continuing to draw huge crowds and crazy audience reactions.
Leiber and Stoller were present for a recording session that would put together material for a Christmas album. The pair wrote a song while there called "Santa Claus Is Back In Town" and the release would be called Elvis' Christmas Album. It too reached #1 and went on to become the top-selling Christmas album of all-time.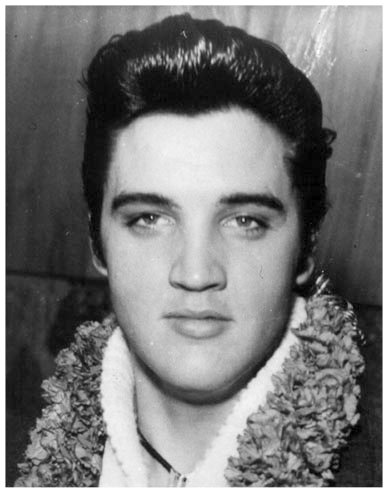 Afterwards, however, both Moore and Black, who were chiefly responsible for the great backing sound that early Elvis records had, resigned. Both had drawn only modest salaries, a pittance of the huge financial empire that Presley was building. The two were brought back on a per diem basis a few weeks later. Presley spent the latter part of the year finishing the movie King Creole. Leiber and Stoller contributed three songs to the soundtrack but it would be the last time they were a key part of the Elvis story. "Don't", written by the duo, became Elvis' tenth #1 song, remaining at the top for five weeks.
Presley also hit #1 with "Hard Headed Woman" from the movie.
But Colonel Parker, ever the control freak, could see that Leiber and Stoller had a close relationship with Elvis. They were certainly an influence and a threat to that control. To maintain the tight leash on Elvis that he wanted to have, Parker would have to do something about Leiber and Stoller. When it came time for their contract to be renewed, Parker presented them with a simple, nearly blank sheet of paper with his signature on it. There was also a line for their signature. "Sign it, son, we'll work out the details later," Parker remarked. Naturally, neither would sign a blank contract, so that was the last time they wrote for Elvis; they were essentially run off by Parker. And on February 1, Black contributed to a recording session for the final time with Presley.
Then, an event occurred that won Elvis respect from even his naysayers (though people close to him weren't surprised). It was time for Presley to enter the military draft. He could have used his superstardom to be granted special privileges but he didn't. On March 24, Presley was inducted into the United States Army as a private at Fort Chaffee, near Fort Smith, Arkansas. Presley said that he was looking forward to his military service, and that he did not want to be treated differently than anyone else. "The Army can do anything it wants with me," he said.
While undergoing basic training, Elvis was visited by Eddie Fadal, a businessman who had met him in Texas. Fadal noted that Presley was convinced his career was over. On leave in early June, Presley recorded five tracks in Nashville. He returned to training but in August, his mother contracted hepatitis. Elvis was granted emergency leave to be with her, arriving at Graceland on August 12. Two days later, she died of heart failure at the age of 46. Presley was devastated.
Upon completion of his training at Fort Hood, Presley joined the 3rd Armored Division in Friedberg, Germany on October 1. A sergeant introduced him to amphetamines and Elvis became enamored with their benefits (not only for energy but for 'strength' and weight loss as well", he said). Fellow soldiers confirm Presley's wish to be seen as an ordinary soldier, despite his fame. He donated his Army pay to charity, purchased televisions for the base and bought an extra set of fatigues for everyone in the company.
It was in Friedberg that Presley met 14-year-old Priscilla Beaulieu. They began a seven-and-a-half year courtship and would eventually marry.
Elvis was honorably discharged from the army with the rank of sergeant and returned to the United States. The train that took him from New Jersey to Tennessee was mobbed as fans wanted him to sing at scheduled stops along the way. Elvis recorded "Stuck on You" at the RCA Studio in Nashville and it quickly reached #1. Despite his fears that the public would forget him, he still had that Presley magic. Two weeks later, two more of

the Rock Era's Top Songs*

--"It's Now or Never" and "Are You Lonesome Tonight?" were recorded in the same studio and they became huge #1 hits released on the album

Elvis Is Back!
On May 12, Presley received an unprecedented fee of $125,000 to appear on Frank Sinatra's television show called Welcome Home Elvis. It was Elvis' only public performance of the year but drew huge ratings. G.I. Blues, the soundtrack to Elvis' return to movies, reached #1 in October. He recorded a gospel album His Hand in Mine that was released in December. In February, 1961, Presley performed two shows to benefit 24 Memphis charities. RCA presented him with a plaque to certify worldwide sales of over 75 million records.
Something for Everybody was the next studio project, and it too reached #1 on the album chart. Elvis did another benefit concert on March 25 in Hawai'i to raise money for a Pearl Harbor memorial. It would be Presley's last public performance for seven years.
And, as I reveal tomorrow, this would have a profound and drastic effect on Elvis for the remainder of his career. Join Inside the Rock Era for Part Four: "Lost in Hollywood and Beatlemania".
(1)
Marcus, Greil. Elvis Presley: The Ed Sullivan Shows. DVD Booklet Image Entertainment