1942: Bing Crosby recorded "White Christmas".
1959: There's nothing like a summer outdoor rock concert and on this date, one of the first outdoor rock concerts was at Herndon Stadium in Atlanta, Georgia. Ray Charles, B.B. King and Jimmy Reed performed in front of nine thousand people .
1961: "Travelin' Man" became Ricky Nelson's only #1 besides "Poor Little Fool". Shep & the Limelights had #2--"Daddy's Home". Roy Orbison slid into third with "Running Scared".
1962: "Moon River" by Henry Mancini won Record of the Year at the Grammy Awards. Chubby Checker won a Grammy for Best Rock & Roll Recording for "Let's Twist Again".
1963: Del Shannon's cover of "From Me To You" became the first Lennon & McCartney song to chart.
1965: Bob Dylan's Bringing It All Back Home was the #1 album in the U.K.
1965: The Beach Boys had the brand new #1 song with "Help Me Rhonda", taking over from the Beatles' "Ticket To Ride". The Supremes were moving up with "Back In My Arms Again" while Herman's Hermits were on their way down with "Mrs. Brown You've Got A Lovely Daughter". The rest of the Top 10: Sam the Sham & the Pharaohs moved up to #5 with "Wooly Bully", Elvis Presley had another hit with "Crying in the Chapel", Gary Lewis & the Playboys were falling with "Count Me In", the Seekers had song #8--"I'll Never Find Another You", the Beau Brummels moved from 19-9 with "Just A Little" and Tom Jones had a Top 10 with "It's Not Unusual".
1967: Cream, the Jimi Hendrix Experience and Pink Floyd were among the performers at the Tulip Bulb Auction Hall in Spalding, Lincoln, England.
1967: A new band from Los Angeles released a single to radio stations called "Light My Fire". They were of course the Doors. It did what precious few debut singles did--reach #1 and become one of the Top 20 Songs of the Rock Era*. The group went on to have 17 hits, including three Top 10 songs.
1967: Johnny Rivers released his version of the Miracles' hit "Tracks Of My Tears".
1967: Can we please have music like this again? The great 5th Dimension released the single "Up-Up And Away".
1969: Crosby, Stills & Nash released their debut self-titled album.
1971: James Taylor released the single "You've Got A Friend".
1971: "Want Ads" was the new R&B #1 song.
1971: "Rainy Days And Mondays" by the Carpenters was #1 on the Adult Contemporary chart where it would remain for four weeks.
1971: The James Gang with Joe Walsh had the week's highest debuting song with "Walk Away".
" Chick-A-Boom" had the stuff to make the Top 10...
1971: One of the Top Songs of the Rock Era*--"Joy To The World" by Three Dog Night finally ended its reign at #1 after six weeks. "Brown Sugar" was the new #1 song. The Jackson 5 slipped to 3 with "Never Can Say Goodbye", the Honey Cone had their only hit "Want Ads" and Ringo Starr was looking good at #5 with "It Don't Come Easy". The rest of the Top 10: Ocean with their great song "Put Your Hand In The Hand", Aretha Franklin had #7 with her cover of "Bridge Over Troubled Water", Donny Osmond was all "Sweet And Innocent" at #8, Lobo had #9--"Me And You And A Dog Named Boo" and Daddy Dewdrop had #10 with "Chick-A-Boom".
1972: Alice Cooper released the single "School's Out".
1972: On this date Paul McCartney, who had his protest song "Give Ireland Back To The Irish" banned by the BBC, quickly recorded a version of "Mary Had A Little Lamb" as a joke for a follow-up . Banned in 1973... he would later be knighted.
1972: One year previously, they were Linda Ronstadt's backup band. Now, they were their own group and on this date, the Eagles released their first single "Take It Easy".
1973: Clive Davis was fired at Columbia Records for misappropriating $100,000.
1973: The Byrds split as founder Roger McGuinn gave a solo concert at New York's Academy of Music.
1975: The Osmonds' concert at Wembley Pool in London set off a riot.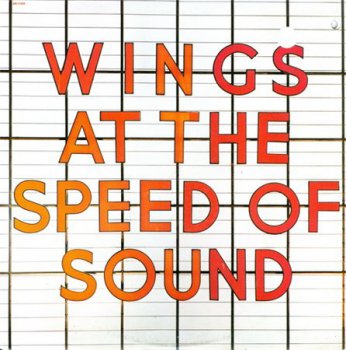 1976:
Wings at the Speed of Sound
gave Wings the #1 album, toppling
Black and Blue
by the Rolling Stones.
Presence
from Led Zeppelin was #3 and the great
Frampton Comes Alive!
was now at #4.
1976: "Afternoon Delight" appeared to be a huge first hit for Starland Vocal Band, moving from 66 to 44.
1976: Diana Ross had her fourth #1 as a solo artist (she had 12 with the Supremes) with "Love Hangover", bumping "Silly Love Songs" by Wings out of the top spot. Elvin Bishop had his one and only hit "Fooled Around And Fell In Love" and Silver Convention was looking good with "Get Up And Boogie". The rest of the Top 10: Dorothy Moore had #5 with "Misty Blue", Pratt & McClain were at 6 with the "Theme From 'Happy Days'", John Sebastian slid to 7 with "Welcome Back", Henry Gross had "Shannon" at #8, Hall & Oates moved inside the Top 10 with "Sara Smile" and Barry Manilow remained at #10 with "Tryin' To Get The Feeling Again".
1977: Fleetwood Mac, Bob Seger, Kenny Loggins, Stanley Clarke and Chick Corea played at the Tangerine Bowl in Orlando, Florida.
1977: Elvis left his concert in Baltimore Maryland for 30 minutes, angering his fans who had no idea he was being slowly drugged to death by his doctor.
1981: Prince appeared in Europe for the first time.
1982: The Clash released the album Combat Rock.
A historic collaboration gave us a timeless classic...
1982: "Ebony And Ivory" from Paul McCartney and Stevie Wonder was #1 for a third week on the Adult Contemporary chart.
1983: The Police released the classic single "Every Breath You Take".
1984: Tina Turner enjoyed one of the biggest comebacks in the Rock Era thanks to the album Private Dancer, which was released on this date.
1998: Shania Twain headlined a concert for the first time in Sudbury, Ontario, Canada. (Note: several websites claim the concert was March 29, but the tour began on May 29, according to 'Country Weekly'.)
1988: Bob Dylan joined the Band for "The Weight" and the Chuck Berry song "Nadine" at a Band concert in New York City.
1989: John Cipollina of Quicksilver Messenger Service died from chronic emphysema at the age of 55.
Madonna released her 18th single, "Express Yourself".
1993: "That's the Way Love Goes" by Janet Jackson was #1 for a fourth week on the R&B chart.
1993: "Have I Told You Lately" by Rod Stewart took over at #1 on the Adult Contemporary chart.
1997: The Spice Girls won the award for Hit of the Year at the Ivor Novello Awards.
1999: Photographers taking pictures of wrecked cars at the bottom of Decker Canyon in Malibu discovered the body of Phillip Kramer, bass guitarist of Iron Butterfly, who had been missing since February 12, 1995. His death was ruled a suicide.
2001: The Eagles performed in Russia at the SC Olymisky in Moscow.
2002: Natalie Imbruglia signed a deal worth $170,000 to represent L'Oreal.
2003: Staind ruled the Album chart with
14 Shades of Grey
.
2004: Josey Scott of Saliva married Kendra at Elvis Presley's Graceland estate.
2005: The Cure dropped guitarist Perry Bamonte and keyboard player Roger O'Donnell.
2005: Elton John and Bob Geldof teamed up to organize five concerts in July (Live 8) that will raise awareness of poverty. Duran Duran, the Dave Matthews Band, Coldplay and Lauryn Hill all signed up to perform.
2005: System of a Down had the #1 album with Mesmerize.
2008: Who knew that you could make this much money from a song about margaritas? Jimmy Buffett announced that his Margaritaville Holdings had teamed with Coastal Marina, a New York gambling firm, to purchase the Trump Marina Hotel Casino for $316 million from Donald Trump. The selling price was about one/tenth what Trump had been asking. (Note: some websites falsely say the announcement was made June 20. It was May 29, according to NBC-TV.)
Born This Day:
1936: Sylvia Vanderpool (of Mickey and Sylvia) was born in New York City.
1941: Roy Crewsdon of Freddie and the Dreamers.
1942: Sir Monti Rock III (Joseph Montanez) of Disco Tex and his Sex-O-Lettes and the DJ in the movie Saturday Night Fever was born in New York City.
1945: Gary Brooker, singer, songwriter and founder of Procol Harum, was born in Hackney, East London.
1950: Joey Levine of Ohio Express ("Yummy Yummy Yummy") and Reunion ("Life is a Rock") was born in New York City.
1950: Rebbie Jackson was born in Gary, Indiana.
1955: Mike Porcaro of Toto was born in South Windsor, Connecticut; died March 15, 2015 of amyotrophic lateral schlerosis (Lou Gehrig's Disease) in Los Angeles. (Note: some websites report he was born in Hartford, but Mike was born in South Windsor, according to 'NBC'.)
1956: LaToya Jackson was born in Gary, Indiana.
1960: Mel Gaynor of Simple Minds was born in Balham, London, England.
1960: Jesse Johnson, guitarist of the Time who left the group in 1984 to become a solo artist, was born in Rock Island, Illinois.
1961: David Palmer of ABC
1961: Melissa Etheridge was born in Leavenworth, Kansas.
1967: Noel Gallagher, songwriter, lead guitarist and lead vocalist of Oasis, was born in Longsight, Manchester, England.
1969: Chad Kinchla of Blues Traveler
1975: Melanie Brown ("Scary Spice" of the Spice Girls) was born in Harehills, Leeds, England.