1955: Alan Freed's New York Rock & Roll Ball, featuring the Drifters, Fats Domino, Big Joe Turner and the Moonglows, kicked off at Saint Nicholas Arena in Harlem.
Little Richard from the Alan Freed movie 'Don't Rock the Boat'...
1956: Listeners became aware of a new talent who debuted on the chart on this date with his first single--"Tutti Frutti". And Little Richard's career was born.
1960: Elvis Presley was promoted to Sergeant in the United States Army.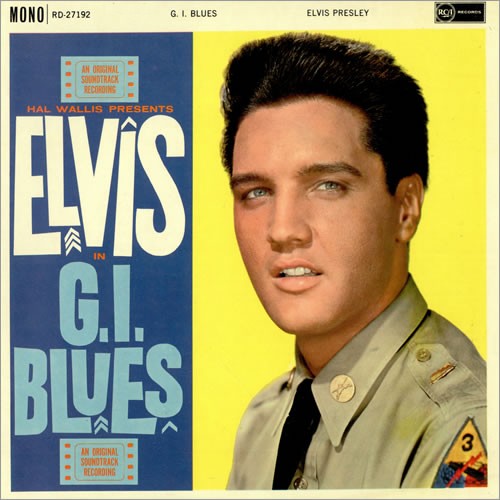 1960: G.I. Blues by Elvis Presley moved to #1 on the U.K. Album chart.
1962: The movie Teenage Millionaire, featuring Jimmy Clanton, Jackie Wilson, Dion and Chubby Checker, debuted in theaters.
1963: Skeeter Davis released her single "The End Of The World".
1963: Charlie Watts made his live debut with the Rolling Stones at the Flamingo Jazz Club in Soho, London.
1965: Bob Dylan recorded "Subterranean Homesick Blues" at the Columbia Recording Studios in New York City for his upcoming album
Bringing It All Back Home
.
(Note: some websites report the date as being January 13. According to the book 'Who Is That Man? In Search of the Real Bob Dylan' by David Dalton, Dylan recorded acoustic tracks on January 13th, none of which made it to the album. He began recording with an electric band on January 14, which is when he recorded "Subterranean Homesick Blues".)
1966: David Jones changed his last name to Bowie so there wouldn't be confusion with Davy Jones of the Monkees.
1967: Cliff Richard announced that he was retiring from show business to teach religious education in the schools.
1967: 25,000 people attended the Human Be-In (A Gathering of the Tribes) at Golden Gate Park in San Francisco. The event, featuring Jefferson Airplane, the Grateful Dead, Big Brother & the Holding Company and Quicksilver Messenger Service, was the forerunner of major outdoor rock concerts that were to follow.
1967: The Monkees remained #1 on the Album chart with their self-titled debut. S.R.O. from Herb Alpert & the Tijuana Brass was second.
1967: An amazing group was introduced on this date as the 5th Dimension charted with their first career single--"Go Where You Wanna' Go".
Great lead singer Levi Stubbs helps the Tops score their third Top 10 hit...
1967: The Monkees held on to #1 for a third week with "I'm A Believer". "Snoopy Vs. The Red Baron" by the Royal Guardsmen would have to settle for #2. Aaron Neville remained third with "Tell It Like It Is" while Boise, Idaho's Paul Revere & the Raiders moved from 7-4 with "Good Thing". The rest of the Top 10: Nancy Sinatra and "Sugar Town", the Mamas & Papas with "Words Of Love", the Four Tops were at 7 with "Standing In The Shadows Of Love", the New Vaudeville Band's former #1 "Winchester Cathedral", Frank Sinatra was down with "That's Life" and the Seekers exploded from 20-10 with "Georgy Girl".
1969: The movie Monterey Pop, about the famous Monterey Pop Festival of 1967, opened in theaters.
1970: Diana Ross performed for the final time with the Supremes at the Frontier Hotel in Las Vegas, Nevada.
1970: Jean Terrell replaced Diana Ross in the Supremes after Ross began her solo career.
1971: The Temptations released the single "Just My Imagination (Running Away With Me)".
1972: Paul Simon released his second solo album, his self-titled release.
1972: Yes played at the Rainbow Theatre in London.
1973: Phil Lesh of the Grateful Dead was arrested on drug charges.
1978: New soul group Raydio first appeared on the chart on this date as their first release, "Jack And Jill" debuted.
1978: After 16 weeks, Player reached #1 with "Baby Come Back". That ended three weeks at #1 for "How Deep Is Your Love" from the Bee Gees. Dolly Parton found herself at #3 with "Here You Come Again", just ahead of Rod Stewart's "You're In My Heart". The rest of the Top 10: L.T.D.'s hot R&B song "(Every Time I Turn Around) Back In Love Again", Paul Simon was up to 6 with "Slip Slidin' Away", Shaun Cassidy with "Hey Deanie", former Fleetwood Mac member Bob Welch and "Sentimental Lady", Styx had their first Top 10 with "Come Sail Away"
although they had many worthy songs previously,
and Queen stopped at #10 with "We Are The Champions".
"I Don't Want to Know", from 'Rumours'...
1978: Rumors by Fleetwood Mac posted a 31st week at #1 on the Album chart out of 47 weeks of release. That record would stand for six years until Michael Jackson's Thriller and is still easily #2 in the Rock Era for weeks at #1.
1984: Paul McCartney had the top song in the U.K. with "Pipes Of Peace".
1984: Kool & the Gang took over at #1 on the R&B chart with "Joanna".
The Romantics with their biggest career hit...
1984: Paul McCartney & Michael Jackson combined for "Say Say Say", #1 for a fifth week. Yes was one step away with "Owner Of A Lonely Heart", Hall & Oates backed down with "Say It Isn't So" and Duran Duran slithered down with "Union Of The Snake". The rest of the Top 10: "Twist Of Fate" from Olivia Newton-John, the Romantics held steady with "Talking In Your Sleep", Matthew Wilder and "Break My Stride", Elton John was at #8 with "I Guess That's Why They Call It The Blues", Culture Club had another Top 10 --"Karma Chameleon" and Lionel Richie scored his seventh consecutive solo Top 10 with "Running With The Night".
Ronstadt changed her image yet again...
1984: Thriller by Michael Jackson continued at #1 on the Album chart for the 24th week. Other than albums on their way down, however, the competition wasn't great. Can't Slow Down from Lionel Richie was the closest, with What's New from Linda Ronstadt and Synchronicity by the Police trailing. The rest of the Top 10: Metal Health by Quiet Riot, 90125 by Yes, Culture Club was at 7 with Colour By Numbers, Billy Joel's An Innocent Man remained in the #8 spot, the "Yentl" Soundtrack and Hall & Oates with their compilation album Rock 'N Soul, Part 1.
1985: REO Speedwagon released the single "Can't Fight This Feeling".
1985: Survivor released the single "High On You".
1989: Paul McCartney released the album Back in the U.S.S.R. exclusively in Russia.
1989: Karyn White wasn't "Superwoman", but her song was, and it was the new #1 on the R&B chart.
1989: Phil Collins registered a fourth week at #1 on the Adult Contemporary chart with "Two Hearts".
With vocals from Roy Orbison, the Wilburys and "Not Alone Any More"...
1989: Anita Baker earned a fourth week at #1 on the Album chart with Giving You the Best That I Got. U2's "Rattle and Hum" Soundtrack was second, followed by the "Cocktail" Soundtrack and New Jersey from Bon Jovi. The veteran Appetite for Destruction was #5 after 73 weeks for Guns N' Roses. The rest of the Top 10: Don't Be Cruel from Bobby Brown, Def Leppard's Hysteria, still #7 after 74 weeks, Volume One from the Traveling Wilburys, Poison remained at 9 with Open Up and Say...Ahh! and Kenny G had #10--Silhouette.
1991: Gloria Estefan released her single "Coming Out Of The Dark".
1992: Michael Jackson released the single "Remember The Time".
1995: Neil Young and Pearl Jam performed for the Voters for a Change benefit in the first of two nights at Constitution Hall in Washington, D.C.
1995: Sollie McElroy, lead singer of the Flamingoes ("I Only Have Eyes For You") died in Chicago, Illinois at age 61. (Note: some websites incorrectly list his death as January 15, and many others misspell his name. It is Sollie, and he died on January 14, according to the book 'The Birth of Rock & Roll: Music in the 1950s Through the 1960s' by Brittanica Educational Publishing and 'Allmusic.com'.)
1995: Rednex from Sweden led the way on the U.K. chart with "Cotton Eye Joe".
1995: "Creep" by TLC remained at #1 on the R&B chart for the sixth week.
1995: With their resurgence back to the top on December 31, Boyz II Men now enjoyed their fifth week at #1 with "On Bended Knee". Including their smash "I'll Make Love to You", the group had now been #1 in 18 of the last 20 weeks, the hottest streak for any artist of the Rock Era.
1997: The Spice Girls released their first single "Wannabe".
1997: The Beach Boys were a guest on the television show Home Improvement.
2001: Chaka Khan reunited with Ruf
us at the Barbados Paint It Jazz festival in Bridgetown.
2001: Jennifer Lopez owned the #1 song in the U.K. with "Love Don't Cost A Thing".
2005: A statue honoring the late Johnny Ramone was unveiled by his widow Linda at the Hollywood Forever Cemetery.
2005: Guitarist Adam Gaynor left the group Matchbox Twenty.
(Note: several websites post the event as occurring on January 18, the day it appeared in several news reports. However, the first such report was by 'Billboard 'magazine on its website on January 14.)
2006: Leif Garrett ("I Was Made for Dancin'" from 1979) was arrested for possession of drugs.
2007: Back to Black by Amy Winehouse led the way on the U.K. Album chart.
Born This Day--Birthdays of Rock Era Artists: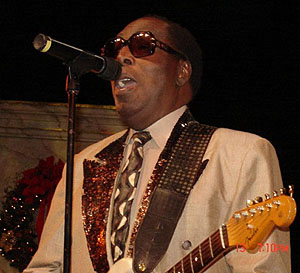 1936: Clarence Carter ("Patches" from 1970) was born in Montgomery, Alabama.
1938: Allen Toussaint, singer, songwriter and producer who worked with Paul Simon, Joe Cocker, the Band, the Neville Brothers and Lee Dorsey, was born in New Orleans, Louisiana; died November 10, 2015. Toussaint wrote "Southern Nights" for Glen Campbell and "Working In The Coal Mine", among others, and produced "Lady Marmalade" for Labelle and "Right Place, Wrong Time" f

or Dr. John

. (Note: some websites erroneously say Toussaint was born in Gert Town. Gert Town is a neighborhood, not a city. Birth certificates do not list the neighborhood in which you are born)
1938: Jack Jones ("The Race Is On" from 1965) was born in Hollywood, California.
1948: T-Bone Burnett (Joseph), guitarist with Bob Dylan's band and producer with Elton John, John Mellencamp, the Counting Crows, Tony Bennett and others, was born in St. Louis, Missouri.
1948: Tim Harris, drummer of the Foundations ("Build Me Up Buttercup"), was born in Raddington, England.
1959: Chas Smith, horn player for Madness ("Our House"), was born in London.
1959: Geoff Tate, singer-songwriter and keyboardist of Queensryche, was born in Stuttgart, West Germany.
1961: Mike Tramp, vocalist and the only original member remaining of White Lion, was born in Copenhagen, Denmark.
1965: Slick Rick was born in London.
1967: Zakk Wylde, elite guitarist for Ozzy Osbourne, was born in Bayonne, New Jersey.
1967: Steve Bowman, founding member, songwriter and drummer with the Counting Crowes,
1968: L.L. Cool J (real name James Smith) was born in Bay Shore, New York.
1969: Dave Grohl, drummer and singer with Nirvana and the Foo Fighters, was born in Warren, Ohio.