1956: Elvis Presley hired Colonel Tom Parker as his manager.
1964: Berry Gordy, Jr., the founder of Motown Records, and his wife celebrated the birth of son Kennedy William Gordy, who would later be known as Rockwell ("Somebody's Watching Me"), in Detroit, Michigan.
1964: The Rolling Stones began a tour of the U.K. at the Invicta Ballroom in Chatham, Kent, England.
1965: Wayne Fontana & the Mindbenders released the single "Game Of Love".
1965: Neil Sedaka was a guest star on
I've Got a Secret
on CBS-TV.
(Note: several websites list the date of the appearance as March 5. In a 1965 edition of 'Billboard', the magazine reported that Sedaka would appear on February 1, but the websites which report the appearance as March 5 are missing a digit, and 'Billboard' got their information wrong; the correct date is March 15, according to the newspaper 'The Daily Times-News' in Burlington, North Carolina, as well as 'TV.com'.)
1965: Freddy Cannon appeared on the television show No Time for Sergeants on ABC.
1966: The Grammy Awards turned eight years old today, and Frank Sinatra won Album of the Year with his great LP September of My Years.
1966: "A Taste Of Honey" from Herb Alpert & the Tijuana Brass won the Grammy for Record of the Year.
1967: The Beatles began recording "Within You, Without You" with George Harrison being the only member of the group to perform on the song. Harrison played the swordmandel and tamboura, Natver Soni played tabla and Amrat Gajjar played dilruba, PD Josh was also on swordmandel.
1968:
LIFE
magazine called Jimi Hendrix "the most spectacular guitarist in the world."
1969: Marc Bolan, lead singer of T. Rex, published a book of poetry called The Warlock of Love.
1969: Janis Joplin was on the cover of
Rolling Stone
magazine.
1969: Bob Cowsill of the Cowsills ("Hair" from 1969) appeared on an episode of The Dating Game on ABC-TV.
1969: Cream had the top U.K. album with Goodbye.
1969: What a classic looks like--the 5th Dimension moved from #89 to #37 with "Aquarius/Let The Sunshine In".
The Zombies hit the Top 10...
1969: Tommy Roe earned a #1 song with "Dizzy". CCR was stuck at #2 with "Proud Mary" while previous #1 "Everyday People" from Sly & the Family Stone fell to #3. The Foundations were on their way down with "Build Me Up Buttercup" but the Classics IV, featuring the great voice of Dennis Yost, moved from 17-5 with their latest, "Traces". The rest of the Top 10: Former #1 "Crimson And Clover" from Tommy James & the Shondells, Dionne Warwick had another Top 10 with "This Girl's In Love With You", the 1910 Fruitgum Company provided comic relief with "Indian Giver", the Zombies were up strong (20 to 9) with "Time Of The Season" and Jay & the Americans slipped with "This Magic Moment".
1971: Neil Diamond released the single "I Am...I Said".
1971: Bread released the single "If".
1974: The Emerson, Lake and Palmer movie Pictures at an Exhibition premiered in Los Angeles.
1975: The group T. Rex ("Bang A Gong" from 1972) broke up.
1975: Led Zeppelin owned the #1 album in the U.K. with Physical Graffiti.
1975: Former Drifter Ben E. King topped the R&B chart with "Supernatural Thing".
1975: Olivia Newton-John (Have You Never Been Mellow) overtook Bob Dylan (Blood on the Tracks) for the top album. Led Zeppelin debuted at #3 with Physical Graffiti.
1976: KISS released the album Destroyer on Casablanca Records.
1975: The Doobie Brothers had their first #1 as "Black Water" moved to the top. Frankie Valli was poised and ready with "My Eyes Adored You" and LaBelle was going to be a factor with "Lady Marmalade". Previous #1 "Have You Never Been Mellow" was now fourth with Minnie Riperton's "Lovin' You" at 5 and "Lady" from Styx close behind. The rest of the Top 10: "Lonely People" from America, B.T. Express moved from 13 to 8 with the instrumental "Express", ELO's first big hit--"Can't Get It Out Of My Head" climbed to #9 and Sugarloaf entered the Top 10 with "Don't Call Us, We'll Call You".
1977: Pink Floyd opened in the first of five sellouts at Empire Pool in London.
1978: The movie American Hot Wax, about the life of early rock disc jockey Alan Freed, premiered in New York City. There are appearances by Chuck Berry, Jerry Lee Lewis and Screamin' Jay Hawkins.
1980: The Whispers held on to #1 on the R&B chart with "And the Beat Goes On".
1980: For the third week, Chuck Mangione's "Give It All You Got" was #1 on the Adult chart.
1980: Queen had one of their biggest career hits as "Crazy Little Thing Called Love" spent a fourth week at #1. Dan Fogelberg was up to #2 with "Longer" while "Another Brick In The Wall" by Pink Floyd was making its move. Andy Gibb ("Desire") and Donna Summer ("On The Radio") both peaked this week. The rest of the Top 10: The Spinners with "Working My Way Back To You/Forgive Me, Girl", Teri DeSario and K.C. had "Yes, I'm Ready", Rupert Holmes was up to the #8 spot with "Him", Shalamar with "The Second Time Around" and Kool and the Gang were "Too Hot".
Fogelberg's album was right there near the top...
1980: The Wall from Pink Floyd remained strong for a ninth week on the Album chart. Damn the Torpedoes by Tom Petty & the Heartbreakers was runner-up for the sixth straight week while Phoenix by Dan Fogelberg peaked at #3. Rush came in next with Permanent Waves while Linda Ronstadt debuted at #5 with Mad Love. The rest of the Top 10: Fans were glad for Heart's new album as Bebe Le Strange moved from 19 to 6 in its second week of release, the Whispers were up with their self-titled album, Fun and Games from Chuck Mangione, Kenny by Kenny Rogers remained in the #9 position and Michael Jackson tumbled Off the Wall.
1986: After 51 weeks, Whitney Houston was at her peak with her self-titled debut album, which spent a second week at #1. It was just getting started.
1986: One of the hottest new songs was "Bad Boy" from Miami Sound Machine, up from 76 to 55.
Mellencamp had one of his biggest hits...
1986: Starship had their 27th hit (counting their days as Jefferson Airplane and Jefferson Starship) and second consecutive #1 with "Sara". Heart was making a bid with "These Dreams" while previous #1 "Kyrie" by Mr. Mister relinquished its spot. Atlantic Starr was up with "Secret Lovers" but Whitney Houston finally was falling after 15 weeks with "How Will I Know". The rest of the Top 10: John Cougar Mellencamp burst into the list with "R.O.C.K. In The U.S.A.", Falco jumped from 14 to 7 with "Rock Me Amadeus", Mike + the Mechanics and "Silent Running", the Thompson Twins edged up with "King For A Day" and Elton John reached the Top 10 again with "Nikita".
1986: Heart was back in a big way as "These Dreams" reached #1 on the Adult Contemporary chart.
1988: Mick Jagger of the Rolling Stones went on his first solo tour, debuting at the Osakajo Castle Hall in Osaka, Japan. (Note: many websites report that Jagger went on tour in 1982, but he had no albums nor solo releases that year, and the credible websites report his first tour as being in 1988.)
1989: The Rolling Stones signed a contract to play 50 concerts in the United States for $70 million, the largest contract to that point in the Rock Era.
1990: 13.7 million households signed up to see a pay-per-view special by New Kids on the Block, breaking the record for PPV events.
1997: The Spice Girls became the first act to ever hit #1 with their first four singles in the U.K., as "Mama" reached the top.
1997: Pop by U2 was the #1 album in the U.K.
1997: For the fourth week, newcomers the Spice Girls had the #1 song with "Wannabe".
1999: If every class of the Rock & Roll Hall of Fame was this small and this accomplished, they'd have credibility. Paul McCartney, Billy Joel, Bruce Springsteen and Dusty Springfield were inducted into the Hall. At the ceremony,
Springsteen performed with the E Street Band for the first time in a decade.
2000: Mick Jagger was ordered by a court to increase his child support payments to Luciana Morad from $5,500 a month to $10,000. Now we know why the Rolling Stones have to tour so much.
2002: Marshall Lieb, an original member of the Teddy Bears ("To Know Him Is To Love Him" from 1958) and later a member of the Hollywood Argyles, died of a heart attack in Northridge, California at the age of 63.
2002: Yoko Ono unveiled a seven-foot bronze statue of John Lennon in the Liverpool John Lennon airport. The airport also featured a sketch of Lennon's face with the words "Above Us Only Sky".
2004: Whitney Houston entered a drug rehabilitation program.
2004: George Harrison, Prince, Bob Seger, Jackson Browne, ZZ Top, Traffic and the Dells were all inducted into the Rock and Roll Hall of Fame.
2008: The musical I Am Who I Am (The Teddy Pendergrass Story) opened in Chicago, Illinois.
2010: Sony Music announced a recording deal with the estate of the late Michael Jackson that would pay Jackson's heirs $200 million over seven years, the largest contract in music history.
2011: Nate Dogg died at the age of 41 in Long Beach, California of complications from multiple strokes.
2015: Mike Porcaro, bassist of Toto, and brother of Jeff and Steve Porcaro, died of Amyotophic lateral sclerosis in Los Angeles. Jeff was 59 years old. In addition to being with Toto for nearly 25 years, Porcaro also worked with Seals & Crofts, Boz Scaggs and Larry Carlton.
Born This Day:
1931: James Mitchell, saxophonist of the Memphis Horns, who worked with Elvis Presley, Aretha Franklin, the Doobie Brothers, Al Green, Sam and Dave and Otis Redding; died December 18, 2000.
1932: Arif Mardin, producer of "Jive Talkin'" by the Bee Gees, "Respect" for Aretha Franklin, Barbra Streisand, Norah Jones,
Dusty in Memphis
for Dusty Springfield and "I Feel for You" by Chaka Khan and many others, was born in Istanbul, Turkey; died June 25, 2006 in New York City.
1940: Phil Lesh, bassist of Grateful Dead, was born in Berkeley, California.
1941: Singer-songwriter Mike Love of the Beach Boys was born in Baldwin Hills, California. (Note: some websites claim Love was born in Los Angeles, but he was born in Baldwin Hills, according to the official Beach Boys website.)
1943: Sly Stone of Sly & the Family Stone was born in Denton, Texas. (Note: some sites show his birthday in 1941 or 1943, but according to the official website for Sly, he was born in 1944.)
1944: David Costell of Gary Lewis and the Playboys, was born in Pittsburg, California. (Note: some websites say Costell was born in Pittsburgh, California. There is no such city. There is a Pittsburg, California, which is where Costell was born.)
1946: Howard Scott, guitarist with War, was born in San Pedro, California.
1947: Ry Cooder, great guitarist with Captain Beefheart, who worked with the Rolling Stones, Gordon Lightfoot, Eric Clapton and Randy Newman and was also a solo artist, was born in Santa Monica, California. (Note: some websites say Ry was born in Los Angeles. According to 'Billboard', the newspaper 'The Guardian', and the book 'Legends of Rock Guitar: The Essential Reference of Rock's Greatest Guitarist' by Pete Prown and Harvey P. Newquist, Cooder was born in Santa Monica.)
1947: Francisco Hernandez "Frank" Lugo, bassist of ? & the Mysterians ("96 Tears" from 1966), was born in Weslaco, Texas.
1953: Preston Hubbard, the bassist for the Fabulous Thunderbirds ("Tuff Enough"), was born in Providence, Rhode Island.
1955: Daniel "Dee" Snider, lead singer of Twisted Sister, was born in Queens, New York. (Note: some websites say he was born in Astoria, Queens, New York, others in Massapequa, Long Island. First off, Astoria is a not a city, but rather a neighborhood, so that rules that out as the official birthplace. Massapequa is indeed a hamlet and census-designated place, but Long Island is not a state, so Massapequa, Long Island gets the buzzer as well. According to the book 'The Robert Englund Handbook - Everything you need to know about Robert Englund' by Emily Smith, Snider was not born in Massapequa, but Queens.)
1962: Terence Trent D'Arby ("Wishing Well" from 1987) was born in Manhattan, New York.
1962: Steve Coy, singer-songwriter and keyboardist of Dead or Alive ("You Spin Me 'Round (Like A Record)"), was born in Liverpool, England.
1963: Bret Michaels, lead singer of Poison, was born in Butler, Pennsylvania.
1964: Rockwell ("Somebody's Watching Me") was born in Detroit, Michigan.
1968: Mark McGrath, lead singer of Sugar Ray ("Every Morning" from 1999), was born in Hartford, Connecticut.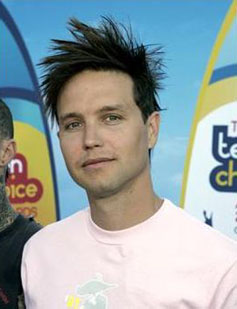 1972: Mark Hoppus, co-lead singer and bassist of Blink-182, was born in Ridgecrest, California.
1975: Will.I.am (real name William Adams) of the Black Eyed Peas was born in Los Angeles.