1958: Jerry Lee Lewis was granted a divorce from his second wife six months after marrying 14-year-old cousin Myra.
1963: Bobby Vinton released the single "Blue on Blue".
1965: Elvis Presley's new movie, Tickle Me, premiered in Hollywood, California.
1966: The Kinks recorded "Sunny Afternoon".
1967: "The Happening" became the Supremes' 10th #1 song of their career on this date. Only Elvis & the Beatles had more to this juncture. "Sweet Soul Music" by Arthur Conley was a strong #2, Nancy & Frank Sinatra fell to 3 with "Something' Stupid. The rest of the Top Ten: The Young Rascals' smash "Groovin'" rose from 19 to 4, the Monkees had #5 with "A Little Bit Me, A Little Bit You", the Buckinghams moved up one with "Don't You Care", the Dave Clark Five were a familiar top ten fixture at #7 with "You Got What It Takes", the original Peaches and Herb were at 8 with "Close Your Eyes", The Happenings entered the top ten with "I Got Rhythm" and Tommy James & the Shondells were still hanging around in their 14th week with "I Think We're Alone Now".
1968: Herb Alpert released the single "This Guy's in Love With You".
1970: Badfinger began recording the song "No Matter What".
1970: The Beatles movie Let It Be premiered in New York City.
1971: Grace Slick of Jefferson Airplane crashed her car into a concrete wall in the vicinity of Golden Gate Park in San Francisco.
1972: "Morning Has Broken" hit #1 on the Adult Contemporary chart for Cat Stevens.
1972: First Take from Roberta Flack continued to rule the album chart for the third straight week, with Neil Young's great album Harvest close behind. The self-titled America album was at 3, Yes at #4 with Fragile and Graham Nash & David Crosby had a winner with their album. The rest of the Top Ten: Smokin' from Humble Pie at #6, Eat a Peach by the Allman Brothers Band at #7, Manassas from Stephen Stills was #8, Carole King remained at #9 in her 58th week with Tapestry and Paul Simon's debut solo release was at #10.
1972: Roberta Flack made it five weeks at #1 with "The First Time Ever I Saw Your Face".
1974: More than 50 people were injured when youths started throwing bottles outside a Jackson 5 concert at RFK Stadium in Washington, D.C. 43 people were arrested for the incident.
1975: Listeners in Jacksonville, Florida knocked out phone service in that city while calling in to win tickets from a radio station to an Elvis Presley concert.
1977: Dolly Parton performed at the Bottom Line in New York City.
1978: Jimmy Buffett sang "Son of a Sailor" on the television show Saturday Night Live.
1978: "Feels So Good" hit #1 on the Adult Contemporary chart for Chuck Mangione.
"More Than a Woman"--Never released as a single, but of course of of The Top Underrated Songs of All-Time...
1978: The count was up to 17 weeks at #1 for the Soundtrack to "Saturday Night Fever". Wings had a distant #2 with London Town while Eric Clapton Slowhand was #3. Kansas remained at #4 with Point of Know Return and Jefferson Starship checked in at 5 with Earth. The rest of the Top Ten: Jackson Browne's Running On Empty was #6, Chuck Mangione moved up to 7 with Feels So Good, Warren Zevon had a top ten album in Excitable Boy, Billy Joel's great album The Stranger was finally on its way down at #9 in its 32nd week and Champagne Jam, a very underrated album from the Atlanta Rhythm Section was #10.
1978: "If I Can't Have You" by Yvonne Elliman became the fourth song from Saturday Night Fever to reach #1 on this date. It finally toppled "Night Fever" by the Bee Gees, which fell to #5 after eight consecutive weeks at the top. The Bee Gees also set a Rock Era record by writing four songs that were consecutive #1's for 15 weeks. They were "Stayin' Alive", "(Love Is) Thicker Than Water" for Andy Gibb, "Night Fever" and finally the #1 for Elliman. That broke the record set by the Beatles, when they wrote three songs ("I Want to Hold Your Hand", "She Loves You" and "Can't Buy Me Love"), that topped the charts for a total of 14 weeks. "The Closer I Get To You", from Roberta Flack and Donny Hathaway was #2 and Wings had the third most popular song "With a Little Luck". Johnny Mathis & Deniece Williams teamed for #4--"Too Much, Too Little, Too Late" and "Night Fever", John Travolta & Olivia Newton-John had already moved on with "You're the One That I Want" from the great Grease Soundtrack, Jefferson Starship's fine "Count On Me" was #8, Kansas placed their classic at #9 after 16 weeks and "Imaginary Lover" became the second top ten for the Atlanta Rhythm Section.
1979: The Donny & Marie Osmond television special A Little Bit of Country, A Little Bit of Rock 'n' Roll aired on ABC with guests Chuck Berry and Chubby Checker.
1981: Joan Weber, whose one and only hit, "Let Me Go, Lover" spent four weeks at #1 in 1955, died of heart failure at the of 45 in Ancora, New Jersey.
1985: Bruce Springsteen married Julianne Phillips.
1989: "Ill Be There For You" was Bon Jovi's 12th career hit and fourth #1. It replaced "Like a Prayer" which fell to #2 for Madonna. Jody Watley remained at 3 with "Real Love", Paula Abdul's "Forever Your Girl" was destined for the top. The rest of the Top Ten: Donny Osmond's comeback "Soldier Of Love" hit #5, Cher & Peter Cetera came in at 6, "Second Chance" was at #7 for .38 Special, Michael Damian's remake of "Rock On" was #8, Guns N' Roses had #9 with "Patience" and Bette Midler moved from 19-10 with "Wind Beneath My Wings".
2003: Tommy Chong of Cheech & Chong ("Earache My Eye") plead guilty to selling drug paraphernalia over the Internet.
2007: Bo Diddley was hospitalized after suffering a stroke.
2010: Jimmy Dean died at the age of 81 of natural causes at his home in Varina, Virginia.
2010: Patti LaBelle received an honorary Doctorate in Humane Letters from her hometown university of Temple in Philadelphia, Pennsylvania.
2012:
Donald Dunn, bass guitarist of the Mar-Keys ("Last Night") and Booker T. & the M.G.'s, died May 13, 2012 in Tokyo, Japan.
Born This Day: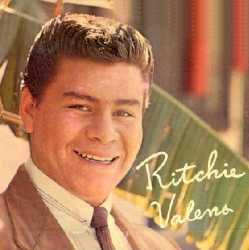 1941: Ritchie Valens was born in Pacolma, California; died February 3, 1959 at the age of 17 in a plane crash with Buddy Holly and the Big Bopper.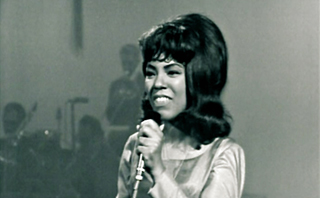 1943: Mary Wells was born in Detroit, Michigan.
1949: Pete Watts, bass player of Mott the Hoople, was born in Birmingham, England.
1950: Steveland Morris, the great Stevie Wonder, was born in Saginaw, Michigan.
1950: Danny Kirwan, singer and elite guitarist for Fleetwood Mac, was born in London.
1951: Paul Thompson, drummer for Roxy Music, was born in Jarrow, England.
1966: Darius Rucker, lead singer and Rhythm guitarist of Hootie & the Blowfish, was born in Charleston, South Carolina.
1967: Melanie Thornton, lead singer of LaBouche, was born in Charleston, South Carolina; died November 24, 2001 in a plane crash near Zurich, Switzerland.
1969: Buckethead (real name Brian Carroll), virtuoso guitarist of Guns N' Roses
1979: Michael Madden, bassist of Maroon 5, was born in Austin, Texas.