Inside the Rock Era has featured 28 guitarists so far, one per day, beginning on February 1. If you missed one, be sure to click the link at the bottom of the web site that will take you to older posts. Today's artist has been around longer than nearly anyone. He's been an active guitarist for 51 years.
#72: Keith Richards, Rolling Stones
51 years as an active guitarist



Richards was born December 18, 1943 in Dartford, Kent, England.

If riffs were the only criterion in ranking the greatest guitarists, Richards would be near the top. He's co-written many great songs with the Rolling Stones and created unforgettable riffs like "Satisfaction" and "Jumpin' Jack Flash". As a songwriter and a guitarist with a knack for playing hooks, he's one of the best. He certainly is one of the most experienced guitarists of all-time and with the Rolling Stones ranking as one of The Top 10 Artists of the Rock Era*, he ranks high in popularity.
Richards received his first guitar from his mother and he played at home,recording Billie Holiday, Louis Armstong, Duke Ellington and others. He especially admired the work of Scotty Moore, who backed Elvis Presley on many of his biggest hits. Richards and Mick Jagger were neighbors and both went to Wentworth Primary School. From 1955 to 1958, Keith went to Dartford Technical High School for Boys and sang in a trio of boy sopranos, once performing for Queen Elizabeth II at Westminster Abbey in London.
Richards, however, was expelled for truancy and transferred to Sidcup Art College, where he focused more on playing guitar. Jagger went to the London School of Economics and the two had lost touch, until perchance they met on a train. Richards was carrying albums by Chuck Berry and Muddy Waters that revealed a mutual interest of the two and their friendship was renewed. Jagger and Dick Taylor were in the band Little Boy Blue and the Blue Boys, and Richards soon joined. That group folded, however, when Richards, Jagger, Taylor, Brian Jones and Ian Stewart formed the Rolling Stones.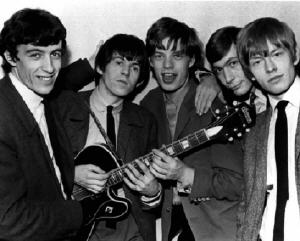 The group signed with Decca Records in 1963.
Richards' style is characterized by mostly chords and rhythm, avoiding flamboyant solos but playing direct, recognizable riffs. He prefers to play in tandem with another guitarist, using interwoven lead and rhythm. He can't play with the speed of most of the guitarists ahead of him so he is somewhat limited there, but the flip side is could those guitarists come up with some of the melodic, memorable guitar riffs of all-time such as "Satisfaction", "Jumping Jack Flash" and "Start Me Up"? Those are the questions that must be posed and the factors that must be evaluated and weighted in any valid ranking of guitarists. Obviously, a ranking that values the ability to create unique guitar hooks as the most important quality is going to look vastly different than a ranking that puts emphasis on how fast the guitarist can play. The methodology of Inside the Rock Era is somewhere between those two extremes.
(Richards' solo on "Sympathy for the Devil")
Richards has done few solo recordings but has done session work for Stones manager Andrew Oldham's Immediate Records label. Keith played on albums by Tom Waits, George Jones and Max Romeo, among others, and produced and played on Aretha Franklin's version of "Jumping Jack Flash". Richards also worked with Ronnie Wood on Ronnie's first two solo albums and in concert for shows to promote the albums.
Richards owns approximately 3,000 guitars, including the Harmony Meteor, which was used primarily before 1964, the 1961 Epiphone Casino that was used from 1964-1966, the 1957 Gibson Les Paul Custom used from 1966-1970, a 1969 Gibson SG used in the movie Gimme Shelter, several Gibson ES-355's used on the 1969 tour and on every tour since 1997, an Ampeg Dan Armstrong plexiglas guitar used from 1969-1972, Gibson Les Paul Juniors, the 1975 Fender Telecaster Custom used from 1975-1986 and adapted for open-G tuning beginning in 2005, the 1953 Fender Telecaster he nicknamed Micawber that is one of his main stage guitars and several Fender Telecasters that Richards uses for open-G tuning.
The main amplifiers Richards has used include the Mesa Boogie Mark 1 A804 used between 1977 and 1993, the Fender Twins that contain a pair of 12" speakers, and prototype amplifiers from Vox in 1967 and the Hiwatt in 1968. In 1965, Richards used a Gibson Maestro fuzzbox for his riff on "Satisfaction". He used a wah-wah pedal, a phaser and a Leslie speaker in the 1970's and early 1980's, but since then, he relies on "combining the right amp with the right guitar" to achieve the sound he wants.
In 1989, the Rolling Stones were inducted into the Rock & Roll Hall of Fame. On October 17, 2009, Richards received the Rock Immortal Award at Spike TV's Scream awards ceremony at the Greek Theatre in Los Angeles.
Keith Richards ranks as The #72 Guitarist of the Rock Era*...