1959: The new single called "The Little Drummer Boy" by the Harry Simeone Chorale moved from 99 to 47.
Marty Robbins' classic...
1959: "Heartaches By The Number" by Guy Mitchell was #1 for a second week but it was the #3 song, which jumped all the way from 11, that was creating all the talk. "El Paso" from Marty Robbins was that song. Other new Top 10 songs--"Way Down Yonder In New Orleans" from Freddie Cannon at #5, "Among My Souvenirs" by Connie Francis and Fabian's "Hound Dog Man".
1960: Elvis Presley was inducted into the Los Angeles Indian Tribal Council Creek by Indian Chief Wah-Nee-Ota in conjunction with the premiere of his movie Flaming Star.
1963: The Beatles did their first Christmas show at the Gaumont Theatre in Bradford, England.
1963: "Dominique" by the Singing Nun was #1 for a third week on the Easy Listening chart, which in 1979 became the Adult Contemporary chart.
1963: People were flocking to see a gal with a message, and Joan Baez entered the Top 10 on the Album chart with Joan Baez In Concert.
1963: The Singing Nun also achieved a third week at #1 overall with "Dominique". The only new Top 10 for the week was "Popsicles And Icicles" by the Murmaids.
1964: Charlie Watts, drummer of the Rolling Stones, published Ode to a High Flying Bird, a picture book tribute to Charlie Parker.
1965: Shirley Bassey released the single "Goldfinger", the theme for the new James Bond movie.
1966: The Who played at The Upper Cut in Newham, England near London.
1967: The Beatles had a costume party at the Royal Lancaster Hotel in London to celebrate the showing of their movie Magical Mystery Tour on the BBC.
1968: The newly-formed trio Crosby, Stills and Nash performed together for the first time.
1968: Janis Joplin appeared as a solo performer at the Stax/Volt Yuletide Th
ing at Mid South Coliseum in Memphis, Tennessee.
Hendrix with his last studio album...
1968: Wichita Lineman by Glen Campbell took over at #1 on the Album chart, completing a meteoric rise from 16 to 4 to 1. Pretty impressive, especially considering Glen held off The White Album, the new release from the Beatles, which rose from 11 to 2 in its second week. Cheap Thrills from Big Brother & the Holding Company fell from #1 with Feliciano! from Jose Feliciano #4. The rest of the Top 10: The Second from Steppenwolf, Judy Collins rose from 31 to 6 with Wildflowers, jumping Electric Ladyland from the Jimi Hendrix Experience, Glen Campbell's back catalog began to sell as Gentle On My Mind rose to #8 after 43 weeks, Iron Butterfly's In-A-Gadda-Da Vida was #9 and Time Peace, the Rascals' Greatest Hits package, grabbed the final spot.
1968: "Wichita Lineman" held on to #1 for a second week on the Adult chart for Glen Campbell.
1968: A new talent first appeared on the chart on this day, although it would be seven long years before he made it big. Bob Seger debuted with his first career single "Ramblin' Gamblin' Man".
1968: Tommy James & the Shondells were quickly becoming one of the 60's biggest acts and on this date, they jumped from 85 to 39 with "Crimson And Clover".
1968: Marvin Gaye notched a second week at #1 with "I Heard It Through The Grapevine" although the song was so great that CCR and Gladys Knight & the Pips also had excellent versions. "Love Child" by the Supremes was second with Stevie Wonder at #3 with "For Once In My Life". Dion remained at the #4 spot with "Abraham, Martin And John" and Glen Campbell reached #5 with "Wichita Lineman". The rest of an excellent Top 10: "Stormy" from the Classics IV, Johnnie Taylor was in there with "Who's Making Love", bright newcomer Judy Collins reached the Top 10 with "Both Sides Now", "I Love How You Love Me" from Bobby Vinton was #9 and Steppenwolf was still flying with "Magic Carpet Ride".
1969: Crosby, Stills, Nash & Young and Canned Heat shared a bill at Balboa Stadium in San Diego, California.
1969: Diana Ross appeared with the Supremes for the final time on The Ed Sullivan Show, singing "Someday We'll Be Together".
1970: Gordon Lightfoot released his first career single--"If You Could Read My Mind".
1970: Elvis Presley visited U.S. President Richard Nixon at the White House to volunteer his services towards fighting the country's drug problems.
1970: "Hey Old Man" by the Festfolk Quartet peaked at #5 in Sweden. We know the Festfolk Quartet better now by their later name of ABBA.
1971: Martha & the Vandellas broke up after playing at the Cobo Hall in Detroit, Michigan.
1971: Charlie Fuqua, founding member of the Ink Spots, died at the age of 61 in New Haven, Connecticut.
1974: Jimmy Page and John Paul Jones of Led Zeppelin joined Bad Company on stage at the Rainbow Theatre in London.
1974: He was the man of the moment. Elton John continued to own the #1 album with his Greatest Hits package, now #1 for five weeks.
1974: Two of America's greatest groups, Chicago and the Beach Boys, teamed up for one great song--"Wishing You Were Here" reached #1 on the Adult chart.
1974: Grand Funk's new song "Some Kind Of Wonderful" was rocking up the chart from 67 to 38.
1974: Today was the day that the classic "Cat's In The Cradle", which is without question one of The Most Important Songs of the Rock Era* by Harry Chapin, reached #1.
1976: Barry Manilow on Broadway opened for a two-week run in New York City.
1978: Rod Stewart settled out of court with drummer Mickey Waller, who had claimed he was not paid royalties for his work on Stewart's album Smiler.
1983: Van Halen released the single "Jump".
1985: Bruce Springsteen's album Born in the U.S.A. passed Thriller by Michael Jackson for the second-most weeks in the Top 10 of the album chart with 79 weeks. The Rock Era record is still the Soundtrack to "The Sound of Music", which remained a top-seller for 109 weeks.
1985: Heart's comeback was complete as their self-titled release completed its 24-week climb to #1 on the Album chart.
1985: "Say You, Say Me" by Lionel Richie was #1 for a third week on the Adult Contemporary chart.
Newcomers Simple Minds
...
1985: Richie also moved to #1 overall with "Say You, Say Me" in a pretty good Top 10. Mr. Mister was toppled with "Broken Wings" while Eddie Murphy had the surprising hit "Party All The Time". Simple Minds had one of their biggest with "Alive & Kicking" and the former #1 "Separate Lives" from Phil Collins & Marilyn Martin was #5. The rest of the Top 10: "Election Day" from Arcadia, the great new song "I Miss You" from Klymaxx, Dionne & Friends (Dionne Warwick, Elton John, Stevie Wonder & Gladys Knight) moved from 14 to 8 with "That's What Friends Are For", John Cougar Mellencamp scored another Top 10 with "Small Town" and ZZ Top fell with their "Sleeping Bag".
1987: John Spencer, original member with No Doubt, committed suicide at the tender age of 18. So young and naïve.
1989: Santana and his wife celebrated the birth of daughter Angelica Faith.
1991: "Bohemian Rhapsody"/"These Are The Days Of Our Lives", a single released following the death of Queen lead singer Freddie Mercury, took over at #1 in the U.K.
1991: "I Love Your Smile" by Shanice was the new #1 on the R&B chart.
The unmistakable harmonies of the Boyz...
1991: Michael Jackson had his 15th Top 10 hit in his last 17 releases with "Black Or White" and it was his 12th solo #1. Boyz II Men had a solid hit with "It's So Hard To Say Goodbye To Yesterday". Color Me Badd was on fire as well with "All 4 Love" and PM Dawn only slipped slightly with "Set Adrift On Memory Bliss". Michael Bolton's former #1 "When A Man Loves A Woman", the remake of Percy Sledge's classic, was fifth with another winner from Mariah Carey--"Can't Let Go" #6.
An unforgettable tribute sparked Natalie's album...
1991: Some of the best albums of the 1990's were in here: Dangerous by Michael Jackson spent a second week at #1 but Ropin' the Wind from Garth Brooks, a former #1, wasn't going away. Too Legit to Quit from Hammer moved to 3, switching places with U2's Achtung Baby. Michael Bolton moved up to 5 after 33 weeks with Time, Love & Tenderness and Nirvana's landmark Nevermind was #6. The rest of the Top 10: Unforgettable With Love from Natalie Cole moved from 13 to 7, Cooleyhighharmony from Boyz II Men, Metallica with their debut and Use Your Illusion II by Guns N' Roses slipped to #10.
1991: Richard Marx rose to #1 on the Adult Contemporary chart with help from Luther Vandross with the great song "Keep Coming Back".
1994: Mike Love and Brian Wilson of the Beach Boys settled a dispute out-of-court over authorship of 35 of the group's songs, with Love receiving $5 million.
1996: "Knockin' On Heaven's Door", the cover version of Bob Dylan's song written by Ted Christopher of Dunblane, Scotland, rose to #1 in the U.K. Christopher wrote a new verse in memory of the children and teacher killed in the Dunblane massacre and the song features brothers and sisters of the victims singing the chorus with Dire Straits' Mark Knopfler on guitar.
1996: Tragic Kingdom by No Doubt took over the #1 spot on the Album chart, just ahead of the great Falling Into You album from Celine Dion. Alanis Morissette continued to amaze with Jagged Little Pill, moving back into the Top 10 after 78 weeks of release.
2003: Ruben Studdard had the top album with Soulful.
2005: Mutya Buena announced she was leaving the group the Sugababes.
2005: The Human Rights Watch reported that the so-called "muzak" of Eminem and Dr. Dre was used to torture detainees at a CIA prison near Afghanistan. I'll tell you anything, but please turn off that God-awful crap!
Born This Day:
1934: Hank Crawford, who played saxophone for Ray Charles and Ike Turner, was born in Memphis, Tennessee; died in Memphis from complications of a stroke suffered in 2000 on January 29, 2009.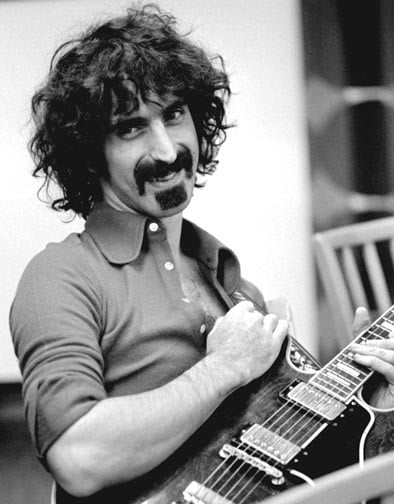 1940: Frank Zappa was born in Baltimore, Maryland; died of prostate cancer in Los Angeles on December 4, 1993.
1940: Ray Hildebrand of Paul & Paula was born in Joshua, Texas.
1951: Kevin Scott MacDonald, guitarist of the Cutting Crew ("I Just Died In Your Arms").
1942: Carla Thomas ("Gee Whiz" from 1960), who also recorded several duets with Otis Redding, was born in Memphis, Tennessee.
1943: Gwen McCrae, solo artist ("Rockin' Chair" from 1975) and wife of her manager George ("Rock Your Baby" from 1975) was born in Pensacola, Florida.
1943: Albert Lee, famous session guitar player, was born in Lingen, Herefordshire, England. (Note: some websites report his place of birth as Leominster, England; according to both the 'BBC' and the newspaper 'The Telegraph', Lee was born in Lingen.)
1946: Carl Wilson of the Beach Boys was born in Hawthorne, California; died February 6, 1998 of brain and lung cancer in Los Angeles.
1948: Barry Gordon ("Nuttin' For Christmas") was born in Brookline, Massachusetts.
1951: Nick Gilder of Sweeney Todd and later a solo artist ("Hot Child In The City" from 1978) was born in London.
1953: Betty Wright ("Clean Up Woman" from 1971) was born in Miami, Florida.
1971: Brett Scallions, lead singer of Fuel, was born in Brownsville, Tennessee.