1955: Elvis Presley, Johnny Horton and Floyd Cramer were featured on the famous Louisiana Hayride broadcast from Shreveport Auditorium.
1955: We first heard of Pat Boone on this date as his first single "Two Hearts" debuted on the chart and on the radio.
1955: Johnny Ace reached double digits as "Pledging My Love" topped the R&B chart for the tenth week.
1964: The Beatles made it four #1 songs in the U.K. with "Can't Buy Me Love". The single scored 2.1 million in advanced copies, still an all-time record.
1964: The Beach Boys recorded "I Get Around", which would soon become their first #1 song.
1965: The television show Ready Steady Goes Live! premiered in the U.K.
1965: The Who made their debut on radio on the U.K. show Joe Loss Pop Show.
1966: Sonny & Cher, the Turtles, the Mamas and the Papas, Donovan, Otis Redding and Jan & Dean all appeared at a charity concert at the Hollywood Bowl.
1966: SSgt. Barry Sadler spent a fifth week at #1 on the Adult chart with "The Ballad Of The Green Berets".
One of the Mamas & Papas greatest songs...
1965: "The Ballad Of The Green Berets" remained at #1 for the fifth week overall. The Rolling Stones held on to #2 with "19th Nervous Breakdown" while the Righteous Brothers moved from 8 to 3 with "(You're My) Soul And Inspiration". Lovin' Spoonful owned #4--"Daydream" while Simon & Garfunkel remained fifth with "Homeward Bound". The rest of the Top 10: "Nowhere Man" from the Beatles, the Mamas and the Papas maintained with "California Dreamin'", Nancy Sinatra's former #1 "These Boots Are Made For Walkin'" fell to #8, Cher moved from 17 to 9 with a solo hit--"Bang Bang (My Baby Shot Me Down)" and Gary Lewis & the Playboys grabbed #10 with "Sure Gonna Miss Her".
1967: The Rolling Stones had more trouble at their concerts when 154 Austrian fans were arrested after a riot broke out at the Town Hall in Vienna, Austria.
1968: Jimi Hendrix appeared in concert at the Paul Suave Arena in Montreal, Quebec, Canada.
1969: Bruce Springsteen and his group Child appeared at the Pandemonium Club in Wanammasa, New Jersey.
1970: Phil Spector completed final editing and mixing for the Beatles' Let It Be album.
1971: Ringo Starr released his first solo record "It Don't Come Easy". (Note: some websites naively say the song was released on April 16 in the U.S. "It Don't Come Easy" debuted on the Singles chart on April 7, 1971. It is physically impossible for a song to be included on the Singles chart if it has not yet been released as a single.)
1973: John Lennon and Yoko Ono held a press conference at the New York City Bar Association to discuss their side of the story in the United States Immigration Department's attempt to deport John. (Note: numerous websites claim the press conference was on April 2, 1972. Lennon was not ordered to leave the U.S. until March 23, 1973, so that alone would make the 1972 claim nonsensical. According to the book 'The John Lennon Handbook: Everything you need to know about John Lennon' by Emily Smith, the correct date is April 1, 1973. )
1973: The Beatles released the double compilation album 1962-1966, commonly known as The Red Album, in the U.S.
1973: The Beatles released the double compilation album 1967-1970, commonly known as The Blue Album, in the U.S.
1975: The Bay City Rollers had the #1 U.K. song with their remake of the Four Seasons' song "Bye Bye Baby". It would finish the year as the best-selling song.
1977: ABBA controlled the Singles chart with their fifth #1 in the U.K., "Knowing Me, Knowing You", a Top 10 song in over 15 countries.
1977: "Southern Nights" by Glen Campbell racked up a fourth week at #1 on the Adult chart.
1977: Foreigner's first career single was hot--"Feels Like The First Time" moved from 89 to 70.
Paul McCartney had his 86th career hit, as a member of the Beatles, Wings, and his solo projects...
1977: Hall & Oates were at #1 with "Rich Girl", holding off ABBA's attempt at their first #1 stateside with "Dancing Queen". Actor David Soul was at #3 with "Don't Give Up On Us" while Thelma Houston continued to edge up with "Don't Leave Me This Way". The rest of the Top 10: Barbra Streisand's #1 smash "Evergreen" was down to 5, Glen Campbell bounded up from 16-6 with "Southern Nights", 10cc with "The Things We Do For Love", the Eagles vaulted from 17-8 with "Hotel California", Natalie Cole crossed over with "I've Got Love On My Mind" and Wings landed #10 with "Maybe I'm Amazed".
1977: Fleetwood Mac enjoyed the first week of many at #1 with the landmark album Rumours. The group began a seven-day tour of the U.K. at the Odeon in Birmingham, England.
1979: Bob Seger released the single "Old Time Rock & Roll".
1981: CBS announced the "Nice Price" promotion of back catalog items. Early LP's from Bob Dylan, Simon & Garfunkel, Billy Joel, ABBA and Janis Joplin could be picked up for just
£
2.99.
1983:
Pink Floyd
released
The Final Cut in the United States
, their last album with Roger Waters. The album had been released on March 21 in the U.K.
1983: We first heard of an Irish band that would become of the all-time best. "New Year's Day", U2's first single, debuted on the chart and on the radio.
1983: Pink Floyd had the top album in the U.K. with The Final Cut.
1983: Lionel Richie had one of The Top Adult Contemporary Songs of the 1980's, as "You Are" spent a sixth week at #1.
1983: "Billie Jean" by Michael Jackson enjoyed an eighth week at #1 on the R&B chart.
"Make Believe" helped make 'Toto IV 'one of the great albums of the Rock Era...
1983: Thriller by Michael Jackson was #1 on the Album chart for the sixth week. Frontiers from Journey took second with H2O by Hall & Oates third. Men At Work's long-running #1 Business As Usual remained in the #4 spot while Styx moved from 10 to 5 with Kilroy Was Here. The rest of the Top 10: Rio from Duran Duran, Lionel Richie's self-titled album, the Grammy Award-winning Toto IV was still at #8 after 50 weeks of release, Def Leppard's album Pyromania was #9 and The Distance from Bob Seger & the Silver Bullet Band fell to #10.
1983: Al Jarreau's new release was gathering respect as "Mornin'" moved from #73 to #55.
1983: "Billie Jean" by Michael Jackson was #1 for a fifth week.
1984: Steve Perry, former lead singer of Journey, released his first solo single, "Oh Sherrie".
1987: U2 began a North American tour to promote The Joshua Tree with a concert at the Arizona State Activity Center in Tempe.
1988: Terence Trent D'Arby took over at #1 on the R&B chart with "Wishing Well".
1988: Whitney Houston reached #1 on the Adult Contemporary chart with "Where Do Broken Hearts Go".
1990: Eric Clapton was fined by Walton-on-Thames Magistrate Court after being arrested for speeding at 105 mph.
1990: Nirvana was busy working on demos of "In Bloom", "Sappy", "Dive", "Lithium", "Pay To Play", "Imodium" and "Polly" at Smart Studios in Madison, Wisconsin.
1991: Gloria Estefan had the #1 song "Coming Out Of The Dark".
1991: Great human being LL Cool J donated a pair of sneakers to every student and teacher at The Thompson Middle School in Dorchester, Massachusetts after the school won the "Foot Locker Cool School Video" contest.
1993: Roberta Flack appeared on the ABC soap opera, Loving.
1994: Ace of Base had the #1 album with The Sign.
1995: 2Pac began a four-week stay at #1 with the album Me Against the World.
1997: Joni Mitchell was reunited with Kilauren Gibb, the daughter she had given up for adoption in 1965.
1998: The Rock and Roll Hall of Fame opened a new wing in Cleveland, Ohio.
1998: Rob Pilatus of the ill-fated Milli Vanilli was found dead at age 32 in Frankfurt, Germany after taking a deadly dose of drugs and alcohol.
1998: Metallica debuted the Poor Re-Touring Me Tour at the Newcastle Entertainment Centre in Newcastle, Australia.
2001: Crazy Town was #1 with "Butterfly".
2001: Mariah Carey signed the most lucrative recording deal in music history, signing with Virgin Records for $80 million, only to be paid off later not to do any more albums for them.
2003: Edwin Starr, who gave us the timeless classic "War", died from a heart attack at his home in Bramcote, England at the age of 61.
2006: John Lennon's schoolbook containing the 12-year-old's drawing of the Lewis Carroll poem The Walrus and the Carpenter" was auctioned off at the price of $239,733. That poem was the inspiration for the 1967 hit "I Am The Walrus".
2008: Apple's iTunes became the largest music retailer in the United States.
(Note: some websites report that iTunes reached #1 on April 5, but an article by 'Ars Technica" shows that it occurred on April 2 with the release of the
NPD MusicWatch Survey for the month that afternoon.)
2011: Richard Patterson, drummer of the Esquires, died at the age of 66 after suffering a neurological illness.
Born This Day: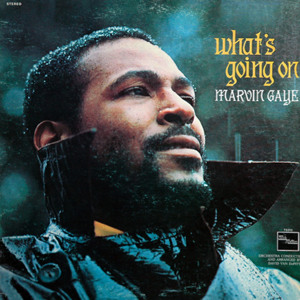 1939: Marvin Gaye was born in Washington, D.C.; died April 1, 1984 when he was shot one day prior to his 45th birthday by his father.
1941: Dr. Demento (real name Barret Eugene Hansen), radio personality and creator of the "Funny Five", was born in Minneapolis, Minnesota.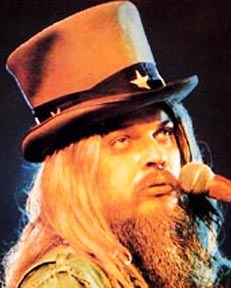 1942: Leon Russell was born in Lawton, Oklahoma; died November 13, 2016 in Nashville, Tennessee after trying to recuperate from quadruple bypass surgery. (Note: some websites claim Leon was born in 1941, but he was born in 1942, according to his official website.)
1943: Glen Dale, guitarist and vocalist with the Fortunes, was born in Deal, Kent, England.
1946: Kurt Winter, guitarist and songwriter of the Guess Who, was born in Winnipeg, Manitoba, Canada; died of kidney failure December 14, 1997. (Note: one website shows his birthday as April 14, 1948. Some websites report his death being December 15, and another website claims his death was on December 22. Kurt was born in April 2, according to the Manitoba Music Museum. Winter died on December 14 according to the newspaper 'The Winnipeg Free Press'.)
1952: Leon Wilkeson, bassist for Lynyrd Skynyrd, was born in Newport, Rhode Island; was found dead in a Ponte Vedra Beach, Florida hotel room on July 27, 2001 after spending many years suffering from chronic liver and lung disease.
1953: David Robinson, drummer of the Cars, was born in Malden, Massachusetts. (Note: 'MTV' reports that Robinson was born in Malden, Massachusetts, 'AllMusic.com" says he was born in Woburn, Massachusetts, and another website says he was born in Boston. While there are no credible sources for his birthplace, our best research indicates David was born in Malden.)
1956: Gregory Abbott ("Shake You Down") was born in Manhattan, New York. (Note: several websites claim he was born in New York City, and some say he was born in Harlem. Harlem is a neighborhood, not a city, and will not be shown on an official birth certificate. New York City contains several boroughs, each being officially census-designated with their own identities. Abbott was born in Manhattan.)
1961: Keren Jane Woodward of Bananarama was born in Bristol, England.
1967: Greg Camp, songwriter, guitarist and vocalist of Smash Mouth, was born in West Covina, California.
1979: Jesse Carmichael, keyboardist for Maroon 5, was born in Boulder, Colorado.
1983: Jasiel A. Robinson (Jung Joc) was born in Atlanta, Georgia. (Note: some websites report that he was born in College Park, Georgia. While there are no credible sources as to his birthplace, our best research indicates he was born in Atlanta and raised in College Park.)