1960: Brian Hyland was the guest on the popular CBS television show To Tell the Truth.
1961: The Everly Brothers reached #1 with "Temptation" in the U.K.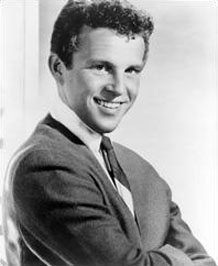 1962: Bobby Vinton's "Roses Are Red" was the #1 song, followed by "The Wah Watusi" from the Orlons and the former #1 "I Can't Stop Loving You" from Ray Charles.
1965: Barry McGuire released the single "Eve Of Destruction".
1965: Sonny & Cher appeared in concert at The Power House in San Diego, California.
1967: The Jimi Hendrix Experience played the first of three nights at the Café au -GoGo in New York City.
1969: The Beatles began working on "Come Together" at Abbey Road Studios in London.
1973: Canned Heat, Chuck Berry and Nazareth were among the acts at the Buxton Festival at the Booth Farm in Derbyshire, England.
1973: Detroit, Michigan declared it "Mary Wilson & the Supremes Day".
1973: The Carpenters made it three weeks in a row at #1 on the Adult Contemporary chart with "Yesterday Once More".
1973: Jim Croce scored his first #1 song with "Bad, Bad Leroy Brown". Billy Preston fell with "Will It Go 'Round In Circles" and the Carpenters had their 13th hit in four years ("Yesterday Once More"), with all but three of those going Top 10. Three Dog Night's classic "Shambala" was at #4 and Paul Simon's "Kodachrome" was at 5. The rest of the Top 10: George Harrison with "Give Me Love (Give Me Peace On Earth)", Deep Purple with "Smoke On The Water", Bette Midler blasted into the Top 10 with "Boogie Woogie Bugle Boy", Clint Holmes with "Playground In My Mind" and Bloodstone placed "Natural High" at #10.
1976: The Eagles performed at the Center & Exhibition Hall in Louisville, Kentucky.
1977: The Rolling Stones were joined onstage at the Tucson Community Center by Linda Ronstadt in her hometown of Tucson, Arizona, for "Tumbling Dice", which Ronstadt remade for her Simple Dreams album.
1979: Tubeway Army owned the top U.K. album with Replicas.
1979: "Bad Girls" by Donna Summer took over at #1 on the
R&B chart.
1979: Earth, Wind & Fire were exploding up the chart (68-46) with "After the Love Has Gone".
1980: The Thompson Twins appeared at Hope & Anchor in London.
1

980: Keith Godchaux of Grateful Dead was critically injured in a car accident in Marin County, California, and lost his life two days later.
1982: Queen played at the Forum in Montreal, Quebec, Canada.
1984: Prince registered his fourth week at #1 on the R&B chart with "When Doves Cry".
1984: Born in the U.S.A. by Bruce Springsteen once again ruled the Album chart with Huey Lewis & the News trailing with Sports. Prince moved up from 11 to 3 with Purple Rain while the Cars' great album Heartbeat City was at #4.
Billy Idol was in the Top 5...
1984: Prince made it three weeks in a row at #1 with "When Doves Cry", one of The Top 500 Songs of the Rock Era*. Bruce Springsteen was stuck at 2 with "Dancing In The Dark" while Ray Parker, Jr. moved from 8 to 3 with "Ghostbusters". Billy Idol had a huge hit at #4--"Eyes Without A Face". The rest of the Top 10: the Pointer Sisters with "Jump (For My Love)", the Jacksons moved into the Top 10 with "State Of Shock", Ann Wilson & Mike Reno were still at 7 with "Almost Paradise", ZZ Top was up to 8 with "Legs", Elton John moved from 16-9 with his 38th career hit "Sad Songs (Say So Much)" and Rod Stewart was right behind with "Infatuation".
1987: Guns n' Roses released their debut album Appetite for Destruction on Geffen Records
.
1989: UHF, the first movie starring Weird Al Yankovic, opened in theaters.
1990: Roger Waters organized a production of "The Wall" at Potsdamer Platz (the Berlin Wall) in Germany. Bryan Adams, Phil Collins, Cyndi Lauper, Van Morrison and Sinead O'Connor helped out in the benefit show.
Idol rocked 'em good..
1990: Glenn Medeiros and Bobby Brown moved to #1 with "She Ain't Worth It" while En Vogue moved to challenge with "Hold On". Billy Idol was at 3 with "Cradle Of Love". Johnny Gill moved to #4 with "Rub You The Right Way" and Mariah Carey's first release "Vision Of Love" climbed from 14 to 5.
1990: Lisa Stansfield had the #1 R&B song with "You Can't Deny It".
1995: MC Hammer and his wife celebrated the birth of their third child.
1996: Kim Thayil of Soundgarden was arrested for hitting a fan who was trying to take his picture at a hotel in Rockingham, North Carolina. Man, it must be fun to be a fan of that group.
1996: The Eagles were in concert at the Maritime Museum in Stockholm, Sweden.
1996: Alanis Morissette's album Jagged Little Pill returned to #1 in the U.K.
1998: Scott Weiland of Stone Temple Pilots was arrested in Los Angeles on a felony warrant. Weiland was a no-show at a July 9 court ate.
1999: MP3.com sold stock in an initial public offering. The stock made spokeswoman Alanis Morissette worth $42 million. The stock more than doubled on its first day of trading.
2001: Madonna went out on tour for the first time in eight years, performing at the First Union Center in Philadelphia,
Pennsylvania.
2002: Famed producer Gus Dudgeon, who worked with Elton John, the Beach Boys, David Bowie, Kiki Dee, XTC and Joan Armatrading, died in a car accident near Reading, Berkshire, England. Dudgeon was 59.
2003: Iron Maiden and Motorhead performed at Centrum Centre in Worcester, Massachusetts.
2003: Coldplay performed the second of two concerts at the Hordern Pavilion in Sydney, Australia. The recorded show would soon be their
live CD and DVD.
2005: Ashanti was found guilty of breach of contract and thus owed producer Genard Parker $630,000. She promised Parker he could produce two songs on her debut if he released her from an earlier contract and then reneged. The great thing about courts is that they hold you to your word even if you're not brought up to hold yourself to your
word.
2005: Mariah Carey had her biggest hit in over a decade with "We Belong Together", which remained at #1 for the
fourth week.
2005: Long John Baldry of Blues Incorporated, intertwined with so many other artists in rock's beginnings in England, died in Vancouver, British Columbia, Canada at the age of 64 after battling a chest infection for four months. Baldry discovered both Rod Stewart and Elton John.
2006: Herb Kalin of the Kalin Twins ("When" from 1958) died of a heart attack at the age of 72 in Waldorf, Maryland.
2007: Nancy Sinatra was given the Excellence in Arts award by the Vietnam Veterans of America at their national convention in Springfield, Illinois.
2008: The Eagles were in concert at the Air Canada Centre in Toronto, Ontario.
2008: The Police performed the first of two concerts at Red Rocks Amphitheatre in Morrison, Colorado.
Born This Day
:
1922: Kay Starr, who gave us one of the great songs of the Rock Era ("Rock And Roll Waltz", a #1 song for six weeks in 1955), was born in Dougherty, Oklahoma.
1931: Plas Johnson, studio saxophone player on hits such as "The Pink Panther Theme" by Henry Mancini, "The Great Pretender" by the Platters, "Purple People Eater" by Sheb Wooley and "My Special Angel" by Bobby Helms, was born in Donaldsonville, Louisiana.
19

39

: Kim Fowley, singer and producer who produced the song "Alley-Oop" and worked with the Beach Boys, Frank Zappa, Slade, and the Runaways, was born in Los Angeles; died January 15, 2015 of bladder cancer in Hollywood, California. (Note: some websites claim Fowley was born in 1942. He was born in 1939, according to the newspaper 'The Los Angeles Times'.)
1946: Barry Whitwam, drummer of Herman's Hermits, was born in Manchester, England.
1947: Rosie Hamlin of Rosie & the Originals ("Angel Baby", a #5 hit in 1960 that Hamlin wrote at the age of 14) was born in Klamath Falls, Oregon. (Note: some websites insist Rosie was born in San Diego, California. Rosie and her family did not move to San Diego until she was 11--she was born in Klamath Falls, according to her official website.)
1948: Cat Stevens was born in London.
1953: Eric Bazilian, singer/songwriter, multi-instrumentalist, arranger and producer of the Hooters, was born in Philadelphia, Pennsylvania.
1955: Howie Epstein, bass guitarist of the Heartbreakers, was born in Milwaukee, Wisconsin; died February 23, 2003 from drugs in Santa Fe, New Mexico.
1955: Taco (last name Ockerse--"Puttin' On The Ritz" from 1983) was born in Jakarta, Indonesia.
1961: Jim Martin, guitarist of Faith No More, was born in Oakland, California.
1969: Emerson Hart, lead singer and songwriter of Tonic, was born in Washington, Pennsylvania. ('Billboard', 'Allmusic.com', and several other websites claim he was born in South Orange, New Jersey. According to the newspaper 'News-Times' in Connecticut, Hart was born in Washington, Pennsylvania and grew up in New Jersey.)
1981: Blake Lewis ("How Many Words") was born in Redmond, Washington.