You will find several lists of the top instrumentals so this one is far from being the only one. It is, however, unique in that I tried to base it on what the public thinks, leaving my personal bias out of it. For it doesn't matter what a so-called "expert" or professional in the music business thinks. History will always record what the public believes.
So I base a good deal of this list on chart performance at the time, single and album sales to this point in history, and how the song holds up today. I have put a considerable amount of time and effort into coming up with this list. Although I believe it contains The Top 100 Instrumentals of the Rock Era*, it doesn't start getting great until the top 85 or so.
What is great about instrumentals is that the songwriter is free to focus solely on the music. Artists today have gotten away from that--when you strip the song from its jive and 21st century sound effects, all you have is the music. By listening to these instrumentals, hopefully we'll get back to what matters when composing a song.
Of course, I do realize that beginning in the 1980's, we as a society began cutting music programs to the bone so really we have only ourselves to blame for the poor quality of "music" these days. I know my own knowledge of music (I play the saxophone, clarinet and have played piano since age 5 and was in a group of 12 that was selected to sing at our church's world conference in Portland, Oregon and then toured throughout the country...) would not have been as great were it not for music education in the schools. I hope we can get back to providing more funds for that, to stimulate our children's interest in music.
Getting back to the other "lists" you may see on the web. They are great, but what is a music site without music?! Thus, you actually get to hear the songs that are in the list. Many I was not familiar with until I started researching for this special.
For navigation, the song titles are below the embedded YouTube video. For ease of use, I have separated the list into 10 segments of 10 songs each. Part Four will appear on this blog July 6.
I strongly recommend playing each song in order--with any luck (if I've done my homework (and I have!)), each one should sound better than the last. At least that's the goal.
Enjoy!
(Make sure you stop one song before you start another!)
80. "Take Five" by Dave Brubeck
Paul Desmond, Brubeck's alto saxophone player, wrote this song in 1959. The song was titled because it had an unusual 5/4 time signature. "Take Five" had great influence on the jazz/rock fusion genre. The unique chord progression in the song encouraged other artists to experiment with chords and improvise melodies. The song features what many consider one of the finest drum solos ever recorded by Joe Morello.
"Take Five" is the top track on Brubeck's legendary album Time Out. It reached #5 on the Easy Listening Chart (today the Adult Contemporary format) and #25 on the popular chart. The album is unique in that each track has a different time signature. The song is featured in numerous television and movie soundtracks. Upon his death, Brubeck left all royalties for the song to the American Red Cross, which collects approximately $100,000 per year from sales and airplay of the song.
79. "Fly Me to the Moon" by Joe Harnell And His Orchestra
Joe Harnell began playing piano at age six and as a teenager played in bands at resorts in the Catskill Mountains outside New York City. As a member of the Air Force Band, he played in England, France and Germany during World War II. After returning from the service, Harnell studied at Tanglewood Institute in Boston, Massachusetts with Aaron Copeland and Leonard Bernstein. Harnell was the conductor and arranger for Frank Sinatra, Peggy Lee and others. He also was the musical director for several television shows, including "The Mike Douglas Show".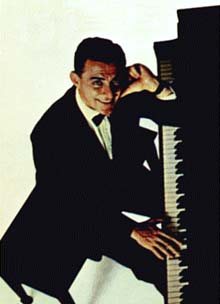 Bart Howard wrote this song in 1954 and it was originally known as "In Other Words". Popularly, people called it "Fly Me To the Moon" and that name became so widespread that the publishers changed the title in a couple of years. Harnell recorded an instrumental version and it reached #4 on the Easy Listening chart and #14 on the popular chart in December of 1962.
78. "Forever in Love" by Kenny G.
Kenny graduated from the University of Washington Magna Cum Laude with an accounting degree. He would need it to add up all his sales. In 1997, Kenny G earned a place in the Guinness Book of World Records by playing the longest note ever recorded on a saxophone. Through circular breathing, he held an E-flat for 45 minutes, 47 seconds at J&R Music World in New York City.
"Forever in Love" is from the album Breathless that sold 12 million copies in the United States. It reached #1 for two weeks on the all-important Adult Contemporary chart. It remained on the AC chart for 34 weeks, ranked in the Top 20 of the Rock Era for longevity. The song reached #18 on the "popular chart", which by then had taken a backseat to the Adult Contemporary chart. In 1994, Kenny won the Grammy for Best Instrumental Performance.



77. "Never On Sunday" by Don Costa
Gorme. The three soon joined a new record label--ABC-Paramount Records. Costa accepted an A&R job at ABC that would also have him be chief arranger and producer. He helped Paul Anka and Lloyd Price among others at ABC. During his career, he arranged for Frank Sinatra, Vaughn Monroe, Vic Damone, the Ames Brothers and more and wrote Duane Eddy's hit "Because They're Young".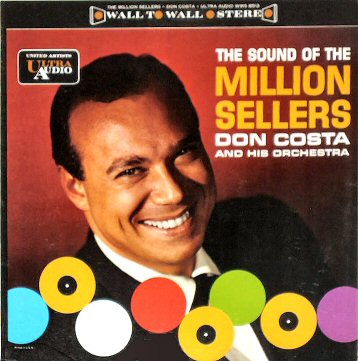 "Never On Sunday" was the title song from the movie starring Melina Mercouri. It reached #19 on the popular chart but ended up selling a million copies.