1961: Governor Ernest Vandiver of Georgia declared it "Brenda Lee Day".
1963: The Shadows had their fifth #1 in the U.K. with "Foot Tapper".
1964: The Hollies, the Dave Clark Five, the Kinks and the Mojos began a U.K. tour at the Coventry Theatre.
1966: Mick Jagger, lead singer of the Rolling Stones, was injured during a concert in Marseilles, France after a fan threw a chair at the stage, with the left leg of the chair hitting the surprised Mick just below the left eye. Jagger had to have eight stitches.
1966: Fans mobbed the Walker Brothers after they entered their hotel in Cheshire, England. Two group members suffered concussions.
1967: The Rolling Stones appeared at the Stadthalle in Bremen, Germany along with opening acts the Easybeats and the Creation.
1967: The Beatles began work on a new song "With A Little Help From My Friends". The track required 10 takes of the rhythm arrangement.
1968: Glen Campbell was named as the guest host of the Smothers Brothers' Summer Replacement Variety Hour on CBS-TV.
1969: John Lennon, Black Sabbath, the Crazy World of Arthur Brown and Curved Air were among those who appeared at the London Free Easter Festival at Victoria Park in Bethnal Green.
1969: "Galveston" by Glen Campbell set the pace on the Adult chart.
1969: "Hair" by the Cowsills rose from 70 to 35.
1969: Tommy Roe remained balanced at the top with "Dizzy" for a third week at #1.
"Smiling Phases" from Blood, Sweat & Tears...
1969: Blood, Sweat & Tears soared to the top of the U.S. Album chart with their phenomenal debut album. Wichita Lineman by Glen Campbell was second with the Cream finale, Goodbye, #3. Ball from Iron Butterfly dropped in next with The White Album from the Beatles in the fifth position. The rest of the Top 10: In-A-Gadda-a-Vida from Iron Butterfly, Donovan's Greatest Hits moved from 11 to 7, the Greatest Hits from the Association was #8, Tom Jones remained the same with Help Yourself and TCB from Diana Ross & the Supremes with the Temptations finished the list.
1970: Ed Sullivan debuted a series of live broadcasts in which music stars sang for servicemen in VA hospitals during the Vietnam War. Bobby Gentry and Gladys Knight & the Pips appeared on the first show, televised on CBS.
1970: John Lennon and Yoko Ono announced that Yoko was pregnant with the couple's first child. Ono was pregnant in 1968, but had a miscarriage.
1973: After Dr. Hook & the Medicine Show wrote a song about not appearing on "The Cover of the Rolling Stone", they appeared on the cover of The Rolling Stone.
1975: Jeff Beck released his first solo album Blow By Blow. (Note: some websites say the album was released on March 30, but according to Gibson Guitars, the correct date is March 29.)
1975: Earth, Wind & Fire prevailed for a second week at #1 on the R&B chart with "Shining Star".
1975: Labelle topped the U.S. Singles chart with "Lady Marmalade". Minnie Riperton's "Lovin' You" moved up to challenge while "Philadelphia Freedom" by Elton John rose from 11 to 3. B.T. Express owned the #4 song with "Express". The rest of the Top 10: Joe Cocker's "You Are So Beautiful", Ringo Starr had the "No No Song" at #6, Phoebe Snow edged up with "Poetry Man", Frankie Valli dropped precipitously from 1 to 8 with "My Eyes Adored You", Sugarloaf moved up with "Don't Call Us, We'll Call You" and Olivia Newton scored her fourth straight Top 10 with "Have You Never Been Mellow".
1975: Led Zeppelin placed all six albums on the U.S. Album chart simultaneously. No other act has ever matched that feat. Physical Graffiti was #1.
1976: Neil Young started a European tour with three concerts at the Hammersmith Odeon in London.
1978: David Bowie premiered his Low/Heroes 77-date World Tour at San Diego Sports Arena.
1980: The Whispers quietly grabbed the #1 spot on the R&B chart for a fifth week with "And The Beat Goes On".
1980: It had been nearly ten years since he had a hit, but Tommy James had the new #1 song on the Adult Contemporary chart with "Three Times In Love".
"Ride Like the Wind" from newcomer Cross...
1980: There were two new songs in the Top 10 and were they great...Blondie advanced from 11 to 5 with "Call Me" and Christopher Cross moved from 14-9 with his debut single "Ride Like The Wind".
"Sometimes a Fantasy" from Billy Joel's new album...
1980: The Wall by Pink Floyd spent an 11th week at #1 on the Album chart, holding off the fast-charging (9-2) Against the Wind by Bob Seger & the Silver Bullet Band. Mad Love by Linda Ronstadt captured the #3 spot while Damn the Torpedoes from Tom Petty & the Heartbreakers earned position #4. The rest of the Top 10: Bebe Le Strange from Heart, Billy Joel climbed from 11 to 6 in just the second week of release for Glass Houses, Chuck Mangione's Fun and Games was again #8, Phoenix from Dan Fogelberg was next and Michael Jackson remained #10 with Off the Wall.
"The Great Gig in the Sky", one of the tracks that have made 'Dark Side of Moon" an enduring classic...
1980: Dark Side of the Moon by Pink Floyd spent its 303rd week on the Album chart to finally topple Tapestry, the masterpiece by Stanley, Idaho's Carole King, which had held the record for nearly a decade. The Floyd went on to obliterate the record, staying on the charts from 1973-1988, an unbelievable 741 weeks. With several re-entries onto the chart, the count as of late last year was 889 weeks for Dark Side.
1982: Vangelis took home an Oscar for Best Original Score from the classic movie Chariots of Fire.
1985: Tom Bailey of the Thompson Twins was found collapsed on his hotel room floor, Bailey suffered from exhaustion.
1985: Jeanine Deckers, known as the Singing Nun, who reached #1 with "Dominique" in 1963, died at the age of 52 after committing suicide. Deckers told of her financial difficulties in a suicide note, yet on that very day and unbeknownst to her, the association that collects royalties for songwriters awarded her $300,000. Two things: 1) It is extremely sad that a woman who devoted her life to Christ did not have more faith and 2) it is also extremely sad that a person who should recognize that money is not important placed so much importance on it that she would kill herself.
1986: Falco moved to #1 with "Rock Me Amadeus". Heart's "These Dreams" edged down while "Secret Lovers" by Atlantic Starr was third.
1986: Heart held on to #1 on the AC chart for a third week with "These Dreams".
1986: Whitney Houston had the top album for the fourth straight week, as the album passed the 52-week mark of release.
1988: Madonna appeared in the Lincoln Center in the Broadway play Speed the Plow.
1989: Carly Simon won the Oscar at the Academy Awards at the Shrine Civic Auditorium in Los Angeles for Best Original Song for "Let The River Run" from Working Girl.
1993: Peabo Bryson and Regina Bell won the Oscar for Best Original Song for "A Whole New World" from Aladdin.
2001: Elton John, Paul Simon, David Crosby and others performed at a tribute to Brian Wilson of the Beach Boys at Radio City Music Hall in New York City.
2003: James Brown donated 400 tickets for his Houston show to members of the military.
2004: Jon Bon Jovi and his wife celebrated the birth of son Romeo Jon.
2004: Prince began his Musicology tour at the Staples Center in Los Angeles. He announced that it would be the last time he would play his hits live.
2005: Neil Young required brain surgery at a New York City hospital after suffering an aneurysm.
2007: Bono, lead singer of U2, accepted an honorary knighthood at a ceremony in Dublin, Ireland.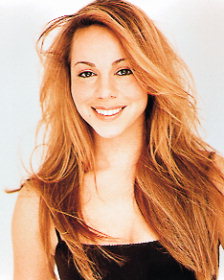 2008: Mariah Carey's "Touch My Body" was #1 for a second week, giving her 80 total weeks at #1 in her career. Wikipedia tells you that she passed Elvis Presley but that is erroneous--with her 80th week at #1, Carey and Elvis are now tied for the Rock Era record.
2009: Guitar Hero: Metallica was released.
2011: Ray Herr, guitarist, bassist and singer with the Ides of March ("Vehicle" from 1970) passed away at age 64 from esophageal cancer in Hainesville, Illinois.
Born This Day:
1940: Ray Davis, original bass singer and a founding member of Parliament and Funkadelic, was born in Sumter, South Carolina; died of respiratory problems in New Brunswick, New Jersey on July 5, 2005.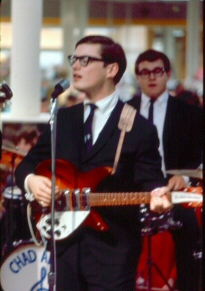 1943: Chad Allen, founding member, original lead singer and rhythm guitarist of the Guess Who, was born in Winnipeg, Manitoba, Canada.
1943: Evangelos Papathanassiou (Vangelis--"Chariots Of Fire") was born in Agria, Greece. (Note: some websites claim Vangelis was born in Volus, Greece, but according to his official website, he was born in Agria, about 8 kilometers from Volus.)
1944: Terry Jacks ("Seasons In The Sun" from 1974) was born in Winnipeg, Manitoba, Canada.
1945: John "Speedy" Keen, songwriter, vocalist, drummer and keyboardist for Thunderclap Newman, was born in Ealing, London; died March 21, 2002 of heart failure.
1947: Bobby Kimball, lead singer of Toto, was born in Orange, Texas.
1959: Perry Farrell, frontman for Jane's Addiction, was born in Queens, New York. (Note: some websites say he was born in New York City, but according to 'CMJ New Music Monthly', Farrell was born in Queens.
1967: John Popper, lead singer and a virtuoso harmonica player for Blues Traveler, was born in Cleveland, Ohio.