This great San Francisco act has had two distinct sounds, the drum and rhythm-based early years, then the keyboard R&B sound influenced by Michael McDonald in the latter part of the 70's. The group disbanded from 1982-1987 before getting back together. Here is the Lineup History of the Doobie Brothers:
Tom Johnson on guitars, keyboards, harmonical and lead vocals from 1970-1977. He rejoined the group in 1987 and is still with them today.
Patrick Simmons on guitars, banjo and flute from 1970 through the present
Dave Shogren on bass and guitar from 1970-1972
John Hartman on drums and percussion from 1970-1979 and 1987-1992
Michael Hossack was added as a second drummer in 1971 through 1973. He then rejoined the group in 1987 and played through 2001 and again from 2002 until his death in 2012.
Tiran Porter became a key component of the group's sound on bass beginning in 1972. Tiran played with the Doobies through 1979, then was there for the reunion from 1987-1991.
Keith Knudsen became the second drummer in 1973 and he has been a longtime stable force providing the beat. Keith was with the Doobies through their breakup in 1987, rejoined them briefly in 1987, played from 1993-1995 and again from 1998-2005.
Guitarist Jeff "Skunk" Baxter, who had played with Steely Dan, joined the Brothers in 1974 through 1977, then played again during the reunion year of 1987.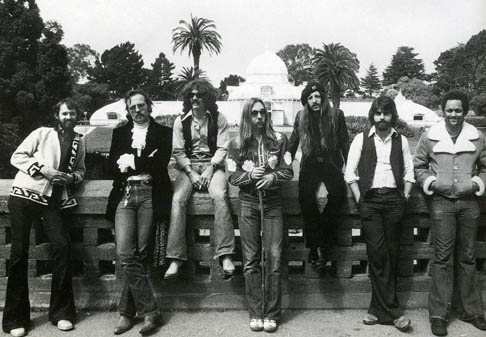 McDonald joined the group in 1975 and was the driving force behind the group until 1982. Michael toured with the group in 1987 and joined them from 1995-1998 and 2005-2010. He still appears with the Doobie Brothers on occasional shows.
Percussionist Bobby LaKind joined the group from 1977-1982 and played with the group from 1987-1989.
John McFee contributed guitars and violin from 1979 through 1982 and rejoined the Doobies briefly in 1987, again from 1993-1994 and then permanently from 1996 through the present.
Chet McCracken provided drums and percussion from 1979-1982, was part of the reunion in 1987 and also played in 1995.
Cornelius Bumpus played saxophone, flute and keyboards from 1979-1982, and also joined the group for their reunion in 1987, playing through 1995.
Willie Weeks joined the group in 1980 through 1982 on bass and rejoined the group briefly in 1993.
Dale Ockerman was added to the group on keyboards and guitar in 1988 and he played through 1995.
Jimi Fox provided percussion in 1989-1992.
Richard Bryant was brought in to provide percussion from 1989-1991.
John Cowan took over from Weeks briefly in 1993.
Danny Hull came in in 1993 and played sax, harmonica and keyboards through 1998.
Guitarist Bernie Chiravalle joined the group in 1995.
Skylark began playing bass for the Doobies beginning in 1995 and he played through 2010.
Keyboardist Guy Allison became a part of the Doobie Brothers live sound beginning in 1996 through the present.
Marc Russo played saxophone for the group beginning in 1998 and is still with them.
M.B. Gordy took over percussion and drums from 2001-2005.
Ed Wynne provided saxophone from 2002-2005.
The group added Ed Toth on drums and percussion from 2005-2010.
Bassist John Cowan has been with the group since 2010.
Tony Pia joined the group in 2010 and is still active.
Ed Toth came aboard in 2010 as another drummer and still plays with the group.