1899: The first jukebox was placed in the Palais Royal Hotel in San Francisco, California.
1959: After taking a week off, "Mack The Knife" returned to inflict more damage on the chart with a seventh week at #1 for Bobby Darin.
1960: Elvis Presley's first movie since returning from military service, G.I. Blues, was released.
1962: The Beatles auditioned at St. James' Church Hall in London for the BBC, that was looking for people with the potential to be on television. They failed. The person responsible for the decision was no doubt fired and made to wear the tattoo "I'm the world's biggest loser" on their forehead for the rest of their life.
1963: Dale & Grace reached #1 on the Easy Listening chart with "I'm Leaving It Up To You".
1963: Jimmy Gilmer & the Fireballs had the top R&B song with "Sugar Shack".
Lots of standards on this album...
1963: For the fourth week, Peter, Paul & Mary owned the #1 album with In the Wind. Barbra Streisand was close behind with The Second Barbra Streisand Album and Elvis' Golden Records, Volume 3 came in third. The rest of the Top 10: Trini Lopez at PG's, Ingredients in a Recipe for Soul by Ray Charles, the debut from Peter, Paul and Mary was moving back up to #6 after 83 weeks of release, Surfer Girl, the new album from the Beach Boys, moved to #7, The Singing Nun moved from 54 to 8 with her self-titled debut, a third album from Peter, Paul & Mary--Moving was #9 and Al Martino held on to #10 with Painted, Tainted Rose.
1963: Dale & Grace stormed up to #1 with "I'm Leaving It Up to You". The Village Stompers had song #2 with "Washington Square" while Nino Tempo & April Stevens slipped with "Deep Purple". Former #1 "Sugar Shack" by Jimmy Gilmer & the Fireballs was #4 with the Impressions remaining at #5 with "It's All Right". The rest of the Top 10: "She's A Fool" from Lesley Gore, Tommy Roe's "Everybody", Elvis Presley had #8--"Bossa Nova Baby", the Singing Nun melodically moved from 19 to 9 with "Dominique" and Los Indios Tabajaras finished the group with "Maria Elena".
1964: The Beatles released the single "I Feel Fine".
1964: The Rolling Stones were late for the radio shows Top Gear and Saturday Club and were banned by the BBC.
1965: The Beatles filmed promotional clips for "I Feel Fine", "Ticket to Ride", "Help!", "Day Tripper" and "We Can Work It Out" at Twickenham Studios in London. Three films were made of both "We Can Work It Out" and "Day Tripper", two for "I Feel Fine", and one each for "Help!" and "Ticket To Ride". The videos were sold and distributed by NEMS. The BBC paid

paid £1,750 for the broadcast rights, and deals were struck with other broadcasters throughout the world.
1966: The Elvis Presley movie Spinout opened in theaters.
1967: The Who were at the New Barn at the Lions Delaware County Fairgrounds in Muncie, Indiana.
1968: The Cowsills: A Family Thing was televised by NBC.
1968: After Dusty Springfield had recommended Jimmy Pa
ge to Ahmet Ertegun, hea
d of Atlantic Records, Led Zeppelin manager Peter Grant finalized the deal that gave the group their recording contract.
1968: Steve Miller debuted on the chart with his first single "Living In The U.S.A.".
1968: Mary Hopkin celebrated four weeks at #1 on the Adult chart with "Those Were The Days".
1968: B.J. Thomas moved from 97 to 69 with "Hooked On A Feeling", one of the week's biggest movers.
1968: The Beatles tied the existing Rock Era record (held by Bobby Darin's "Mack The Knife")
with a ninth week at #1 for "Hey Jude". Diana Ross & the super Supremes were making a bid for another #1 with "Love Child" and, after being unable to overtake the Fab Four, Mary Hopkin slipped to #3 with "Those Were The Days". Steppenwolf's rocker "Magic Carpet R
ide" came in fourth and Dion moved from 9 to 5 with "Abraham, Martin And John". The rest of the Top 10: "White Room" from Cream, Johnny Nash slipped slightly with "Hold Me Tight", Johnnie Taylor wondered "Who's Making Love", O.C. Smith with "Little Green Apples" and Glen Campbell shot up from 23 to 10 after just four weeks with "Wichita Lineman".
1970: George Harrison released his first solo single--"My Sweet Lord" in the U.S. (Note: some websites report the date of release as November 27. This is physically and logistically impossible to release a song on the 27th and then debut on the charts on the following day, November 28.)
1972: Bob Dylan arrived in Durango, Colorado to begin filming the movie Pat Garrett and Billy the Kid.
1974: Gary Wright left the group Spooky Tooth to begin a solo career.
1974: Elton John began an 11-week run at #1 on the U.K. Album chart with his Greatest Hits package.
1974: Billy Swan moved from 6 to 1 with "I Can Help", leaping over "Do It ('Til You're Satisfied)" from B.T. Express, "My Melody Of Love" from B
obby Vinton and America's "Tin Man". Neil Diamond surged to #5 with "Longfellow Serenade". The rest of the Top 10: Carl Carlton and "Everlasting Love", Carl Douglas mastered his way from 27 to 7 with "Kung Fu Fighting", the Three Degrees blasted into the Top 10 with their great song "When Will I See You Again", John Denver was "Back Home Again" at #9 and Harry Chapin pulled of a 22 to 10 move for one
of
The Most Important Songs of the Rock Era*
--"Cat's In The Cradle".
1975: David Bowie was a guest on Cher's television show on CBS. The two sang a medley of "
"Young Americans," "Song Sung Blue," "One," "Da Doo Ron Ron," "Wedding Bell Blues," "Maybe," "Day Tripper," "Ain't No Sunshine," and "Youngblood." (Note: several websites report the date of broadcast as either November 8 or 9. However, 'Openculture.com" and several other sites report that the date was November 23. Our best research indicates the broadcast was this latter date. )
1975: "Bohemian Rhapsody" by Queen landed at #1 on the U.K. chart; it would not relinquish the position for nine weeks.
1976: The Scorpions were in concert at Accrington Town Hall in England.
1976: Police arrested Jerry Lee Lewis as he showed up at the gates of Graceland in Tennessee for the second time, waving a pistol, shouting and demanding to see Elvis Presley.
1979: Dan Fogelberg released the single "Longer".
1979: Marianne Faithfull was arrested for possession of marijuana at Oslo Airport in Norway.
1976: Wings kicked off a 19-date tour of the U.K. at the Royal Court in Liverpool, England.
1979: The Rod Stewart Special was televised on NBC.
1983: Tom Evans, bass guitarist for Badfinger, committed suicide after the band decided to call it quits.
Newcomers Tears for Fears...
1985: The Soundtrack to "Miami Vice" was #1 on the Album chart for the fourth week but John Cougar's great album Scarecrow was second and Dire Straits were up to #3 with Brothers in Arms. Heart's self-titled release was fourth followed by In Square Circle from Stevie Wonder. The rest of the Top 10: Whitney Houston and her debut, Tears for Fears remained at 7 with Songs from the Big Chair, Sting's solo album The Dream of the Blue Turtles was #8, Bruce Springsteen remained at #9 after 75 weeks of release with Born in the U.S.A. and ZZ Top sped in from 32 to 10 with Afterburner.
1989: Paul McCartney kicked off the North American leg of his first major tour in ten years when he played the first of five nights at the Los Angeles Forum.
1991: Genesis owned the top album in the U.K. with We Can't Dance.
1991: Michael Jackson was on top of the U.K. singles chart with "Black Or White".
The completely awesome Paula Abdul...
1991: Michael Bolton repeated the feat of the original "When A Man Loves A Woman" by Percy Sledge by hitting #1. "Cream" from Prince dripped down while PM Dawn had song #3--"Set Adrift On Memory Bliss". Boyz II Men held steady with "It's So Hard To Say Goodbye To Yesterday" and Bryan Adams dropped after peaking at #2 with "Can't Stop This Thing We Started". The rest of an excellent Top 10: Roberta Flack & Maxi Priest with "Set The Night To Music", Amy Grant was up with "That's What Love Is For", Paula Abdul moved from 13 to 8 with her great song "Blowing Kisses In The Wind", Boise, Idaho's Curtis Stigers moved into the Top 10 with "I Wonder Why" and Guns N' Roses remained in the 10th position with "Don't Cry".
1991: The Adult Contemporary chart was already way ahead of the so-called popular chart as Michael Bolton spent a fourth week at #1 with "When A Man Loves A Woman".
1991: Garth Brooks had a monster album as
Ropin' the Wind
held down #1 for the sixth week.
1992: Michael Jackson released the single "Heal The World".
1992:
Boyz II Men released their version of the great Five Satins song "In The Still Of The Nite
("I'll Remember").
1993: Metallica released the album Garage Inc.
1993: Metallica also released their first live album, the boxed set
Binge & Purge
.
(Note: some websites report the date of release as November 29--according to the band's official website, the correct date is November 23.)
1993: Emerson, Lake & Palmer received a star on the Hollywood Walk of Fame.
1994: Michael Jackson was cleared in a paternity suit in California by DNA testing.
1994: Tommy Boyce, who wrote "Last Train To Clarksville" and "(I'm Not Your) Steppin' Stone" for the Monkees with songwriting partner Bobby Hart and had a hit with Hart ("I Wonder What She's Doing Tonight") committed suicide after a long battle with depression.
1995: Junior Walker, soul artist and elite saxophonist ("How Sweet It Is" from 1966 and "What Does It Take To Win Your Love" from 1969), who played the famous solo on "Urgent" by Foreigner, died of cancer in Battle Creek, Michigan at the age of 64. (Note: one website incorrectly reports that Walker died at age 53--he was born June 14, 1931, and thus was 64, as confirmed in the book 'The Tombstone Tourist: Musicans' by Scott Stanton.)
Toni Braxton had a winner...
1996: "No Diggity" by Blackstreet with Dr. Dre was #1 for a third week, holding off Celine Dion again with her song "It's All Coming Back To Me Now". Toni Braxton wasn't going away with "Un-Break My Heart" and now Merril Bainbridge challenged with "Mouth". The rest of the Top 10: "Nobody" from Keith Sweat with Athena Cage, Ginuwine's "Pony", Donna Lewis slipped to 7 with her smash "I Love You Always Forever", No Mercy edged up with "Where Do You Go", Los Del Rio was still in the Top 10 after 49 weeks of release with "Macarena" and Babyface held on to #10 with "This Is For The Lover In You".
2001: O.C. Smith ("Little Green Apples" from 1968), who later became the founder and pastor of The City of Angels Church in Los Angeles, died of a heart attack at the age of 65 at his home in Ladera Heights, California.
2003: Westlife scored their 12th #1 song in the U.K. with their remake of the Barry Manilow song "Mandy".
2003: Michael Jackson's compilation Number Ones rose to #1 on the Album chart in the U.K.
2005: Madonna had the top album with
Confessions on a Dance Floor
.
2014: One Direction won Best Artist of the Year at the American Music Awards at the Nokia Theatre in Los Angeles.
Born This Day: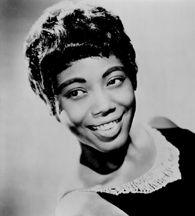 1939: Betty Everett ("The
Shoop Shoop
Song (It's In His Kiss)" was born in Greenwood, Mississippi; died of a heaert attack on August 19, 2001 in Beloit, Wisconsin. (Note: some websites show that Everett died in South Beloit, Illinois, but according to 'The Chicago Tribune', she died in Beloit, Wisconsin.)
1940: Freddie Marsden, drummer of Gerry and the Pacemakers, was born in Liverpool, England; died in Southport, Lancashire, England on December 9, 2006.
1949: Sandra Stevens of the Brotherhood of Man ("Save All Your Kisses For Me" from 1976) was born in Leeds, Yorkshire, England.
1954: Bruce
Hornsby, elite keyboard player and leader of Bruce Hornsby & the Range, was born in Williamsburg, Virginia. (Note: some websites show that Bruce was born in Richmond. He went to school at the University of Richmond, but he was born in Williamsburg, according to the books 'The Great Rock Discography' by Martin Charles Strong and 'Williamsburg and Virginia's Historic Triangle' by Mary Alice Blackwell, Anne Patterson Causey, and Joetta Sack.
1962: Calvin Hayes, guitarist and bassist of Johnny Hates Jazz ("Shattered Dreams" from 1987), and the son of producer Mickie Most, was born in

London.
1962: Chris Bostock, bassist of the Jo Boxers and Style Council, was born in Bristol, England.
1984: Lucas Stephen Grabeel, part of the cast of High School Musical, was born in Springfield, Missouri.
1992: Miley Cyrus was born in Nashville, Tennessee.
1996: Ken Block, songwriter, guitarist and lead singer of Sister Hazel ("All For You"), was born in Gainesville, Florida.