1957: Pat Boone was featured on the cover of Newsweek magazine.
1959: Another of the famous days in the Rock Era, as on this date Bobby Darin released the classic single "Mack The Knife".
1959: Monday fell on this date, the day for new releases in the music business. Paul Anka released "Put Your Head On My Shoulder".
1

964: Roy Orbison released the single "Oh Pretty Woman".
1964: The Beatles began their second American tour at the Cow Palace in San Francisco, California. The Righteous Brothers, Jackie DeShannon, the Exciters and Bill Black's Combo opened for the Beatles.
1965: The Beatles were in concert for two shows at the Sam Houston Coliseum in Houston, Texas.
1967: Ringo (Starr) and Maureen Starkey celebrated the birth of son Jason.
1967: The Supremes shot up from #61 to #20 with the innovative "Reflections".
1967: There's no other way to look at it--these were historic times in music. "All You Need Is Love" by the Beatles replaced "Light My Fire" from the Doors as the #1 song. The Monkees edged up with "Pleasant Valley Sunday" and Stevie Wonder had #4--"I Was Made To Love Her". The rest of the Top 10: "Baby I Love You" from Aretha Franklin, the Buckinghams with "Mercy, Mercy, Mercy", Bobbie Gentry moved from 21-7 (she had made the Top 10 in three weeks) with "Ode To Billie Joe", James Brown entered the Top 10 with "Cold Sweat", Procol Harum had song #9--"A Whiter Shade Of Pale" and the Young Rascals placed at 10 with "A Girl Like You".
1969: Jefferson Airplane, Joni Mitchell, Stephen Stills and David Crosby were guests on The Dick Cavett Show on ABC.
1970: The Carpenters released the album Close to You.
1971: Led Zeppelin played before 17,000 fans at the Pacific Coliseum in Vancouver, British Columbia, Canada.
1972: John Denver hosted The Midnight Special on NBC-TV.
1972: That sweet talker Al Green sang "I'm Still In Love With You" and it was still the #1 R&B song.
The title cut from the Carpenters' incredible album...
1972:
Chicago V
reached #1 on the Album chart in just its fourth week, moving Elton John's
Honky Chateau
out of the top spot.
School's Out
from Alice Cooper fell to #3, followed by
A Song for You
by the Carpenters and
Simon and Garfunkel's Greatest Hits
.
Nilsson tells us of his strange concoction...
1972: Gilbert O'Sullivan made it four weeks at #1 with "Alone Again (Naturally)". Looking Glass continued to hang in there with "Brandy (You're A Fine Girl)". The Hollies were up three with "Long Cool Woman In A Black Dress". Argent ("Hold Your Head Up"), Nilsson ("Coconut") and the Carpenters ("Goodbye To Love") were the new entries in the Top 10.
1973: Rita Coolidge married Kris Kristofferson in Malibu, California.
1973: Lead singer and bassist Peter Cetera, lead guitarist Terry Kath, trumpeter Lee Loughnane and saxophonist Walter Parazaider of the group Chicago appeared in the movie Electra Glide in Blue, which debuted in theaters on this date.
1974: Reunion released "Life Is A Rock (But The Radio Rolled Me)" on this date.
1974: The Three Degrees were on top of the U.K. with their great song "When Will I See You Again".
1978: The Commodores had a smash in the U.K. as "Three Times A Lady" hit #1.
1978: The Commodores had the top R&B hit in the U.S. for a second week with "Three Times A Lady".
1978: "Three Times A Lady" was also the #1 Adult Contemporary hit.
1978: Bob Seger had a hot song in "Hollywood Nights". It moved from 78 to 38 on this date.
1979: Dorsey Burnette, brother of Johnny, died of a heart attack at the age of 46 in Canoga Park, California.
1980: Alice Cooper cancelled a concert due to illness and 1,400 people rioted in Toronto, Ontario, Canada. Thirty-one people were arrested and 12 people were hospitalized.
1988: "Hound Dog" by Elvis Presley was announced as the most-played jukebox song of the first hundred years.
1995: Count 'em--seven weeks in a row for TLC at #1 with "Waterfalls".
1997: Fleetwood Mac released the album
The Dance
.
2000: Gregg Allman played a benefit concert for Jeff Fountain, his fiance's father. Fountain was injured in a motorcycle accident in June.
2000: Semisonic, Macy Gray, All Saints and Flaming Lips all played at the opening day of the V2000 Festival in Staffordshire, England.
2001: Betty Everett ("The Shoop Shoop Song (It's In His Kiss)") was found dead at the age of 61 in South Beloit, Illinois, believed to have died from a heart attack.
2001: Five owned the top U.K. song with "Let's Dance".
2006: In today's edition of Inmates Run Rap Music, Busta Rhymes was arrested and charged with assault after attacking a man in Manhattan who accidentally spit on Rhymes' car on August 12.
2007: Elvis Presley posthumously rose to #1 on the U.K. Album chart with The King.
2008: Lady Gaga released the album

The Fame on Interscope Records

.
2008: Saxophonist LeRoi Moore, one of the founding members of the Dave Matthews Band, died at age 46 in Los Angeles from injuries sustained in a car accident in June on his Virginia farm.
2008: Wayne Wadhams, lead singer of the Fifth Estate ("Ding Dong! The Witch Is Dead") died in Boston, Massachusetts.
2008: Gary Glitter was released from prison in Vietnam after serving three years for molesting two young children.
Born This Day:
1939: Ginger Baker of the groups Cream and Blind Faith was born in Lewisham, London.
1940: Jonathan (Roger Cook) of David & Jonathan ("Michelle" from 1966) was born in Bristol, England.
1940: Johnny Nash ("I Can See Clearly Now" from 1972) was born in Houston, Texas.
1943: Billy J. Kramer (William Ashton) of Billy J. Kramer & the Dakotas was born in Bootle, Lancashire, England.
1943: Don Fardon, who recorded a version of "Indian Reservation", was born in Coventry, Warwickshire, England. (Note: some websites falsely say he was born in Coventry, West Midlands, England. Coventry was not included in West Midlands County until 1974, years after Fardon was born, and you will never see West Midlands listed on his official birth certificate.)
1945: Ian Gillan, lead singer of Deep Purple, was born in Hounslow, Middlesex, England.
1947: George Newsome, drummer of the Climax Blues Band, was born in Stafford, Staffordshire, England. (Note: some websites report he was born August 14. Although no credible sources exist for either date, our best research indicates he was born August 19.)
1948: Susan Jacks of the Poppy Family was born in Saskatoon, Saskatchewan.
1948: Elliot Lurie, singer and founder of Looking Glass ("Brandy (You're A Fine Girl)" from 1972), was born in Brooklyn, New York.
1951: John Deacon, bass guitarist with Queen, was born in Oadby, Leicester, England.
1963: Joey Tempest, lead singer of Europe, was born in Upplands Väsby, Sweden.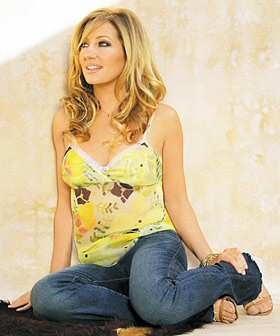 1966: Lee Ann Womack ("I Hope You Dance") was born in Jacksonville, Texas.
1968: MC Eric of Technotronic ("Pump Up The Jam") was born in Cardiff, Wales.
1989: Lil' Romeo was born in New Orleans, Louisiana.