The #69 Guitarist* made an impact at an early age and he's kept rocking since. The brilliant Neal Schon is next:
#69: Neal Schon, Santana, Journey, Bad English
44 years as an active guitarist
(Some of Neal's best solos)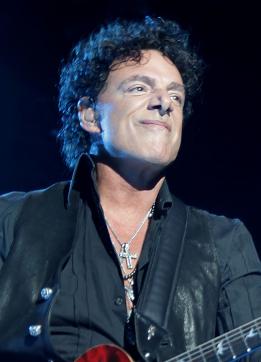 Neal George Joseph Schon was born February 27, 1954 in Greensburg, Pennsylvania. He first rose to prominence as a member of the group Santana, learning from one of the best, Carlos Santana. Schon is the lead guitarist, songwriter and backing vocalist for Journey and the only member to have recorded on all of Journey's albums.
Both of Neal's parents were musicians, and Neal received his first guitar at the age of 5. He was a teenage prodigy when he joined Santana at age 15. Schon was also asked to join Derek and the Dominos, but Santana called him first and he joined that group for the album Santana III. Schon also played in the group Azteca before leaving in 1973 to form Journey.
Journey may be one of the top names of the Rock Era, but it indeed was a journey--success didn't happen immediately. Schon and keyboardist Gregg Rolie had both been in Santana and with bassist Ross Valory, rhythm guitarist George Tickner and drummer Prairie Prince of the Tubes, they started out.
Former Santana manager Herbie Herbert helped develop and direct the group that was originally called the Golden Gate Rhythm Section. They started out as a backup group for established acts out of the Bay Area but soon abandoned the "backup group" idea and began to develop a distinctive jazz fusion style. Journey made their first public appearance at the Winterland Ballroom on New Year's Eve, 1973.
When Prince rejoined the Tubes shortly thereafter, veteran drummer Aynsley Dunbar came aboard. The new lineup debuted at the Great American Music Hall and signed a recording contract with Columbia Records. Journey released their eponymous debut album in 1975 but Tickner left before their second album Look into the Future. Neither album did well so Schon, Valory and Dunbar took singing lessons in an effort to add harmonies to Rolie's lead.
Schon sang lead on two of the tracks on the group's third album, Next, in 1977. But Columbia was unhappy with their sound and suggested they hire a frontman to share lead vocals with Rolie. So, Journey hired Robert Fleischman and together, the group wrote the song "Wheel in the Sky". But fans weren't thrilled with the change and Fleischman left within a year.
So Journey tried again with a second hire at lead singer and this time they hit it out of the ballpark. Once Steve Perry came aboard, the group was on their way and the 1978 album Infinity, though highly underrated (it's one of the group's best career albums), it still gave the group their first platinum album.
The 1981 album Escape was their most successful, reaching #1 on the album chart and yielding two monster hits--"Open Arms", one of the top #2 Songs of the Rock Era, and "Don't Stop Believin'", the most downloaded catalog song in iTunes history. The group's follow-up, Frontiers, reached #2.
Journey has enjoyed eight multi-platinum albums, including seven consecutive from 1978-1987, one diamond album (sales of over 10 million) and two gold albums. They have had eighteen Top 40 singles, six in the Top 10 and two #1 songs. All told, Journey has sold 47 million albums in the United States alone, making them the 28th best-selling band of all-time. Worldwide, their sales have reached over 80 million. An opinion poll in USA Today in 2005 named Journey the fifth-best American rock band in history.
Neal with more of his great guitar work...


Schon plays a soulful guitar, using blues runs similar to those made famous by B.B. King. Schon is influenced by Jimi Hendrix, Eric Clapton and Wes Montgomery.
In addition to the 14 studio albums from Journey, Neal has released five solo albums and also worked on several collaborations with Jan Hammer, Sammy Hagar, Paul Rodgers, Bad English, and others. Neal has also done notable session work such as playing on Michael Bolton's album The Hunger.
Schon's first guitar was an acoustic Stella, then a Gibson ES-335 and a 1956 Les Paul Goldtop that he used for many years. Schon currently endorses Gibson and he has a limited edition signaure Les Paul dubbed the "Neal Schon Signautre Model Custom Les Paul". He has also used Godin and Paul Reed Smith guitars. In the late 1980's, Schon manufactured and played his own line of guitars, through Jackson and Larrivee. Recently, Schon has used a Seven String IBanez Universe which was a gift from Steve Vai.
Schon prefers Xotic guitar pedals, a Vox Satriani and he will also use a Buddy Guy wah pedal.
The durable Neal Schon, at #69 for the Rock Era*...