We are 26 guitarists into The Top 100 Guitarists of the Rock Era*. #74 is another experienced studio and live guitarist who is revered for his guitar solos, especially in the South:
#74. Gary Rossington, Lynyrd Skynyrd, Rossington-Collins Band
active guitarist for 49 years
(solo on "Gimme Back My Bullets"
Gary Robert Rossington was born December 4, 1951 in Jacksonville, Florida. He co-founded Lynyrd Skynyrd and is the only original member still with the group. He also co-founded the Rossington-Collins Band along with fellow Lynyrd Skynyrd mate Allen Collins.
Rossington playing slide guitar on "Free Bird"...
Rossington joined friend Ronnie Van Zant, Allen Collins, Bob Burns and Larry Junstrom to form Lynyrd Skynyrd in 1964. The group took off with their debut album in 1973 pronounced leh-nerd skin-nerd, which contained the now classic "Free Bird".
Rossington and Collins were both involved in separate car accidents in Jacksonville on Labor Day weekend in 1976. Collins' crash left him unable to play guitar again and eventually was responsible for dying early. Rossington ran into an oak tree, forcing a delay in the group's tour. Both accidents were alcohol-related and the song "That Smell" was based on the weekend.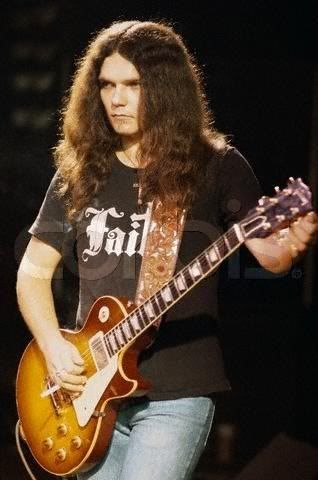 That weekend was disastrous enough but more tragedy struck the group the following year. Members of Lynyrd Skynysrd and their entourage were on a plane on October 20, 1977 when it crashed near Gillsburg, Mississippi. Van Zant, Steve and Cassie Gaines and three others connected with the group died that fateful day. Although he broke both legs, both arms, both wrists, both ankles and his pelvis, Rossington was one of six members that survived the crash.
In 1980, Rossington and Collins co-founded the Rossington-Collins Band. The group released two albums but disbanded following the death of Collins' wife, Kathy.
Rossington still tours with Lynyrd Skynyrd. With the death of keyboardist Billy Powell in 2009, Gary is the only original member of the group remaining in the band.
Rossington and his wife, Dale Krantz-Rossington began a side project, the Rossington Band, that opened for Skynyrd for their 1987-88 reunion tour. The Rossington Band released two albums in the 1980's.
Rossington prefers his 1959 Gibson Les Paul guitar and a Gibson SG--it's the red SG with tremolo that Gary used to play "Free Bird".
Gary Rossington ranks at #74 for the Rock Era*...