1955: George Martin became the head A&R man at Parlophone Records, a division of EMI.
1956: Elvis Presley had a screen test at Paramount Studios in Hollywood for the role of Jimmy Curry in The Rainmaker.
1957: The Everly Brothers released "Bye Bye Love".
1957: Frankie Lymon and the Teenagers appeared live in concert at the London Palladium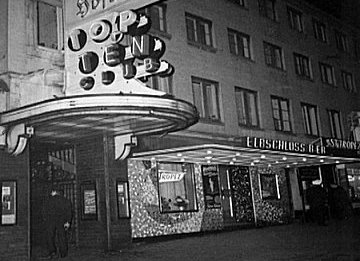 1961: The hard-working Beatles kicked off 92 straight shows at the Top Ten Club in Hamburg, Germany. The foursome played for seven hours a night on weekdays and eight hours on weekends.
1963: Fats Domino switched recording labels, signing with ABC-Paramount.
1964: John Lennon was reunited with his father after 17 years.
1965: The Who recorded a show at a Manchester, England television studio for an appearance on the television show Top of the Pops. The group then played a concert supporting Donovan at the Town Hall in Wembley, with Rod Stewart and the Soul Agents opening for both acts.
1966: David Bowie's first single, "Do Anything You Say" was released.
1966: The Troggs recorded "Wild Thing" at Regent Sound Studio in London.
1967: The world first heard of this great San Francisco band on this date as their first single, "Somebody to Love" debuted on the chart. Jefferson Airplane.
1967: The Kinks were in concert at Kelvin Hall in Glasgow, Scotland.
1967: There was a new #1 song on the Easy Listening chart--"Somethin' Stupid", by father and daughter team Frank & Nancy Sinatra.
1967: Simon & Garfunkel had a hot new song, as "At the Zoo" moved from #58 to #34.
The Five Americans reached the Top 10...
1967: The Turtles remained atop the chart with "Happy Together". The Mamas & Papas held steady with "Dedicated to the One I Love" with former #1 "Penny Lane" from the Beatles in third. Herman's Hermits were back with "There's a Kind of Hush" and there was a lot of chart activity with songs dropping as the Four Tops moved from 18-5 with "Bernadette". The rest of the Top 10: "This Is My Song" from Petula Clark, Buffalo Springfield remained at #7 with "For What It's Worth", although most stations had it higher, the Beatles had their 48th hit in four years with "Strawberry Fields Forever", Frank Sinatra & daughter Nancy moved to #9 with "Somethin' Stupid" and the Five Americans had a big hit on their hands with "Western Union".
1967: The Monkees spent their 21st consecutive week at #1 on the album chart, 13 with their self-titled debut and 8 with More of the Monkees. That was a Rock Era record, but the group was far from done.
1968: Tommy James & the Shondells released the single "Mony Mony".
1969: The Beach Boys sued their record label, Capitol, for $2 million in unpaid royalties. The group also announced that they were starting their own Brothers Records label.
1970: Musicians recorded the orchestral scores for the Beatles' songs "The Long and Winding Road" and "Across the Universe" that would be included on the Let It Be album.
1970: The movie Woodstock premiered in Hollywood.
1970: Over one million postal ticket applications were sent to Earls Court in London for the forthcoming series of six European concerts by the Rolling Stones.
1971: Led Zeppelin performed in concert for the BBC Radio show Rock Hour at London's Paris Theater. The group performed songs from their forthcoming fourth album.
1972: Dr. Hook debuted on the chart with their first single, "Sylvia's Mother".
1972: Mar Y Sol, a three-day festival in Puerto Rico, featured Rod Stewart, Alice Cooper, Emerson Lake & Palmer, the Allman Brothers and Dr. John.
"Melissa"...
1972: The Allman Brothers Band entered the Top 10 with one of their biggest career albums--Eat a Peach.
1972: Roberta Flack wasted no time reaching #1 on the Adult chart with "The First Time Ever I Saw Your Face".
1972: America remained at #1 with "A Horse with No Name" as Neil Young continued at #2 with "Heart of Gold.
1975: The Bay City Rollers' TV series Shang-A-Lang premiered on ITV in the UK.
1976: AC/DC made their live UK debut at the Red Cow in Hammersmith, London.
1976: "Margaritaville" by Jimmy Buffett was released.
1976: Pink Floyd guitarist David Gilmour's house was broken into and guitars valued at over

£

7,000 were stolen.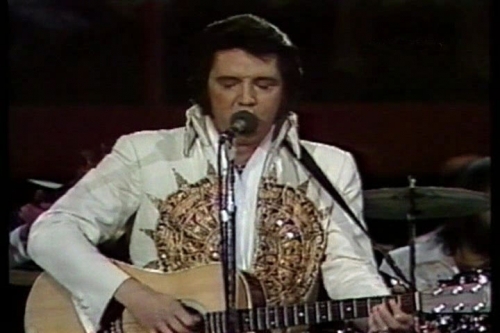 1977: Elvis Presley was admitted to a hospital in Memphis following fatigue and intestinal flu. He was confined to a hospital bed for six days.
1978: The Philadelphia Fury soccer team, owned by Paul Simon, Peter Frampton, James Taylor and others, made their debut.
1978: The #1 song in the UK was "Denis" by Blondie.
1978: Roberta Flack and Donny Hathaway rose to #1 on the R&B chart with "The Closer I Get to You".
Clapton with one of his biggest career hits...
1978: The Soundtrack to "Saturday Night Fever" prevailed for an 11th week at #1 on the album chart. Eric Clapton's Slowhand provided the closest competition, but it was way behind. The great Billy Joel album The Stranger was still third after 26 weeks with Barry Manilow's Even Now in the #4 spot. The rest of the Top 10: Aja from Steely Dan, George Benson with Weekend in L.A., Jackson Browne slipped with Running On Empty, Kansas moved to #8 with Point of Know Return, Queen's News of the World slipped and Styx finished the list with The Grand Illusion.
Paul Davis's song was about as durable as they come.
1978: "Night Fever" by the Bee Gees was #1 for a third week. The group had now been at #1 in 10 of the last 15 weeks, and songs written by the group (they also wrote "Love Is Thicker Than Water" for Andy Gibb) had been #1 for 12 of 15 weeks. Their previous #1--"Stayin' Alive" was second, followed by Eric Clapton's "Lay Down Sally" and Barry Manilow with "Can't Smile Without You". Two other songs written by the Bee Gees, "Emotion" by Samantha Sang and "If I Can't Have You" from Yvonne Elliman, were next. The rest of the Top 10: "I Go Crazy" by Paul Davis was still in the Top 10 after 32 weeks, Andy Gibb's song mentioned above, Jay Ferguson with "Thunder Island" and Kansas moved in with "Dust in the Wind".
1979: The Who released the album The Kids Are Alright.
1983: Kirk Hammett joined Metallica.
1984: One of the most shocking moments in rock history--Marvin Gaye was shot dead by his father at his parent's home in Los Angeles. Gaye had tried to intervene in a squabble his parents were having over misplaced documents, but was killed by the gun Gaye had given his father just four months before. Marvin Gaye, Sr. pleaded guilty to manslaughter after first-degree murder charges had been dropped due to the discovery that he had a brain tumor.
1985: David Lee Roth quit Van Halen.
1989: Madonna collected her third #1 album in the UK with Like A Prayer.
1989: The Fine Young Cannibals had the only new Top 10 album--The Raw & the Cooked.
1989: The Bangles went to #1 in the U.S., the UK and Australia with "Eternal Flame", their second career #1. "Stand" by R.E.M. shot up from 14 to 8.
1991: Mariah Carey released the single "I Don't Wanna' Cry".
1992: Jimmy Buffett's daughter Sarah Delaney was born in Nashville, Tennessee.
1993: Carole King, David Crosby, Kenny Loggins, Phish, and Ann & Nancy Wilson of Heart played a benefit concert in Portland, Oregon to save the forests.
1993: Willie Nelson's tour bus crashed into a car in Riverdale, Canada, killing the car driver.
1995: Montell Jordan had the new #1 song on the R&B chart with "This Is How We Do It".
1995: Madonna's "Take a Bow" was #1 for a sixth week.
1996: Mariah Carey released the single "Always Be My Baby".
2000: Santana's "Maria Maria" took over the #1 spot in the U.S. where it would stay for nine weeks.
2001: Spice Girl Mel B was advised to sell her Buckinghamshire mansion because she couldn't afford to keep it.
2002: Paul McCartney opened his "Driving USA" tour at the Oakland Arena in California.
2002: Sum 41 opened a national concert tour in Philadelphia.
2003: Pearl Jam was in concert at Denver's Pepsi Center. Eddie Vedder took a George W. Bush mask and impaled it with his mike stand to the crowd's delight.
2004: Paul Atkinson, guitarist with the Zombies, died at age 58 of liver and kidney disease. Atkinson had been a record executive at Columbia at RCA, helping sign acts such as ABBA, Bruce Hornsby, Mr. Mister and Judas Priest.
2006: Former R.E.M. drummer Bill Berry joined members of the group onstage at Georgia Theatre in Athens to play "Country Feedback".
2007: Modest Mouse had the #1 album with We Were Dead Before the Ship Even Sank.
Born This Day:
1932: Debbie Reynolds was born in El Paso, Texas.
1934: Jim Ed Brown of the Browns ("The Three Bells" from 1959) and a solo artist, was born in Sparkman, Arkansas.
1939: Rudolph Isley of the Isley Brothers was born in Cincinnati, Ohio.
1942: Alan Blakeley of the Tremeloes ("Silence Is Golden") was born in Bromley, Kent, England; died June 10, 1996.
1942: Phil Margo, singer and drummer of the Tokens ("The Lion Sleeps Tonight"), producer of Tony Orlando & Dawn, the Chiffons and the Happenings, and science fiction author, was born in Brooklyn, New York.
1942: Danny Brooks, bass singer of the Dovells ("You Can't Sit Down")
1945: John Barbata, drummer of the Turtles, Jefferson Airplane/Starship and Crosby, Stills, Nash & Young, and also a session guitarist for Eric Clapton, was born in Passaic, New Jersey.
1946: Ronnie Lane, co-founder, vocalist and bassist with Small Faces ("Itchycoo Park"), died on June 4, 1997 (age 51) after a battle with multiple sclerosis.
1947: Robin Scott (known as "M" on the hit "Pop Muzik" in 1979) was born in Croydon, London.
1948: Jimmy Cliff, singer (remake of "I Can See Clearly Now") and songwriter (Cat Stevens' "Wild World"), was born in the Somerton District of St. James, Jamaica.
1948: Simon Cowe, guitarist for Lindisfarne ("Run For Home")
1952: Billy Currie, songwriter and keyboardist for Ultravox, was born in Huddersfield, West Yorkshire, England.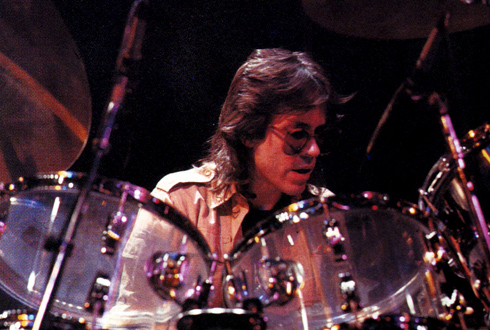 1954: Jeff Porcaro, drummer for Toto, was born in Hartford, Connecticut.
1961: Mark White, guitar and keyboardist for ABC, was born in Sheffield, Yorkshire, England.
1961: Susan Boyle, singer who caught the world by storm after her appearance on Britain's Got Talent, was born in Blackburn, West Lothian, Scotland. Susan's album I Dreamed a Dream was released shortly afterwards.
1965: Peter O'Toole of Hothouse Flowers
1971: Method Man (real name Clifford Smith) was born in Staten Island, New York.
1972: Jesse Tobias, musician who has worked with the Red

Hot Chili Peppers, Alanis Morissette and Morrissey.
1981: Hannah Louise Spearitt, vocalist for S Club 7, was born in Great Yarmouth, Norfolk, England.
1986: Hillary Scott of Lady Antebellum was born in Nashville, Tennessee.