We're barely into the Top 50 and we're up to a true innovator in his field:
39 years as an active guitarist

Frank Vincent Zappa was born December 21, 1940 in Baltimore, Maryland. His strange and unique style attracted a cult following and influenced hundreds of artists. He was a singer-songwriter, guitarist, producer and film director. Zappa produced more than 60 albums he released with his band the Mothers of Invention and as a solo artist.


Zappa liked the percussion-based music and 1950's rhythm and blues music as a teenager. He began writing classical music in high school while playing drums in R&B groups. Amazingly, he was a self-taught composer and performer and later switched to electric guitar. His debut album in 1966, Freak Out!, featured rock and roll in an improvisational style. His later albums could be rock, jazz, or classical, but they all were eclectic and experimental and greatly changed the boundaries of music.

Zappa's family moved often because his father was in the defense industry. Eventually, the family settled in San Diego, California. Frank joined his first group at Mission Bay High School as the group's drummer. He began buying records, R&B primarily, but was fascinated with the sounds of drums and percussion instruments. The way Frank's mind worked, when he saw a Look magazine article that described the album The Complete Works of Edgard Varese, Volume One as "a weird jumble of drums and other unpleasant sounds", Zappa was intrigued and his lifetime passion for Varese's music began.

Frank's own heterogeneous ethnic background and the diverse cultural mix around Los Angeles were key factors in Zappa's embrace of underground music and his distrust of mainstream cultural movements.


Zappa attended six high schools due to his family moving frequently. At Antelope High School, Zappa met Don Van Vliet, who later adopted the name Captain Beefheart. The two became close friends and influenced each other throughout their music careers. Zappa began playing in the group the Blackouts. The group included Euclid "Motorhead" Sherwood, who later became a member of the Mothers of Invention. Zappa became interested in the guitar and in 1957 he received his first one. He begin learning how to play the guitar and also was writing, arranging and conducting avant-garde pieces for the school orchestra.

Zappa left home in 1959 and moved to Echo Park in Los Angeles. After meeting Kathryn Sherman, the two moved to Ontario, California and were married December 28, 1960. For a brief time, Frank worked in advertising. He played nightclubs, some with a new version of the Blackouts. He recorded soundtracks for The World's Greatest Sinner in 1961 and Run Home Slow in 1963.
Zappa also wrote songs for other artists, such as "Memories of El Monte", which was recorded by the Penguins. Zappa appeared on Steve Allen's late night show in 1963 in which he played a bicycle as a musical instrument. Frank also collaborated with Captain Beefheart to record some songs under the name of the Soots, but the pair were rejected by Dot Records for having no commercial appeal.

When Zappa's marriage began breaking up, Zappa immersed himself in the studio and began working 12 hours a day. Zappa purchased the studio with the money he had earned from the two soundtracks and renamed it Studio Z. Frank began performing as a guitarist with the group the Muthers in local bars to support his studio.

In March, 1965, Zappa was approached by a vice squad undercover officer and accepted $100 to produce a suggestive audio tape for an alleged stag party. When Zappa handed over the tape, he was arrested and police took all recorded material from the studio. Zappa was charged with conspiracy to commit pornography and was sentenced to six months in jail. When released, Ray Collins contacted Frank about becoming the guitarist in the R&B group the Soul Giants. He soon assumed the lead singer position as well and the band was renamed the Mothers.
The Mothers signed with Verve Records, a division of MGM, but the company wanted the group renamed. So, Zappa came up with Mothers of Invention. The group put together a double album for their debut release--Freak Out!, just the second double album of the Rock Era. It was a raw sound that mixed R&B, doo-wop and experimental sound effects, and Zappa wrote complex arrangements and conducted the orchestra.
After a short tour to support the album, Zappa met Adelaide Gail Sloatman. The two fell in love, married in 1967 and stayed together until Frank's death.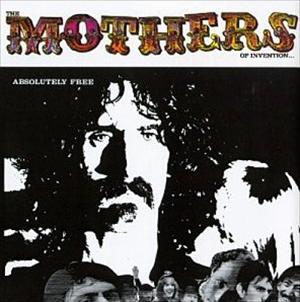 Absolutely Free was the follow-up album, released in 1967. Zappa was in complete control of most of the production. Zappa also recorded a solo album of orchestral music, Lumpy Gravy, that was released in 1968. The Mothers of Invention played at the Garrick Theater in New York City, a gig that ended up being half of a year. After a European tour, the group recorded one of their best albums, We're Only in It for the Money, released in 1968.
Later that year, Mothers of Invention released
Cruising with Ruben & the Jets
, a collectio
n of doo-wop songs.
In the late 1960's, Zappa formed Bizarre Records and Straight Records, distributed by Warner Brothers. Zappa produced albums by Captain Beefheart and Alice Cooper, among others.
Despite some success, the group was not doing well financially. The group played instrumental jazz and classical music in concert, which confused audiences. Zappa left MGM for Reprise Records and in late 1969, broke up the group, although two subsequent albums included material recorded by the Mothers of Invention.
Zappa released the solo album
Hot Rats
in 1969, which featured Zappa playing extended guitar solos.
In 1970, Zappa reformed the Mothers with acclaimed drummer Aynsley Dunbar, jazz great George Duke, Ian Underwood, bassist Jeff Simmons and three members of the Turtles: bassist Jim Pons and singers Mark Volman and Howard Kaylan, curious for someone who supposedly didn't like "the mainstream". This band debuted on Zappa's next solo project Chunga's Revenge, which was followed by the Soundtrack to "200 Motels" in 1971.
Then, problems hit. While performing at the Casino de Montreux in Switzerland, a flare set off by a fan in the audience started a fire that destroyed the group's equipment and burned down the casino. This is the event that was referred to in the Deep Purple song "Smoke on the Water".
Then, at the Rainbow Theatre in London, an audience member pushed Zappa off the stage onto a concrete floor. Zappa had serious fractures, head trauma, a crushed larynx and injuries to his back, leg and neck. This forced Frank into a wheelchair for quite a while and remaining concerts had to be canceled. The rest of the band followed the two Turtles' singers as they set out on their own.
In 1971-72, Zappa released two jazz-oriented albums, Wakal Jawaka and The Grand Wazoo. Zappa eventually could go out on tour again and recruited new musicians to back him. Frank continued to record, releasing the only album that ever made the Top 10, Apostrophe in 1974. Zappa recorded a four-LP album called Lather in the mid-70's, consisting of all the different type of styles he liked to play--rock, orchestra, complex instrumentals, and long Zappa guitar solos.
He ran into major problems with Warner Brothers when he appeared on a radio station playing songs from the album and encouraging listeners to record them. This resulted in a prolonged lawsuit in which Zappa could not record or release any material. The album was eventually released posthumously in 1996.
Zappa released two strong albums in the latter part of the decade--Sheik Yerbouti and Joe's Garage. The former contained the single "Dancin' Fool" while the latter includes a signature Zappa guitar part--"Watermelon in Easter Hay".
By 1980, Zappa had formed his own Barking Pumpkin records and released Tinsel Town Rebellion, a collection of songs from tours in 1979 and 1980 along with one new studio track. The album includes guitarist Steve Vai, who joined Zappa's band on tour in 1980. In 1981, Frank released three instrumental albums, which showcase his guitar talent. Another guitar-only album, Guitar, was released in 1988.
In 1982, Zappa released Ship Arriving Too Late to Save a Drowning Witch, which included "Valley Girl", his biggest career hit, done with his daughter named Moon Unit. In 1983, Zappa released a rock-oriented album, The Man from Utopia, and a project of orchestral music, London Symphony Orchestra, Vol. 1.
The 1986 album Jazz From Hell earned Zappa his first Grammy Award for Best Rock Instrumental Performance. Except for one live guitar solo ("St. Etienne"), the album featured music by the Synclavier, Zappa's newest discovery.
Zappa toured with a rock and jazz band in 1988, which included new material with a strong political emphasis as well as covers ranging from "Bolero" by Maurice Ravel to Led Zeppelin's "Stairway to Heaven". On June 24, 1991, Zappa took part in the concert "Adieu Soviet Army", organized in Prague as the farewell to the last soldiers of the Soviet Army to leave the country. It is believed to be Zappa's last appearance on stage.
In 1990, Frank was diagnosed with terminal prostate cancer. He died December 4, 1993 at his home.
Guitar Player devoted an entire issue to Frank in 1992. Many music scholars acknowledge him as one of the most influential composers of his generation. In 1994, the jazz magazine Down Beat placed Zappa in its Hall of Fame and Frank was posthumously elected into the Rock & Roll Hall of Fame in 1995. Zappa received the Grammy Lifetime Achievement Award posthumously in 1997.
Although Frank was often misunderstood and not widely known, many artists, including Alice Cooper, Black Sabbath, Warren DeMartini of Ratt, Steve Vai, System of a Down, Trey Anastasio of Phish and John Frusciante of the Red Hot Chili Peppers were influenced by Zappa. No matter if you're a fan or not, there is no disputing his talent and one-of-a-kind guitar technique. Frank is #44 for the Rock Era*.