1957: "I'm Walkin'" from Fats Domino was #1 for a sixth week on the R&B chart.
1959: Goldband Records released "Puppy Love" by 13-year-old Dolly Parton, a song she had recorded when she was 11.
1959: The Fleetwoods topped the singles chart with "Come Softly To Me".
1960: Elvis Presley flew to Hollywood to film G.I. Blues.
1963: Rick Nelson married Kris Harmon in Los Angeles.
1963: Andy Williams remained at #1 on the Adult Contemporary chart with "Can't Get Used To Losing You".

Only a loser would think this song was about anything but a little boy's imaginary dragon........
1963: The Chiffons spent a fourth week at #1 with "He's So Fine". Andy Williams was in the runner-up position with "Can't Get Used To Losing You". Little Peggy March had song #3 with "I Will Follow Him", Peter, Paul & Mary came in at #4 with "Puff the Magic Dragon" and Jackie Wilson had #5 with "Baby Workout".
1964: Elvis Presley's movie Viva Las Vegas opened.
1964: Dionne Warwick released the single "Walk On By".
1966: The Beatles worked on "And Your Bird Can Sing" and "Taxman" at Abbey Road Studios in London for their upcoming album (which would be known as the "White" album.
1968: Deep Purple made their concert debut in Tastrup, Denmark.
1968: Apple Music (the Beatles' company) took out advertisements asking for tapes from unknown artists to release records on the Apple label.
1968: Aretha Franklin enjoyed a third straight week at #1 on the R&B chart with "(Sweet Sweet Baby) Since You've Been Gone".
1968: Paul Mauriat's "Love Is Blue" was #1 on the Adult Contemporary chart for the 10th week in a row.
1968: Bobby Goldsboro remained at #1 for the second of five weeks with "Honey", with Gary Puckett & the Union Gap at #2 with "Young Girl" and the Box Tops rising to #3 with "Cry Like a Baby". The rest of the Top Ten: "Lady Madonna" from the Beatles, "(Sweet Sweet Baby) Since You've Been Gone" by Aretha Franklin at #5, Otis Redding fell to #6 with his former #1 "(Sittin' On) The Dock Of the Bay", Georgie Fame had #7 with "The Ballad of Bonnie and Clyde", Sly & the Family Stone moved from 14-8 with "Dance To the Music", James Brown entered the top ten with "I Got the Feelin'" and Manfred Mann had #10 with "Mighty Quinn (Quinn the Eskimo)".
1969: Session drummer Benny Benjamin died. Benjamin performed on many hits including singles by the Four Tops, Stevie Wonder, the Supremes, the Temptations and Marvin Gaye.
1970: Creedence Clearwater Revival released one of many classic double-sided hits: "Up Around the Bend".
and "Run Through the Jungle".
1974: John Denver's Greatest Hits moved into the #1 slot on the album chart, replacing Band On the Run by Paul McCartney & Wings. Chicago VII was a huge gainer, rising from 12-3. Shinin' On from Grand Funk moved into the top ten.
1974: One of the great instrumentals of the Rock Era was "TSOP (The Sound Of Philadelphia" and it reached #1 on this date for MFSB featuring the Three Degrees. "Bennie and the Jets" fell to #2 for Elton John, Blue Swede's former #1 "Hooked On a Feeling" was #3 and Gladys Knight & the Pips rose to #4 with "Best Thing That Ever Happened To Me". The remainder of the Top Ten: "Come and Get Your Love" by Redbone, Ringo Starr at #6 with "Oh My My", John Denver's former #1 "Sunshine On My Shoulders" was down to #7, Grand Funk moved from 17-8 with their cover of "The Loco-Motion", Sister Janet Mead slipped from 4-9 with "The Lord's Prayer" and Jim Croce had # posthumous top ten with "I'll Have To Say I Love You In a Song".
1976: The Rolling Stones released Black and Blue.
1981: John Phillips of the Mamas and Papas was given a sentence of five years in prison after pleading guilty to drug possession charges. After he got out, Phillips toured the United States telling people about the dangers of taking drugs.
1981: On the same day that the Space Shuttle Columbia landed, Neil Diamond released the single "America".
"Hang On to Your Love" from Sade...
1985: Phil Collins enjoyed another week at #1 on the album chart with No Jacket Required. Born in the U.S.A. by Bruce Springsteen reached #2 in its 44th week on the chart, with the soundtrack to Beverly Hills Cop owning #3. The rest of the Top Ten Albums: Centerfield from John Fogerty, Tina Turner's comeback Private Dancer remaining at #5, Madonna with Like a Virgin at 6, Wham's #7 album Make It Big, Wheels Are Turnin' from REO Speedwagon was #8, the album We Are the World debuted at #9 and Sade had a winner at #10 with Diamond Life.
1985: "We Are the World" reached #1 on the UK singles chart.
1985: "We Are the World" was also #1 on the U.S. Adult Contemporary chart.
Simple Minds had a big hit
1985: And USA for Africa made it a sweep with remaining #1 on the singles chart. Madonna closed with "Crazy For You" and the Commodores' "Nightshift" edged up to #3. The rest of the Top Ten: Phil Collins at #4 with "One More Night", DeBarge had #5 with "Rhythm of the Night", Bruce Springsteen remained at #6 with "I'm On Fire", Animotion had a big hit on their hands with "Obsession", Simple Minds had their first top ten with "Don't You (Forget About Me)" at #8, Murray Head reached the top ten with "One Night in Bangkok" and Diana Ross held at #10 with "Missing You", a song about the late Marvin Gaye.
1991: Steve Marriott of Small Faces and Humble Pie died in a fire at his Essex, England home.
1991: Mariah Carey's debut album was unshakable as the #1 album, spending an eighth week at the top.
1991: Wilson Phillips remained at #1 on the Adult Contemporary chart for the fourth week in a row with "You're In Love".
Roxette was back with another big hit...
1991: "You're In Love" also topped the singles chart, but Amy Grant was gaining ground with "Baby Baby". Londonbeat fell to #3 with "I've Been Thinking About You", while Tara Kemp was at #4 with "Hold You Tight" and Sweden's Roxette held on to #5 with "Joyride".
1992" Elton John, Roger Daltrey, George Michael, Seal, Robert Plant, Annie Lennox, Axl Rose and Slash of Guns 'N Roses, Tony Iommi of Black Sabbath, David Bowie, Mick Ronson, Paul Young, Joe Elliott and Phil Collen performed at "A Concert For Life" in Wembley Stadium in London as a tribute to Freddie Mercury of Queen and for AIDS awareness.
1992: Celline Dion released the single "If You Asked Me To".
1993: Aerosmith released Get a Grip, which debuted at #1 on the album chart.
1994: Barbra Streisand resumed touring for the first time in 28 years with her first stop in London.
1995: Oasis and the Verve performed at the Batacian Club in Paris, France.
1996: Mark Morrison reached #1 in the UK with "Return of the Mack".
1996: Tickets went on sale for the Kiss reunion tour.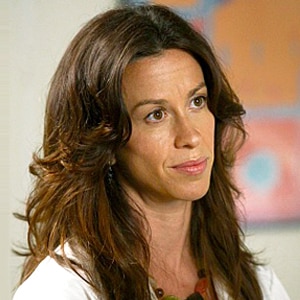 Alanis had another top ten from Jagged Little Pill
1996: Celine Dion was #1 for the fifth week out of six eventually with "Because You Loved Me". Mariah Carey could not top her with the #2 "Always Be My Baby". Tony Rich Project remained at #3 with their great song "Nobody Knows", Alanis Morissette had #4 with "Ironic" and R. Kelly remained at 5 with "Down Low (Nobody Has To Know)".
1996: Alanis Morissette's landmark album Jagged Little Pill was #1 for the ninth week. Falling Into You, the new Celine Dion release, was second followed by The Score from the Fugees.
1997: The Chemical Brothers topped the UK album chart with Dig Your Own Hole.

1997: Michael Jackson was on hand for the unveiling of a wax statue of himself at the Grevin Museum of Wax in Paris, France.
1999: The Rolling Stones finished off their
No Security
tour in San Jose, California.
2000: Robert Plant was at Disney's Theater of the Stars in Orlando, Florida to leave his hand prints in the sidewalk outside the theater.
2001: A memorial concert for Steve Marriott was held at the London Astoria with Peter Frampton, Midge Ure, Chris Farlowe and Humble Pie.
2003: Godsmack reached #1 on the album chart with Faceless.
2004: Billy Corgan, formerly with Smashing Pumpkins, made his solo debut at the Metro Club in Chicago.
2005: Mariah Carey moved to #1 on the album chart with The Emancipation of Mimi.
Born This Day:
1939: Johnny Tillotson (nine Top 10 hits including "Poetry In Motion") was born in Jacksonville, Florida.
1945: Jimmy Winston, organist for Small Faces, was born in London.
1947: Bjorn Skifs of Blue Swede ("Hooked On a Feeling") was born in Vansbro, Sweden.
1948: Craig Frost, keyboardist of Grand Funk Railroad and Bob Seger's Silver Bullet Band, was born in Flint, Michigan.
We miss you, Luther
1951: Luther Vandross was born in New York City; died July 1, 2005 at the age of 54 two years after a major stroke.
1967: Mike Portnoy, co-founder, backing vocalist, drummer and co-producer of Dream Theater, was born in Long Beach, New York.
1971: Mikey Welsh, bass guitarist of Weezer, was born in Syracuse, New York; died from drugs on October 8, 2011.
1972: Stephen Marley of Ziggy Marley & the Melody Makers and son of Bob Marley, was born in Wilmington, Delaware.