1963: The Beatles released their first album Introducing the Beatles, the group's first U.S. album.
1963: The Angels released "My Boyfriend's Back".
1963: The Beatles began their tour of the U.K. with Gerry and the Pacemakers at Odeon Cinema in Weston-super-Mare, England.
1967: Quicksilver Messenger Service and Big Brother & the Holding Company were at the Convention Hall of San Diego, California.
1967: The Doors made their national television debut performing "Light My Fire" on American Bandstand.
1967: Petula Clark's "Don't Sleep In The Subway" was #1 for a second week on the Adult chart.
1967: The Bee Gees had the fastest-rising song on this date--79 to 42, with "To Love Somebody".
1971: John Lennon and Yoko Ono began recording the promotional film for the song "Imagine".
1971: Stevie Wonder released the single "If You Really Love Me".
1972: The Carpenters moved from 68 to 38 with "Goodbye to Love".
1973: Van Morrison performed at the Birmingham Town Hall in England.
1972: "Where Is The Love" by Roberta Flack & Donny Hathaway was the new #1 song on the Adult chart.
1975: The Eagles and Dan Fogelberg were in concert at Richfield Coliseum in Cleveland, Ohio.
1977: Elvis Costello released his debut album My Aim Is True in the U.K. He would wait until December to released the album in the United States.
1977: Tony Orlando announced his retirement from show business while on stage in Cohasset, Massachusetts.
1978: Cheap Trick debuted on the chart with their first hit "Surrender".
1978: Roberta Flack topped the Adult Contemporary chart for the third week with "If Ever I See You Again".
"Spellbinder", one of the top tracks on 'Double Vision'...
1978: The album Some Girls by the Rolling Stones topped the chart, but the Soundtrack to "Grease" moved from 8-2. Gerry Rafferty was at 3 with City to City while Bob Seger was moving up with Stranger in Town. The rest of the Top 10: The Commodores with Natural High, Darkness on the Edge of Town from Bruce Springsteen was stuck at 6, Andy Gibb's Shadow Dancing was at #7, the Soundtrack to "Saturday Night Fever" was at 8 after 35 weeks, Foreigner moved into the Top 10 with their second album Double Vision and the Soundtrack to "Thank God It's Friday" was at #10.
"Grease" was hot in the summer of 1978 and for years afterward...
1978: It was an outstanding Top 10--"Shadow Dancing" by Andy Gibb prevailed for a sixth week at #1, out-dueling "Baker Street" by Gerry Rafferty for the fifth week. "Miss You", the Rolling Stones' disco hit, was up to #3 while Bob Seger moved up with "Still The Same". The rest of the Top 10: Donna Summer moved from 10 to 5 with "Last Dance", "Grease" was the word for Frankie Valli as he entered the Top 10, Heatwave had a hit with "The Groove Line", the O'Jays were on their way down with "Use Ta Be My Girl" as was ABBA's "Take A Chance On Me" at #9 and the Commodores raced up from 21 to 10 with "Three Times A Lady".
1979: Little Richard, known by then as Reverend Richard Penniman, warned his congregation in North Richmond, California about the evils of rock & roll music. He certainly would know about them having been on the inside.
1980: A reunited Allman Brothers Band signed with Arista Records.
1983: Making good on a promise, Diana Ross performed in front of several hundred thousand fans in New York City's Central Park. She had performed the night before, but driving rain, wind and lightning forced her to cut the concert short and she told fans she would be back the next night.
1985: The album Like a Virgin became the first album by a female artist to reach five million in sales. (Some websites say that the album hit five million on August 10. This is incorrect. According to the official website of the Recording Industry Association of America (RIAA), 'Like a Virgin' was certified as a five-million seller on July 22.)
1989: Simply Red rose to the top of the U.K. Album chart with A New Flame.
1989: "Toy Soldiers" by Martika was #1 with Madonna's Express Yourself" remaining at #2. Simply Red fell from #1 with "If You Don't Know Me By Now".
1989: The great album Repeat Offender by Richard Marx moved into the Top 10.
2001: Destiny's Child regained the #1 spot in the U.K. with their album Survivor.
2003: Coldplay were in concert for the second night at the Horden Pavilion in Sydney, Australia.
2004: Arthur Crier, singer, songwriter and producer with The Four Tops, the Temptations, the Coasters, Little Eva, Johnny Nash and Ben E. King, died of heart failure at the age of 69 in Warsaw, North Carolina.
2004: In today's episode of "Inmates Run Rap Music", C-Murder was indicted on charges of attempted second degree murder in Louisiana. The person with no morals shot a Baton Rouge nightclub owner in 2001 and with any luck, that rap star will spend the rest of his life as an inmate.
2005: John Densmore, drummer of the Doors, won a court ruling that prevented the other two surviving members, Ray Manzarek and Robby Krieger, from using the group's name as part of their show called "The Doors of the 21st Century".
2005: Eugene Record of the Chi-Lites died of cancer in Chicago, Illinois at the age of 64.
2006: Johnny Cash had a posthumous #1 album with American V: A Hundred Highways.
2007: Paul Potts had the top U.K. album with One Chance.
2007: We have a Part Two in our continuing series on "Dangerous Inmates Run Rap Music". Ja Rule and Lil Wayne were arrested after a concert in Manhattan for carrying illegal firearms.
2009: The Eagles performed at the Pavilhão Atlântico in Lisbon, Portugal.
Born This Day:
1924: Margaret Whiting ("The Money Tree" from 1956) was born in Detroit, Michigan; died January 10, 2011 in Englewood, New Jersey.
1937: Chuck Jackson ("Any Day Now" from 1962) was born in Latta, South Carolina.
1940: George Clinton, leader of both Parliament and Funkadelic, was born in Kannapolis, North Carolina.
1941: Thomas Wayne ("Tragedy" from 1959) was born in Batesville, Mississippi; died in a car accident at the age of 30 on August 15, 1971.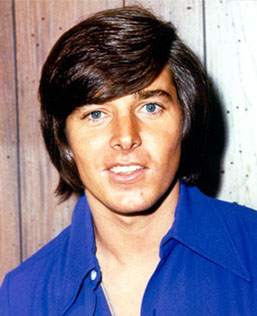 1943: Bobby Sherman was born in Santa Monica, California.
1944: Rick Davies, singer/songwriter/keyboardist and founder of
Supertramp
, was born in Swindon, Wiltshire, England.
1944: Estelle Bennett of the Ronettes; died of colon cancer at her home in Englewood, New Jersey February 11, 2009.
1947: Don Henley, founder, drummer, elite songwriter and co-lead singer of the Eagles, and a solo star, was born in Gilmer, Texas.
1961: Keith Sweat was born in Manhattan, New York. (Note: several websites say Sweat was born in Harlem, New York. Harlem is a neighborhood, not a city, and will never be included on an official birth certificate. Cities, counties and states are the only locations listed on a birth certificate, and Keith's says he was born in Manhattan.)
1963: Emily Sailers of the Indigo Girls was born in New Haven, Connecticut.
1964: William Calhoun, drummer of Living Colour, was born in the Bronx, New York. (Note: Wikipedia reports Calhoun was born in Brooklyn. 'Drummerzone.com' states he was born in the Bronx. The scale tilts towards Brooklyn in this case.)
1967: Pat Badger, bass guitarist of Extreme, was born in Boston, Massachusetts.
1973: Daniel Jones, vocalist and songwriter of Savage Garden and now a record producer, was born in Southend-on-Sea, Essex, England.
1973: Rufus Wainwright, son of Loudon Wainwright III, was born in Rhinebeck, New York.