1957: Buddy Knox became the first rock artist to write his own #1 song as "Party Doll" topped the charts.
1959: "Venus" was her name, but it was also the name of the #1 song that Frankie Avalon had for the fourth week.
1963: Skeeter Davis prevailed on the Easy Listening chart for a third week with "The End Of The World".
1963: The Chiffons climbed to #1 with "He's So Fine", which would go on to lead all songs for four weeks. Ruby & the Romantics slipped with "Our Day Will Come" and Skeeter Davis owned #3--"The End Of The World".
1966: The Barbra Streisand special Color Me Barbra aired on CBS-TV.
1966: 85 people were arrested in Paris, France following a Rolling Stones concert. The Stones even spread their violence to a nice country like France.
1967: Photo work for the cover of the Beatles' Sgt. Pepper's Lonely Hearts Club Band album began at Chelsea Manor Photo Studios in London. The group continued work on "With A Little Help From My Friends" by adding guitars, tambourine and backing vocals.
1968: David Bowie made his debut with the Lindsay Kemp mime troupe in Pierrot in Turquoise.
1968: The Yardbirds performed and recorded Yardbirds Live at the Anderson Theatre in New York City.
1968: "Lady Madonna" hit #1 in the U.K.
1968: "(Sittin' On) The Dock Of The Bay" by Otis Redding was #1 on the R&B chart for a third week.
1968: Paul Mauriat had the #1 Adult song for the seventh week, the great instrumental "Love Is Blue".
1968: The late Otis Redding remained at #1 for the third week with "(Sittin' On) The Dock Of The Bay. For a song that had spent five weeks at #1 itself, "Love Is Blue" didn't show signs that people were tired of it--the Paul Mauriat song was still #2.
1970: Chicago released the single "Make Me Smile".
1974: The Ramones made their first concert appearance at Performance Studio in New York City.
1974: John Denver's Greatest Hits reached #1 on the Album chart. Court and Spark from Joni Mitchell was one step away with Tubular Bells from Mike Oldfield third. Barbra Streisand had yet another top album with the former #1 The Way We Were and Paul McCartney & Wings were up with Band on the Run. The rest of the Top 10: Planet Waves from Bob Dylan & the Band, Hotcakes from Carly Simon, Love Unlimited Orchestra moved up with Rhapsody in White, Elton John was still hanging in after 24 weeks with Goodbye Yellow Brick Road and the late Jim Croce moved back in the Top 10 after 58 weeks with You Don't Mess Around with Jim.
1974: One of John Denver's greatest songs, "Sunshine On My Shoulders", took over at #1 but Blue Swede was right on his tail with "Hooked On A Feeling". Terry Jacks' former #1 "Seasons In The Sun" was third and "Bennie And The Jets" gave Elton John another hit. The rest of the Top 10: "Dark Lady" from Cher, Carly Simon & James Taylor's remake of "Mockingbird", Paul McCartney & Wings edged up with "Jet", Redbone found the Top 10 with "Come And Get Your Love", Mocedades great song "Eres Tu (Touch The Wind)" was #9 and Sister Janet Mead moved to #10 with "The Lord's Prayer".
1982: U2 played at the San Francisco Civic Center.
1984: David Gilmour, guitarist for Pink Floyd, appeared on the television show The Tube.
1984: Greg Lake left the group Asia, and was replaced by original guitarist John Wetton, the bassist Lake originally replaced.
1985: "Nightshift" by the Commodores was once again #1 on the R&B chart.
1985: Phil Collins set up camp at #1 on the Adult Contemporary chart with "One More Night".
Survivor was "High On You"...
1985: Phil Collins had the new #1 song with "One More Night", leaving Madonna to wonder why a song like "Material Girl" could never reach #1. REO Speedwagon was third with "Can't Fight This Feeling" and Teena Marie had herself a hit with "Lovergirl". U.S.A. for Africa was up from 21 to 5 with "We Are The World". The rest of the Top 10: Julian Lennon with "Too Late For Goodbyes", Tina Turner's "Private Dancer", Survivor remained the same with "High On You", Madonna's new song "Crazy For You" was up from 20 to 9 and the Commodores hit the Top 10 for the ninth time with "Nightshift".
"Freedom" helped give Wham staying power...
1985: No Jacket Required by Phil Collins reached #1 on the Album chart just four weeks after its release. Centerfield from John Fogerty was now second, followed by Born in the U.S.A. from Bruce Springsteen and the Soundtrack to "Beverly Hills Cop". The rest of an excellent Top 10: Private Dancer from Tina Turner, the Like a Virgin album by Madonna, Wham! fell from 4 to 7 with Make It Big, Wheels Are Turnin' by REO Speedwagon, Foreigner remained in the #9 spot with Agent Provocateur and the incredible Reckless album was #10 for Bryan Adams.
1989: Gladys Knight performed without the Pips at Bally's Resort in Las Vegas, Nevada.
1991: Chesney Hawkes began a five-week on at #1 on the U.K. charts with "The One And Only".
1991: The Eurythmics hit #1 on the U.K. Album chart with their Greatest Hits album. It would remain on top for nine weeks.
1991: Gloria Estefan's comeback song after a serious car crash, "Coming Out Of The Dark", reached #1.
1991: Wilson Phillips reached #1 on the AC chart with "You're In Love".
"Vanishing" from Mariah Carey...
1991: The incredible debut album from Mariah Carey was #1 for a fifth week.
1992: R.E.M. began work on the Automatic For the People album at Bearsville Studios in Woodstock, New York.
1994: Pink Floyd released the album The Division Bell.
1996: The Beatles had the #1 album in the U.K. with Anthology 2.
1996: Alanis Morissette latched onto #1 on the Album chart for a fifth week with Jagged Little Pill.
2000: The rights to Castle Records including the Kinks catalog were sold to Sanctuary Music.
2000: Mick Jagger helped dedicate a new arts centre that had been named after him at his old school, Dartford Grammar.
2003: Limp Bizkit welcomed new guitarist Mike Smith, formerly of Snot, in an appearance on Wrestlemania.
2004: Recording industry groups in Canada, Denmark, Germany and Italy announced that they would take legal action against 247 people for trading music online.
2004: The Sterephonics played a concert benefiting the Teenage Cancer Trust at London's Royal Albert Hall. Ron Wood and Roger Daltrey joined on stage in the cause.
2004: Guns N' Roses dropped out of the Rock in Rio-Lisbon Festival due to the sudden departure of guitarist Buckethead.
2004: Paul McCartney made an impromptu appearance with a local jazz trio at a restaurant in Truckee, California.
2004: Timi Yuro ("Hurt") died from throat cancer in Las Vegas, Nevada at age 63.
2010: Usher released the album Raymond v. Raymond.
2013: Phil Ramone, violinist, recording engineer, and legendary producer of the best albums that Billy Joel did as well as albums by Elton John, Madonna, Paul McCartney, Chicago, Frank Sinatra, Stevie Wonder, Barry Manilow, Rod Stewart, Olivia Newton-John, Dionne Warwick, Aretha Franklin, Gloria Estefan, Guess Who, Bob Dylan, James Taylor, Richard Marx, Sheena Easton, Peter, Paul and Mary and Ray Charles, among others, died March 20, 2013 at age 79 in Manhattan, New York of a brain aneurysm.
Born This Day:
1913: Frankie Laine (real name Francesco Paolo LoVecchio) was born in Chicago, Illinois; died of heart failure in San Diego, California on February 6, 2007.
1930: Rolf Harris ("Tie Me Kangaroo Down, Sport") was born in Bassendean, Australia.
1933: Willie Nelson was born in Abbott, Texas. (Note: some websites report Willie was born on March 29. The correct date is March 30, according to 'Country Music Television' and 'The History Channel'.)
1942: Graeme Edge, drummer for the Moody Blues, was born in Rochester, Staffordshire, England. (Note: 'Allmusic.com' claims Edge was born in Rochester, Staffs, England. The name of the county is Staffordshire. You can probably tell that we don't care much for inexactitude.)
1943: Jay Traynor, lead singer of Jay and the Americans and a member of the Vocal Group Hall of Fame, was born in Brooklyn, New York; died of liver cancer January 2, 2014 in Tampa, Florida. (Note: one website claims Jay was born in Albany, New York. According to Traynor's official website, he was born in Brooklyn.)
1945: Eric Clapton (real name Eric Clapp) was born in Ripley, Surrey, England. (Note: some websites state that Clapton was born in Surrey, England. Surrey is a county, not a city. The correct birthplace is Ripley, Surrey, England.)
1948: Jim "Dandy" Mangrum, lead singer of Black Oak Arkansas, was born in Benton Harbor, Michigan. (Note: several websites claim Mangrum was born in Black Oak, Arkansas. However, the book 'Encyclopedia of Arkansas Music' by Ali Welky and Mike Keckhaver states that Jim was born in Benton Harbor.)
1950: Dave Ball, guitarist of Procol Harum, was born in Handsworth, Birmingham, England.
1950 Re Styles (real name Shirley Marie MacLeod), guitarist and vocalist with the Tubes, was born in Middleburg, the Netherlands.
1955: Randy VanWarmer ("Just When I Needed You Most") was born in Indian Hills, Colorado; died of leukemia in Seattle, Washington on January 12, 2004.
1962: Stanley Kirk Burrell (MC Hammer) was born in Oakland, California.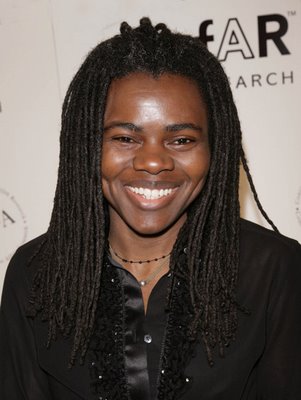 1964: Tracy Chapman was born in Cleveland, Ohio.
1968: Celine Dion was born in Charlemagne, Quebec, Canada.
1976: Mark McClelland, founder and bass guitarist of Snow Patrol, was born in Belfast, Northern Ireland.
1979: Norah Jones was born in Brooklyn, New York. (Note: 'MTV' and 'Biography" claim Norah was born in New York City. Just as an FYI to those--there are several boroughs that exist within New York City, each with their own identities and official population figures. If a person is born in that borough, that is their official birthplace listed on their birth certificate, not the more vague "New York City". 'ABC', a much more credible source, correctly shows Norah's birthplace as Brooklyn.)
1980: Paul Wall (on song "Grillz" by Nelly) was born in Houston, Texas.