1963: The Beatles performed at the new Brighton Tower in England, with Gerry & the Pacemakers opening.
1964: 250,000 people in Australia were on hand to greet the Beatles in Melbourne.
1965: Paul McCartney of the Beatles recorded the song "Yesterday" in two takes. It was a significant departure from the Beatles' norm, as McCartney was the only group member on the song.
1965: Sonny & Cher released the single "I Got You Babe". (Note: some websites naively say the song was released July 9. The song debuted on the Singles chart on July 10. It is physically impossible for a record company to release a single, mail it to radio stations throughout the country, be received by those stations, listened to and added to radio station playlists, reported to trade papers, and be printed and published by the trade papers, all in one day. The song was released June 14.)
1967: The Monkees began recording "Daydream Believer".
1967: The Doors were in concert at Steve Paul's The Scene in New York City with Jimi Hendrix in attendance.
1969: Marvin Gaye spent a second week at the top of the R&B chart with "Too Busy Thinking About My Baby". It would hold off all challengers for four more weeks.
1969: "Love Theme From "Romeo & Juliet", one of the Top Instrumentals of the Rock Era*, was #1 on the Easy Listening chart for a second week.
1969: The Soundtrack to "Hair" was #1 on the Album chart for the eighth week. Blood, Sweat & Tears spent their 12th week in the Top Three with their debut while Nashville Skyline by Bob Dylan was #3.
1969: "Crystal Blue Persuasion", the great song from Tommy James and the Shondells, moved from 89 to 57.
1970: Eric Clapton's new band, Derek and the Dominos, made their first appearance at the Lyceum in London.
Three Dog Night was on their way...
1969: The Beatles ruled for a fourth week with "Get Back", holding off Henry Mancini, who made an 8-2 move with "Love Theme From 'Romeo & Juliet'". Elvis Presley's brilliant song "In The Ghetto" was third with CCR closing with their newest, "Bad Moon Rising". The rest of the Top 10: Newcomers Mercy with "Love (Can Make You Happy)", the Friends of Distinction were groovin' with "Grazing In The Grass", the Edwin Hawkins Singers dropped with "Oh Happy Day", Marvin Gaye was at position #8 with "Too Busy Thinking About My Baby", the Guess Who was still strong after 11 weeks with "These Eyes" and Three Dog night scored the first Top 10 of their career with "One".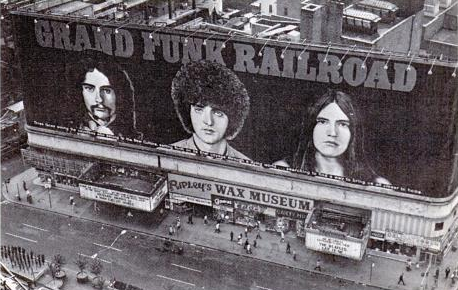 1970: Grand Funk purchased a billboard in New York's Times Square to advertise their new single "Closer To Home".
1972: The Greatest Hits album of Simon and Garfunkel was released two years after the duo split up.
1972: Led Zeppelin played the first of two nights at Nassau Coliseum in Uniondale, New York. Led Zep played for three hours and gave four encores in front of over 16,000 fans.
1972: Simon and Garfunkel and Peter, Paul & Mary played a benefit concert for United States presidential contender George McGovern at Madison Square Garden in New York City.
1975: Gwen McCrae watched husband George score a #1 R&B and Top 40 smash with "Rock Your Baby" earlier in the year and then went into the recording studio and recorded "Rockin' Chair", which became the #1 R&B song on this date.
1975: The classic song "Wildfire" reached #1 for Michael Murphey on the Adult chart.
1975: Elton John's album Captain Fantastic and the Brown Dirt Cowboy, which debuted at #1, continued as the top album in the land. New entries in the Top 10 included Stampede from the Doobie Brothers, Four Wheel Drive by Bachman-Turner Overdrive and Spirit of America from the Beach Boys.
1975: America scored their second #1 song (following their debut "A Horse With No Name" in 1972) with "Sister Golden Hair". The Captain & Tennille were closing fast (12-2) with their debut hit "Love Will Keep Us Together" and Linda Ronstadt moved to challenge with "When Will I Be Loved". Grand Funk had a solid hit with "Bad Time" at #4 and Chicago was stuck at 5 with "Old Days". The rest of the Top 10: "I'm Not Lisa" from Jessi Colter, Major Harris at 7 with "Love Won't Let Me Wait", John Denver tumbled to #8 with "Thank God I'm A Country Boy", the former #1 "Philadelphia Freedom" was amazingly back in the Top 10 for the Elton John Band and Joe Simon was at #10 with "Get Down, Get Down (Get On the Floor)".
1979: Little Feat announced they were breaking up.
1980: The movie Roadie, starring Meat Loaf, debuted in theaters.
1980: "Little Jeannie" by Elton John climbed to #1 on the Adult Contemporary chart. It was Elton's 5th AC #1, following "Daniel", "Don't Go Breaking My Heart", "Sorry Seems To Be The Hardest Word" and "Mama Can't Buy You Love".
The Pretenders remained in the Top 10 because of songs like one of The Top Unknown/Underrated Songs of the Rock Era*--"Mystery Achievement"...
1980: Glass Houses took over at #1 on the Album chart, giving Billy Joel his second #1 album. Against the Wind slipped to 2 after six weeks at the top. Just One Night by Eric Clapton was surprisingly up to 3 with Pink Floyd slipping to #4 with The Wall. The rest of the Top 10: Mouth To Mouth by Lipps, Inc., Van Halen's Women and Children First at #6, the debut from Christopher Cross up to #7, Middle Man from Boz Scaggs at #8, the Pretenders' great debut at #9 and the Soundtrack to "The Empire Strikes Back" moving from 17-10.
1981: The "No Nukes" concert, featuring Bruce Springsteen, Jackson Browne, Bonnie Raitt and others, was held at the Hollywood Bowl.
1982: The Pretenders fired bass player Pete Farndon.
1986: Queen scored a #1 album in the U.K. with A Kind of Magic.
1986: "Glory of Love" by Sun Valley, Idaho's Peter Cetera was the Biggest Mover, climbing from 62-49.
1986: "Nasty" by Janet Jackson reached #1 on the R&B chart.
1986: "On My Own", the duet pairing Patti LaBelle & Michael McDonald, reached #1 after 13 weeks, replacing Madonna's "Live To Tell" at the top spot. "I Can't Wait" from Nu Shooz was #3 with Billy Ocean's "There'll Be Sad Songs (To Make You Cry)" at #4, his fifth Top 10 in his last six releases. The rest of the list: "Crush On You" from the Jets, Whitney Houston's former #1 "Greatest Love Of All", George Michael's first solo hit "A Different Corner" at #7, Howard Jones moved up from 14-8 with "No One Is To Blame", Mike + the Mechanics on their way down with "All I Need Is A Miracle" and Level 42's "Something About You" at #10.
1986: Incredibly, the album
Whitney Houston
was still at #1 nearly a year after its release.
1989: Pete DeFreitas, drummer of Echo & the Bunnymen died in a motorcycle accident at age 27. DeFreitas was en route from Liverpool, England to London and was instantly killed when his motorcycle collided with a car neaer Longdon Green, Staffordshire.
1994: Henry Mancini died at the age of 70 from pancreatic and liver cancer in Los Angeles.
1995: Michael Jackson and wife Lisa Marie Presley appeared on television for a live interview with Diane Sawyer. The appearance drew an audience of 60 million people.
1995: Elite guitarist Rory Gallagher died in London. While waiting for a liver transplant, Gallagher spent 13 weeks in intensive care, and it was during this time that he contracted a staphylococcal infection and died as a result.
1997: Only in 1997 could a song of this caliber do this--"I'll Be Missing You" by Puff Daddy & Faith Evans debuted at #1. To let you know how hard it was, they replaced "
MMMBop" by Hanson at #1.
1997: Spice by the Spice Girls was #1 on the Album chart for the fourth straight week.
2003: Queen Elizabeth awarded Gerry Marsden
of Gerry & the Pacemakers a Member of the Order of the British Empire medal.
2003: Queen Elizabeth conferred upon Sting the title of Commander of the British Empire.
2004: Warner Brothers bought out Madonna's shares in Maverick Records, a label she had owned for 12 years. Alanis Morissette and the Deftones recorded on Maverick.
(Note: some websites report the deal was announced June 13. According to 'CBS News' and other reliable sources, the deal was announced Monday, June 14.)
2006: AFI had the top album with Decemberunderground.
2010: Michael Jackson was posthumously inducted and Aretha Franklin was inducted to the Apollo Theater Hall of Fame in Harlem, New York.
Born This Day:
1909: Burl Ives ("A Holly Jolly Christmas") was born in Hunt City, Illinois; died of oral cancer from smoking April 14, 1995 in Anacortes, Washington.
1931: Junior Walker ("Shotgun") was born in Blytheville, Arkansas; died of cancer at the age of 64 on November 23, 1995 in Battle Creek, Michigan.
1945: Rod Argent, vocalist and keyboardist of the Hollies, the Zombies and Argent, was born in St Albans, Hertfordshire, England.
1947: Barry "The Fish" Melton, co-founder and lead guitarist of Country Joe & the Fish, was born in Brooklyn, New York.
1949: Alan White, drummer with John Lennon's Plastic Ono Band as well as Yes, was born in Pelton, County Durham, England.
1952: Jim Lea of Slade ("Run Runaway") was born in Wolverhampton, Staffordshire, England. (Note: some websites naively say Lea was born in Wolverhampton, West Midlands, England. The county of West Midlands was not created until 1976, 24 years after Lea was born, making it physically impossible for him to have been born in the county of West Midlands. Wolverhampton was included in the county of Staffordshire in 1952, the year Lea was born.)
1958: Nick Van Eede of the Cutting Crew was born in Cuckfield, West Sussex, England.
1961: Boy George (George O'Dowd) was born in Bexley, Kent, England. (Note: one website claims Boy George was born in London. Another says he was born in Eltham, Kent, England. According to his official website, George was born in Bexley, which in 1961 was in the county of Kent. Bexley did not become part of the county of London until 1965, four years after George was born.)
1963: Chris Degarmo of Queensryche was born in Wenatchee, Washington.
1971: Billie Myers ("Kiss The Rain" from 1998) was born in Coventry, Warwickshire, England. (Note: some websites naively say Myers was born in Coventry, West Midlands, England. West Midlands did not become a county until 1974, three years after Myers was born, so it is physically impossible for her to have been born in West Midlands and you will never see West Midlands listed as her county of birth on an official birth certificate.)
1983:

Siobhan Donaghy of the Sugababes was born in London, England.