1968: The Rolling Stones released the single "Jumpin' Jack Flash".
1969: The Guess Who appeared on American Bandstand.
1969: "Get Back" gave the Beatles their 17th #1 song, leaving them just one shy of Elvis Presley's record, despite Elvis being an artist for 14 years and the Beatles just 6 at that time. They would get that #1 and more the next year. "Aquarius" slipped only to #2 after six weeks in the #1 spot. Mercy was in with the giants at #3 with "Love (Can Make You Happy)" while "Hair" from the Cowsills fell off. The rest of the Top 10: "Oh Happy Day" moved nicely (12-5) for the Edwin Hawkins Singers, the Isley Brothers with "It's Your Thing", Donovan with "Atlantis", Simon & Garfunkel were down with "The Boxer", Ray Stevens placed "Gitarzan" at #9 and the Guess Who remained at #10 with "These Eyes".
1970: Peter Green announced that he was leaving Fleetwood Mac.
1974: Olivia Newton-John and Boz Scaggs appeared on The Midnight Special.
1975: "99 Miles From L.A." by Albert Hammond held down the #1 position on the Adult Contemporary chart.
1975: "Shining Star" was the first and only #1 for Earth, Wind & Fire. New entries in the Top 10 were "Bad Time" by Grand Funk and "Old Days" from Chicago.
1979: The members of Genesis met their fans while manning ticket booths to their benefit show at the Roxy in Los Angeles.
1980: Bette Midler remained at #1 on the Adult Contemporary chart for the third week with "The Rose".
1980: The Spinners made one of the biggest moves of the decade with "Cupid/I've Loved You For a Long Time", which shot up from 67-29 on this date.
L.A.'s Ambrosia with their biggest career hit...
1980: Blondie held on to #1 for a sixth week with the smash "Call Me". Lipps, Inc. made their move with "Funkytown", amazingly jumping over "Lost In Love" from Air Supply. Kenny Rogers & Kim Carnes were responsible for song #4--"Don't Fall In Love With A Dreamer". The rest of the Top 10: Dr. Hook's "Sexy Eyes", Ambrosia had a great hit with "Biggest Part Of Me", the Brothers Johnson were back after an extended absence with "Stomp!", Linda Ronstadt enjoyed her eighth Top 10 and 26th hit with "Hurt So Bad", Christopher Cross slipped backwards with "Ride Like The Wind" and Gary Numan had his one and only--"Cars".
1982: Steve Miller released the single that would be a big comeback hit for him--"Abracadabra". (Note: some websites naively say that the single was released May 29. "Abracadabra" debuted on the Singles chart on May 29. It is physically impossible for a song to be released by a record company, mailed to radio stations, listened to and added to playlists by the radio station, reported to the trade papers, and the trade papers printed and published, all in one day.)
1982: An 11-minute film by Paul McCartney and Ringo Starr was screened at the famous Cannes Film Festival in France.
1986: Garth Books married Sandy Mahl.
1986: Davy Jones, Mickey Dolenz and Peter Tork reunited as the Monkees without drummer Michael Nesmith. The three Monkees kicked off their tour at the Concord Hotel in Kiamesha Lake, New York.
"Why Can't This Be Love" helped give Van Halen one of the biggest albums of their career...
1986: Whitney Houston continued to top the Album chart in its 61st week on the chart. 5150 from Van Halen was #2 with Bob Seger's solid album Like a Rock moving up to #3. The rest of the Top 10: Prince had #4 with Parade, the Soundtrack to "Pretty in Pink" was #5, Journey's Raised On Radio was #6, Control from Janet Jackson was #7, the Rolling Stones dropped to #8 with Dirty Work, the Pet Shop Boys had a Top 10 album with Please and Robert Palmer was at #10 with Riptide.
1986: "Greatest Love Of All" from Whitney Houston was #1 for the fifth straight week.
1991: Gene Clark of the Byrds died of a heart attack in Sherman Oaks, California at the age of 46.
1986: Whitney Houston spent a fifth week atop the Adult Contemporary chart with "Greatest Love Of All".
1997: Spice by the Spice Girls was the new #1 album.
1997: The new single from that album Spice became one of the highest debuting songs of the rock era. "Say You'll Be There" from the Girls entered the chart at #5.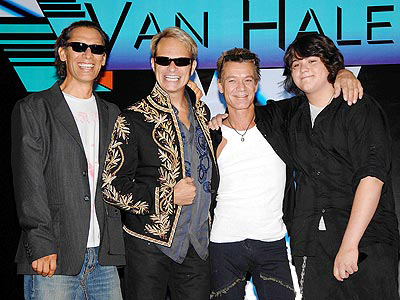 1998: Philadelphia mayor Ed Rendell proclaimed it "Van Halen Day" in the city.
2000: Puff Daddy finally settled the last lawsuit that had been filed as a result of the 1991 stampede at a New York charity event in which Daddy, Diddy, P. Diddy or whatever played at.
2003: Justin Timberlake sold 130,000 tickets to his U.K. tour in two-and-a-half hours.
2003: More importantly, Sir Paul McCartney had tea with Russian premier Vladmir Putin by day and then played before 20,000 at Moscow's Red Square that night.
2010: Aretha Franklin was awarded an honorary degree from Yale University in New Haven, Connecticut.
Born This Day:
1940: Tommy Chong of Cheech & Chong ("Earache My Eye") was born in Edmonton, Alberta, Canada.
1941: Bob Dylan was born in Duluth, Minnesota.
1944: Patti LaBelle was born in Philadelphia, Pennsylvania.
1946: Steve Upton, drummer of Wishbone Ash, was born in Wrexham, Wales.
1947: Albert Bouchard, singer-songwriter, drummer and founding member of Blue Oyster Cult, was born in Watertown, New York.
1956: Larry Blackmon, lead singer of Cameo ("Word Up"), was born in New York City.
1967: Heavy D was born in Mandeville, Jamaica; died of a blood clot in his lung November 8, 2011 in Los Angeles.
1969: Rich Robinson, songwriter, guitarist and founding member of the Black Crowes, was born in Atlanta, Georgia.