1954: Nat King Cole played the first of six nights at the Apollo Theatre in Harlem, New York.
1960: The Shirelles re-released the single "Dedicated To The One I Love". (Note: some websites claim the single was released in December of 1961. It was first released in April of 1959, then re-released after "Will You Love Me Tomorrow" became a hit. The second time, it debuted on the chart on December 26, 1960, so it is physically impossible for the song to chart in 1960 and then not be released until 1961.)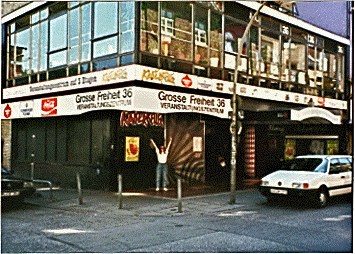 1960: The Beatles performed for the final time at the Kaiserkeller in Hamburg, Germany, wrapping up a 56-night run.
1963: "She Loves You" returned to #1 on the U.K. chart.
1963: With the Beatles, was #1 on the Album chart in the U.K. on this date. (Note: several websites erroneously say that the album was the first million-seller in the U.K. Not true. The Soundtrack to "South Pacific" achieved that feat this month, while 'With the Beatles" did not reach one million until 1965.)
1965: Petula Clark released the single "Downtown".
1965: Lou Christie released the single "Lightnin' Strikes".
1968: Cheap Thrills by Big Brother & the Holding Company took over as the #1 album.
1968: Mary Hopkin ruled the Easy Listening chart for a fifth week with "Those Were The Days".
1969: Simon & Garfunkel's television special Songs of America was broadcast.
1969: Here's a show for you: King Crimson, Iron Butterfly, Ten Years After, the Band, Janis Joplin, Steppenwolf, the Moody Blues and the Rolling Stones in concert at the International Raceway Festival in West Palm Beach, Florida.
1969: The Monkees appeared in what would be their final live performance in 15 years at the Alameda County Coliseum in Oakland, California.
1970: Dave Edmunds released the single "I Hear You Knocking".
1971: Al Green released the single "Let's Stay Together". (Note: one website reports the release as 1972--the song debuted on both the R&B and Popular charts on December 4, making it physically impossible for the song to be released after it charted.)
1974: Neil Sedaka's big comeback hit "Laughter In Rhe Rain" remained on top of the Adult chart for a second week.
The Three Degrees with their Supremesesque smash...
1974: Billy Swan enjoyed a second week at #1 with "I Can Help" but newcomer Carl Douglas moved to challenge with "Kung Fu Fighting". The Three Degrees were up from 8 to 3 with "When Will I See You Again". B.T. Express backtracked with "Do It ('Til You're Satisfied)" and Neil Diamond ("Longfellow Serenade") and Carl Carlton ("Everlasting Love") held on to their positions. The rest of the Top 10: "My Melody Of Love" by Bobby Vinton, Bachman-Turner Overdrive scored their first Top 10 hit, and it appeared to be a big one, as "You Ain't Seen Nothing Yet" rocketed up from 34 to 8, Harry Chapin edged up with "Cat's In The Cradle" and Helen Reddy achieved her 10th career hit and fifth Top 10 with "Angie Baby".
The title track from Not Fragile...
1974: Elton John's Greatest Hits moved from #47 to #1 on the Album chart. That bumped the Rolling Stones album It's Only Rock 'N Roll from the top after just one week. BTO's breakthrough Not Fragile was third with Walls and Bridges from John Lennon moving to 4.
1977: The Atlanta Rhythm Section released the single "So In To You".
1980: Pink Floyd released the double album The Wall.
1982: Bassist Ron McGovney played for the final time with Metallica at the Mabuhay Gardens in San Francisco, California.
1985: Wham! had the #1 song in the U.K. with "I'm Your Man".
1985: "Separate Lives" stood alone on the Adult Contemporary chart for a third week for Phil Collins and Marilyn Martin.
New group Mr. Mister...
1985: Phil Collins and Marilyn Martin had the #1 song with "Separate Lives". Starship flew down after two weeks with "We Built This City" while Mr. Mister was up to #3 with "Broken Wings". Glenn Frey's "You Belong To The City" dropped after peaking at #2, Heart remained the same with "Never" and the Thompson Twins peaked at #6 with "Lay Your Hands On Me". The rest of the Top 10: Aretha Franklin with "Who's Zoomin' Who", Arcadia sung about "Election Day", Eddie Murphy had a hit with "Party All The Time" and ZZ Top hopped out of their "Sleeping Bag" to move from 14-10.
1991: Rob Pilatus of Milli Vanilli attempted suicide at the Mondrain Hotel in Los Angeles.
1991: Dangerous by Michael Jackson topped the U.K. Album chart.
Remembering this great one from Paula...
1991: PM Dawn collected their second #1 song with "Set Adrift On Memory Bliss", moving Michael Bolton out of the top spot with "When A Man Loves A Woman". Michael Jackson ripped up the chart from 35 to 3 with "Black Or White", Boyz II Men were a fixture with "It's So Hard To Say Goodbye To Yesterday", Prince's "Cream" dropped to #5 and Paula Abdul had the #6 song--"Blowing Kisses In The Wind". The rest of the Top 10: Color Me Badd moved from 21-7 with "All 4 Love", Naughty By Nature had "O.P.P.", Natural Selection entered the list with "Do Anything" and Bryan Adams dropped with his big hit "Can't Stop This Thing We Started".
1991: Amy Grant had the new #1 on the Adult Contemporary chart--her great song "That's What Love Is For".
1991: Garth Brooks' monumental album Ropin' the Wind was #1 for the eighth week. MC Hammer had #2--Too Legit to Quit. Other albums of note--Genesis debuted at #4 with We Can't Dance, Nevermind from Nirvana slipped to #5 after just eight weeks, the self-titled Metallica was #7, Time, Love & Tenderness from Michael Bolton entered the Top 10 and Garth Brooks fever was running high as his previous album No Fences entered the Top 10 after 63 weeks of release.
1994: Tupac Shakur was shot five times during a robbery outside a recording studio in New York City, the day before the verdict in his sexual abuse trial.
"Don't Speak"--the great track on Tragic Kingdom...
1996: The good albums on the chart were Tragic Kingdom from No Doubt, which was #3 after 46 weeks, Celine Dion had #4--Falling Into You, Toni Braxton's Secrets entered the Top 10 with Secrets and the Best of Volume 1 from Van Halen was #10.
1996: Barbra Streisand and Bryan Adams hooked up for a fast-rising song--"I Finally Found Someone", up from 28 to 11.
1996: Blackstreet remained at #1 for a fifth week with "No Diggity", holding off Toni Braxton's "Un-Break My Heart" for now.
1999: Don "Sugarcane" Harris, guitarist who worked with Little Richard, John Mayall and Frank Zappa, was found dead in his apartment from drugs in Los Angeles at the age of 61. (Note: some websites show his death as November 27, but 'The Guardian" newspaper, as well as the book 'Rock Obituaries: Knocking on Heaven's Door' by Nick Talevski, show that Don's death was November 30.)
2003: Joey Ramone Place (the corner of Bowery and 2nd Street) was named in New York City for the musician from the Ramones.
2005: System of a Down held the #1 spot on the Album chart with Hypnotize.
2006: Cheffins auctioneers in Cambridge, England sold the final belongings of Syd Barrett, once with Pink Floyd. The two-day sale raised a grand total of $233,786.
2008: Take That achieved a #1 song in the U.K. with "Greatest Day".
Born This Day:
1914: Allan Sherman ("Hello Muddah, Hello Faddah" from 1963) was born in Chicago, Illinois; died of emphysema at his home in West Hollywood, California on November 20, 1973.

(Note: several websites show his death as November 21, but the Hillside Memorial Park, where Sherman is buried, shows his death as November 20.)
1929: Dick Clark, longtime host of American Bandstand, was born in Mount Vernon, New York; died of a heart attack in Santa Monica, California on April 18, 2012.
1937: Luther Ingram ("[If Loving You is Wrong] I Don't Want to Be Right") was born in Jackson, Tennessee; died of heart failure in Belleville, Illinois on March 19, 2007.
(Note: some websites place his birth year as 1937, but 'USA Today' reports that it was 1944.)
1937: Frank Ifield ("I Remember You" from 1962) was born in Coundon, Coventry, England.
1943: Leo Lyons, bassist of Ten Years After ("I'd Love To Change The World"), was born in Mansfield, Nottinghamshire, England.
1944: Rob Grill, singer, songwriter and bassist of the Grass Roots, was born in Los Angeles; died July 11, 2011 in a hospital in Orlando, Florida after sustaining a head injury several weeks before from falling after suffering a stroke in Lake County, Florida.
1945: Roger Glover, songwriter, producer, bassist and keyboardist of Deep Purple, was born in Brecon, Wales.
1954: June Pointer of the Pointer Sisters, was born in Oakland, California; died April 11, 2006 in Los Angeles after suffering a stroke in February and being diagnosed with cancer shortly before her death.
1953: David Sancious, keyboard player and guitarist and an early member of Bruce Springsteen's E Street Band, was born in Long Branch, New Jersey. (Note: some websites mistakenly say his birthplace was Asbury Park, New Jersey; David's official website shows that he was born in Long Branch.)
1954: George McArdle, bass guitarist of the Little River Band, was born in Melbourne, Australia.
1955: Billy Idol was born in Stanmore, Middlesex, England.
1957: John Ashton, founding member and guitarist of the Psychedelic Furs, was born in Forest Gate, London.
1958: Stacey Q ("Two Of Hearts" from 1985) was born in Fullerton, California.
1965: Paul Wheeler, guitarist of Icehouse
1968: Des'ree ("You Gotta' Be") was born in London.
1973: John Moyer, bassist of Disturbed, was born in El Paso, Texas.
1978: Clay Aiken was born in Raleigh, North Carolina.