1957: Ricky Nelson recorded "Be-Bop Baby" at Master Recorders in Hollywood, California.
1957: The Everly Brothers recorded "Wake Up Little Susie" in Nashville, Tennessee.
1957: Buddy Holly & the Crickets played at none other than the Apollo Theater in the neighborhood of Harlem in Manhattan, New York for one week beginning on this date. The tour was set up by Norman Petty, working with promoter Irving Feld. (Note: contrary to the movie 'The Buddy Holly Story' and numerous websites, which indicate that the Apollo didn't know the group was white, and did not discover this until they showed up, management at the Apollo did indeed know. The Schiffman family, which owned the theatre, were aware that the Crickets were white. Frank Schiffman's sons, Bobby and Jack, had seen the Crickets in Washington, D.C. during the first leg of the tour, according to the book 'Buddy Holly: A Biography' by Ellis Amburn. Unlike the other theatres which booked the Crickets only to be shocked that they were white, the Apollo booked them because black record-buyers were sending "That'll Be The Day" to the top of the R&B charts.)
1960: Elvis Presley began filming of the movie Flaming Star.
1962: Twelve-year-old Stevie Wonder released his first 45, "I Call It Pretty Music (But The Old People Call It The Blues)". Marvin Gaye was the drummer.
1962: Ringo Starr officially took over as the new drummer of the Beatles, replacing Pete Best, who was fired. Although he had sat in for Best in the past in Liverpool, England and Hamburg, Germany, Starr made his first official appearance with the group August 18 in Port Sunlight, England. (Note: some websites say Best was fired August 14, but he was told of the decision on August 16, according to 'The Beatles Bible', 'Huffington Post' and the newspaper 'The Examiner'.)
1964: The Beatles performed at the Opera House in Blackpool, Lancashire, England. High Numbers opened for them. You say "Who"? You're right, High Numbers became the Who. The Kinks were also on the bill.
1966: The world was introduced to a new band as on this date, the Monkees released their first single "Last Train To Clarksville".
1966: The Byrds played at the Fillmore in San Francisco, California.
1966: During their last tour, the Beatles performed at John F. Kennedy Stadium in Philadelphia, Pennsylvania.
1968: The Beatles made 14 takes in recording "While My Guitar Gently Weeps" for their upcoming White Album. But guitarist George Harrison, the songwriter, wasn't happy with the result so the group would try again later.
1968: The Jackson 5 made their live debut opening for the Supremes at the Forum in Los Angeles.
1969: Joni Mitchell opened for Crosby, Stills, Nash & Young at the Auditorium Theatre in Chicago, Illinois. Crosby, Stills and Nash, which formed at a party at Joni's house the previous year, performed for the first time with Neil Young.
1969: Led Zeppelin and Joe Cocker were in concert at the Convention Hall in Asbury Park, New Jersey.
1969: Creedence Clearwater Revival, The Who, Jefferson Airplane, Santana, Sly & the Family Stone, Janis Joplin, Canned Heat, John Sebastian, Mountain, Country Joe McDonald, the Incredible String Band, the Keef Hartley Band and Quill performed at Woodstock in Bethel, New York.
1969: Three Dog Night's great song "Easy To Be Hard" rose from 77 to 40.
1969: Zager & Evans made it six fantastic weeks at #1 with "In the Year 2525". In nearly any other time in the Rock Era, "Crystal Blue Persuasion" wouldThave been #1 but not against this competition; Tommy James & the Shondells peaked at #2 and fell to 3 on this date. The Rolling Stones were ready for a charge up to the top with "Honky Tonk Women", while Neil Diamond enjoyed one of his biggest hits--"Sweet Caroline" at #4. The rest of the Top 10: "A Boy Named Sue" by Johnny Cash, "Put A Little Love In Your Heart" by Jackie DeShannon, Kenny Rogers & the First Edition said "Ruby, Don't Take Your Love To Town", Steve Wonder was still at 8 with "My Cherie Amour", Jr. Walker & the All Stars fell with "What Does It Take (To Win Your Love)" and Andy Kim finished the list with "Baby, I Love You".
1969: Zager & Evans even took over the Adult Contemporary chart with "In The Year 2525".
1969: Blood, Sweat & Tears spent its seventh week at #1 on the Album chart.
1970: Yes, Mungo Jerry and Ginger Baker's Air Force performed at the final day of the Yorkshire Folk, Blues & Jazz Festival at Krumlin, Yorkshire, England.
1970: Elvis Presley collected his 16th #1 in the U.K. with "The Wonder Of You"; the Kinks had the #2 song with "Lola".
1974: The Ramones gave their first public performance at the CBGB in New York City.
1974: Chicago starred in the ABC-TV special Meanwhile Back at the Ranch. Anne Murray and Charlie Rich were guests.
1975: Peter Gabriel announced that he was splitting from Genesis to start a solo career.
1975: The Stylistics had the top U.K. song with "Can't Give You Anything (But My Love)".
1975: Make it two weeks for J-J-J "Jive Talkin'" by the Bee Gees. The Eagles had a great song at #2 with "One Of These Nights", Olivia Newton-John remained at 3 with "Please Mr. Please" and Elton John moved up with "Someone Saved My Life Tonight". Hamilton, Joe Frank & Reynolds moved from 15-5 with "Fallin' In Love" while "Rhinestone Cowboy" was up to 6 for Glen Campbell. The rest of the Top 10: "Why Can't We Be Friends" for War, "How Sweet It Is (To Be Loved By You)" by James Taylor, Melissa Manchester's "Midnight Blue" at 9 and Mike Post & "The Rockford Files" at 10.
"After the Thrill is Gone"...
1975: Amongst amazing competition, the Eagles spent their fifth straight week at #1 on the Album chart with One of These Nights.
1976: Gordon Lightfoot released this song on this date--"The Wreck Of The Edmund Fitzgerald".
1976: Cliff Richard began a tour of the Soviet Union in Leningrad.
1977: Elvis Presley died of coronary arrhythmia at the age of 42 in Memphis, Tennessee.
1979: The Who's movie Quadrophenia premiered at the Plaza Cinema in London. (Note: several websites report that the movie premiered on May 2 or November 2. According to the official website of the Who, as well as the book 'Roger Daltrey: The Biography' by Stafford Hildred and Tim Ewbank, 'Quadrophenia' premiered on August 16. It opened in theaters November 2.)
1980: Olivia Newton-John's "Magic" remained at #1 for a fifth week on the Adult Contemporary chart.
1980: Cozy Powell, drummer of Rainbow, announced he was leaving the group just after the group headlined the Monsters of Rock at Castle Donington, England.
1980: Diana Ross conquered the AC chart again as "Upside Down" reached #1.
1983: Paul Simon married Carrie Fisher in New York City.
1985: Madonna marred Sean Penn in Malibu, California.
1986: Rick Allen, drummer of Def Leppard, played his first concert with the group since losing his left arm in a traffic accident at the Monsters of Rock Festival at Castle Donington, England.
1986: Sun Valley, Idaho's Peter Cetera stayed at #1 on the Adult Contemporary chart for the fifth week in a row with "Glory Of Love".
1986: The fastest-rising song on this date, 22 years after its initial release--"Twist And Shout" by the Beatles
1987: Thousands of people remembered Elvis Presley on the 10th anniversary of his death by going to his grave in Memphis, Tennessee.
1994: Crosby, Stills and Nash released the album
After the Storm
.
1995: Brian Wilson of the Beach Boys performed in concert for the first time with daughters Carnie and Wendy Wilson of Wilson Phillips.
1997: Over 30,000 fans came to Graceland in Memphis, Tennessee to pay respects to Elvis Presley on the 20th anniversary of his passing.
1997: Will Smith rose to #1 on the U.K. chart with "Men In Black".
2000: Alan Caddy, lead guitarist and a founding member of the Tornadoes, and session musician with Dusty Springfield, the Spencer Davis Group, Kiki Dee and Pretty Things, died at the age of 60 in London.
2000: INXS had to cancel their tour of New Zealand because of poor ticket sales. It was the first venture for the band since the death of lead singer Michael Hutchence.
2000: 'N Sync were given the keys to the city of Orlando, Florida.
2003: A car sponsored by 3 Doors Down made its debut at the Cabela 250 NASCAR Busch Series at Michigan International Speedway. The car finished 11th.
2003: Marc Anthony's wife, Dayanara Muniz, gave birth to son Ryan at North Shore University Hospital in Manhassat, New York.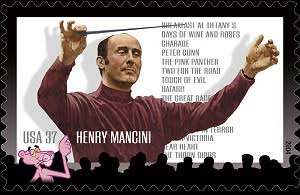 2003: A new postage stamp by the United States Postal Service was unveiled before a large crowd at the Mancini Musicale at UCLA in Los Angeles.
2005: Talk about an identity crisis. Sean Combs, who changed his name to Sean "Puffy" Combs, then Puff Daddy and P. Diddy, announced he was changing his name to "Diddy".
2005: Vassar Clements, a virtuoso fiddler who worked with the Byrds, Bonnie Raitt, Kris Kristofferson and Emmylou Harris, died of lung cancer at the age of 77 at his home in Nashville, Tennessee. (Note: several websites claim Clements died in Goodlettsville, Tennessee, but according to the newspaper 'The Chicago Tribune' and the official website for Clements, he died in Nashville.)
2005: Madonna suffered three cracked ribs and broke her collarbone and hand in a horse riding accident on her birthday outside her country home in London.
Born This Day:
1915: Al Hibbler, who had a hit with his version of "Unchained Melody" in 1955, was born in Tyro, Mississippi; died April 24, 2001 in Chicago, Illinois. (Note: the book 'Encyclopedia of Arkansas Music' by Ali Welky and Mike Keckhaver states that Hibbler always claimed Como as his birthplace. We can find no other corroboration for this. The newspaper 'The Arkansas Times', as well as the books 'Undaunted by Blindness' by Clifford E. Olstrom and 'Blues: A Regional Experience' by Bob L. Eagle and Eric S. LeBlanc, all say Hibbler was born in Tyro. Some websites also claim Hibbler was born in Little Rock, Arkansas. Hibbler moved with his family to Little Rock at the age of 12, where he attended a school for the blind.)
1922: Ernie Freeman, who gave us the great instrumental "Raunchy", was born in Cleveland, Ohio; died of a heart attack May 15, 1981 in Hollywood, California. (Note: some websites report Freeman died on May 16, with some saying he died in Hawai'i, and others saying he died in Los Angeles. Although Freeman lived in Hawai'i in the 70's, he died on May 16 at his home in Hollywood, California, according to the book 'Blues: A Regional Experience' by Bob L. Eagle and Eric S. LeBlanc.)
1927: Fess Parker ("The Ballad Of Davy Crockett"), who starred in the television series Daniel Boone, was born in Fort Worth, Texas; died of natural causes March 18, 2010 in Santa Ynez, California.
1928: Eydie Gormé, who gave us "Blame It On The Bossa Nova", and was the wife of Steve Lawrence and cousin of Neil Sedaka, was born in the Bronx, New York; died August 10, 2013 in Las Vegas, Nevada following a brief undisclosed illness. (Note: Some websites report she was born in 1931, but according to CBS News and the newspapers 'USA Today', 'The Los Angeles Times' and "The Guardian', she was born in 1928. Some websites say she was born in Manhattan, but she was born in the Bronx, according to the newspaper 'The Los Angeles Times' and 'Playbill'.)
1934: Kathy Lester ("Love Letters" from 1962) was born in Hope, Arkansas.
1942: Barbara George ("I Know (You Don't Love Me No More)") was born in New Orleans, Louisiana; died August 10, 2006 in Chauvin, Louisiana. (Note: one credible source states she was born in 1943, but we believe that to be a misprint, for every other reliable source reports she was born in 1942. Some websites say Barbara was born in Smithridge, Louisiana. 'Billboard' reports that George was born August 16, 1942 in New Orleans.)
1944: Russ Titelman, producer of James Taylor, Eric Clapton and Randy Newman, was born in Los Angeles.
1945: Gary Loizzo, singer and guitarist of the American Breed, and later an engineer and producer, was born in Chicago, Illinois.

1946: Gordon "Snowy" Fleet, drummer of the Easybeats ("Friday On My Mind" from 1967), was born in Liverpool, Lancashire, England. (Note: the notorious 'Allmusic.com' claims Fleet was born in Bootle, Merseyside, England. Given that when Fleet was born (1946), Bootle was not in Merseyside but in the county of Lancashire, one tends not to trust that source. Although there are no credible sources for his birthplace, our best research indicates that he was born in Liverpool.)
1948: Barry Hay, lead singer of Golden Earring, was born in Faizabad, India. (Note: some websites claim Hay was born in Faisabad, India. There is no such city in India--the correct spelling is Faizabad.)
1953: James "J.T." Taylor, vocalist of Kool & the Gang, was born in Laurens, South Carolina. (Note: several websites report Taylor was born in Morristown, New Jersey. Although there are no credible sources for either, our best research indicates he was born in Laurens.
1957: Tim Farriss of INXS was born in Perth, Western Australia.
1958: Madonna was born in Bay City, Michigan. (Note: some websites report that she was born in Rochester, Michigan. She was raised in an area now known as Rochester Hills, but she was born in Bay City, according to the book 'Madonna: An Intimate Biography' by J. Randy Taraborrelli.)
1972: Emily Erwin of the Dixie Chicks was born in Pittsfield, Massachusetts.
1980: Vanessa Carlton ("A Thousand Miles" from 2002) was born in Milford, Pennsylvania.
1980: Bob Hardy, bassist with Franz Ferdinand, was born in Dewsbury, West Yorkshire, England. (Note: some websites report Bob was born in Bradford, West Yorkshire, England. Our best information indicates that he was born in Dewsbury and later lived in Bradford.)