1957: Democratic U.S. presidents all have their own superstars to invite to play at their inaugurations. Pat Boone was the big star to sing at the presidential inauguration of Republican U.S. President Dwight D. Eisenhower.
1957: "Since I Met You Baby" by Ivory Joe Hunter remained #1 for a third week on the R&B chart.
1959: The Platters achieved a #1 song with "Smoke Gets In Your Eyes". "My Happiness" by Connie Francis was next, and previous four-week #1 "The Chipmunk Song" by the Chipmunks (David Seville) was third. Ritchie Valens moved from 15 to 4 with "Donna" and the Crests were up nice (12-5) with "16 Candles". The rest of the Top 10: "A Lover's Question" from Clyde McPhatter, Billy Grammer with "Gotta' Travel On", Fats Domino was tumbling with "Whole Lotta' Loving", Lloyd Price moved from 21 to 9 with "Stagger Lee" and the Teddy Bears' big hit "To Know Him Is To Love Him" was at #10.
1962: Jackie Wilson held on to #1 on the R&B chart for a sixth week with "Lonely Teardrops".
1962: Steve Lawrence logged a sixth week at #1 on the Easy Listening chart with "Go Away Little Girl".
1963: The Beatles made their first national television appearance in the U.K., performing "Please Please Me" on Thank Your Lucky Stars.
1963: Frankie Avalon married Kathryn "Kay" Diebel .
1963: The Rooftop Singers had a big hit as "Walk Right In" moved from #35 to #11.
1967: The Beatles began recording "A Day In The Life" at Abbey Road Studios in London, doing the rhythm track, John Lennon's lead vocal and recording the clock alarm sound that was used in the song.
1967: Pink Floyd and Marmalade played a bill at the Marquee Club in London.
1967: Lesley Gore starred as Catwoman's sidekick, Pussycat, on the popular Batman on ABC-TV.
1967: The Monkees ruled the U.K. chart with "I'm A Believer".
1973: The Moody Blues released "I'm Just A Singer (In A Rock & Roll Band)".
1974: Barbra Streisand remained at #1 on the Adult chart with "The Way We Were".
"Goodbye Again" from John Denver...
1974: Jim Croce again topped the Album chart with You Don't Mess Around with Jim. The Carpenters' former #1 compilation The Singles 1969-1973 was right behind with another album from Croce, I Got a Name, at #3. Elton John was finally headed downward with Goodbye Yellow Brick Road while The Joker from Steve Miller Band was #5. The rest of the Top 10: The self-titled Bette Midler, the Soundtrack to "Jonathan Livingston Seagull" from Neil Diamond, John Denver's Greatest Hits moved from 12-8, the great album Band on the Run by Paul McCartney & Wings was #9 and Muscle of Love from Alice Cooper came in 10th.
1974: The great song "Show And Tell" from Al Wilson reached #1, overtaking "The Joker" from Steve Miller. Brownsville Station edged one step closer with "Smokin' In The Boy's Room". The rest of the Top 10: Gladys Knight & the Pips with "I've Got To Use My Imagination", Ringo Starr with "You're Sixteen", Jim Croce was down with his former #1 "Time In A Bottle", Barbra Streisand entered the Top 10 with "The Way We Were", Stevie Wonder's great song "Living For The City" was at position #8, Olivia Newton-John remained at #9 with "Let Me Be There" and Barry White's Love Unlimited Orchestra moved from 13-10 with one of The Top 10 Instrumentals of the Rock Era*--"Love's Theme".
1976: The Beatles turned down a $30 million offer from promoter Bill Sargent to play together again. The lost people of the world think it's all about money.
1977: Pink Floyd played their album Animals for the press at Battersea Power Station in London.
1977: Charlie Daniels and the Marshall Tucker Band played at the inauguration of U.S. President Jimmy Carter.
1977: Aretha Franklin sang "God Bless America" at the inaugural concert for President-elect Carter.
1980: "Brass In Pocket" by the Pretenders was the new #1 song in the U.K.
1980: Dionne Warwick's comeback was well underway and she moved to #1 on the Adult Contemporary chart with "Deja Vu".
1980: Michael Jackson made it three weeks in a row at #1 on the R&B chart with "Rock with You".
1980: It had been eight years since "Ben", but Michael Jackson finally had his second solo #1 with "Rock With You". The Captain & Tennille challenged with "Do That To Me One More Time", Rupert Holmes relinquished after having one of the top songs of 1979 with "Escape (The Pina Colada Song)" and Kenny Rogers was up strong with "Coward Of The County". Stevie Wonder was on the way down with "Send One Your Love" but Tamla labelmate Smokey Robinson was up from 12-6 with "Cruisin'". The rest of the Top 10: Cliff Richard's second Top 10 in the U.S.--"We Don't Talk Anymore", Kool & the Gang with "Ladies Night", K.C. and the Sunshine Band with their big hit "Please Don't Go" and Little River Band slipped into the Top 10 with "Cool Change".
Pink Floyd's "Hey You...
1980: Pink Floyd first reached #1 on the Album chart with The Wall after just six weeks of release. On the Radio-Greatest Hits-Volumes I & II from Donna Summer was second with The Long Run from the Eagles #3. Previous #1 Bee Gees Greatest was on its way down but the solid Damn the Torpedoes from Tom Petty & the Heartbreakers was up to #5. The rest of the Top 10: Stevie Wonder's Journey Through the Secret Life of Plants, Kenny from Kenny Rogers came in #7, Michael Jackson was up to 8 with Off the Wall, Styx was down with Cornerstone and Tusk from Fleetwood Mac was still in the Top 10.
1981: Styx released the album Paradise Theater.
1981: Hall & Oates released the single "Kiss On My List". (Note: some websites list the date of release as January 24, the date it debuted on the charts. It is physically impossible for a song to be sent to radio stations, added by stations to their playlists, reported to the trade papers, and the trade papers be printed and published all on the same day.)
1983: Lamar Williams, bassist of the Allman Brothers Band, died of cancer in Los Angeles at age 34.
1985: AC/DC, the Scorpions, Ozzy Osbourne and Whitesnake performed at the Rock in Rio festival in Brazil in front of an estimated 342,000 fans.
Adams was still churning out hits from 'Reckless'...
1985: Madonna ruled #1 for a fifth week with "Like A Virgin". Jack Wagner remained second with "All I Need" with Chicago closing to #3 with "You're The Inspiration". Foreigner climbed from 11 to 4 with their great song "I Want To Know What Love Is". The rest of a dynamite Top 10: "Easy Lover" from Philip Bailey of Earth, Wind & Fire with help from Phil Collins, Bryan Adams was up to #6 with "Run To You", Duran Duran headed down with "The Wild Boys", Pat Benatar with "We Belong", Bruce Springsteen with "Born In The U.S.A." and Wham! was up from 20 to 10 with "Careless Whisper".
1985: Here we have one of the most incredible stories of the Album chart in the history of the Rock Era. Bruce Springsteen had spent four weeks at #1 way back in July with Born in the U.S.A. when the album was first released. Prince's Purple Rain took over on August 4 and spent the next 23 weeks at #1 until January 12, 1985. The album that finally toppled the Purple One? Unbelievable, but it was Born in the U.S.A., which had continued to challenge week after week since it fell from #1, with 20 of those weeks at #2!
1986: Falco released the single 'Rock Me Amadeus". (Note: some websites erroneously list the worldwide release date as March 28--it was released in Germany in 1985. The release date to the rest of the world is physically impossible, since "Rock Me Amadeus" debuted on the Singles chart on February 8. A song cannot make the Singles chart if it has not been released as a single.)
1987: Europe released the single "The Final Countdown".
1988:
Metallica

began recording their fourth album

And Justice for All at the One on One studio in Los Angeles

.
1988: Doc McGhee, manager of Bon Jovi and Motley Crue, pleaded guilty to importing more than 40,000 pounds of marijuana into the United States. (Note: there are numerous websites which claim that Doc McGheep, the manager of Bon Jovi and Motley Crue, pleaded guilty to this offense, but there is no such person. The man's name is Doc McGhee.)
1991: Enigma had the #1 U.K. song--"Sadness, Part One".
1991: Surface moved to #1 on the R&B chart with "The First Time".
C+C had the dance floors filled...
1991: Janet Jackson landed her fifth career #1 and seventh consecutive Top 10 with "Love Will Never Do (Without You)". C&C Music Factory was up to #6 with "Gonna' Make You Sweat".
1993: Fleetwood Mac reunited just so they could play at U.S. President Bill Clinton's inauguration. The lineup for the occasion was a virtual Who's Who in Rock Music: Barbra Streisand, Michael Jackson, Stevie Wonder, Aretha Franklin, Don Henley, Glenn Frey, Linda Ronstadt, Bob Dylan and Peter, Paul & Mary.
1994: The Rock and Roll Hall of Fame inducted Elton John, John Lennon, Rod Stewart, the Animals, the Grateful Dead, Bob Marley and the Band.
1997: Madonna won a Golden Globe award for Best Actress for her role in Evita.
1998: Pat Boone was awarded the first annual Michael the Archangel Award by the National Association of Chiefs of Police.
1998: Carl Perkins died from throat cancer in Nashville, Tennessee at age 65.
1999: Bizzy Bone of Bone Thugs-N-Harmony went on trial in Columbus, Ohio, for dragging a student barber down a flight of stairs.
1999: Jean-Michel Jarre delivered a petition to the European Parliament signed by hundreds of European recording artists asking for better legal protection against music piracy on the Internet.
1999: The Republican-controlled U.S. Supreme Court refused to hear a 1998 lawsuit brought by ticket buyers against Ticketmaster, which charged that the firm engaged in anti-competitive behavior and price-fixing with promoters.
2001: Christina Aguilera performed at the Caracas Pop Festival in Venezuela.
2001: After huge sales from the Beates' compilation albums, Paul McCartney became the first billionaire music artist, reportedly worth $1.233 billion.
2002: In today's Dangerous Inmates Run Rap Music segment, C-Murder, whose real name is the very plain Corey Miller, was arrested in the shooting death of 16-year-old Steve Thomas at a nightclub on January 12.
"Don't Know Why", from Norah's great album...
2003: Come Away with Me by Norah Jones outdistanced all challengers to score the #1 album.
2004: Jimmy Dean ("Big Bad John") was dropped by Sara Lee as the spokesman for Jimmy Dean sausages after decades of pitching the product.
2006: Wilson Pickett ("In The Midnight Hour") died in a hospital near his home in Reston, Virginia from a heart attack at age 64. (Note: some websites mistakenly report his death as being in Ashburn, Virginia. He lived in Ashburn, but died in a hospital in Reston, according to the newspaper 'The Washington Post'.)
2006: Kristen Hall, guitarist of Sugarland, announced she was leaving the group to concentrate on songwriting.
2007: Denny Doherty, former member of the Mamas and the Papas, died at the age of 66 of a second abdominal aortic aneurysm at his home in Mississauga, Ontario, Canada.
2008: John Stewart, who was with the Kingston Trio, wrote "Daydream Believer" for the Monkees, and was a successful solo artist ("Gold" from 1979), died after a massive stroke at age 68 in San Diego, California.
2010: Phoebe Snow suffered a hemorrhagic stroke at her home in New Jersey and required emergency brain surgery.
2011: Gwen McRae ("Rockin' Chair" from 1975) underwent successful surgery to remove her gall bladder.
Born This Day:
1932: Richard Lester, director of the Beatles' movie A Hard Day's Night, was born in Philadelphia, Pennsylvania.
1935: Bob Engemann of the Lettermen was born in Highland Park, Michigan; died January 20, 2013 in Provo Utah from complications of heart bypass surgery.
1939: Phil Everly of the Everly Brothers was born in Chicago, Illinois; died of chronic obstructive pulmonary disease (a combination of emphysema and bronchitis) after a lifetime of smoking in Burbank, California on January 3, 2013. (The Country Music Hall of Fame claims Phil was born in Chicago, Illinois, but the book '1950s American Style: A Reference Guide by Daniel Niemeyer says he was born in Brownie, Kentucky. Photographer Jerry Spies, who grew up across the street from the Everlys, said that older brother Don was born in Brownie, but the family moved to Chicago soon after, and Phil was born in Chicago.)
1939: Sam T. Brown, session guitarist for James Brown among others, was born in St. Louis, Missouri; died December 28, 1977 in Bloomington, Indiana.
1943: Janis Joplin was born in Port Arthur, Texas; died October 4, 1970 in Hollywood, California from drugs.
1944: Shelley Fabares ("Johnny Angel") was born in Santa Monica, California.
1944: Laurie London ("He's Got The Whole World In His Hands" from 1958) was born in Bethnal Green, East London.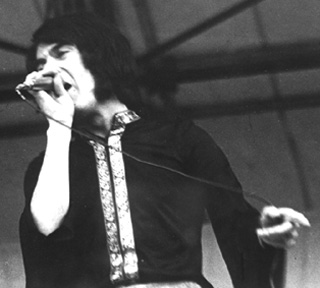 1945: Rod Evans, original lead singer of Deep Purple, was born in Edinburgh, Scotland. (Note: some websites report that Rod was born in Slough, England, but according to the book 'Smoke on the Water: The Deep Purple Story' by Dave Thompson, Evans was born in Edinburgh, then moved to Slough with his family.)
1946: Dolly Parton was born in Locust Ridge, Tennessee. (Note: some websites report his birthplace as the less specific Sevier County, Tennessee. According to the official 'Dollywood' website, Dolly was in fact born in Locust Ridge.)
1948: Harvey Hinsley of Hot Chocolate was born in Northampton, England.
1949: Robert Palmer was born in Batley, Yorkshire, England; died of a heart attack September 26, 2003 in Paris, France.
1950: Francis Buchholz of the Scorpions was born in Hannover, Germany. (Note: you will see some websites spell his birthplace as Hanover--that is the English spelling; the correct German spelling is Hannover.)
1951: Dewey Bunnell of America was born in Harrogate, Yorkshire, England.
1952: Eric Leeds, multi-instrumentalist who worked with Prince, was born in Milwaukee, Wisconsin. (Note: some websites report his birthplace as Pittsburgh, Pennsylvania. According to the official websites for both Leeds and Prince, Eric was born in Milwaukee before his family moved to Pittsburgh.)
1953: Michael Boddicker, film composer and session musician who played synthesizer on the albums Thriller, Bad and Dangerous from Michael Jackson, was born in Cedar Rapids, Iowa.
1957: Mickey Virtue, keyboardist and founding member of UB40, was born in Birmingham, England.
1963: Caron Wheeler of Soul II Soul was born in London.
1969: Trey Lorenz ("Someone To Hold" from 1992) was born in Florence, South Carolina.
1971: John Wozniak, lead singer, songwriter and guitarist of Marcy Playground, was born in Minneapolis, Minnesota.