1963: The Beatles played their usual lunchtime show at the Cavern Club in Liverpool, England and then performed at the Majestic Ballroom in Birkenhead. It was time to look for bigger venues, though, as every ticket had been sold in advance at the Majestic and hundreds of fans were turned away.
1966: The Turtles released the single "You Baby".
1966: NBC Television bought the rights to the Monkees series, which they scheduled for the fall.
1967: The Jimi Hendrix Experience recorded a performance for Radio Luxembourg's Ready Steady Radio.
1967: The Daily Mail in England published a story citing a local council survey that found 4,000 holes in the road in Lancashire. John Lennon noted it and included the information in the song "A Day In The Life".
1969: Elton John released one of his first singles, "Lady Samantha" in England.
1970: The Doors performed the first of several concerts at the Felt Forum in New York City. The shows were recorded and later released on their Absolutely Live album.
1970: Billy Stewart ("Summertime") and three of his band members died in Neuse River near Smithfield, North Carolina after Stewart's car swerved off a bridge into the river below. Stewart was 32.
Beatles closed out 'Abbey Road' in style...
1970: Led Zeppelin II became the new #1 album, replacing the Beatles' Abbey Road, which had been on top for 11 weeks. Willy and the Poorboys from CCR came in third, followed by Tom Jones Live In Las Vegas and Let It Bleed by the Rolling Stones. The rest of the Top 10: Was Captured Live at the Forum by Three Dog Night, the debut from Blood, Sweat & Tears, the self-titled Engelbert Humperdinck slipped in at #8, Santana with their self-titled release and Puzzle People from the Temptations.
1970: B.J. Thomas remained at #1 on the adult chart for a sixth week with "Raindrops Keep Fallin' On My Head".
1970: The top mover of the week was Brook Benton's "Rainy Night in Georgia", up from #100 to #70.
Ferrante & Teicher with their theme from the movie...
1970: B.J. Thomas made it three weeks at #1 with "Raindrops Keep Fallin' On My Head". The Shocking Blue made a strong move (6-2) with their fabulous "Venus", leapfrogging "I Want You Back" from the Jackson 5. Former #1 "Someday We'll Be Together" by the Supremes captured the #4 spot, ahead of "Whole Lotta' Love" from Led Zeppelin. The rest of the Top 10: another former #1--"Leaving On A Jet Plane" from Peter, Paul & Mary, Elvis Presley entered the list with his 112th career hit "Don't Cry Daddy", Tommy Roe edged up with "Jam Up Jelly Tight", CCR's double-sided "Down On The Corner" and "Fortunate Son" and Ferrante & Teicher moved into the Top 10 with "Midnight Cowboy".
1971: Marvin Gaye sang the United States national anthem at Super Bowl V in Miami, Florida.
1972: Neil Young released the single "Heart Of Gold".
1972: Paul Simon released the single "Mother And Child Reunion".
1972: Street signs were erected outside Elvis Presley's Graceland mansion in a ceremony, as a section of Highway 51 South in Memphis, Tennessee (previously
Bellevue
Boulevard) was renamed Elvis Presley Boulevard. The Memphis City Council had voted to make the change in June of 1971.
1974: Bob Dylan released the album Planet Waves.
The brilliant title track from Joni Mitchell...
1974: Joni Mitchell released the incredible album Court and Spark.
1975: Bob Dylan released the great album Blood on the Tracks. (Note: some websites claim the release date was January 20, but it was the 17th, according to both 'MTV' and "Allmusic.com".
1975: Blondie and Television performed at GBGB's in New York City.
1996: The Blues Brothers made their first appearance on Saturday Night Live on NBC-TV.
Garfunkel's remake of the Flamingo's hit pushes his album into the Top 10...
1976: Gratitude by Earth, Wind & Fire was the new #1 album, edging out previous #1 Chicago IX, the group's Greatest Hits package. History/America's Greatest Hits was still a strong #3, followed by the new release from Joni Mitchell--The Hissing of Summer Lawns. The rest of the Top 10: Helen Reddy's Greatest Hits, Paul Simon with Still Crazy After All These Years, Windsong from John Denver, Family Reunion by the O'Jays, K.C. and the Sunshine Band with their debut and Art Garfunkel had a Top 10 album with Breakaway.
1976: "Wake Up Everybody" was the call to action by Harold Melvin & the Blue Notes that reached #1 on the R&B chart.
The perfect group for winter weather...
1976: Barry
Manilow reached the top with "I Write The Songs". Diana Ross had another smash with "Theme From 'Mahogany' (Do You Know Where You're Going To)" while previous #1 "Convoy" from C.W. McCall fell to third. The Ohio Players weren't going away with "Love Rollercoaster" while Sweet enjoyed one of their biggest hits--"Fox On The Run". The rest of the Top 10: "I Love Music" from the O'Jays
,
Donna Summer's first big hit "Love To Love You Baby", Hot
Chocolate warmed up from 14-8 with "You Sexy Thing", Paul Anka chalked up his 46th hit with "Times Of Your Life" and former Temptation David Ruffin was in the Top 10 with "Walk Away From Love".
1978: Simple Minds played their first gig at the Satellite City in Glasgow, Scotland. (Note: several websites claim the concert was July 17, 1978, but according to the band's official website, they played their first show at Satellite City on January 17.)
1981: Bass guitarist Nikki Sixx left the group London and began rehearsing with drummer Tommy Lee and vocalist/guitarist Greg Leon. Thus, Motley Crue was born.
"Rock and Roll Ain't Noise Pollution" from AC/DC...
1981: Double Fantasy by John Lennon was the #1 album for a fourth week, but Crimes of Passion from Pat Benatar was better. Kenny Rogers' Greatest Hits came in third, with Stevie Wonder's Hotter Than July and the "Jazz Singer" Soundtrack trailing. The rest of the Top 10: AC/DC with Back In Black, the Police edged up with Zenyatta Mondatta, Barbra Streisand's fine Guilty album was #8, Steely Dan held on with Gaucho and Blondie was up to #10 with Autoamerican.
1981: "I Love A Rainy Night" from Eddie Rabbitt took over at #1 on the Adult Contemporary chart.
1981: Kool & the Gang made it five weeks at #1 on the R&B chart with "Celebration".
1981: Pat Benatar had the hottest mover with "Treat Me Right", up from 68 to 50.
1986: Olivia Newton-John and her husband celebrated the birth of daughter Chloe in Los Angeles.
1987: The Whole Story by Kate Bush was #1 on the U.K. Album chart.
1987: Luther Vandross had himself a #1 R&B hit with the great song "Stop To Love".
1987: Billy Joel had the top AC song with "This Is the Time".
Madonna was back with another smash...

1987: Gregory Abbott was on top of the Popular chart with "Shake You Down". Robbie Nevil had the next best song with "C'est La Vie", Duran Duran was down with "Notorious" and the previous #1 "Walk Like An Egyptian" from the Bangles was now fourth. The rest of the Top 10: "At This Moment" from Billy Vera & the Beaters, Janet Jackson's "Control", Madonna moved from 15 to 7 with "Open Your Heart", Genesis had a smash with "Land Of Confusion", Survivor was at 9 with "Is This Love" and Wang Chung slipped down with "Everybody Have Fun Tonight".
1987: Slippery When Wet by Bon Jovi easily overtook Bruce Springsteen & the E Street Band Live/1975-1985 for a second week at #1 on the Album chart.
1990: The Rock and Roll Hall of Fame inducted Simon & Garfunkel, the Four Seasons, the Who, the Four Tops, the Kinks, the Platters, plus an artist who has no business in a "Hall of Fame".
1992: Michael Jackson...the Legend Continues aired on CBS television.
1994: Salt "N" Pepa and En Vogue combined to release the single "Whatta' Man".
1996: The Rock and Roll Hall of Fame inducted Jefferson Airplane, Pink Floyd, Gladys Knight plus a whole lot of people that have no business in a
"Hall of Fame".
1998: All Saints rose to #1 in the U.K. with "Never Ever".
2000: Santana, Garth Brooks, Shania Twain and Lauryn Hill each won two statues at the American Music Awards.
2001: In today's segment of Dangerous Inmates Run Rap Music, jury selection in the gun possession and bribery trial of Sean "Puffy"Combs began. The charges were a result of a December, 1999 shooting at Club New York.
2003: Eric Clapton and wife Melia celebrated the birth of daughter Ella Mae.
2003: A long-lost recording by John Lennon and Mick Jagger started a bidding war at a London auction. The record ("Too Many Cooks") was recorded in 1974 with Jagger singing and Lennon playing guitar. It was never released because the two artists were signed to different record companies.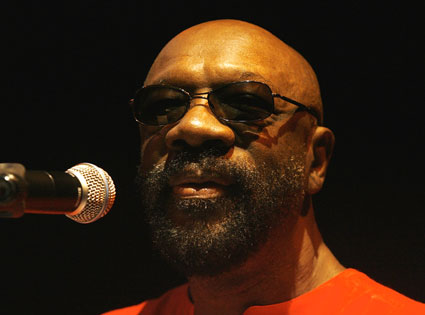 2006: Isaac Hayes was sent to a hospital in Memphis, Tennessee after collapsing from exhaustion.
2008: The Police played at Westpac Stadium in Wellington, New Zealand on their reunion tour.
2009: James Taylor fell during rehearsals for the Presidential Inauguration of U.S. President Barack Obama and required 50 stitches.
2009: Bobby Rydell married his second wife, Linda.
2011: Don Kirshner, promoter who gave us the Monkees, the Archies and Rock Concert, died of heart failure at the age of 75 in Boca Raton, Florida.
2012: Johnny Otis ("Willie And The Hand Jive" from 1958), composer, arranger, singer, drummer and percussionist, talent scout and producer, died of natural causes at the age of 90 in Los Angeles.
Born This Day--Birthdays of Rock Era Personalities:
1927: Eartha Kitt ("Santa Baby") was born in North, South Carolina; died from colon cancer December 25, 2008 at her
home in Weston, Connecticut.
1930: Lolita ("Sailor" from 1960) was born in St Pölten, Austria; died from cancer June 30, 2010 in Salzburg.
1943: Chris Montez ("Let's Dance") was born in Los Angeles.
1945: William Hart of the Delfonics ("La-La Means I Love You" from 1968) was born in Washington, D.C.
1949: Mick Taylor, guitarist of John Mayall's Bluesbreakers who joined the Rolling Stones in 1969 and also worked with Bob Dylan, Jack Bruce of Cream and Mike Oldfield, was born in Welwyn Garden City, Hertfordshire, England.
1953: Sheila Hutchinson of the Emotions ("Best Of My Love" from 1977) was born in Chicago, Illinois.
1954: Cheryl Bentyne of Manhattan Transfer ("Boy From New York City" from 1981) was born in Mount Vernon, Washington.
1955: Steve Earle, Grammy Award-winning singer-songwriter, was born in Fort Monroe, Virginia. (Note: some websites list his birthplace as Hampton, Virginia, but according to Earle's official website, he was born in Fort Monroe.)
1956: Paul Young ("Everytime You Go Away") was born in Luton, Bedfordshire, England.
1958: Jez Strode, drummer of Kajagoogoo
1959: Susanna Hoffs, guitarist and lead singer of the Bangles, was born in Los Angeles.
1960: John Crawford, bassist and keyboardist with Berlin ("Take My Breath Away" from 1986)
1961: Dave Collard, keyboardist with the JoBoxers, was born in Bristol, England.
1964: Andy Rourke, bass guitarist with the Smiths, was born in Manchester, England.
1971: Jon Wysocki, drummer of Staind ("It's Been Awhile"), was born in Northampton, Massachusetts.
1971: Kid Rock (real name Robert James Richie) was born in Romeo, Michigan.
1984: Calvin Harris, singer-songwriter who has written and produced songs for Kylie Minogue, was born in Dumfries, Scotland, U.K.