1960: Sam Cooke released the single "Chain Gang".
1961: Barry Mann released the single "Who Put The Bomp" (In The Bomp, Bomp, Bomp).
1961: Bobby Vee released "Take Good Care Of My Baby".
1962: The Beatles performed at Cambridge Hall in Southport, Lancashire, England.
1962: Frank Ifield had the top song in the U.K. with "I Remember You".
1963: Bob Dylan and Joan Baez performed together at the Newport Folk Festival, and Peter, Paul and Mary also helped usher in the three-day event. (Note: Some websites report that the two performed together for the first time at Newport. Dylan and Baez did take the stage together at Newport, but it wasn't the first time they performed together. They first played together at the Monterey Folk Festival in California on May 18, according to the book 'Life on the Tracks: Bob Dylan's Songs' by Guido Bieri.)
1966: The Monkees recorded "(I'm Not Your) Steppin' Stone" at Western Recorders in Hollywood, California.
1966: The Temptations were in concert at the Fillmore Auditorium in San Francisco.
1968: Jeannie C. Riley recorded "Harper Valley P.T.A.".
1968: The Jackson 5 signed a one-year recording contract with Motown Records.
1968: Quicksilver Messenger Service played for the first of three shows at the Avalon Ballroom in San Francisco.
1968: Paul McCartney played the completed version of "Hey Jude" to John Lennon for the first time. (Note: many websites mistakenly say that McCartney and Lennon finished writing the song on this date. Lennon did not play any part in the writing of "Hey Jude", other than to convince McCartney to keep the line "the movement you need is on your shoulder", something Lennon was clear about in the book '

All We Are Saying' by David Sheff.)
1969: Elvis Presley performed live for the first time in eight years at the International Hotel in Las Vegas.
1969: The Rolling Stones were going to release the album Beggar's Banquet, but their label, Decca Records, pulled the release because of an offensive cover. You gotta' watch those Stones every step of the way.
1969: Marilyn McCoo & Billy Davis, Jr. of the 5th Dimension were married.
1969: The Chicago Transit Authority, Santana, the Guess Who, Chuck Berry, Bo Diddley, It's A Beautiful Day, Lonnie Mack, and the Ike and Tina Revue performed on the second day of the Seattle Pop Festival at Gold Creek Park in Woodinville, Washington.
1969: "Honky Tonk Women" by the Rolling Stones exploded up the chart from #79 to #28, one of the biggest moves in the Rock Era.
1969: Henry Mancini's "Love Theme From 'Romeo & Juliet'" was #1 for the eighth straight week on the Adult chart.
1970: Jimi Hendrix performed in his hometown of Seattle, Washington for the last time at Sicks Stadium.
1971: Aretha Franklin released the single "Spanish Harlem".
1971: Lenny Hart, ex-manager of the Grateful Dead, was arrested in San Diego for embezzling $155,000 from the group. (Note: several websites incorrectly say Hart was arrested September 2, and several say that Hart embezzled $70,000. A private detective found Hart on July 26 baptizing people in San Diego under the name "Reverend Lenny B. Hart" and Hart was arrested, and the total of the embezzlement was $155,000, according to the book 'A Long Strange Trip: The Inside History of the Grateful Dead' by Dennis McNally.)
1974: The Eagles were in concert at the Boston Garden in Boston, Massachusetts.
1974: Elsewhere in Boston, the first Beatles convention was held.
1975: Olivia Newton-John remained at #1 on the Adult Contemporary chart for a third week with "Please Mr. Please".
10cc had the #2 song...
1975: "The Hustle" by Van McCoy moved to #1 with 10cc's "I'm Not In Love" close behind. The Eagles were up to #3 with "One Of These Nights, Olivia Newton-John had a big hit with "Please Mr. Please" while Wings' former #1 "Listen To What the Man Said" slipped to 5. The rest of the Top 10: Frankie Valli's "Swearin' To God", the Bee Gees had their 22nd career hit with "Jive Talkin'", Elton John moved from 15-8 with "Someone Saved My Life Tonight", Melissa Manchester had her first hit with "Midnight Blue" and Gwen McCrae was still at 10 with "Rockin' Chair".
1975: The Eagles moved into the #1 slot on the Album chart with One of These Nights. Venus and Mars by Wings had to take a back seat and the Captain & Tennille moved up to #3 with Love Will Keep Us Together. Elton John's album Captain Fantastic and the Brown Dirt Cowboy was #4.
1976: Three Dog Night performed for the last time at the Greek Theater in Los Angeles before splitting up.
1977: Robert Plant's five-year-old son Karac died of a virus at their home in England.
1980: April Wine, the Scorpions, Rainbow and Judas Priest headlined the Monsters of Rock Festival in Donington Park, England.
1980: Odyssey had the #1 song in the U.K. with "Use It Up And Wear It Out".
1984: The movie Purple Rain starring Prince premiered at Mann's Chinese Theater in Hollywood, California.
1986: Peter Gabriel scored a #1 with "Sledgehammer", taking over from, ironically enough, Gabriel's former group, Genesis ("Invisible Touch"). Kenny Loggins moved to challenge with "Danger Zone", Janet Jackson was at 4 with "Nasty" and Peter Cetera saw "Glory Of Love" move up to #5. The rest of the Top 10: Madonna moved from 12-6 with "Papa Don't Preach", Rod Stewart's "Love Touch" was at Song #7, Belinda Carlisle moved into the Top 10 with "Mad About You", Simply Red were on their way down with the former #1 "Holding Back The Years" and Billy Joel's "Modern Woman" was at #10.
1986: The Soundtrack to "Top Gun" was #1 on the Album chart with Peter Gabriel's So grabbing the runner-up position. Control from Janet Jackson was third, Genesis moved up with Invisible Touch and Patti LaBelle fell from the top with Winner in You. The rest of the Top 10: Love Zone from Billy Ocean, Whitney Houston's self-titled album, Like a Rock from Bob Seger & the Silver Bullet Band, Madonna jumped up from 29 to 9 with True Blue and the Moody Blues were at 10 with The Other Side of Life.
1990: Brent Mydland of the Grateful Dead died from drugs in Lafayette, California at age 37.
1992: Paul Stanley of KISS married Pamela Bowen.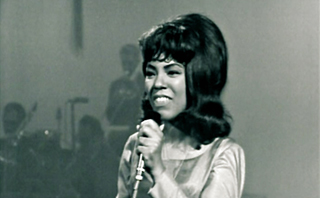 1992: Mary Wells (#1 song "My Guy" from 1964) died of throat cancer in Los Angeles at the age of 49.
1994: Boyz II Men released the single "I'll Make Love To You".
2000: Oasis was forced off stage at the Paleo Festival in Switzerland after being hit with bottles and cans.
2001: Sir Paul McCartney became engaged to Heather Mills.
2002: The movie Country Bears starring Don Henley premiered at the El Capitan Theater in Hollywood, California.
2002: Mariah Carey checked into a New York hospital for "extreme exhaustion" shortly after midnight. Bodyguards had rushed to her suite at the TriBeCa Grand Hotel in Manhattan, New York after hearing loud crashing noises. Carey had broken down into hysterics and had intentionally broken scores of dishes and glasses in the kitchenette. Carey suffered several cuts on her body from the outburst. She canceled all public appearances but her record company denied that she had tried to commit suicide. (Note: several websites report the outburst occurred on July 27, but it was on July 25, according to ABC News, CBS News, and numerous other credible sources.)
2003: Nicko McBrain, drummer of Iron Maiden, was arrested outside of Wantagh, New York after running over a parking attendant.
2003: Mick Jagger celebrated his 60th birthday at a private party in Prague, Czech Republic.
2006: The final edition of Top of the Pops was recorded at BBC Television Centre in London. The show was co-hosted by Sir Jimmy Savile, the first presenter of the show. The Rolling Stones, who were the first band to appear on the show in 1964 performed, as did Madonna, Beyonce, the Spice Girls, Wham and Robbie Williams.
2006: The Rex acoustic guitar that helped Paul McCartney earn a spot in the band the Quarrymen was sold for 330,000 pounds at an auction at Abbey Road Studios in London.
2008: Paul Anka married Anna Yeager on the island of Sardinia.
2010: Al Goodman, who was a member of both the Moments ("Love On A Two-Way Street" from 1970) and Ray, Goodman & Brown ("Special Lady" from 1980) died of a heart attack after undergoing surgery in Englewood, New Jersey. He was 67.
2013: J.J. Cale, singer, songwriter, guitarist and drummer, whose songs were recorded by artists such as Tom Petty, Eric Clapton, Lynyrd Skynyrd and Kansas, died of a heart attack in La Jolla, California at the age of 74.
2013: Mike Shipley, producer and mixer for Foreigner, Queen, the Cars, Kelly Clarkson, AC/DC, Joni Mitchell, Tom Petty, Aerosmith, Jefferson Airplane, Def Leppard, Blondie, Van Halen, Michael Bolton, Green Day, Shania Twain, Cheap Trick, Faith Hill, Kim Carnes, Nickelback, Mr. Mister, the Clash, Meat Loaf, the Barenaked Ladies, Keith Urban, Winger, Devo, Berlin, Thomas Dolby, A Flock of Seagulls, and the Corrs, died of an apparent suicide in Studio City, California at age 56.
Born This Day:
1938: Darlene Love of the Crystals and also Bob B. Soxx & the Blue Jeans ("Zip-A-Dee-Doo-Dah") was born in Los Angeles.
1941: Bobby Hebb ("Sunny" from 1966) was born in Nashville, Tennessee; died August 3, 2010 of lung cancer in Nashville.
1941: Brenton Wood ("Gimme Little Sign" from 1967) was born in Shreveport, Louisiana.
1943: Mick Jagger was born in Dartford, Kent, England.
1943: Dobie Gray ("Drift Away" from 1973) was born in Simonton, Texas; died December 6, 2011 of cancer in Nashville, Tennessee. (Note: some websites report that Gray was born in Brookshire, Texas. According to the newspaper 'The Los Angeles Times', he was born in Simonton.)
1949: Roger Taylor, singer/songwriter and multi-instrumentalist of Queen, known as one of the best drummers in the Rock Era, was born in Kings Lynn, Norfolk, England.
1961: Andy Connell of Swing Out Sister was born in Manchester, Lancashire, England.
1961: Gary Cherone, lead singer of Extreme ("More Than Words") and later briefly with Van Halen, was born in Malden, Massachusetts.
1963: Scott Francis Crago, session drummer for the Eagles, Stevie Wonder, Paul Simon, Bob Seger, Bryan Adams, Sheryl Crow, Stevie Nicks, Jackson Browne, Bonnie Raitt and Chris Isaac
1967: Headliner (real name

Timothy Barnwell)

of Arrested Development
1980: Dave Baksch, singer and lead guitarist of Sum 41 and now a producer and leader of Brown Brigade, was born in Ajax, Ontario, Canada.