Canada has contributed an incredible amount to rock history. The Canadians and Australians are probably pretty close for third behind the United States and England for the most acts with hit singles or hit albums. There are 78 acts who have had fairly big hits on at least one singles or album chart. First, see how many of them you know, then, after the break, click the link for a list of some of the top Canadian artists of the Rock Era.
Bryan Adams
Alias ("More Than Just the Two of Us)
Paul Anka (one of the top artists in the early years of rock)
April Wine ("Just Between You and Me", "Roller", "I Like to Rock", "Sign of the Gypsy Queen" and others)
Jann Arden ("Insensitive")
Bachman-Turner Overdrive ( BTO)
Tai Bachman (Randy Bachman's son--"She's So High")
The Band (Robbie Robertson and company)
Barenaked Ladies ("One Week")
Bells ("Stay Awhile" from 1971)
Michael Buble (popular adult contemporary artist ("Sway", "Everything", "Haven't Met You Yet")
Jane Child ("Don't Wanna' Fall in Love")
Chilliwack ("I Believe" and "My Girl (Gone, Gone, Gone)")
David Clayton-Thomas (great lead singer of Blood, Sweat & Tears)
Tom Cochrane (member of Red Rider and solo artist--"Life Is a Highway")
Bruce Cockburn (pronounced Coe-burn, "Wondering Where the Lions Are")
Crash Test Dummies (Mmm, Mmm, Mmm, Mmm)
Crew-Cuts ("Sh-Boom" and "Earth Angel")
Burton Cummings (lead singer and keyboardist for Guess Who and solo artist--"Stand Tall")
Celine Dion
Edward Bear (a group, not a solo performer who did "Last Song" in 1974)
Percy Faith (conductor and composer, "Theme From a Summer Place")
Jay Ferguson ("Thunder Island" and "Shakedown Cruise")
Maynard Ferguson ("Gonna' Fly Now", Theme from Rocky)
Five Man Electrical Band ("Signs")
David Foster (composer, producer (discovered Celine Dion, Josh Groban and Michael Buble and also produced for Chicago, Mariah Carey, Bee Gees, Barbra Streisand, Madonna, Michael Jackson, Bryan Adams, Olivia Newton-John, Kenny Rogers, Donna Summer, Earth, Wind & Fire, Gloria Estefan, Cher, Kenny Loggins, Prince, Destiny's Child, Beyonce, Christina Aguilera and Janet Jackson just to name a few) and solo artist "Theme From St. Elmo's Fire")
Four Lads (huge act in the 1950's with "Standing on the Corner", "Moments To Remember" and "No! Not Much" all hitting top five)
Nelly Furtado
Gale Garnett ("We'll Sing in the Sunshine")
Nick Gilder ("Hot Child in the City"
Glass Tiger ("Someday" and "Don't Forget Me When I'm Gone")
Corey Hart ("Sunglasses at Night" and "Never Surrender")
Jeff Healey Band ("Angel Eyes"
Dan Hill ("Sometimes When We Touch" and "Can't We Try"
Honeymoon Suite ("New Girl Now")
Irish Rovers ("Wasn't That a Party")
Terry Jacks ("Seasons in the Sun")
France Joli (the underrated song "Come To Me")
Andy Kim (with Archies on "Sugar, Sugar" and own hit "Rock Me Gently"
Diana Krall
Chad Kroeger (of Nickelback and own hit "Hero")
Avril Lavigne
Gordon Lightfoot
Loverboy
Sarah McLachlan
Frank Mills ("Music Box Dancer")
Joni Mitchell
Men Without Hats ("The Safety Dance")
Alanis Morissette
Moxy (hard rock group who received much airplay on songs such as "Cause There's Another", "Take it or Leave It", "Are You Ready" and Ridin' High")
Anne Murray
Alannah Myles ("Black Velvet"
Nickelback
Aldo Nova ("Fantasy")
Nylons (covers of "Happy Together" and "The Lion Sleeps Tonight")
Ocean ("Put Your Hand in the Hand")
Paupers (Played at 1967 Monterey Pop Festival)
Poppy Family ("Where Evil Grows")
Prism (another well-regarded hard rock act, probably best known for "See Forever Eyes"; Bruce Fairbairn of the group would go on to produce Bon Jovi, Loverboy, Aerosmith, AC/DC, Kiss and Yes while Jim Vallance of Prism would team up with Bryan Adams to become one of the top songwriting teams in music history)
Red Rider ("White Hot")
Mike Reno (with Ann Wilson on "Almost Paradise")
Rush
Saga (another hard rock or progressive rock group, which scored hits with "On the Loose" and "Flyer")
Jack Scott ("My True Love", "Goodbye Baby", "What in the World's Come Over You" and "Burning Bridges")
Sheriff ("When I'm With You")
Slaughter (A thrash metal group that put out several albums in the 80's and reformed to put out some more albums this decade)
Snow ("Informer")
Stampeders ("Sweet City Woman")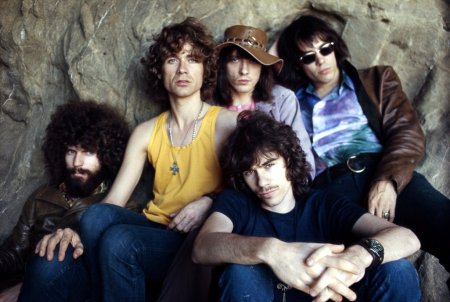 Steppenwolf
Stonebolt ("I Will Still Love You")
Sum 41
Tamia (helped Fabolous on the song "Into You" and had hits "Spend My Life With You", Stranger in My House among others"
Tanglefoot (folk band who toured for nearly three decades)
Pat Travers ("Boom, Boom (Out Go the Lights)")
Triumph ("Hold On" and Lay It On the Line")
Vanity ("Nasty Girl" with Vanity 6)
Rufus Wainwright ("Dead Skunk")
Jesse Winchester ("Say What")
Neil Young & Crazy Horse