(as opposed to best-selling)
The city that I'm in (Boise) helped break Styx. Boiseans were Styx fans before it was cool. They performed in concert here before most places and were wildly received. As a huge Styx fan myself, I can tell you the songs you should own either on MP3 or on album, and which albums to avoid. These are the best albums in the Styx catalog:
#1. Equinox--A stellar album by the group from Chicago. In a perfect world, where every person heard every album and bought the ones they thought were the best, I am saying this album would be their favorite. And yet most people that weren't huge Styx fans early on probably aren't even aware of the album. It doesn't contain a bad track, but if you want me to name one that is beneath the others, it would probably be "Mother Dear", still a good song. But I'll focus on the six other tracks that are outstanding. The album begins with "Light Up", a Styx concert favorite. "Lorelei" is one of their great tracks featuring synthesizer from Dennis DeYoung. "Lonely Child" is another of the best Styx songs although it wasn't released as a single. It's a ballad and features DeYoung's voice at its absolute best. The album then kicks into high gear with two rockers featuring guitarist J.T. Young, "Midnight Ride" and "Born For Adventure". The former is on their album Rockers, featuring some of their best uptempo songs but in my opinion, "Born For Adventure" should also be there. The album closes with what is now a Styx classic, "Prelude 12/Suite Madame Blue". You may or may not agree with their politics, but few can disagree that this is a great track.
2. Grand Illusion--This album features a great title song about the trappings of rock & roll. "Fooling Yourself" summons young men to "...get back on your feet, you're the one they can't beat and you know it." The album also contains the classic "Come Sail Away" and the rocker "Miss America".
3. Crystal Ball--This would probably be ahead of Grand Illusion except it just has seven tracks. "Put Me On" and "Mademoiselle" actually is an intro to the album and a smash hit, and should be played as one track. Radio stations who didn't do it copped out on you. "Jennifer" features great DeYoung singing, "Crystal Ball" is just a great, great track and "Shooz" will rock your socks off.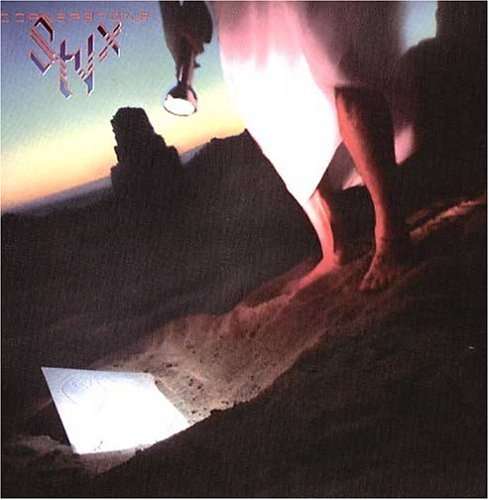 4. Cornerstone--This is the album that most people first people first became familiar with Styx, although as you can see above, three of their previous albums were better. Of course it contains the smash hit "Babe" and it is a good album by itself. But never, ever buy an album on the basis of one song. The album also contains the single "Why Me" which is decent but the rocker "Borrowed Time", the great ballad "First Time" and "Boat on the River" may be better.
5. Pieces of Eight--By this time, new lead singer Tommy Shaw was well on board to give DeYoung's voice a rest on some of the tracks and especially in concert. The singles "Renegade", "Blue Collar Man" and "Sing For the Day" are all excellent, but there is little else on the album that matches those.
6. Styx II--If you can get ahold of it, it's worth checking out. Styx had some great early tracks such as "Father USA", "You Need Love" and "You Better Ask" that most don't know. Then of course, there's their classic "Lady" on this album.
7. Paradise Theatre--You'll get "Too Much Time On My Hands" and the ballad "The Best of Times" (which laments about it being "the worst of times", even though we were about to enter the spend-happy 80's and the beginning of the "me" generation. The track "Rockin' the Paradise" is a good rocker, but the rest of the album is substandard Styx.
The rest of Styx's albums do not come close to the seven mentioned above.