1958: Cliff Richard and the Shadows played their first show together at Victoria Hall in Hanley, England.
1959: A new Motown group was first introduced to us as the Miracles as their first single--"Bad Girl" debuted on this date.
1959: "Poison Ivy" was the top R&B Song for the Coasters.
1959: Ernie Field's Combo were racing up the charts (95 to 46) with "In the Mood".
1959: An historic day in the Rock Era as "Mack the Knife" by Bobby Darin moved into the #1 position. It would remain there for six weeks and go on to become one of
The Top 100 Songs of the Rock Era*
.
1961: The Shadows topped the U.K. chart with "Kon-Tiki".
1962: The Beatles released the first single of their career in the U.K.--"Love Me Do". It was premiered on Radio Luxembourg.
1963: Bobby Vinton saw "Blue Velvet" remain at #1 on the Easy Listening chart for the fifth week.
1963: Martha & the Vandellas logged a fourth week at #1 on the R&B chart with "Heat Wave".
1963: "Blue Velvet" by Bobby Vinton was still #1 overall but "Sally, Go 'Round the Roses" by the Jaynetts and "Be My Baby" from the Ronettes were close behind and "Sugar Shack" moved from 19-4.
1967: The Doors played at Steve Paul's Scene in New York City.
1968: Cream began their final tour of the United States.
1968: The Who, Small Faces, Joe Cocker and the Crazy World of Arthur Brown began a tour together in London.
1968:
Waiting for the Sun
by the Doors was the new #1 album, taking over from
Time Peace/The Rascals' Greatest Hits
.
Feliciano
from Jose was third and Big Brother & the Holding Company held tight with
Cheap Thrills
. The rest of the Top 10:
Are You Experienced?
from the Jimi Hendrix Experience,
Gentle On My Mind
from Glen Campbell, Johnny Rivers with
Realization
at #7, Cream and
Wheels of Fire
, the debut from Steppenwolf and Iron Butterfly flew into the Top 10 with
In-A-Gadda-Da-Vida
.
1968: "Hey Jude" by the Beatles remained #1. "Harper Valley P.T.A." from Jeannie C. Riley was second followed by "Fire" from The Crazy World of Arthur Brown". "Little Green Apples" was up from 20 to 4 for O.C. Smith.
1969: Gladys Knight & the Pips appeared on The Ed Sullivan Show.
1970: Violinist Papa John Creach joined Jefferson Airplane.
1970: Led Zeppelin released their third album, Led Zeppelin III.
1973: Elton John released one of The Top Double Albums of the Rock Era*--
Goodbye Yellow Brick Road
.
1974: Randy Newman performed together with an 87-piece symphony at the Atlanta Symphony Hall in Georgia, playing his new album Good Old Boys.
1974: Most of us wouldn't become familiar with them until a few years later but on this date, the Atlanta Rhythm Section first charted with their song "Doraville".
1974: Tubular Bells by Mike Oldfield was the #1 album in the U.K.
BTO had a hot album
1974:
Endless Summer
from the Beach Boys was the new #1 album while previous #1
Bad Company
slipped to #3. In between, Olivia Newton-John's
If You Love Me, Let Me Know
. Bachman-Turner Overdrive was in full gear with
Not Fragile
and Elton John remained at #5 with
Caribou
. The rest of the Top 10: Barry White moved from 9 to 6 with
Can't Get Enough
, John Denver was
Back Home Again
,
Chicago VII
held position #8,
Welcome Back, My Friends, to the Show That Never Ends -Ladies and Gentlemen
from Emerson, Lake & Palmer moved into the Top 10 and Quincy Jones closed the list with
Body Heat
.
1974: Stevie Wonder ruled the R&B chart with "You Haven't Done Nothin'".
1974: America achieved their first #1 on the Easy Listening chart with "Tin Man".
1974: Olivia Newton-John had the #1 song with "I Honestly Love You".
1976: Hall & Oates received a Gold record for the album Abandoned Luncheonette.
1979: Queen released the single "Crazy Little Thing Called Love".
1985: Dire Straits spent a sixth week at #1 on the Album chart with Brothers In Arms. That meant a logjam for The Dream of the Blue Turtles by Sting, Tears for Fears and Songs From the Big Chair, Bruce Springsteen's Born in the U.S.A. at #4 after 68 weeks, the debut from Whitney Houston and the Greatest Hits, Volume I & Volume II package from Billy Joel. The rest of the Top 10: Bryan Adams was moving back up to 7 with his career best Reckless after 46 weeks, Phil Collins and No Jacket Required, the great album Scarecrow from John Cougar Mellencamp and the self-titled Heart at #10.
1985: Freddie Jackson scored one of his biggest hits with a song that was #1 on the R&B chart on this date--"You Are My Lady".
1985: Whitney Houston earned the #1 song on the Adult Contemporary chart with "Saving All My Love For You".
1985: Dire Straits registered their third week at #1 with "Money For Nothing". "Cherish" by Kool & the Gang was #2 with Ready for the World up to #3 with "Oh Sheila". Norway's A-Ha had song #4--"Take On Me" while Madonna moved up with "Dress You Up".
1987: Johnny Marr, formerly with the Smiths, began rehearsing with the Pretenders to get ready for a North American tour with U2.
1991: Bryan Adams scored a #1 U.K. album with Waking Up the Neighbours.
1991: Amy Grant had a hot song moving up (67-49)--"That's What Love Is For".
1991: Guns N' Roses debuted at #1 on the Album chart with Use Your Illusion II and they debuted at #2 with Use Your Illusion I. Ropin' the Wind by Garth Brooks would step aside for a moment but it would be back to resume its dominance. Emotions by Mariah Carey debuted at #4 ahead of the falling self-titled album from Metallica. The rest of the Top 10: Unforgettable With Love by Natalie Cole, No More Tears from Ozzy Osbourne, the Soundtrack to "The Commitments", Luck of the Draw by Bonnie Raitt was #9 and C.M.B. from Color Me Badd held the #10 slot.
1992: Eddie Kendricks, lead singer of the Temptations and a solo artist ("Keep On Truckin'" from 1974), died at the age of 52 of lung cancer in Birmingham, Alabama, one year after having one lung removed.
1993: The popular 1962-1966 and 1966-1970 albums by the Beatles were released on CD in the U.S.
1996: "Breakfast at Tiffany's" by Deep Blue Something was the #1 song in the U.K.
1996: Celine Dion took over at #1 on the album chart with
Falling Into You
. Very little in the way of quality in the Top 10 with the exception of
Jagged Little Pill
by Alanis Morissette and
No Code
from Pearl Jam.
1999: Roger Daltey announced that the Who were reforming.
2000: The Beatles' autobiography (The Beatles Anthology) was released and on the first day, brought in 1.5 million orders. Stores in Japan and England opened at midnight to handle demand.
2003: Beyonce had the top song with "Baby Boy".
2005: Gretchen Wilson had the top album with All Jacked Up. Sheryl Crow was #2 with Wildflower.
2006: Justin Timberlake's "SexyBack" topped the charts for a sixth week.
2008: Pink had the top U.K. song with "So What".
Born This Day:
1938: Carlo Mastrangelo of the Belmonts was born in The Bronx, New York.
1941: Arlene Smith of the Chantells was born in New York City.
1941: Wally Lester, tenor of the Skyliners, was born in Pittsburgh, Pennsylvania.
1942: Richard Street, who joined the Temptations after Eddie Kendricks and Paul Williams left, was born in Detroit, Michigan; died of pulmonary embolism in Las Vegas on February 27, 2013.
1943: Steve Miller was born in Milwaukee, Wisconsin.
1945: Brian Connolly, lead singer of Sweet, was born in Hamilton, Scotland; died February 9, 1997. (Note: early Sweet biographies claim he was born in 1949. Some websites show his death as February 10th. Both dates are a direct contradiction to the gravestone shown above. Some websites report his birthplace as England, but he and his family did not move there until Brian was 12. Some sites show his birthplace as Glasgow, but according to 'The Herald', a newspaper based in Glasgow, Scotland, he was born in Hamilton.)
1946: Richard Kermode, keyboardist on albums by Santana and Janis Joplin, was born in Lovell, Wyoming; died of cancer on January 16, 1996 in Denver, Colorado.
1947: Brian Johnson, the lead singer of AC/DC since 1980, was born in Dunston, Gateshead, England. (Note: some websites show his birthplace as Newcastle Upon Tyne, but he was born in Dunston, according to the 'BBC', 'CBS', and other reliable sources.
1948: Lucius Ross, rhythm guitarist of Funkadelic, was born in Wagram, North Carolina.
1949: B.W. Stevenson ("Take A Letter, Maria") was born in Dallas, Texas; died April 28, 1988 while undergoing heart valve surgery at the age of 38.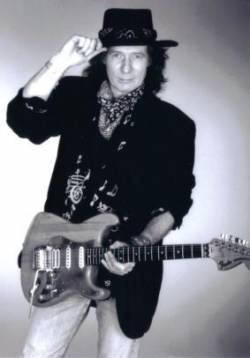 1950: "Fast" Eddie Clarke, elite guitarist of Motorhead, was born in Twickenham, London.
1952: Harold Faltermeyer, recording artist ("Axel F") and a musician, arranger and producer who has worked with Barbra Streisand, Donna Summer, Glenn Frey, Blondie, Billy Idol, Cheap Trick and many others, was born in Munich,
Germany.
1954: Sir Bob Geldof, singer, songwriter, and lead singer of the Boomtown Rats ("I Don't Like Mondays"), but even more important the founder of Live Aid, was born in Dún Laoghaire, Ireland.
1955: Leo Barnes, saxophonist of Hothouse Flowers, who also worked with Michelle Shocked, among others, was born in Dublin, Ireland.
1957: Lee Thompson, saxophone player and co-founder of Madness, was born in London.
1974: Heather Headley, singer, songwriter and producer ("In My Mind" from 2005), was born in Barataria, Trinidad and Tobago.
1978: James Valentine, lead guitarist of Maroon 5, was born in Lincoln, Nebraska.
1980: Paul Thomas, bassist of Good Charlotte, was born in Waldorf, Maryland.