1956: Elvis Presley released the top double-sided hit of the Rock Era--"Don't Be Cruel"/"Hound Dog".
1
957: Jerry Lee Lewis performed "Whole Lotta' Shakin' Goin' On" on the television show The Big Beat.
1958: "Patricia" by Perez Prado was #1 on the R&B chart.
1958: In Billboard's second chart, Ricky Nelson remained at #1 ("Poor Little Fool") but Domenico Modugno rose from 54 to 2 with "Nel Blu Dipinto Di Blu (Volare)".
1962: "Green Onions" became the first hit for Booker T. & the MG's on this date.
1962: An all-female singing group debuted on the chart with their first single on this date--The Supremes with "Your Heart Belongs to Me".
1962: Neil Sedaka enjoyed his first #1 song with "Breaking Up Is Hard to Do". He would have to wait 13 years for another one.
1963: The Rolling Stones, Long John Baldry and Muddy Waters performed at the third annual National Jazz and Blues Festival in Richmond, Surrey, England. The Stones were paid all of
£30.
1963: The Kingston Trio were the mystery guests on the television show
What's My Line?
1964: The Beatles began recording their album Beatles For Sale at EMI Studios in London.
1965: Sonny Bono performed "Laugh at Me" on the television show Shindig.
1965: The Beatles' movie Help! debuted in New York City.
1966: The Beatles arrived at O'Hare Airport in Chicago for their final tour of the United States.
1967: Cream, Donovan, Pink Floyd, the Small Faces, the Move, Marmalade, John Mayall, Peter Green's Fleetwood Mac, Jeff Beck, Zoot Money, the Crazy World of Arthur Brown, Paul Jones and Amen Corner appeared at the U.K. reading Festival.
1968: The Beatles announced the formation of Apple Records.
1969: Diana Ross invited 350 friends to a club in Beverly Hills, California to see a brand new act called the Jackson 5.
1969: Three Dog Night released the single "Easy To Be Hard".
1972: Elvis and Priscilla Presley filed for divorce.
1972: The mayor of San Antonio, Texas declared it Cheech & Chong Day.
1973: Bill Aucion offered to become the manager of Kiss after seeing them play at a New York City hotel.
1973: Elton John was up big (74-34) with "Saturday Night's Alright for
Fighting".
Charlie Daniels and "Uneasy Rider"
1973: Maureen McGovern enjoyed a fast climb up the charts (20-9-1) and she remained at #1 with "The Morning After". Wings closed to #2 with "Live and Let Die" while the Stories were up from 8-3 with "Brother Louie". Diana Ross was at position #4 with her second big hit "Touch Me in the Morning" and Jim Croce's former #1 "Bad, Bad Leroy Brown" was at #5. The rest of the Top 10: Deep Purple with "Smoke on the Water", Marvin Gaye was up from 17-7 with "Let's Get It On", the Carpenters were on the way down with "Yesterday Once More", Charlie Daniels came in ninth with "Uneasy Rider" and Bobby "Boris" Pickett entered the Top 10 with "Monster Mash".
1975: John Denver's double-sided hit "Calypso"/"I'm Sorry" was released as a single.
1976: Keith Moon, drummer of the Who, collapsed and was hospitalized in Miami, Florida.
1979: Led Zeppelin played their final concert in the U.K. at Knebworth Park, England.
1979: Chic owned the top R&B song for the third week with "Good Times".
1979: ELO had a huge hit on their hands as "Don't Bring Me Down" motored up from #41 to #18.
1980: Queen released the single "Another One Bites the Dust".
1982: The Police performed at McGill Stadium in Montreal, Quebec, Canada.
1982: Donna Summer and husband Buce Sudano celebrated the birth of daughter Amada Grace Sudano.
1984: Lionel Richie had his second #1 on the AC chart with his great album Can't Slow Down as "Stuck On You" was #1 for a second week.
1984: Ray Parker, Jr. had his biggest career hit as "Ghostbusters" reached #1. That ended Prince's hold on the top spot with his great song "When Doves Cry".
1984: Purple Rain was in its fifth week of release with two at #1. Sports by Huey Lewis & the News was now moving up after 45 weeks while Born in the U.S.A. fell to #3 after 8 weeks. The Jacksons had #4 with Victory and the Cars were back with another great album--Heartbeat City. The rest of the Top 10: Lionel Richie was still hanging around with Can't Slow Down after 40 weeks, Ratt couldn't climb with Out of the Cellar, the Soundtrack to "Ghostbusters", Tina Turner had a Top 10 album with Private Dancer and Billy Idol closed out the group with Rebel Yell.
1984: Prince made it seven weeks in a row with one of the top R&B songs of the 1980's--"Purple Rain".
1985: Simon LeBon of Duran Duran had a scare after his yacht capsized off of the English coast during a race. The Royal Navy rescued him after LeBon was trapped for 40 minutes under the hull in an underwater air pocket.
1986: Genesis released the single "Throwing It All Away".
1986: Anita Baker released the single "Sweet Love".
1986: The first four albums by the Monkees amazingly re-entered the Top 200 albums chart.
1990:
Mariah
Cary reached #1 on the R&B chart with her first single "Vision of Love".
1992: Ray Charles sang "America the Beautiful" at the opening of the Mall of America in Minneapolis, Minnesota.
1995: The funeral of Jerry Garcia was held in Velvedere, California.
1996: Mel Taylor, famous drummer of the Ventures ("Hawai'i Five-O" and "Walk Don't Run", died of lung cancer at the age of 62.
1997: The Spice Girls released the single "2 Become 1".
1999: Kiss received a star on the Hollywood Walk of Fame.
2003: Kelly Rowland and Nelly had the #1 song with "Dilemma".
2003: S.W.A.T. starring LL Cool J was the #1 movie of the week.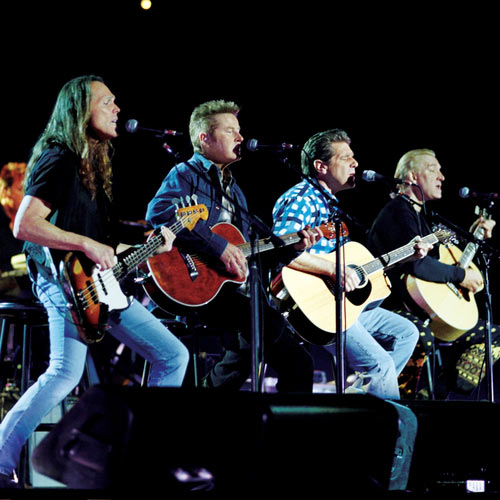 2005: The Eagles performed at Harrah's Outdoor Arena in Lake Tahoe, Nevada.
2005: Was there anything to challenge it? "We Belong Together" by Mariah Carey was #1 for an 11th week with not one song worthy of taking over #1.

Born This Day:
1942: Michael Hugg, drummer and a founding member of Manfred Mann, was born in Gosport, Hampshire, England.
1942: Guy Villari
of the Regents was born in The Bronx, New York.
1943: Kenny Gamble, who wrote so many great hists with Leon Huff, was born in Philadelphia, Pennsylvania.
1943: Denny Payton, saxophone player of the Dave Clark Five, was born in Walthamstow, London, England.
1943: Jim Kale, bass guitarist of the Guess Who, was born in Winnipeg, Manitoba, Canada.
1947: Jeff Hanna, singer, songwriter and guitarist of Nitty Gritty Dirt Band was born in Detroit, Michigan.
1949: Eric Carmen of the Raspberries and a great solo star, was born in Cleveland, Ohio.
1950: Bonnie Pointer, a member of the Pointer Sisters and a solo performer ("Heaven Must Have Sent You" from 1979), was born in Oakland, California.
1952: Erik Braunn, guitarist of Iron Butterfly, was born in Pekin
, Illinois; died July 25, 2003.
1954: Joe Jackson was born in Burton-upon-Trent, England.
1954: Bryan Bassett, guitarist of Foghat, Molly Hatchet and Wild Cherry, was born in Pittsburgh, Pennsylvania.
1957: Richie Ramone (Richie Beau), drummer of the Ramones, was born in Passaic, New Jersey.
1959: Suzanne Vega ("Luka
") was born in Santa Monica, California.
1959: Alan Frew, lead singer of Glass Tiger, was born in Coatbridge, Scotland.
1959: Richie Sambora, ace guitarist of Bon Jovi, was born in Perth Amboy, New Jersey.
1965: Scott Shriner, bass guitarist of Weezer, was born in Toledo, Ohio
.
1968: Charlie Sexton, singer, songwriter and guitarist for Bob Dylan's backing band, a session musician for Don Henley and others and a solo performer ("Beats So Lonely"), was born in San Antonio, Texas.
1970: Andy Bell, who joined Oasis in 1999
1975: Lil' Kim (Stephanie Denise Jones) was born in New York City.
1976: Ben Gibbard, singer for Death Cab for Cutie, was born in Bremerton, Washington.
1978: Chris Kelly of Kriss Kross was born in Atlanta, Georgia; died May 1, 2013 in Atlanta, Georgia from drugs.