1959: Lloyd Price logged a third week at #1 on the R&B chart with "Stagger Lee".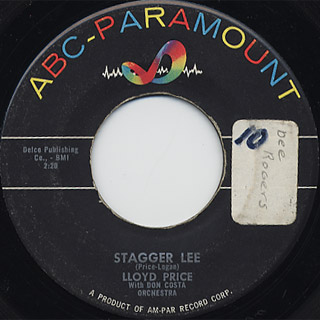 1959: "Stagger Lee" by Lloyd Price made it to a third week at #1 on the Singles chart. "Donna" from the late Ritchie Valens was next with "16 Candles" from the Crests down a spot.
1963: "Hey Paula" by Paul & Paula took over at #1 on the R&B chart.
1963: The Rooftop Singers stayed up there for the fifth week on the Easy Listening chart with "Walk Right In".
The Cascades with the memorable "Rhythm of the Rain"...
1963: Paul & Paula remained at #1 for a third consecutive week with "Hey Paula". Dion moved to challenge with "Ruby Baby" while the Four Seasons held steady with "Walk Like A Man". The Rooftop Singers said to just "Walk Right In" while the great Cascades song "Rhythm Of The Rain" was at #5. The rest of the Top 10: "From A Jack To A King" by Ned Miller, Bobby Darin entered the Top 10 with "You're The Reason I'm Living", Eydie Gorme blasted from 18 to 8 with "Blame It On The Bossa Nova", the Miracles' latest--"You've Really Got A Hold On Me" and the Rebels' instrumental "Wild Weekend" was #10.
1964: The Dave Clark Five, featuring Clark as one of the great drummers early in the Rock Era, released the single "Bits And Pieces".
1964: The Beatles appeared on The Ed Sullivan Show for a third time. The show had actually been recorded on February 9, the date of their first appearance, in front of a different audience, then broadcast on February 23.
1970: The 5th Dimension were guest stars on It Takes a Thief on ABC-TV.
1970: Ringo Starr was a guest star on the popular television show Laugh-In on NBC, his first solo television appearance.
1972: Elvis Presley and wife Priscilla separated.
1974: Planet Waves by Bob Dylan was #1 for a second week on the Album chart, just ahead of John Denver's Greatest Hits. Two new albums joined the Top 10: The amazing Court and Spark from Joni Mitchell and Carly Simon moved from 16-7 with Hotcakes.
1974: Eddie Kendricks had it all going on with the #1 R&B song for the third week--"Boogie Down".
1978: Three hallmark winners at the Grammys that are all some of the best of all-time in their categories: Album of the Year--to Rumours by Fleetwood Mac.
1978: The Eagles won Record of the Year for "Hotel California".
1978: Best Pop Vocal Performance went to the Bee Gees for "How Deep Is Your Love".
1979: Dire Straits began their first tour of North America at the Paradise Club in Boston, Massachusetts.
1980: A new rock group first appeared on the charts, although most of us wouldn't get to know them until later. Survivor debuted with their first single--"Somewhere In America".
1980: "Give It All You Got" from Chuck Mangione, the theme of the 1980 Winter Olympics in Lake Placid, New York, was the new #1 song on the Adult Contemporary chart.
1980: "Special Lady" by Ray, Goodman & Brown was the new #1 on the R&B chart.
1980: Officially, Queen scored their first #1 song with "Crazy Little Thing Called Love", although anyone with sense reported "Bohemian Rhapsody" as a #1 song in 1976.
1981: Rick Springfield released the single "Jessie's Girl".
1983: Toto deservedly dominated the Grammy Awards with six trophies, including Record of the Year ("Rosanna") and Album of the Year (Toto IV).
1985: "Missing You", the Diana Ross tribute to the late Marvin Gaye, hit #1 on the R&B chart.
1986: MTV, which used to stand for "Music Television", aired 22 hours of the Monkees television episodes to celebrate the group's 20th anniversary. (Note: several websites report that this marathon occurred on February 22. The correct date is February 23, according to the newspaper 'The Chicago Tribune' and 'Billboard' magazine.)
1985: Like a Virgin was #1 on the Album chart for Madonna.
1985: "Careless Whisper" from Wham! was #1 on the AC chart for the third straight week.
1988: Michael Jackson was in concert at the Kemper Arena in Kansas City, Missouri.
1989: Isaac Hayes was thrown in jail in Atlanta, Georgia for owing $346,300 in child support and alimony.
1991: Whitney Houston amazingly had her ninth career #1 in 14 releases with "All the Man That I Need". C&C Music Factory politely gave way with "Gonna' Make You Sweat (Everybody Dance Now)". Timmy T remained third with "One More Try" and Mariah Carey hit #4 with "Someday". The rest of a good Top 10: Celine Dion with "Where Does My Heart Beat Now", Surface dropped with "The First Time", Chris Isaak moved into the Top 10 with "Wicked Game", Keith Sweat and "I'll Give All My Love To You", INXS with the excellent "Disappear" and Warrant moved to #10 with "I Saw Red".
1993: Little Richard received a Lifetime Achievement Grammy.
1995: Melvin Franklin of the Temptations died of heart failure at the age of 52 in Los Angeles.
1999: Paul Arthurs, guitarist of Oasis, was arrested and
thrown in jail in London for drunk and disorderly conduct.
1999: Garth Brooks attended spring training camp as a non-roster player with the San Diego Padres of Major League Baseball. The Padres' organization agreed to donate to the Touch 'Em All Foundation in lieu of a salary for Brooks.
2000: In today's episode of Dangerous Inmates Run Rap Music, Sean "Puffy" Combs was indicted on charges of bribing a witness. In Combs' trial for a nightclub shooting in New York City on December 27, 1999, the Manhattan District Attorney's office learned that Combs offered money and jewelry to his driver if the driver would claim ownership of the gun that police recovered from Combs' car.
2000: Santana received a record-tying eight Grammy Awards, tying the mark set by Michael Jackson.
2001: Frankie Avalon appeared on Sabrina, the Teenage Witch on ABC-TV.
2002: LeAnn Rimes, 19, married dancer Dean Sheremet, 21.
2002: The Bee Gees gave their last concert at the Love and Hope Ball in Miami Beach, Florida.
2003: Howie Epstein, bassist of Tom Petty and the Heartbreakers, who also worked with Bob Dylan, Linda Ronstadt, Stevie Nicks, Roy Orbison, Carl Perkins and Del Shannon, died from drugs at age 47 in Santa Fe, New Mexico.
2003: Norah Jones captured five Grammy Awards for her superb album
Come Away With Me
--Record of the Year, Song of the Year and Best Female Pop Vocal Performance ("Dont' Know Why"), Album of the Year, Best New Artist and Best Pop Vocal Album.
2003: John Mayer won the Grammy for Best Male Pop Vocal for "Your Body Is A Wonderland" at Madison Square Garden in New York City.
2003: Sheryl Crow took the prize for Best Female Rock Vocal for "Steve McQueen" at the Grammys.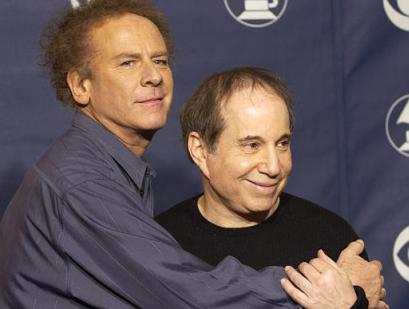 2003: Simon & Garfunkel appeared together for the first time in 10 years to accept the Lifetime Achievement Award from the Grammys.
2003: Howie Epstein, bassist of Tom Petty & the Heartbreakers, died from drugs at age 47 in Santa Fe, New Mexico.
(Note: several websites report that Epstein died on February 24. More credible sources, such as the newspapers 'The New York Times' and 'The Los Angeles Times', state that he died on Sunday, February 23.)
2004: Not the way to win friends and influence people. Wes Scantlin of Puddle of Mudd was arrested in Toledo, Ohio when he halted a concert after just four songs, saying he was too loaded to perform. Scantlin then wouldn't leave the stage for half an hour, lacing the crowd with profanity. Thanks for reminding me why I'm not a fan of theirs.
2006: The surviving members of Alice in Chains announced they would reform for a series of concerts.
2007: Donnie Brooks ("Mission Bell" from 1960) died of congestive heart failure in Panorama City, California at the age of 71.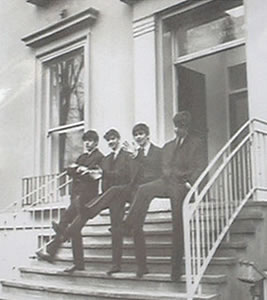 2010: England made Abbey Road studios in London a Grade II listed building, which protected it forever from any plans to radically alter it.
2015: Marlene Barrow-Tate, one of the studio stars of Motown for many years, died at the age of 73.
Marlene Barrow was a member of the Andantes, which sang backing vocals on many memorable songs such as "Love Child" by the Supremes, "I Heard It Through The Grapevine" by Marvin Gaye, "Reach Out, I'll Be There", "Bernadette", "Baby I Need Your Loving", "Standing In The Shadows Of Love" and "It's The Same Old Song" by the Four Tops, "My Guy" by Mary Wells', "Higher And Higher" by Jackie Wilson, and "Jimmy Mack" by Martha & the Vandellas, just to name a few. Barrow-Tate also sang backing vocals for Stevie Wonder, the Temptations, the Marvelettes, Jimmy Ruffin, Edwin Starr, and Brenda Holloway.

Barrow-Tate also filled in for Florence Ballard at concerts by the Supremes. The Andantes were inducted into the Rhythm and Blues Music Hall of Fame in 2014.
Born This Day:
1944: Johnny Winter of the Edgar Winter Group was born in Beaumont, Texas; died July 16, 2014 in Zurich, Switzerland.
1944: Mike Maxfield, songwriter and guitarist of Billy J. Kramer & the Dakotas, was born in Manchester, England.
1946: Rusty Young, pedal steel guitar player of Buffalo Springfield and Poco
1949: Terry Comer, bass guitarist of Ace ("How Long" from 1975), was born in Burnley, Lancashire, England.
1950: Steven Priest, founding member and bassist of Sweet, was born in Hayes, Middlesex, England.
1952: Brad Whitford, rhythm guitarist of Aerosmith, was born in Winchester, Massachusetts.
1955: Howard Jones was born in Southampton, England.
1962: Michael Wilton, elite guitarist of Queensryche, was born in San Francisco, California.
1967: Chris Vrenna, drummer of Nine Inch Nails, Grammy award-winning producer and engineer who worked with U2, the Smashing Pumpkins, David Bowie, and more, was born in Erie, Pennsylvania.
1971: Jeff Beres, bassist of Sister Hazel ("All for You")
1973: Lasse Johansson, keyboardist and guitarist of the Cardigans ("Lovefool") was born in Huskvarna, Sweden.