1959: "Mr. Blue" by the Fleetwoods finally dislodged "Mack The Knife" by Bobby Darin as the #1 song after six weeks. But Macky would be back for more.
1960: The Shirelles released the single written by Stanley, Idaho's Carole King--"Will You Love Me Tomorrow".
1962: The Beatles recorded for their second appearance on Radio Luxembourg for The Friday Spectacular program at the EMI Records headquarters in Manchester Square in London. The group was interviewed before a live audience and performed "Love Me Do" and "P.S. I Love You". The show aired on November 23.
1963: "Dominique" by the Singing Nun moved from 64 to 19.
1963: "Deep Purple" by Nino Tempo & April Stevens was the new #1 song, as "Sugar Shack" by Jimmy Gilmer & the Fireballs moved out after five weeks.
1963: "It's All Right" by the Impressions was #1 on the R&B chart for a second week.
1963: Peter, Paul & Mary ruled the Album chart as the memorable trio had the #1 album
In the Wind
, #6 (
Moving
) and #8 (
Peter, Paul and Mary
). Barbra Streisand owned #2--
The Second Barbra Streisand Album
while
Elvis' Golden Records, Volume 3
by Elvis Presley was third.
1964: The Animals recorded "Don't Let Me Be Misunderstood".
1965: Frank Sinatra was featured on Sinatra: An American Original with Walter Cronkite on CBS-TV.
1966: The Temptations released their Greatest Hits package.
1968: Led Zeppelin performed at the Manchester College of Science & Technology in Manchester, England.
1968: Electric Ladyland by the Jimi Hendrix Experience moved into the #1 position on the Album chart, sparking an interest in his first album Are You Experienced?, which re-entered the Top 10 at #8 after 65 weeks of release.
1968: Mary Hopkin remained at #1 on the Easy Listening chart with "Those Were The Days".
1968: We were first introduced to the new singer with the gravelly voice on this date--Joe Cocker released his first career single, a remake of the Beatles' "With A Little Help From My Friends".
1968: "Wichita Lineman" by Glen Campbell showed it was going to be a factor as it jumped up from #67 to #23 on this date.
The Turtles were slow to move out of the Top 10...
1968: The Beatles registered an eighth straight week at #1 with "Hey Jude", second in the Rock Era at the time to Bobby Darin's "Mack The Knife". The great Mary Hopkin song "Those Were The Days" was second for a third week with the Supremes at #3 with "Love Child". Steppenwolf's rocker "Magic Carpet Ride" moved from 7 to 4. The rest of an excellent Top 10: "Hold Me Tight" from Johnny Nash, Cream's "White Room" remaining at #6, O.C. Smith with "Little Green Apples", Johnnie Taylor moved from 21 to 8 with "Who's Making Love", Dion was up from 18-9 with "Abraham, Martin and John" and the Turtles were still hanging around with "Elenore".
1971: New artist Cat Stevens released the first single of his career on this date--"Wild World".
1972: America released their fine album Homecoming.
The Rolling Stones challenged for the top spot...
1974:
Walls and Bridges
by John Lennon took over at the top of the Album chart with Jim Croce's
Photographs & Memories
coming in second. The Rolling Stones moved from 19-3 with
It's Only Rock 'N Roll
and America's great album
Holiday
was #4, swapping places with
Not Fragile
from BTO.
1974: Neil Diamond hit #1 for the second time (the other being "Song Sung Blue") on the Easy Listening chart with "Longfellow Serenade".
1974: Barry Manilow debuted on the chart with his first single "Mandy".
Gordon Lightfoot had his third Top 10 hit with "Carefree Highway"
1974: John Lennon and Elton John moved up to #1 with "Whatever Gets You Thru The Night". B.T. Express closed in with "Do It ('Til You're Satisfied)" and Bobby Vinton's comeback hit "My Melody Of Love" was third. America was solid at #4 with "Tin Man", John Denver's "Back Home Again" was #5 again and Billy Swan swooped up from #15 to #6 with "I Can Help". The rest of the Top 10: Neil Diamond scored the eighth Top 10 of his career with "Longfellow Serenade", Reunion was up with "Life Is A Rock (But The Radio Rolled Me)", Carl Carlton entered the list with "Everlasting Love" and Gordon Lightfoot had song #10 with "Carefree Highway".
1976: Al Stewart released the single "Year of the Cat".
1976: Brian Wilson of the Beach Boys granted an interview for the first time in eight years on the television show Old Grey Whistle Test on BBC in the U.K.
1977: Rush was awarded Gold albums for
2112
,
All the World's a Stage and A Farewell to Kings
.
1978: Queen performed at Madison Square Garden in New York City.
1979: The Infinity record label, which included Hot Chocolate, Orleans, Rupert Holmes, and Spyro Gyra among its acts, closed its doors and was absorbed by MCA.
1985: U2 debuted their own record label Mother Records.
1985: Sade had the top U.K. album with Promise.
1985: "Separate Lives" by Phil Collins & Marilyn Martin took over as the new #1 Adult Contemporary chart.
1985: After 26 releases, Starship reached #1 for the first time with "We Built This City". Glenn Frey's "You Belong To The City" was second, pushing the previous #1 "'Miami Vice' Theme" by Jan Hammer to #3. Tears for Fears were tumbling with "Head Over Heels" and Stevie Wonder was down with "Part-Time Lover". The rest of the Top 10: Phil Collins & Marilyn Martin edged up with "Separate Lives" a new group called Mr. Mister broke into the list with "Broken Wings", Heart achieved their fourth Top 10 song with "Never", ABC peaked at #9 with "Be Near Me" and thee Thompson Twins peaked at #10 with "Lay Your Hands On Me".
1987: Topper Headon, drummer of the Clash, was put away for 15 months at Maidstone Crown Court in England for supplying heroin to a man who died as a result.
1988: Stan Love, former manager of the Beach Boys and the brother of lead singer Mike Love, was sentenced to five years probation for embezzling more than $1,000,000 from the group.
1989: Stevie Nicks and Richard Marx were in concert at the NEC in Birmingham, England.
1991: Enya achieved a #1 album in the U.K. with her incredible release Shepherd Moons.
Amy Grant with another smash from 'Heart In Motion'...
1991: Prince owned the #1 song with "Cream" and Bryan Adams peaked at #2 with "Can't Stop This Thing We Started". It would be time to begin searching for a new #1 and Michael Bolton's "When A Man Loves A Woman" would start the list.
Boyz
II Men moved up with "It's So Hard To Say Goodbye To Yesterday" while PM Dawn was up from 11-5 with "Set Adrift On Memory Bliss". The rest of the Top 10: Roberta Flack and Maxi Priest had song #6--"Set The Night To Music", "O.P.P." by Naughty By Nature, Amy Grant enjoyed another Top 10 as "That's What Love Is For" moved from 17-8, Karyn White's former #1 "Romantic" was #9 and Guns N' Roses burst into the Top 10 with "Don't Cry".
1991: By this time, the Adult chart was a far more accurate portrayal of the most popular songs and Michael Bolton already had three weeks at #1 with his remake of the Percy Sledge classic "When A Man Loves a Woman".
1993: Rod Stewart, Bryan Adams & Sting released their single "All For Love". (Please click on "Play" icon in the top left-hand portion of the video...)
1994: Dino Valente, singer with Quicksilver Messenger Service who also wrote the timeless classic "Get Together", one of The Most Important Songs of the Rock Era*, died in Danbury, Connecticut at the age of 57.
1996: The Spice Girls rocketed to #1 on the U.K. Album chart with their self-titled release.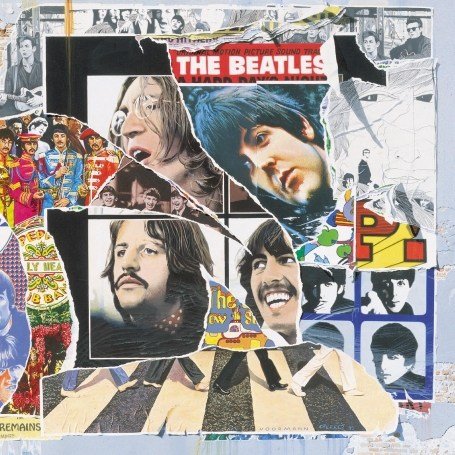 1996:
Anthology Volume 3
by the Beatles was the #1 album, making the group the only act in the Rock Era to have three #1 albums in a 12-month period.
2001: A life-sized statue of Sonny Bono was unveiled in Palm Springs, California.
2004: U2 played a concert before about 20 contest winners at their studio in Dublin, Ireland.
Born This Day:
1916: Herb Abramson, co-founder of Atlantic Records, was born in Brooklyn, New York; died in Henderson, Nevada on November 9, 1999.
1933: Garnet Mimms of the Enchantments ("Cry Baby") was born in Ashland, West Virginia.
1938: Troy Seals, a member of James Brown's band and a cousin of Dash Seals of Seals & Crofts, was born in Bighill, Kentucky.
1940: John Ryanes of the Monotones ("Book Of Love") was born in Newark, New Jersey; died May 30, 1972 in Newark.
1943: Blue Lovett, songwriter, vocalist, and co-founder with the Manhattans ("Shining Star') and later a producer, was born in Jersey City, New Jersey.
1948: Chi Coltrane, songwriter and solo artist ("Thunder And Lightning") was born in Racine, Wisconsin.
1949: Pattie Santos, lead singer of the group It's a Beautiful Day ("White Bird"); died in a car crash near Healdsburg, California on December 14, 1989 after drinking and speeding before missing a curve and crashing into two trees.
1959: Harry Rushakoff, drummer of Concrete Blonde, was born in Chicago
1964: Diana Krall, one of the best-selling jazz artists in history, was born in Nanaimo, British Columbia, Canada.
1969: Bryan Abrams of Color Me Badd ("I Adore Mi Amor") was born in Oklahoma City, Oklahoma.
1979: Trevor Penick of O-Town ("All or Nothing" from 2000) was born in San Bernadino County, California.