1955: "Rock Around the Clock" by Bill Haley & the Comets debuted on the U.K. chart.
1961: Johnny Tillotson had the #1 U.K. song with "Poetry In Motion".
1964: Long John Baldry formed the Hoochie Coochie Men.
1964: Cyril Davies, harmonica player who formed Blues Incorporated with Alexis Korner, died of leukemia at age 32.
1964: The Beatles recorded for the BBC program Saturday Club, performing Chuck Berry's "Johnnie B. Goode", along with "All My Loving", "Money", "The Hippy Hippy Shake", "I Want to Hold Your Hand", "Roll Over Beethoven", and "I Wanna' Be Your Man".
1967: The Doors and the Young Rascals played at Winterland in San Francisco, California.
1967: Aaron Neville had the first #1 R&B song of the New Year with "Tell It Like It Is".
The Four Tops vaulted into the Top 10
1967: The Monkees continued at #1 into the New Year with "I'm a Believer". One of the all-time great novelty songs, "Snoopy Vs. the Red Baron" by the Royal Guardsmen was second with Aaron Neville making a push for the top with "Tell It Like It Is". Former #1 "Winchester Cathedral" by the New Vaudeville Band grabbed the #4 spot, followed by Nancy Sinatra ("Sugar Town") and Dad Frank ("That's Life"). The rest of the Top 10: Boise, Idaho's Paul Revere & the Raiders with "Good Thing", the Mamas & Papas climbed from 19-8 with "Words of Love", the Four Tops nearly matched that with "Standing in the Shadows of Love (15-9) while Donovan took a turn down with "Mellow Yellow".
1967: The Monkees made it nine weeks on top of the album chart with their self-titled release.
1970: Max Yasgur was sued for $35,000 in property damages by neighboring farmers where the famous 1969 Woodstock Music Festival was held. There's always party poopers.
1971: Black Sabbath released the album Paranoid.
1974: James Taylor and Carly Simon celebrated the birth of daughter Sarah Maria.
1974: Aerosmith began a tour with a show at the Michigan Theater in Detroit.
1976: Kenneth Moss, record company executive, was sentenced to 120 days in jail for involuntary manslaughter in the death of Robbie McIntosh, drummer of the Average White Band. McIntosh died of drugs in 1974.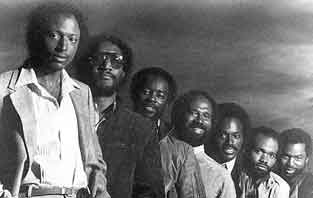 1978: Con Funk Shun moved to #1 on the R&B chart with "Ffun", taking over from the seven-week chart topper "Serpentine Fire" from Earth, Wind & Fire.
1978: Billy Joel had the new #1 adult song with "Just the Way You Are".
1978: The Bee Gees made it three weeks at #1 with "How Deep Is Your Love". Player made a move (6-2) with "Baby Come Back" while Linda Ronstadt remained third with "Blue Bayou".
"The Chain"
1978: Fleetwood Mac's Rumours, already the record holder for weeks at #1 with 29, returned to #1 on the album chart after 46 weeks of release.
1981: The Police kicked off their Zenyatta Mondatta tour at the University of Montreal in Quebec, Canada.
1984: DeBarge logged a fifth straight week at #1 on the R&B chart with "Time Will Reveal".
1984: Barry Manilow remained at #1 for a third week on the Adult Contemporary chart with "Read 'Em and Weep".
The best song from Yes since "Roundabout"
1984: Paul McCartney & Michael Jackson's fourth week at #1 with "Say Say Say" highlighted a good Top 10. Hall & Oates had several #1's in their career but they couldn't quite do it here--"Say It Isn't So". I know. Double Duran ("Union of the Snake") and Yes ("Owner of a Lonely Heart") were content in their spots while Olivia Newton-John moved "Twist of Fate" to #5, although few stations played it. The rest of the Top 10: The Romantics moved from 12-6 with "Talking In Your Sleep", Matthew Wilder jogged up to #7 with "Break My Stride", Elton John registered his 18th Top 10 with "I Guess That's Why They Call It the Blues", the Rolling Stones were stuck at 9 with "Undercover of the Night" and Lionel Richie was at 10 with "All Night Long (All Night)".
1984: Thriller by Michael Jackson was still #1 in its fourth trip to the top of the album chart since it came out 55 weeks previous. All told, the epic album had spent 21 weeks as the #1 album and at this point, was behind only Rumours by Fleetwood Mac (31) and the Soundtrack to "Saturday Night Fever" (24).
1989: Roberta Flack achieved a #1 R&B song with "Oasis".
Jackson's 21st solo Top 10 in 31 attempts
1989: Poison of all people had a #1 song for the third week with "Every Rose Has Its Thorn". Bobby Brown was poised to take over with "My Prerogative" while "Two Hearts" from Phil Collins moved from 6 to 3. Anita Baker peaked with "Giving You the Best That I Got" but the Bangles were on the move with "In Your Room". The rest of a good Top 10: Taylor Dayne with her fourth consecutive Top 10 to begin her career--"Don't Rush Me", Boy Meets Girl and "Waiting for a Star to Fall", Chicago's 44th career hit "Look Away", Def Leppard had a record fifth Top 20 song from a hard rock album (Hysteria) with "Armageddon It" and Michael Jackson joined the group with "Smooth Criminal".
1989: "Two Hearts" by Phil Collins was the #1 Adult Contemporary song for the third week.
A lot of great cuts on Hysteria, such as "Run Riot"
1989: Anita Baker held on to #1 on the album chart for the third week with Giving You the Best That I Got. The "Cocktail" Soundtrack and the "Rattle and Hum" Soundtrack trailed, while New Jersey from Bon JoviWilburys moved from 8-5 with Volume One. The rest of the Top 10: Def Leppard moved back up after 73 weeks with the incredible Hysteria album, Guns N' Roses and Appetite for Destruction, Bobby Brown was on the way down with Don't Be Cruel, Poison were at position #9 with Open Up and Say...Ahh! and Kenny G placed Silhouette at #10.
1993: R.E.M. played a benefit show for Greenpeace at the 40 Watt Club in Athens, Georgia.
1995: For the fifth straight week, TLC's "Creep" led the R&B chart.
"Love Will Keep Us Alive", one of four new songs on
Hell Freezes Over
1994: The Hits by Garth Brooks moved to #1 on the album chart followed by the previous #1 Miracles - The Holiday Album by Kenny G and Pearl Jam's excellent Vitalogy. II by Boyz II Men was up to 4 while Hell Freezes Over by the Eagles captured the next position. The rest of the Top 10: Merry Christmas from Mariah Carey, Dookie by Green Day was moving back up after 46 weeks, MTV Unplugged in New York from Nirvana came in at #8, Smash by Offspring and the Beatles took #10 with Live at the BBC.
2000: Bob McFadden ("The Mummy" from 1959) died of ALS in Delray Beach, Florida at the age of 76.
2004: Chris Robinson of the Black Crowes and wife, actress Kate Hudson, celebrated the birth of son Ryder Russell Robinson in Los Angeles.
2004: John Guerin, drummer who worked with Linda Ronstadt, Joni Mitchell, Todd Rundgren, Frank Zapp and Gram Parsons, died frompneumonia at age 64.
2004: OutKast again had the top album with the double release Speakerboxxx/The Love Below. Alicia Keys was right behind with The Diary of Alicia Keys.
2006: Pink married Carey Hart on a beach in Costa Rica.
2006: The animal was finally caught and caged. Gary Glitter ("Rock and Roll, Part II") was formally charged with committing obscene acts with two girls aged 11 and 12 in Vietnam.
2010: The Royal Mail in Britain issued stamps which honored selected album covers such as Led Zeppelin IV and Let It Bleed.
2011: Bobby Robinson, who produced hits for Gladys Night & the Pips, the Shirelles, Wilbert Harrison, Lee Dorsey, King Curtis and many others and founded or co-founded Red Robin Records, Whirlin' Disc Records, Fury Records, Fire Records and Enjoy Records, died at the age of 93.
Born This Day:
1936: Eldee Young of Young-Hold Unlimited ("Soulful Strut") and the Ramsey Lewis Trio ("The In Crowd") was born in Chicago, Illinois; died of a heart attack February 12, 2007 in Bangkok, Thailand.
1938: Paul Revere, leader, co-founder and keyboardist of Paul Revere & the Raiders, was born in Harvard, Nebraska before he upgraded to Boise, Idaho.
1939: Lefty Baker, lead guitarist of Spanky & Our Gang ("Like to Get to Know You"), was born in Roanoke, Virginia; did August 11, 1971 from sclerosis of the liver.
1941: Jimmy West, session guitarist for Wierd Al Yankovic
1942: Danny Williams ("White On White" from 1964) was born in Port Elizabeth, Eastern Cape, South Africa; died December 6, 2005 of lung cancer.
1945: Dave Cousins of the Strawbs was born in Hounslow, Middlesex, England.
1946: Andy Brown, drummer of the Fortunes ("You've Got Your Troubles" from 1965), was born in Birmingham, England.
1948: Kenny Loggins was born in Everett, Washington.
1959: Kathy Valentine, bass guitarist of the Go-Go's, was born in Austin, Texas.
1974: John Rich, vocalist and bassist with Lonestar ("Amazed")