1964: Gerry & the Pacemakers performed "Don't Let The Sun Catch You Crying" for their television debut in the United States on The Ed Sullivan Show.
1965: The Beatles filmed sequences for their upcoming movie Help!

on the Salisbury Plain in Wiltshire, England with the British Army's Third Tank Division.
1967: The Hollies recorded "Carrie Anne" in two takes.
1967: Carl Wilson of the Beach Boys went to court on charges he evaded the draft.
1968: The Beach Boys opened a tour with the Maharishi Mahesh Yogi. Shows opened with an unintelligible lecture by Yogi, and were a disaster for the group. The tour was cancelled after five dates, with 24 concerts cancelled.
1969: Jimi Hendrix was arrested at Toronto International Airport for possession of narcotics. He would die a little more than a year later, having not learned his lesson.
1969: The great Mercy song "Love (Can Make You Happy)" vaulted from #52 to #15 on this date.
1969: Now for some good news. It was week #4 at the top for "Aquarius"/"Let The Sunshine In" by the 5th Dimension. "It's Your Thing" climbed to #2 for the Isley Brothers while the Cowsills found themselves at 3 with "Hair". The rest of the Top 10: "You've Made Me So Very Happy" by Blood, Sweat & Tears at #4, Jerry Butler's "Only The Strong Survive", Booker T & the MG's climbing to #6 with one of rock's all-time great instrumentals, "Time Is Tight", Tommy James & the Shondells moving to position #7 with "Sweet Cherry Wine", another great instrumental, "Hawai'i Five-O" entering the top 10 at #8 for the Ventures, Simon & Garfunkel's classic "The Boxer" moving from 16-9 and Glen Campbell sliding to #10 with "Galveston".
1971: Hamilton, Joe Frank & Reynolds released the single "Don't Pull Your Love".
1971: Led Zeppelin performed "Four Sticks" live for the only time of their career at K.B. Hallen in Copenhagen.
1973: Diana Ross released the single "Touch Me In The Morning".
1975: The Carpenters had yet another #1 Adult Contemporary song (the 12th of their career) with "Only Yesterday".
1975: Barry White scored a #1 R&B song with "What Am I Gonna' Do With You".
1975: The great sound of Chicago propelled the group from #68 to 43 on this date with "Old Days".
The Ozarks with their great summertime hit...
1975: There were some great songs entering the Top 10 but first--the #1 song on this date--"He Don't Love You (Like I Love You) from Tony Orlando & Dawn. B.J. Thomas found himself at #2 with "(Hey Won't You Play) Another Somebody Done Somebody Wrong Song". The rest of the Top 10: Freddy Fender's "Before The Next Teardrop Falls", Elton John's former #1 "Philadelphia Freedom" at 4, Sammy Johns rose to #5 with "Chevy Van", the Ozark Mountain Daredevils rose from 14 to 6 with "Jackie Blue", Earth, Wind & Fire entered the Top 10 with "Shining Star", the Blackbyrds easy-going hit "Walking In Rhythm" was at #8, Leo Sayer had #9 with "Long Tall Glasses" and the Carpenters shot up from 21-10 with "Only Yesterday".
1976: Paul McCartney performed in the United States for the first time in 10 years as the Wings Over America tour premiered at the Tarrant County Convention Hall in Fort Worth, Texas.
1976: Paul Simon, Jimmy Cliff and Phoebe Snow teamed up for a benefit concert for the New York Public Library.
1978: The movie FM opened in Los Angeles.
1980: "Lost In Love" by Air Supply regained the #1 spot on the Adult Contemporary chart (It would spend six weeks there.)
"Her Strut", one of the Top Tracks* on Seger's new album...
1980: Against the Wind from Bob Seger was the new #1 album in the land. Pink Floyd was bumped out with The Wall while Billy Joel had Glass Houses at #3. The rest of the Top 10: Mad Love from Linda Ronstadt at #4, the Brothers Johnson were at #5 with Light Up the Night, Michael Jackson's Off the Wall was at 6, the Soundtrack to "American Gigolo" landed at #7, Journey's Departure was #8, Van Halen had #9, Women and Children First, and the debut from Christopher Cross entered the Top10 on his birthday.
1980: Blondie achieved a third week at #1 with "Call Me". An amazing Top Five included "Ride Like The Wind" from Christopher Cross, Air Supply's "Lost In Love", Billy Preston & Syreeta's touching "With You I'm Born Again" and Pink Floyd with "Another Brick In The Wall".
1986: Dollywood (Dolly Parton's theme park) opened its gates in Pigeon Forge, Tennessee.
1986: Whitney Houston remained at #1 on the Adult Contemporary chart with "Greatest Love Of All".
1986: Robert Palmer earned a #1 song with "Addicted To Love". The Pet Shop Boys reached #2 with "West End Girls" while former #1 "Kiss" was third for Prince & the Revolution. Van Halen had a #4 hit with "Why Can't This Be Love". The rest of the Top 10: "Harlem Shuffle" from the Rolling Stones", Janet Jackson sang "What Have You Done For Me Lately", Whitney Houston was up from 12 to 7 with "Greatest Love Of All", the Outfield moved to 8 with "Your Love", Phil Collins had another hit with "Take Me Home" and the Bangles were on their way down with "Manic Monday".
1991: Texas Governor Ann Richards proclaimed it ZZ Top day in Texas.
1991: Andy Williams married Debbie Haas in New York City.
1994: The Rolling Stones promoted their upcoming Voodoo Lounge tour by sailing a boat down the Hudson River in New York City.
1997: Katrina and the Waves won the Eurovision Song Contest in Dublin, Ireland by performing "Love Shine A Light".
2000: In today's episode of Inmates Run Rap Music, DMX was sentenced to 15 days in jail for drug possession, driving without a license and unpaid parking tickets.
2004: Former Smith's singer Morrissey began his solo career at the Apollo Theater in New York City.
2008: Mariah Carey had the #1 album E=MC2.
Born This Day:
1903: Bing Crosby (real name Harry Lillis) was born in Tacoma, Washington; died October 14, 1977 of a heart attack in La Moraleja, Spain.
1919: Pete Seeger, one of the greatest folk singers ever, member of the Weavers, mentor to countless folk musicians, and writer of songs such as "We Shall Overcome", "Where Have All The Flowers Gone", "Turn! Turn! Turn!" and "If I Had a Hammer", was born in Manhattan, New York; died in his sleep January 27, 2014 in Manhattan.
1924: Jane Morgan ("Fascination" from 1957) was born in Newton, Massachusetts.
1933: James Brown was born in Barnwell, South Carolina; died December 5, 2006 in Atlanta, Georgia from congestive heart failure brought on by complications of pneumonia. (Note: we have conflicting books--the book 'Icons of Rock: An Encyclopedia of the Legends Who Changed Music Forever' by Scott Schinder and Andy Schwartz says Brown was born in Barnwell, South Carolina, while the book 'Rhythm and Blues, Rap, and Hip-Hop' by Frank Hoffmann says James was born in Macon, Georgia. Gotta' go against the rap and hip-hop book, especially since the official James Brown website reports that he was born in Barnwell. Boy, the poor rap and hip-hop culture can't get anything right...)
1934:
Frankie Valli, (
Francis Castelluccio), leader of the Four Seasons and a solo performer, was born in Newark, New Jersey.
1938: Napoleon XIV (real name Jerry Samuels), who had the novelty hit "They're Coming To Take Me Away, Ha-Haaa!" was born in, where else, New York City.
1950: Mary Hopkin ("Those Were The Days") was born in Pontardawe, Wales.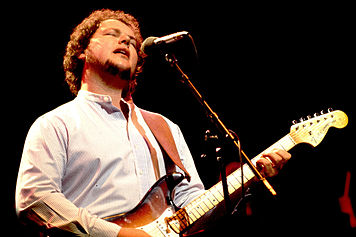 1951: Christopher Geppert (Christopher Cross) was born in San Antonio, Texas.
1959: David Ball of Soft Cell ("Tainted Love") was born in Blackpool, Lancashire, England.
1971: Josey Scott, lead vocalist of Saliva, was born in Memphis, Tennessee.
1981: Farrah Franklin of Destiny's Child was born in Des Moines, Iowa.