1954: Bill Haley & the Comets recorded (We're Gonna') Rock Around The Clock", the song that started the Rock Era, at the Pythian Temple Studios in New York City.
1961: Dee Clark released the single "Raindrops" on Vee-Jay Records.
1963: Bob Dylan appeared in concert for the first time at the Town Hall in New York City.
1964: Chubby Checker and the former Miss World Catherina Lodders were married at the Temple Lutheran Church in Pennsauken, New Jersey.
1965: The Byrds released the single "Mr. Tambourine Man".
1966: Jan Berry of Jan & Dean was seriously injured when he crashed his car into a parked truck on Whittier Boulevard in Los Angeles. The crash site was eerily close to the section of Sunset Boulevard that Jan & Dean had made famous in the song "Dead Man's Curve". Berry spent several weeks in a como, was paralyzed for a year and could only speak after four years of surgery. He died from complications of the accident on March 27, 2004.
1969: The 5th Dimension moved into the #1 position with "Aquarius/Let The Sunshine In". The song would go on to spend six weeks at the top and become one of the top songs of the rock era. The rest of the Top Ten on April 12: "You've Made Me So Very Happy" by Blood, Sweat & Tears at #2, "Tommy Roe's former #1 "Dizzy" at #3, "Galveston" by Glen Campbell at #4, "Time Of The Season" from the Zombies at 5, "Only The Strong Survive" by Jerry Butler coming in at #6, the Isley Brothers moving into the top Ten at #7 with "It's Your Thing", the Cowsills taking an 18-8 jump with "Hair", "Run Away Child, Running Wild" by the Temptations at #9 and "Twenty-Five Miles" from Edwin Starr at #10.
1969: "Galveston" by Glen Campbell was #1 on the Adult Contemporary chart for the third straight week.
"Smiling Phases" from B, S & T...
1969: The incredible self-titled Blood, Sweat & Tears moved back to #1 on the Album chart.
1971: The live album by Crosby, Stills, Nash & Young (Four Way Street) was certified Gold before it appeared on the Album chart. (Note: some websites mistakenly place the date of certification as April 11. The correct date, according to the official website of the Recording Industry Association of America (RIAA) is April 12.)
1975: David Bowie announced his retirement for the second time, saying "I've rocked my roll."
1975: Pink Floyd played the first of two performances at the Cow Palace in Daly City, California.
1975: Al Green moved to #1 on the R&B chart with "L-O-V-E (Love)".
1975: "Philadelphia Freedom" by Elton John was the new #1 song. The rest of the Top Ten: Minnie
Riperton's "Lovin' You" at #2, Ringo Starr at #3 with "No No Song", "Express" by B.T. Express, "Poetry Man" by Phoebe Snow at #5, "B.J. Thomas held down #6 with "(Hey Won't You Play) Another Somebody Done Somebody Wrong Song", "Lady Marmalade" by LaBelle
at #8, Sammy Johns hit the top ten at #8 with "Chevy Van", "What Am I Gonna' Do With You" from Barry White was #9 and Rufus had #10 with "Once You Get Started".
1980: The Spinners hit #1 in the U.K. with their cover of the Four Seasons song "Working My Way Back To You".
The pianist on "Get Back" had a big duet with Syreeta...
1980: "Pink Floyd spent a fourth week at #1 with "Another Brick In The Wall". The remainder of the Top Ten: "Call Me" by Blondie at #2, "Working My Way Back To You" by the Spinners at #3, "Ride Like The Wind", Christopher Cross's big first song was #4, "Too Hot" by Kool and the Gang was #5, Ray, Goodman & Brown had #6 with "Special Lady", "With You I'm Born Again" by Billy Preston & Syreeta made a 15-7 jump, Queen tumbled to #8 with their former #1 "Crazy Little Thing Called Love", the Eagles were at #9 with "I Can't Tell You Why" and Michael Jackson's "Off The Wall" was #10.
1980: "Lost in Love" by Air Supply was the #1 Adult Contemporary song, taking over from "Three Times In Love" by Tommy James.
Mellencamp had a hot song...
1986: Falco spent his third and final week at #1 with "Rock Me Amadeus". The rest of the Top Five: "Kiss" by Prince was #2, the Bangles had the #3 song with "Manic Monday", "R.O.C.K. In The U.S.A." was #4 for John Mellencamp and "What You Need" by INXS was #5.
1986: Stevie Wonder had the top AC song with "Overjoyed".
1986: Belinda Carlisle married actor Morgan Mason.
1988: Sonny Bono was elected mayor of Palm Springs, California.
1989: The guy who fused Country and Rock & Roll, Garth Brooks released his self-titled album. After that, Country music sounded more like Rock & Roll than Country.
1989: Great White released the album
Twice Shy
. (Note: some websites report that the album was released April 18. While there are unfortunately no credible sources for either date, our best research indicates that the April 18 date is more likely.)
1989: Two DJ's on KLOS in Los Angeles asked whatever happened to David Cassidy. Cassidy called the station and the DJ's invited him onto the show. Cassidy played three songs live and shortly afterwards, was signed by a new record label.
1990: Fleetwood Mac began a five-day performance at the Sydney Entertainment Centre in Sydney, Australia.
1992: Don Henley led 6,000 people in a Walk for Walden Woods to preserve the Massachusetts wild area made famous by Henry Thoreau.
1996: Jan & Dean, the Ventures, the Chantays and the Surfaris were inducted into the Hollywood Rock Walk in California.
1997: The Fugees performed two concerts in Haiti to raise money for refugees.
1997: R. Kelly started a three-week run at #1 in the U.K. with "I Believe I Can Fly".
1997: The Notorious B.I.G. moved from #176 to #1 on the Album chart with Life After Death, the biggest jump to the top of the Rock Era. Falling Into You was moving back up the chart for Celine Dion after 55 weeks of release while Spice by the Spice Girls was third.
2002: In today's episode of Dangerous Inmates Run Rap Music, Nate Dogg was the latest rapper to go to jail; Dogg was charged with marijuana possession and possession of a stolen firearm, and thrown into an Arizona jail where he belongs. Book 'em, Dano!
2005: Britney Spears announced she was pregnant.
2005: Mariah Carey's The Emancipation of Mimi entered the Album chart at #1.
2012:
Andrew Love, saxophonist with the Memphis Horns, died of complications from Alzheimer's disease in Memphis, Tennessee at the age of 70. Love worked with Elvis Presley, Neil Diamond, U2, James Taylor, the Doobie Brothers, Sting, Dusty Springfield, Al Green, Alicia Keys, Bonnie Raitt and Otis Redding, among others.
Born This Day:
1919: Billy Vaughn, who charted 42 hits in the early years of the Rock Era ("Sail Along Silvery Moon" and his version of "Wheels") was born in Glasgow, Kentucky; died September 26, 1991 of peritoneal mesothelioma in Escondido, California.
1925: Ned Miller ("From A Jack To A King" from 1962) was born in Rains, Utah. (Note: some websites say that Miller was born in Raines, Utah. There has never been a town by that name in Utah--the correct spelling is Rains.)
1944: Joachim Krauledat (John Kay), vocalist and leader of Steppenwolf, was born in Tilsit, Germany.
1951: Alexander Briley of the Village People was born in Harlem, New York. (Note: some websites report that Briley was born in Manhattan, New York, while others say he was born in New York City itself. One is too specific--Harlem is not a town but a neighborhood, while the other is too broad--New York City is made up of several boroughs, and not everyone from the area was born in the city itself. The official place of birth is Manhattan, New York.)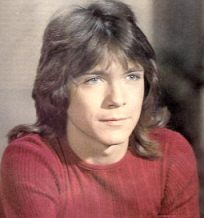 1950: David Cassidy of the Partridge Family and a solo artist, was born in New York City.
1952: Ronnie Smith, original trumpet player for KC and the Sunshine Band who also worked with Gloria Estefan; died January 21, 2012. (Note: some websites claim Smith died January 26, but the correct date is January 21, according to the newspapers 'The Miami Herald' and 'The Sun-Sentinel'.)
1954: Pat Travers ("Boom Boom (Out Go the Lights)") was born in Toronto, Ontario, Canada.
1958: Will Sergeant of Echo and the Bunnymen ("The Cutter") was born in Liverpool, Lancashire, England. (Note: some websites report that Sergeant was born in Melling, England. While there are no credible sources for either city, our best research indicates that Will was born in Liverpool, and grew up in Melling.)
1962: Art Alexakis, singer-songwriter and guitarist of Everclear, was born in Los Angeles.
1964: Amy Ray, guitarist and singer with the Indigo Girls, was born in Decatur, Georgia.
1970: Nicholas Lofton Hexum, rhythm guitarist and vocalist of 311, was born in Madison, Wisconsin.
1978: Guy Berryman, bassist for Coldplay, was born in Kirkcaldy, Scotland.
1980: Brian McFadden, singer with Westlife, was born in Dublin, Ireland.
1987: Brendon Urie, singer-songwriter, keyboardist and rhythm guitarist with Panic at the Disco, was born in Summerlin, Nevada. (Note: several websites report Urie was born in Las Vegas, and one says he was born in Summerline, Nevada. There is no such town in Nevada; the correct spelling is Summerlin. Although there are no credible sources for his birthplace, our best research indicates he was born in Summerlin.)