1959: Brook Benton had the #1 song on the R&B chart with "It's Just A Matter Of Time".
1959: "Venus" by Frankie Avalon spent a third week at #1.
1961:
Elvis Presley
recorded "Can't Help Falling In Love" at Radio Recorders in Hollywood, California.
1961:
Elvis Presley
scored his seventh #1 in the U.K. with "Wooden Heart".
1963: Ruby and the Romantics reached #1 on the R&B chart with "Our Day Will Come".
1963: Ruby and the Romantics had the #1 song with "Our Day Will Come".
Skeeter Davis had a solid #2 with her great song "The End Of The World". Bobby Darin's "You're The Reason I'm Living" remained third while the Chiffons were on the move from 10-4 with "He's So Fine" and previous #1 "Walk Like A Man" from the Four Seasons fell to the #5 spot. The rest of the Top 10: "Rhythm Of The Rain" by the Cascades, the Orlons stormed to #7 with "South Street", Eydie Gorme and "Blame It On The Bossa Nova", Johnny Mathis held steady with "What Will Mary Say" and Roy Orbison collected his 13th hit and 6th Top 10 with "In Dreams".
1964: John Lennon's first book In His Own Write was published. (Note: several websites claim the book was published on April 27. The correct date is March 23, according to 'The Beatles Bible' as well as the books 'Read the Beatles: Classic and New Writings on the Beatles' by June Skinner Sawyers and 'The Art And Music Of John Lennon' by Peter Doggett.)
1968: Paul Mauriat had a hold on #1 on the Adult
chart for the sixth consecutive week with "Love Is Blue".
1968: The late Otis Redding was still at #1 with "(Sittin' On) The Dock Of The Bay", one of The Top 500 Songs of the Rock Era*. Another one, "Love Is Blue" by Paul Mauriat, which had spent five weeks at #1, now climbed back to #2.
1969: Anita Bryant and the Lettermen appeared at a "Rally for Decency" in Miami that drew 30,000 people following Jim Morrison's indecent exposure onstage.
1970: Although the Beatles had decided to abandon tracks recorded for the Let It Be album, business manager Allen Klein invited Phil Spector over to remix the recordings. Spector's tampering with the original recordings further alienated Paul McCartney from the band.
1972: The film of The Concert for Bangladesh featuring George Harrison, Bob Dylan and Eric Clapton premiered in New York City. The documentary was previewed the previous night at the DeMille Theater.
1972: Pink Floyd began the first of eight days recording performances at Pompei, Italy's Roman Amphitheater.
1973: John Lennon was ordered by immigration authorities to leave the United States within 60 days. He began fighting to win his 'Green Card', which was given to him on July 27, 1976.
1974: Cher scored her third solo #1 with "Dark Lady". That sent "Seasons In The Sun" by Terry Jacks backwards, but John Denver was up to #3 with one of his biggest career hits--"Sunshine On My Shoulders". Eddie Kendricks was next with "Boogie Down" and husband and wife Carly Simon & James Taylor had #5 with "Mockingbird". The rest of the Top 10: Elton John moved from 12 to 6 with "Bennie And The Jets", Blue Swede with their remake of "Hooked On A Feeling", Paul McCartney & Wings moved to #8 with "Jet", Mocedades gave us the beautiful "Eres Tu (Touch The Wind)" and Kool & the Gang were on their way down with "Jungle Boogie".
1977: Elvis Presley appeared at the Activities Center on the campus of Arizona State University in Tempe, Arizona, the first day of a 49-date U.S. tour that would be his last ever.
1978: Bill Kenny of the Ink Spots died of a respiratory illness in New Westminster, British Columbia, Canada at age 63.
1979:
Van Halen
released their second album
Van Halen II on Warner Brothers Records. (Note: some websites report that the album was released March 25. It was released on March 23, according to 'Guitar World' magazine.)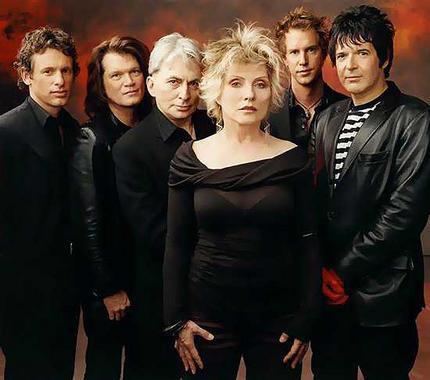 1981: Blondie had the #1 song in the country with "Rapture".
1985: Billy Joel and Christie Brinkley were married in New York on a yacht moored on the Hudson River near the Statue of Liberty.
1985: Julian Lennon appeared in concert for the first time in San Antonio, Texas.
1985: John Fogerty had the #1 album with Centerfield. Phil Collins closed in with No Jacket Required in just its second week for the great album. Bruce Springsteen
remained third with Born in the U.S.A. while Wham! dropped from the top spot with Make It Big. The Soundtrack to "Beverly Hills Cop" came in fifth. The rest of the Top 10: Private Dancer from Tina Turner, Madonna fell down with Like a Virgin, REO Speedwagon dropped with Wheels Are Turnin', Foreigner's Agent Provacateur and Bryan Adams held on to #10 with his amazing album Reckless.
1985: REO Speedwagon remained at the top for a third week with "Can't Fight This Feeling". Madonna was bidding for another #1 with "Material Girl" (she wouldn't make it) and Phil Collins was up to 3 with his solo hit "One More Night". After a concerted try at the top, Glenn Frey was down with "The Heat Is On". The rest of the Top 10: John Lennon's son, Julian, with "Too Late For Goodbyes", Teena Marie at #6 with "Lovergirl", Tina Turner and the title track from Private Dancer, Survivor moved from 14 to 8 with "High On You", Journey had their 19th hit with "Only The Young" and Frankie Goes to Hollywood closed the list with "Relax".
1987: The Soul Train Music Awards debuted on television. The big winners of the night were Janet Jackson, Luther Vandross and Cameo. It was the first awards ceremony to honor black producers, songwriters and recording artists in the music business.
1990: Fleetwood Mac began their Behind the Mask world tour with 14 dates in Australia, beginning at the Brisbane Entertainment Centre in Brisbane.
1991: Hi-Five climbed to the top in R&B land with "I Like The Way (The Kissing Game)".
The great harmonies of Wilson Phillips...
1991: Timmy T. had a huge #1 with "One More Try", taking over from "Someday" by Mariah Carey. Gloria Estefan was up to #3 with "Coming Out Of The Dark" while Tracie Spencer followed with "This House". The rest of the Top 10: "Get Here" from Oleta Adams, Tara Kemp moved nicely with "Hold You Tight", Wilson Phillips had another big hit with "You're In Love", moving from 14-7, Londonbeat had people dancing with "I've Been Thinking About You", Madonna moved in with "Rescue Me" and Enigma jumped from 19-10 with "Sadeness Part 1".
1991: For a fourth week, Mariah Carey's incredible debut album was #1.
1992: Janet Jackson signed with Virgin Records for $16 million.
1992: The United States Supreme Court upheld a judgement awarding Bette Midler $400,000. Midler had sued an advertising agency that used a Midler sound-alike in a commercial.
1996: The Beatles debuted at #12 with their first release in 20 years--"Real Love".
1996: Celine Dion scored her 12th hit and second #1 song with "Because You Loved Me". The Tony Rich Project were runners up with "Nobody Knows". Alanis Morisette had the only new Top 10 with "Ironic".
1996: Alanis Morissette held on to #1 on the Album chart with Jagged Little Pill for a third week. It wasn't close to done.
2000: Sir Elton John's musical
Aida
opened on Broadway. (Note: some websites report the musical opened on March 24. 'The New York Times' review appeared the morning of March 24, and people who aren't aware that newspapers are printed and delivered the day after the news can make that mistake.)
2000: Tina Turner kicked off the American portion of her farewell tour at the Target Center in Minneapolis, Minnesota.
2002: ZZ Top bassist Dusty Hill married actress Charleen McCrory in Houston.
2004: Usher released the album Confessions, allegedly inspired by his break-up with TLC's Chili.
2008: Neil Aspinall, head of Apple Corporation's music empire for the Beatles from 1970-2007, died at a hospital in Manhattan, New York at the age of 66. Aspinall was a long-time friend of both Paul McCartney and George Harrison. Aspinall led the legal battle with Apple Computers over the use of the Apple name and a royalties dispute between the Beatles and EMI Records. (Note: some websites incorrectly report that Aspinall died March 24. The correct date is March 23, according to the newspaper 'The New York Times'.)
2011: The members of Deep Purple met with Russian President Dmitry Medvedev before their concert in Moscow.
Born This Day:
1949: Ric Ocasek, singer, songwriter, guitarist and founder of the Cars, was born in Baltimore, Maryland.
1950: Phil Lanzon, keyboardist of Uriah Heap
1953: Chaka Khan (real name Yvette Marie Stevens), lead singer of Rufus ("Tell Me Something Good" from 1974) and solo star, was born in Great Lakes, Illinois. (Note: some websites claim Chaka was born in Chicago, Illinois, but according to 'Billboard' and other reliable sources, she was born in Great Lakes.)
1965: Marti Pellow (real name Mark McLoughlin), vocalist for Wet Wet Wet (remake of "Love Is All Around"), was born in Clydebank, Scotland. (Note: some websites report that Pellow was born in 1966, and some sites say he was born in Glasgow. According to his official website, he was born in 1965 in Clydebank.)
1967: John Strohm, singer and guitarist of the Lemonheads, was born in Bloomington, Indiana.
1968: Damon Albarn, singer/songwriter of Blur and a producer, was born in London. (Note: some websites report Albarn was born in Whitechapel, London, or in Stepney, or in Leytonstone. Whitechapel is a district, not a city, and Albarn was born in London, according to 'Billboard' magazine.)