1957: Elvis Presley performed at Empire Stadium in Vancouver, British Columbia, Canada.
1959: Bobby Vee appeared on the music charts for the first time as "Suzie Baby" debuted.
1961: Ray Charles released the single "Hit The Road Jack".
1963: Little Stevie Wonder spent a fifth week at #1 on the R&B chart with "Fingertips - Pt. 2".
1963: Peter, Paul & Mary remained at #1 on the Easy Listening chart with "Blowin' In The Wind".
1963: The Angels sang that "My Boyfriend's Back", and it took them all the way to #1.
1964: J. Frank Wilson released the single "Last Kiss".
1964: Manfred Mann released their first single "Do Wah Diddy Diddy".
1965: The Beatles wrapped up their tour of North America with two shows at the Cow Palace in San Francisco, California. The group performed before 11,700 and 17,000 fans, respectively.
1967: The Beatles announced that they would manage their own affairs after the death of Brian Epstein.
1968: Guitarist Danny Kirwan joined Fleetwood Mac.
1968: Jefferson Airplane, the Move, T. Rex, Fairport Convention and The Crazy World of Arthur Brown performed at the first Isle of Wight Festival in England.
1968: Mason Williams had the #1 Easy Listening song for the third week--"Classical Gas".
1968: Marvin Gaye & Tammi Terrell's partnership paid off as they scored their second #1 R&B song of the year--"You're All I Need to Get By".
1968:
Wheels of Fire
by Cream continued to set the pace on the album chart.
Time Peace/The Rascals' Greatest Hits
was #2 and the Doors' release
Waiting for the Sun
was at position #3.
Aretha Now
by Aretha Franklin was #4 with Johnny Rivers moving up to 5 with
Realization
. Herb Alpert & the Tijuana Brass had an entry in the Top 10 (which they did nearly ever week of the 60's)--
The Beat of the Brass
. The rest of the Top 10:
Bookends
, the great album from Simon & Garfunkel was #7, the self-titled
Steppenwolf
made its way onto the list,
Feliciano!
by Jose Feliciano, and
Disraeli Gears
, another album from Cream, was at #10.
1968: Jeannie C. Riley's "Harper Valley P.T.A. set a Rock Era record on this date with the biggest jump of all-time, moving from #81 to #7.
1968: Younger music fans ask why the 60's was such a great decade--show them this Top Five on this date. All these songs were out
at the same time
. The Rascals spent a fourth week at #1 with "People Got to Be Free", Steppenwolf was at #2 with "Born to Be Wild", Jose Feliciano edged up with "Light My Fire", the Doors were at #4 with "Hello, I Love You" and Cream had song #5--"Sunshine of My Love".
1969: Bob Dylan appeared in concert for the first time since his motorcycle accident in 1966 at the Isle of Wight Pop Festival in England.
1969: The Chicago Transit Authority, later shortened to Chicago, played for a second day at the Texas International Pop Festival at the Dallas International Motor Speedway. Led Zeppelin, Santana, Sam & Dave, Delaney, Bonnie & Friends, and The Incredible String Band also performed. Grand Funk and B.B. King did sets on all three days of the Festival. Let me get this straight--Led Zeppelin didn't want to do Woodstock because "they would be just another band on the bill", but they did the Texas Pop Festival?
1970: R. Dean Taylor released the single "Indiana Wants Me".
1973: The Rolling Stones released the album Goat's Head Soup
.
1974: The Partridge Family television show ended.
1974: John Lennon testified in federal court that the Nixon administration tried to have him deported due to his anti-war demonstrations at the 1972 Republican convention in Miami, Florida.
1974: Roberta Flack held on to #1 on the R&B chart for the fifth straight week with "Feel Like Makin' Love".
1974: Paul Anka remained at #1 with "(You're) Having My Baby" while Eric Clapton's biggest career hit "I Shot the Sheriff" was at #2. Rufus was a strong #3 with "Tell Me Something Good" while Paper Lace was down with their former #1 "The Night Chicago Died". The rest of the Top 10: Roberta Flack with "Feel Like Makin' Love", Donny & Marie Osmond had song #6--"I'm Leaving It (All) Up to You", Jim Stafford held steady with "Wildwood Weed", Andy Kim's great song "Rock Me Gently" was at #8, Barry White moved up from 15 to 9 with "Can't Get Enough of Your Love, Babe" and Helen Reddy's ninth career hit became her fourth Top 10--"You and Me Against the World".
1976: A judge handed down his decision that George Harrison was guilty of "unconscious plagiarism" of the Chiffons song "He's So Fine" for his 1970 hit "My Sweet Lord".
1980: Karen Carpenter married Thomas Burris in Beverly Hills, California.
1983: Lionel Richie released the single "All Night Long".
1984: Prince's movie Purple Rain opened in theatres.
1985: Aretha Franklin made it five weeks at the top of the R&B chart for "Freeway of Love".
Newcomer Parr made a bid for #1...
1985: Huey Lewis & the News returned for an encore week at #1 with "The Power of Love" from the movie Back to the Future. Another movie song, "St. Elmo's Fire (Man in Motion)" from John Parr moved up to challenge while Aretha Franklin made a huge comeback as her 73rd career hit ("Freeway of Love") was her first Top 10 in 12 years. Tina Turner's "We Don't Need Another Hero" was up to #4 and Bryan Adams was on the move with "Summer of '69". The rest of the Top 10: Tears for Fears and "Shout", Canada's Corey Hart with "Never Surrender", Kool & the Gang entered the Top 10 with the classic "Cherish", Billy Joel was up to #9 with his 27th hit "You're Only Human (Second Wind)" and Dire Straits had a hot song at #10--"Money for Nothing".
1987: Billy Idol released his remake of the great Tommy James & the Shondells song "Mony Mony".
1987: Michael Jackson released his video "Bad" on CBS-TV.
1987: The album Bad set a Rock Era record when 2.25 million units were shipped to music stores.
1988: Julianne Phillips filed for divorce from Bruce Springsteen.
1988: Bob Seger and wife Annette filed for a divorce.
1989: The Rolling Stones went on tour for the first time in eight years, performing at John F. Kennedy Stadium in Philadelphia, Pennsylvania.
1991: Joseph and the Amazing Technicolour Dreamcoat was the #1 album in the U.K.
1991: It used to be rare but by now it happened all the time as there weren't many great albums. Metallica debuted at #1 with their self-titled release (commonly called "The Black Album").
1991: The movie Robin Hood starring Kevin Costner was doing well and so was the song--"(Everything I Do) I Do It For You" by Bryan Adams was #1 for a fifth week on the Adult Contemporary chart.
1991: Bryan Adams spent a sixth week at #1 with one of The Top 500 Songs of the Rock Era*--"(Everything I Do) I Do It For You". Roxette was up to 2 with "Fading Like a Flower (Every Time You Leave)". KLF had song #7--"3 A.M. Eternal" and the Scorpions were singing about a "Wind of Change" at #4. The rest of the Top 10: Paula Abdul's "The Promise of a New Day", Amy Grant was on her way down with the former #1 "Every Heartbeat", Hi-Five was up to 8 with "I Can't Wait Another Minute", Boyz II Men's first single release "Motownphilly" became their first Top 10 and C+C Music Factory entered the Top 10 with "Things That Make You Go Hmmmm".
1996: "Macarena" by Los Del Rio had been out for 37 weeks, but it was just getting started, spending a fifth week at #1. Donna Lewis had a strong #2 with "I Love You Always Forever".
1997: James Brown became the first American artist to perform in Lebanon.
1997: Oasis owned the top U.K. album with Be Here Now.
2000: Harold Lee Clayton, who wrote "Take Your Time (Do It Right)" for the S.O.S. band, was killed in a hit-and-run accident in Los Angeles, California.
2003: Poison was determined to continue their tour after a fire destroyed their instruments and stage equipment.
2003: Darkness reached #1 on the U.K. album chart with Permission to Land.
2003: Elton John had the top song in the U.K. with "Are You Ready for Love".
2004: Carl Wayne, lead singer of the Move, died at the age of 61 from oesophageal cancer.
2006: Panic! at the Disco won the Video of the Year at the MTV Video Music Awards for "I Write Sins Not Tragedies".
2008: The Verve had the #1 album in the U.K. with Forth.
Born This Day:
1939: Jerry Allison, drummer with the Crickets, was born in Hillsboro, Texas.
1940: Wilton Felder, founding member, saxophone player and bassist with the Jazz Crusaders (which later became the Crusaders), who also played with the Jackson 5, Marvin Gaye, America, and Seals & Crofts, was born in Houston, Texas.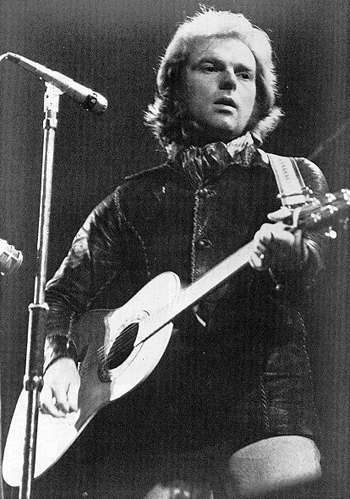 1945: Van Morrison was born in Belfast, Northern Ireland.
1948: Rudolf Schenker, guitarist and founder of the Scorpions, was born in
Hannover, Germany.
1957: Gina Schock, drummer of the Go-Go's, was born in Baltimore, Maryland.
1957: Glenn Tilbrook of Squeeze ("Tempted" from 1981) was born in London.
1959: Tony DeFranco of the DeFranco Family ("Heartbeat--It's a Lovebeat" from 1973) was born in Port Colborne, Ontario, Canada.
1963: Larry Waddell, keyboardist of Mint Condition
1969: Jeff Russo, founding member, songwriter, guitarist and vocalist with Tonic
1970: Debbie Gibson was born in Brooklyn, New York.