1961: Ricky Nelson had a hot new song. "Hello Mary Lou" moved from 73 to 27.
1961: Del Shannon's "Runaway" continued to set the pace at #1 for a third week.
1962: Engineer Ted Huntley recommended to Beatles' manager Brian Epstein that he send a demo of the band to EMI producer George Martin.
1965: Bob Dylan shot a promotional film for "Subterranean Homesick Blues" outside of the Savoy Hotel in London, becoming one of the first artists to film a music video.
1965: They were known then as Chad Allan & the Expressions but they would go on to become one of the top acts in the history of Canada as the Guess Who. They first appeared on the chart with on this date with their first single, "Shakin' All Over"--5/8/65.
1965: You could tell where this song was heading. "Ticket To Ride" by the Beatles vaulted from 18 to 3 on this date.
Gary Lewis & the Playboys were a solid #2...
1965: Herman's Hermits made it two weeks in a row ruling the roost with "Mrs. Brown You've Got A Lovely Daughter". "Count Me In" by Gary Lewis & the Playboys was at #2 while the Beatles were third with "Ticket To Ride". The rest of the Top 10: "Game Of Love", the former #1 by Wayne Fontana & the Mindbenders, was now at #4, "I'll Never Find Another You" from the Seekers was at 5, Petula Clark fell to #6 with "I Know A Place", Herman's Hermits were going up with their new release "Silhouettes", Freddie & the Dreamers dropped to #8 with "I'm Telling You Now", the Rolling Stones were at #9 with "The Last Time" and Sounds Orchestral found the Top 10 with the instrumental "Cast Your Fate To The Wind".
1967: Gerry and the Pacemakers announced they were splitting up.
1970: The Beatles released the album Let It Be on Apple Records.
1971: "If" by Bread was #1 for the third week in a row on the Easy Listening chart.
1971: Three Dog Night held on to #1 for a fourth week with "Joy To The World". The Jackson 5 moved up to challenge with "Never Can Say Goodbye" while Ocean traded places with "Put Your Hand In The Hand". Neil Diamond and Bread were both up a long ways in just seven weeks as "I Am...I Said" was #4 and "If" ranked fifth. The rest of the Top 10: The great Marvin Gaye song "What's Going On", the Bells decided to "Stay Awhile" at #7, Aretha Franklin hit #8 with her version of the Simon & Garfunkel classic "Bridge Over Troubled Water", Daddy Dewdrop provided comic relief with "Chick-A-Boom" and Lobo burst into the Top 10 with "Me And You And A Dog Named Boo".
1972: Billy Preston became the first rock artist to headline a show at Radio City Music Hall in New York City.
1975: The Eagles appeared in concert at the Edgewater Raceway Park in Cincinnati, Ohio during the One of These Nights tour.
1976: Spurred by sales that would eventually top 10 million, "Fernando" by ABBA was the new #1 song in the U.K.
1976: Former Lovin' Spoonful member John Sebastian enjoyed a brief stay at #1 with "Welcome Back". Maxine Nighingale came in second with "Right Back Where We Started From" and the Sylvers remained in their #3 position with "Boogie Fever". Elvin Bishop made a move to #4 with "Fooled Around And Fell In Love". The rest of the Top 10: "Silly Love Songs" by Wings moved impressively from 12 to 5, Peter Frampton's "Show Me The Way", Diana Ross took #7 with "Love Hangover", Silver Convention was up 13-8 with "Get Up And Boogie (That's Right)", the Bellamy Brothers suffered one of the biggest tumbles from #1 in the Rock Era (1-9) with "Let Your Love Flow" and Johnnie Taylor was down with "Disco Lady".
1977: Olivia Newton-John gave a concert at the Metropolitan Opera House in New York City.
1978: Donny Osmond was married at the age of 21 to his wife Debra.
1982: Casablanca Records founder Neil Bogart died of cancer at the age of 39 in Los Angeles.
1982: "Shanghai Breezes" by John Denver led the way on the Adult Contemporary chart.
1982: "Chariots Of Fire" from Vangelis reached #1 in its 22nd week on the chart. Only seven #1 songs in rock history took longer to get to #1.
1993: Mark Knopfler received an honorary degree from the University of Newcastle upon Tyne, England.
1993: Whitney Houston remained at #1 on the Adult Contemporary chart with "I Have Nothing".
1995: Rick Nelson was inducted posthumously into the Hollywood Rock Walk.
1998: Johnny Winter received a star on Hollywood's Rock Walk.
1998: The Smashing Pumpkins filed a lawsuit against Westwood One, claiming the radio syndication company had breached an oral and implied agreement when they licensed an interview in 1991 with the band.
2002: Mariah Carey signed a multiyear recording contract that gave Carey joint ownership of her own recording label.
2002: "Bohemian Rhapsody" by Queen was voted as the
favorite song of all-time in the U.K. "Imagine" by John Lennon was second, "Hey Jude" third, and "Dancing Queen" by
ABBA
came in fourth in a poll organized by the Guinness World Records British Hit Singles book. (Note: some websites claim the results of the poll were released May 6. The announcement came on May 8, according to Reuters News Service and the newspaper 'The Guardian'.)
2003: Elton John announced that he and lyricist Bernie Taupin would compose the score for the Broadway musical The Vampire Lestat.
2003: Christina Aguilera, Justin Timberlake and Ashanti assisted the Global Medical Relief Fund's campaign to bring a badly-burned orphan in Operation Iraqi Freedom to the United States for treatment.
2005: Akon debuted at #1 in the U.K. with "Lonely" while his album Trouble moved to #1 as well.
2008: Maurice White and Philip Bailey of Earth, Wind & Fire and Steve Winwood were given honorary Doctorate degrees from Berklee College of Music in Boston.
2008: Eddy Arnold, who had 22 hits early in the Rock Era, including "Make The World Go Away" in 1965, died one week shy of his 90th birthday of natural causes at a nursing home in Nashville, Tennessee.
2010: Quincy Jones received an honorary Doctorate of Music from Indiana University.
Born This Day: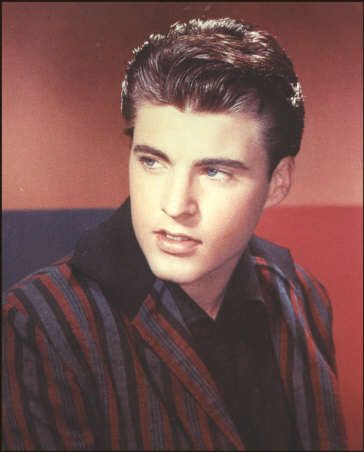 1940: Ricky Nelson (real name Eric Nelson) was born in Teaneck, New Jersey; died in a plane crash near De Kalb, Texas December 31, 1985.
1940: Toni Tennille was born in Montgomery, Alabama.
1941: John Fred, who along with his Playboy Band gave us "Judy In Disguise (With Glasses)", was born in Baton Rouge, Louisiana; died of kidney disease in New Orleans, Louisiana April 15, 2005. (Note: some websites insist Fred died April 14, but according to the Louisiana Music Hall of Fame, Fred died on April 15.)
1943: Danny Whitten, guitarist, singer and songwriter with Neil Young's Crazy Horse, was born in Columbus, Georgia; died of a heroin overdose in Los Angeles November 18, 1972.
1943: Paul Samwell-Smith, bass guitarist with the Yardbirds, was born in England. (Note: there is much confusion as to Paul's place of birth, and he has given no interviews to clear up that confusion. Some websites say he was born in Richmond, Surrey, England, others say simply "London", while others say he was born in Twickenham, London, and still others in Twickenham, Surrey. Twickenham (now part of the London Borough Richmond upon Thames), was previously located in the county of Middlesex until 1965, and Samwell-Smith was born long before the county change to London. Part of Twickenham is in the county of Surrey, but again Samwell-Smith was born long before the change of counties, so each of those last two listed places of birth are false. Unfortunately, there are no credible sources for either London or Richmond for Mr. Samwell-Smith.)
1944: Bill Legend, drummer of T. Rex, was born in Barking, Essex, England. (Note: Legend says on his official website that he was born in London. He must not know what his official birth certificate says, for in the book 'Bolan: The Rise And Fall Of A 20th Century Superstar' by Mark Paytress, it says that Legend was born in Barking and lived in London.)
1944: Gary Glitter ("Rock And Roll, Part 2"), whose real name is Paul Gadd, was born in Banbury, Oxfordshire, England. Glitter pleaded guilty in 1997 to 54 counts of making indecent photographs of children under 16 available on the Internet. After being released in jail, he fled to Vietnam, where he was then convicted of molesting girls aged 11 and 12. The wierdo earns royalties every time the sports team that you support plays his song.
1951: Chris Frantz, founding member and drummer of the Talking Heads, and also a producer, was born in Fort Campbell, Kentucky.
1951: Phillip Bailey with Earth, Wind & Fire was born in Denver, Colorado.
1953: Billy Burnette, son of Dorsey and a singer and guitarist with Fleetwood Mac, was born in Memphis, Tennessee.
1953: Alex Van Halen, drummer for the group Van Halen, was born in Amsterdam, the Netherlands.
1972: Darren Hayes, singer-songwriter with Savage Garden, was born in Brisbane, Queensland, Australia.
1975: Enrique Iglesias was born in Madrid, Spain.
1978: Ana Maria Lombo of Eden's Crush was born in Medellin, Columbia.