We began on May 1 with this summer feature on Inside the Rock Era. One by one, we have discussed and saluted each of The Top 100 Albums of All-Time in the Rock Era*.
We've already heard from Billy Joel--he was at #72 with 52nd Street and at #54 with An Innocent Man, and now here he is with the #21 Album of All-Time*. The Stranger was essentially the album that put Billy Joel on the map. He had attracted more and more fans since beginning, but up until this album, he was known as "The Piano Man" after his one and only big hit. Finally, Joel was able to follow that up in a big way with his fifth studio album three years later.
The album did not reach #1, but it spent six weeks at #2. The only reason it didn't get to #1 was because it couldn't beat out the Soundtrack to "Saturday Night Fever", but then no one else could either. The Stranger spent 17 weeks in the Top 10 and an impressive 137 weeks on the chart (over 2 1/2 years). To date, the album has sold over 10 million copies and has an outstanding Track Record* of 9.25.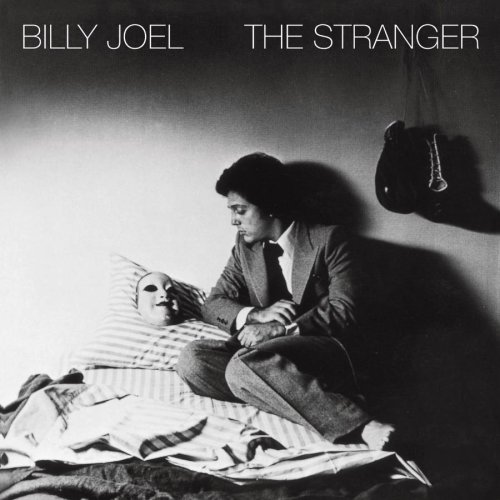 "Just the Way You Are" reached #3 for two weeks, although it was a #1 song at most radio stations in America. It still ranks as one of Joel's top career songs. Billy followed up that with three other singles--"Movin' Out", "Only the Good Die Young" and "She's Always a Woman", although none hit the Top 10. But as the Track Record* shows, there's some great songs on the album that were not singles. "Scenes From an Italian Restaurant" and "The Stranger" are two of The Top Unknown/Underrated Songs of the Rock Era*. Joel had whistled the opening in "The Stranger" to producer Phil Ramone, saying "I need to find an instrument to play that." "No you don't," said Ramone. "That's 'The Stranger' whistling. And so it became. "Vienna" and "Get It Right the First Time" are other quality tracks. In fact, most of the nine songs on the album are still played today.
"Just the Way You Are" won Grammy Awards for both Record of the Year and Song of the Year. "Movin' Out later became the title song for a Broadway musical based on the music of Billy Joel. Joel was nominated for Favorite Male Artist at the American Music Awards.


The Stranger:
(All songs by Billy Joel)
Side one
1. "Movin' Out (Anthony's Song)" --3:30
2. "The Stranger" --5:10
3. "Just the Way You Are" --4:52
4. "Scenes from an Italian Restaurant" --7:37

Side two
1. "Vienna" --3:34
2. "Only the Good Die Young" --3:55
3. "She's Always a Woman" --3:21
4. "Get It Right the First Time" --3:57
5. "Everybody Has a Dream/The Stranger (Reprise)" --6:38
Joel played acoustic piano, electric keyboards and synthesizers on the album. Doug Stegmeyer played bass, Liberty DeVitto was on drums, Richie Cannata played tenor and soprano saxophones, clarinet, flute, organ and tuba, Steve Khan played six and twelve string electric guitars, acoustic rhythm and high string guitar, Hiram Bullock contributed electric guitar work and Patrick Williams was in charge of orchestration. Ralph MacDonald played percussion, Hugh McCracklen and Steve Burgh played acoustic guitar, Phil Woods played the alto sax on "Just the Way You Are", Dominic Cortese played accordion on "Scenes from an Italian Restaurant" and "Vienna" and Richard Tee played organ on "Everybody Has a Dream". Phoebe Snow, Patti Austin, Lani Groves and Gwen Guthrie sang backup on "Everybody Has a Dream".
The Stranger was recorded and mixed at A&R Recording in New York City. Phil Ramone was the producer; Ramone and Phil Boyer were the engineers. The album was released September 29, 1977 on Columbia Records.
The Stranger places at #21 for the Rock Era, from Billy Joel.