1956: The Platters sang "Only You" on The Ed Sullivan Show.
1957: Frankie Lymon left his group the Teenagers for a solo career.
1957: Buddy Holly & the Crickets debuted on the singles chart with their first hit record--"That'll Be the Day".
1958: The Crests recorded "16 Candles".
1960: Pete Best became the new drummer for the Silver Beatles.
1963: The Crystals released their hit "Then He Kissed Me".
1966: John Lennon held a press conference in Chicago, Illinois to apologize for his recent remark that "the Beatles were more popular than Jesus."
1966: The Beatles, Ronettes and Bobby Hebb performed at the International

Amphitheatre in Chicago, Illinois. It was the beginning of what would turn out to be the final U.S. tour for the Beatles.
1967: Fleetwood Mac made their live debut at the Windsor Jazz & Blues Festival in Britain. Donovan and Pink Floyd also performed.
1967: Jimmy Hendrix performed at the Ambassador Theater in Washington, D.C.
1967: The Supremes sang "Reflections" on American Bandstand.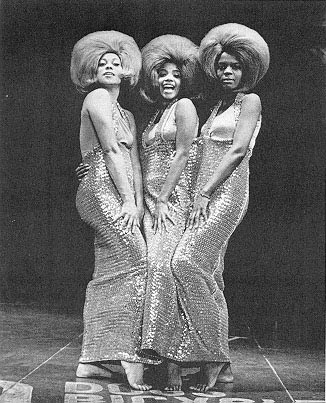 1967: "Reflections was the highest-debuting song of the week, giving the Supremes their 21st career hit.
1967: Bobbie Gentry moved from #71 to #21 on this date with "Ode to Billie Joe".
Procol Harum's best--
1967: The Doors spent a third week at #1 with "Light My Fire". The Beatles challenged with "All You Need Is Love" but Stevie Wonder was on his way down with "I Was Made to Love Her". The Monkees had another big hit--"Pleasant Valley Sunday", which climbed from #9 to #4. The rest of the Top 10: "Mercy, Mercy, Mercy" by the Buckinghams, Frankie Valli remained at 6 with "Can't Take My Eyes Off You", Procol Harum fell with "A Whiter Shade of Pale", the Association was still in the Top 10 after 12 weeks with "Windy", the Hollies scored their third Top 10 with "Carrie-Anne" and the Young Rascals climbed in with "A Girl Like You".
1967:
Sgt. Pepper's Lonely Hearts Club Band
by the Beatles had only been out eight weeks, but seven of those were at #1.
Headquarters
from the Monkees remained at 2 while
Flowers
by the Rolling Stones locked up position #3.
1968: The four members of Led Zeppelin played together for he first time at a studio rehearsal on Lisle Street in London's West End. The quartet's first song was "Train Kept-A-Rollin'".
1968: Deep Purple released the single "Hush".
1968: Big Brother & the Holding Company released the album Cheap Thrills.
1969: Blind Faith made their live debut at Madison Square Garden in New York City.
1970: Derek & the Dominoes played at the Speakeasy in London.
1970: Janis Joplin performed for the final time at Harvard University in Cambridge, Massachusetts.
1970: Free released the single "All Right Now".
1970: Fleetwood Mac played the first of five nights at the famous Whisky-A-Go-Go on Sunset Strip in Los Angeles.
1972: Jim Croce appeared on "American Bandstand".
1972: The Festival of Hope, with Jefferson Airplane and James Brown performing, became the first rock festival to raise funds for an established charity.
1972: Alice Cooper had the #1 U.K. song with "School's Out".
1972: The great Al Green landed himself a #1 R&B song with "I'm Still in Love with You".
1972: Gilbert O'Sullivan remained on top for a third week with "Alone Again (Naturally)". Looking Glass held steady at #2 for the third week with "Brandy (You're a Fine Girl)".
1973: What an incredible show this was. The Eagles, Joni Mitchell and Neil Young in the same night at the Corral Club in Topanga, California.
1974: Olivia Newton-John released the single that would jump-start her career--"I Honestly Love You".
1974: A new British band released its first single on this date--Bad Company sent "Can't Get Enough" to radio stations.
1978: Toby Beau reached #1 on the Adult Contemporary chart with "My Angel Baby".
1978: The Little River Band had the fastest-rising song as "Reminiscing" moved from 56 to 34.
1978: "Three Times a Lady" was the new #1 on the R&B chart for the Commodores.
1978: The Commodores registered their first #1 song with "Three Times a Lady". "Grease" by Frankie Valli and "Last Dance" from Donna Summer each moved up one to fill the void left when "Miss You" by the Rolling Stones dropped to #4. Foreigner was up to 5 with "Hot Blooded". The rest of the Top 10: A Taste of Honey raced up from #17 with "Boogie Oogie Oogie", Pablo Cruise had song #7--"Love Will Find a Way", Barry Manilow enjoyed his 12th hit and 8th Top 10 song with "Copacabana (At the Copa)", Walter Egan reached the Top 10 with "Magnet and Steel" and Andy Gibb climbed from 16-10 with "An Everlasting Love".
1981: Christopher Cross released the single "Arthur's Theme".
1982: Joe Tex ("I Gotcha'" from 1972) was born in Baytown, Texas; died of a heart attack at the age of 49.
1984: Lionel Richie closed the Los Angeles Olympic Summer Games by singing "All Night Long".
1985: Madonna released the single "Dress You Up".
1985: Whitney Houston released her single "Saving All My Love For You".
1985: Syu Sakamoto was killed in a plane crash when his flight, JAL #123 (a 747 jet), crashed on a mountain about 60 miles northwest of Tokyo. Sakamoto was the first Japanese artist to reach #1 in the United States with "Sukiyaki". He was 43.
1986: Paul Simon released his amazing album Graceland.
1987: Heart released the single "Who Will You Run To".
1987: John Mellencamp released the single "Paper in Fire".
1989: The Rolling Stones played a secret club concert at Toad's Place in New Haven, Connecticut.
1989: Bon Jovi, Motley Crue, the Scorpions, Ozzy Osbourne and Skid Row performed at the two-day Moscow Music Peace Festival at Lenin Stadium in Moscow, Russia. This was the first concert in which the audience was allowed to stand up and dance.
1989: Prince owned the top R&B song with "Batdance".
1989: Richard Marx stepped up to #1 with "Right Here Waiting".
1991: Bryan Adams had a firm hold on #1 in the U.K. with "(Everything I Do) I Do It For You".
1992: Don Henley & Patty Smyth released the single "Sometimes Love Just Ain't Enough".
1992: The Grateful Dead canceled five shows so Jerry Garcia could recover from exhaustion.
1993: Jesse Tobias replaced guitarist Arik Marshall in the Red Hot Chili Peppers.
1995: Michael Stipe of R.E.M. had an operation for a hernia.
1995: A mass wake was held for Jerry Garcia of the Grateful Dead at Golden Gate Park in San Francisco, California.
1995: TLC dominated again with "Waterfalls" at #1 for the sixth week. Seal was going to make it interesting, though, with his new song "Kiss From a Rose", which was up to #2.
1996: Alanis Morissette was in concert at the Darien Lake Performing Arts Center in Buffalo, New York. Radiohead opened for her.
1996: Celine Dion released her single "It's All Coming Back to Me Now".
1996: The Spice Girls mined gold when their first release "Wannabe" reached #1.
1998: Scott Weiland of the Stone Temple Pilots plead guilty to felony heroin possession.
2000: Robbie Williams scored a #1 song in the U.K. with "Rock DJ".
2001: Alicia Keys had the #1 song with the great "Fallin'".
2006: LeToya had the # album with LeToya.
2007: Cary, North Carolina proclaimed the date "Chicago" day in honor of the great group from the windy city.
2010: Carl Perkins was inducted into the Memphis Beale Street Hall of Fame posthumously.
Born This Day:
1926: Joe Jones ("You Talk Too Much" from 1960) was born in New Orleans, Louisiana; died after quadruple bypass surgery on November 27, 2005.
1949: Mark Knopfler, guitarist, singer and founder of Dire Straits, was born in Glasgow, Scotland.
1950: Kid Creole (Thomas August Darnell Browder) was born in The Bronx, New York.
1953: Jerry Speiser, a founding member of Men at Work
1958: Jurgen Dehmel, bassist and songwriter of Nena ("99 Luftballoons") was born in Berlin, Germany.
1961: Roy Hay of Culture Club was born in Southend, England.
1963: Sir Mix-A-Lot was born in Seattle, Washington