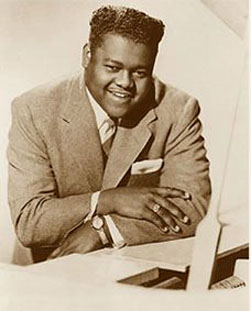 1956: "I'm In Love Again" from Fats Domino was #1 on the R&B chart for a ninth week.
1958: "Yakety Yak" by the Coasters maintained the #1 position for a seventh week on the R&B chart.
1962: The Beatles played at the Regent Dansette in Rhyl, Wales.
1962: "Roses Are Red" by Bobby Vinton edged up to #1.
1964: The Rolling Stones topped the U.K. chart with "It's All Over Now".
1965: Herman's Hermits appeared on the television show Where the Action Is.
1967: The Who opened for Herman's Hermits on the Who's first American tour, performing at the Memorial Coliseum in Portland, Oregon on this date.
1969: The Archies released the single "Sugar, Sugar" on Don Kirshner's label after the initial release on Calendar Records failed to chart.
1969: Bob Dylan showed up to perform with The Band at the Mississippi River Rock Festival.
1971: The Byrds and James Taylor headlined the U.K. Lincoln Folk Festival.
1972: The Eagles performed at the Warehouse in New Orleans, Louisiana on their first tour.
1973: The Everly Brothers announced their breakup during a concert at Knott's Berry Farm in Buena Park, California.
1973: The Carpenters had the #1 Adult Contemporary song for a second week with "Yesterday Once More".
1973: Billy Preston continued to hold on to #1 with "Will it Go 'Round In Circles" and Paul Simon peaked at 2 with "Kodachrome". Jim Croce was moving up with "Bad, Bad Leroy Brown" and Three Dog Night was up to 4 with "Shambala". The rest of the Top 10: George Harrison was on his way down with the former #1 "Give Me Love (Give Me Peace On Earth)", the Carpenters had the #6 song--"Yesterday Once More", Clint Homes placed "Playground In My Mind" at #7, Deep Purple debuted in the Top 10 with "Smoke On The Water", Paul McCartney & Wings were at 9 with their former #1 "My Love" and Dr. John closed out the list with "Right Place Wrong Time".
1979: "Lead Me On" by Maxine Nightingale was #1 on the Adult Contemporary chart for a second week.
1979: Donna Summer had her fifth Top Five song in a row and this time, she reached the top with "Bad Girls". Anita Ward's worthless "Ring My Bell" was #2 followed by Summer's first hit from the album--"Hot Stuff" at #3. "Chuck E.'s In Love" by Rickie Lee Jones was #4 with Kenny Rogers holding steady at #5 with "She Believes In Me". The rest of the Top 10: "Boogie Wonderland" from Earth, Wind & Fire with the Emotions, TV star David Naughton's "Makin' It" at #7, Cheap Trick with "I Want You to Want Me", ELO with their 16th hit "Shine A Little Love" and John Stewart mined a Top 10 song with "Gold".
1980: Allen Klein, former manager of both the Beatles and Rolling Stones, served two months of jail time for cheating on his tax return.
1980: Bryan Ferry collapsed in his hotel room in France and was flown back to London after suffering from a kidney infection.
1982: The movie Pink Floyd's the Wall debuted at the Empire Theatre in London's Leicester Square.
1982: Van Halen began their American tour at the Augusta/Richmond County Civic Center in Augusta, Georgia.
1984: Elite guitarist Eddie Van Halen joined Michael Jackson on stage for a performance of "Beat It" during the Jacksons' Victory Tour in Dallas, Texas. Some websites report the event occurred on July 13. (The Jacksons played in Dallas from July 13-15, and according to the book 'Michael Jackson: A Visual Documentary 1958-2009: The Tribute Edition' by Adrian Grant and the magazine 'Guitar World', the event occurred on the second night (July 14), not the first.)
1984: Philippe Wynne, former lead singer of the Spinners, died of a heart attack at age 43 while singing in Oakland, California.
1984: "Ghostbusters" from Ray Parker, Jr. moved from #19 to #8 on this date.
1987: Steve Miller was awarded a star on the Hollywood Walk o
f Fame.
1988: Michael Jackson performed the first of seven sold-out shows at Wembley Stadium in London.
1990
: The Go-Go's rejoined to record a new album, go on tour, write a book and star in a movie. (Note: some websites report the reunion took place in 2000. According to Jane Wiedlin of the group, the Go-Go's reunited in 1990. By the way, at last report, the group is still together.)
1992: Aretha Franklin sang the U.S. National Anthem at the Democratic National Convention in New York City.
1992: Olivia Newton-John announced that she had breast cancer. Thankfully, she has made it through so far and best wishes for many more happy years.
1998: Arista Records boss Clive Davis organized a party in New York City's Central Park to celebrate triple platinum status for Sarah McLachlan's album Surfacing
.
2001: The Eagles were in concert in Lucca, Italy.
2002: Gareth Gates had the #1 U.K. song with "Anyone Of Us".
2002: The Red Hot Chili Peppers were on top of the Album chart in the U.K. with By the Way.
2004: Natalie Maines of the Dixie Chicks gave birth to her second child, a boy named Beckett.
2005: Joe Harnell, who recorded The #79 Instrumental of the Rock Era* ("Fly Me To The Moon") died of heart failure at the age of 80. (Note: some websites report Harnell died of liver failure. According to the newspaper 'The New York Times', he died of heart failure.)
2007: A pair of glasses worn by John Lennon during the 1966 tour of Japan attracted a price of 750,000 pounds for an online auction.
2009: Shirley Jones, formerly with the Partridge Family, appeared on an episode of The Cleaner on HBO-TV.
2009: Fans from all over the world gathered at London's O2 Arena, where Michael Jackson's concerts would have been held had he lived. Jackson died June 25.
2010: Bono, lead singer of U2, announced that he had fully recovered from emergency back surgery back in May.
2010: It was announced that Bob Geldof's global Live Aid concert was being made into a movie called When Harvey Met Bob.
Born This Day:
1948: Tommy Mottola, record executive with Columbia, was born in the Bronx, New York; married Mariah Carey in 1993, divorced in 1997.
1952: Bob Casale, guitarist, keyboardist and singer with Devo, brother of Devo bassist Gerald Casale, and a sound engineer (for Andy Summers), was born in Kent, Ohio; died of heart failure in Los Angeles on February 17, 2014.
1952: Chris Cross, bassist with Ultravox, was born in Tottenham, London, England.
1965: Igor Khoroshev, keyboard player of Yes from 1997-2001, was born in Moscow, Russia.
1966: Ellen Reid, keyboardist and vocalist of the Crash Test Dummies, was born in Selkirk, Manitoba, Canada.
1971: Nick McCabe, guitarist with the Verve, was born in Haydock, Lancashire, England. (Note: 'Allmusic.com' and other websites claim McCabe was born in St. Helens, Lancashire, England. According to the official website for the Verve, Nick was born in Haydock. Haydock is a village within the borough of St. Helens. Some websites report that McCabe was born in the county of Merseyside. Haydock did not become part of Merseyside until 1974--when McCabe was born in 1971, Haydock was part of the county of Lancashire.)
1975: Taboo (real name

Jaime Luis Gómez)

of the Black-Eyed Peas was born in Los Angeles.
1975: Tameka Cottle, singer-songwriter of Xscape, was born in College Park, Georgia.
1978: Ruben Studdard was born in Birmingham, Alabama. (Note: some websites claim Studdard was born in Frankfurt am Maim, West Germany. According to the newspaper 'The New York Times', Ruben was born in Birmingham.)