Beginning on May 1, Inside the Rock Era began counting down The Top 100 Albums of All-Time in the Rock Era*, releasing and telling the story of one album per day. To recap the Top 10, AC/DC got us off to a thunderous start with Back in Black, Pink Floyd mellowed things out with The Dark Side of the Moon, the Beatles are at #8 with Sgt. Pepper's Lonely Hearts Club Band, #7 is the brilliant Tapestry from Carole King, Alanis Morissette has #6 with Jagged Little Pill, Led Zeppelin came in a solid #5 with IV and Stevie Wonder's masterpiece Songs in the Key of Life is #4.
This album represented the beginning for Boston in 1976, an album that smashed a bunch of records including the highest-selling debut album in history at the time. Guns 'N' Roses eclipsed the mark years later. The group could never come close to matching the high standard they had set for themselves, but the meticulous attention to detail that would later hurt their success was tailor made for a debut album.
Group leader and perfectionist (to a fault) Tom Scholz originally formed a group but didn't like the live sound so he just as quickly disbanded them. He did record some home demos with lead singer Brad Delp and drummer Jim Masdea and shopped them around. Label after label turned them down for the music on this album until finally, Epic Records said they were interested. This should tell you something about the foresight of record companies from the mid-70's, an unfortunate deterioration that exists even more today. When Scholz refused to come to Epic to record the tracks on professional equipment, Epic producer John Boylan had to bring in members of the band to make "fake recordings" at Epic so the top brass would think the band was recording the album there instead of at Scholz's home. To say that Scholz had his own vision of what the album should sound like is putting it mildly. Lead and rhythm guitarist Barry Boudreau and bassist Fran Sheehan appear on only two tracks on the album ("Foreplay/Long Time" and "Let Me Take You Home Tonight").
The album reached #3 for six weeks but hung around the Top 10 long enough to log 27 weeks there, and it stayed on the album chart for 132 weeks (nearly 2 1/2 years). Boston became the quickest debut album to a million in sales (platinum), achieving the feat in a mere three months. The album reached 10 million in 1990. To date the album has sold 17 million copies and continues to sell extremely week for a 35-year-old album.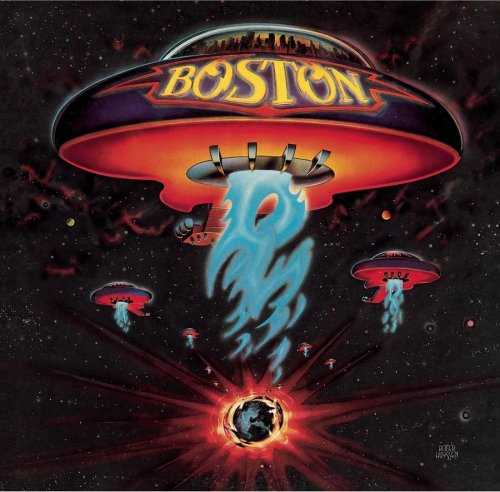 The best thing the album has going for it is its Track Rating* of 9.53. This is one of the highest in the Top 100*--what it means is that the album is extremely consistent. In other words, there is not much drop-off from the singles ("More Than a Feeling", "Peace of Mind" and Long Time") to the other tracks on the album. "Smokin'", in fact, is one of The Top Unknown/Underrated Songs of the Rock Era* and the other tracks--"Let Me Take You Home Tonight", "Hitch a Ride", "Rock & Roll Band" and "Something About You" are outstanding. You would expect that from the #3 album of All-Time*. And, since "Peace of Mind" and "Long Time" did not make the Top 10, obviously they are also at the head of The Top Underrated Songs of the Rock Era*, but that is more due to the ineptitude of radio station music directors at the time than to the quality of the songs for time has proven the few radio stations that did not play them incredibly wrong. It is one of the ultimate "track-through" albums you will ever hear. To this day, all eight tracks continue to be played on radio, making it the most-played album of all-time in terms of airtime.
Choosing to select the three singles for Side One meant that first side was a grand slam home run; many radio stations will play that entire side without interruption. By the way, if a radio station plays the short version of "Long Time" (without the prelude "Foreplay"), you should sue them. I'm being facetious, but I would at least recommend that you stop listening to that station. It's a given that the entire version should be played or not at all.
Boston was nominated for Best New Artist at the Grammys and the album was nominated for Best International Album at the Juno Awards.
Boston:
(All songs written by Tom Scholz unless otherwise noted.)
Side one
1. "More Than a Feeling" --4:44
2. "Peace of Mind" --4:55
3. "Foreplay/Long Time" --7:56
Side two
1. "Rock & Roll Band" --2:59
2. "Smokin'" (Tom Scholz, Brad Delp) --4:44
3. "Hitch a Ride" --3:18
4. "Something About You" --4:19
5. "Let Me Take You Home Tonight" (Delp) --4:12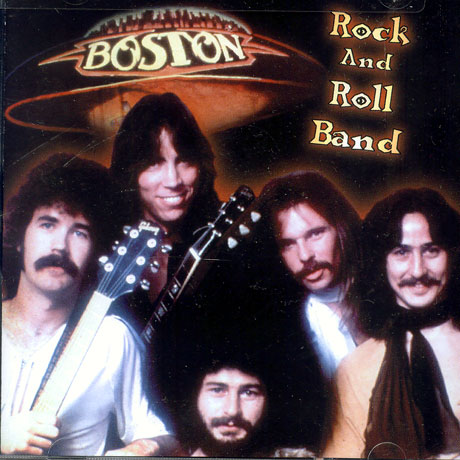 The band that made this historic album was: Tom Scholz on electric guitars, acoustic guitars, clavinet, organ and bass guitar, lead singer Brad Delp on acoustic guitar and Sib Hashian on drums. Jim Masdea played drums on "Rock & Roll Band" and as mentioned, Barry Goudreau and Fran Sheehan played on "Foreplay/Long Time" and "Let Me Take You Home Tonight".
Boston was recorded from October of 1975 to April of 1976 at Foxglove Studios in Watertown, Massachusetts (Scholz's home), Capitol Studios in Hollywood, California and The Record Plant in Los Angeles. Scholz and Delp engineered and produced the album although John BoylanScholz remastered the album for CD and his expertise with the new technical equipment has won high praise from critics and fans of Boston. Paul Ahern and Charles McKenzie directed the album, Jeff Albertson and Ron Pownall provided photography and Roger Huyssen illustrated the cover. The landmark album was released August 8, 1976 on Epic Records.
Boston has been elevated to #3 All-Time* with their historic debut, Boston.