We are featuring the Top 100 Albums of All-Time in the Rock Era, examining and discussing one per day. We are up to #72.
52nd Street is the sixth studio album from Billy Joel. It was the first album to be released on CD. Personally, I would not rank this album near the Top 100 but, through sales, airplay and awards, America has. I like Billy Joel; he has had several great albums. IMHO, this is a good album, but not a great one.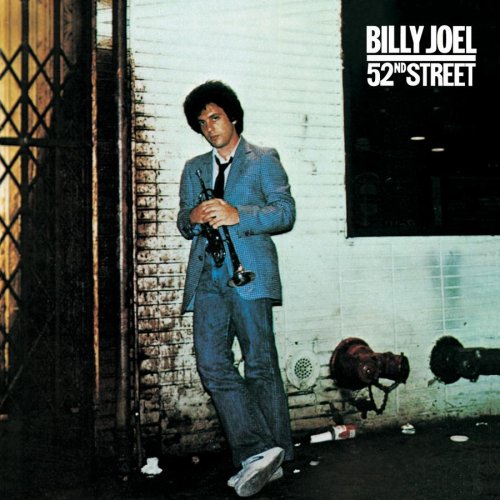 Three hit singles, led by "My Life" generated airplay and sales for the album. "Big Shot" and "Honesty" were the other single releases. "Stiletto" and "Rosalinda's Eyes" are other quality tracks on the album.
If you were following at the time, you had a pretty good idea the album was for real when it moved from 17 to 5 in its third week of release (November 11, 1978). It leapfrogged four other albums, including Foreigner's Double Vision, to garner its first week at #1 the following week. 52nd Street
stayed at #1 for 8 weeks, and spent 21 weeks in the Top Ten and 76 on the chart. To date, it has sold 7 million copies and has a Track Rating* of 8.83. The album was honored at the Grammy Awards with Album of the Year and Best Vocal Performance, Male.
52nd Street:
(All songs by Billy Joel.)
1. "Big Shot" --4:03
2. "Honesty" --3:53
3. "My Life" --4:44
4. "Zanzibar" --5:13
5. "Stiletto" --4:42
6. "Rosalinda's Eyes" --4:41
7. "Half a Mile Away" --4:08
8. "Until the Night" --6:35
9. "52nd Street" --2:27
Billy Joel plays piano with Doug Stegmeyer playing bass, Steve Khan on electric and acoustic guitar, Richie Cannata on saxophones, organ and clarinet and Liberty DeVitto on drums. Additional musicians include Freddie Hubbard, who played flugelhorn and trumpet on "Zanzibar", Mike Mainieri, vibes and marimba on both "Zanzibar" and "Rosalinda's Eyes", David Spinozza on acoustic guitar for "Honesty", David Spinozza played acoustical guitar on "Honesty" and Peter Cetera and Donnie Dacus sang backup on "My Life".
David Friedman played orchestral chimes and percussion on "Until the Night", Ralph MacDonald played percussion on "Half a Mile Away" and "Rosalinda's Eyes", Eric Gale played electric guitar on "Half a Mile Away, Frank Floyd, Babi Floyd, Zack Sanders, Milt Grayson and Ray Simpson sang backing vocals on "Half a Mile Away", Gorge Marge played soprano recorder on "Rosalinda's Eyes", Hugh McCracken played nylon string guitar on "Until the Night" and "Rosalinda's Eyes and Dave Grusin was in charge of horn orchestration on "Half a Mile Away".
The album was recorded in July and August of 1978 at A&R Recording on 52nd Street in New York City. Phil Ramone produced it in association with Home Run and Jim Boyer was the Engineer. 52nd Street was mastered at Sterling Sound in New York City. Jim Houghton was the photographer; cover design by John Berg. The album was released October 13, 1978 on Columbia Records.
Here at #72 for All-Time--52nd Street.