70 albums remain in the countdown of The Top 100 Albums of All-Time in the Rock Era*.
Checking in at #70, Journey. Journey was a solid group through the 70's--Neil Schon is regarded as one of the best guitarists of all-time and Steve Perry was always a great rock vocalist. But when they added Jonathan Cain from the Babys in 1980, Journey had arguably the most talented group in the world. Not only did they have the great musicianship and vocals, but Cain also added significant songwriting talent. They took full advantage on this album and put together the top studio album of their careers, Escape.
The album features three smash hits--"Open Arms", Don't Stop Believin'" (featuring Cain's keyboard work) and "Who's Crying Now". "Still They Ride" was another single and "Stone in Love" also received significant airplay. Those tracks kept the album front and center on listeners' minds and the album reached #1 on September 12, 1981.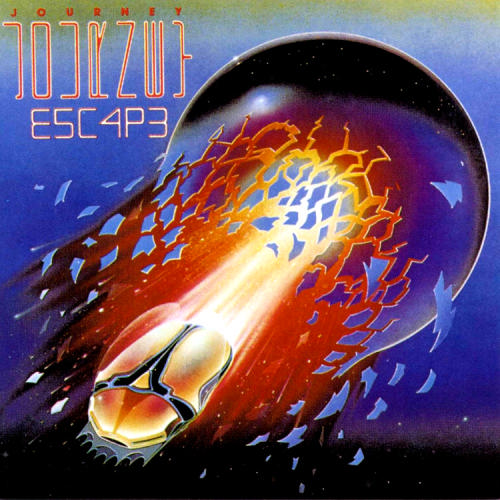 If you've kept track of the Top 100 Albums of All-Time* so far, you know that might not be good enough to make the list. So you start looking at what it did to reach #1 and what it did after it left #1 and you see here that Escape did fantastic against quality competition. It jumped over solid albums from Stevie Nicks (Bella Donna) and Foreigner (4). After it was knocked out of the #1 position, Escape then spent 12 weeks at #2, 6 at #3 and 37 in the Top 10. In fact, after initially falling to #4 four weeks later, the album picked up a second wind and rose to #2 for four weeks. Escape did not leave the album chart until 146 weeks were up, or just short of three years. Solid airplay plus a good album (8.9 Track Rating*) usually equals good sales and that's the case here. Escape has sold 9 million copies thus far. has thus far sold 9 million copies.
Escape:
1. "Don't Stop Believin'" (Jonathan Cain, Steve Perry and Neil Schon) --4:11
2. "Stone in Love" (Cain, Perry, Schon) --4:26
3. "Who's Crying Now" (Cain, Perry) --5:01
4. "Keep on Runnin'" (Cain, Perry Schon) --3:40
5. "Still They Ride" (Cain, Perry, Schon) --3:50
6. "Escape" (Cain, Perry, Schon) --5:17
7. "Lay It Down" (Cain, Perry, Schon) --4:13
8. "Dead or Alive" (Cain, Perry, Schon) --3:21
9. "Mother, Father" (Matt Schon, N. Schon, Cain, Perry) --5:29
10. "Open Arms" (Cain, Perry) --3:23
The Journey lineup for Escape was: Lead vocalist Steve Perry, Neal Schon on guitar and vocals, Ross Valory on bass and vocals, Jonathan Cain on keyboards, piano, guitar and vocals and Steve Smith on drums and percussion.
Escape was recorded at Fantasy Studios in Berkeley, California in the spring and summer of 1981. Kevin Elson and Mike Stone combined to produce the album while Wally Buck was the Engineer. Bob Ludwig mastered it, Stanley Mouse provided illustrations and Jim Welch was in charge of photography. It was released July 31, 1981 on Columbia Records.
Journey's next in the Top 100 Albums of All-Time with Escape.