1959: The Fleetwoods had the #1 song with "Come Softly To Me".
1962: The Beatles began performing at the Star Club in Hamburg, Germany, the city's newest rock & roll venue. The band would play 3-4 hours a night for 48 days with one day off.
1963: Andy Williams grabbed the #1 spot on the Easy Listening chart with "Can't Get Used To Losing You".
1963: The Chiffons spent their third of four weeks at #1 with "He's So Fine". Ruby & the Romantics were at #2 with "Our Day Will Come". The rest of the Top Five--"The End Of The World" by Skeeter Davis remained at #3, the Orlons had #4 with "South Street" and Andy Williams shot up from 18 to 5 with "Can't Get Used To Losing You".
1964: Dionne Warwick released the single "Walk On By".
1964: Bobby Darin was nominated for but did not win Best Supporting Actor at the Academy Awards for Captain Newman, M.D.
1965: The Beatles recorded "Help!" at EMI Studios in London.
Getz & Gilberto were awarded Record of the Year...
1965: Roger Miller won five awards at the Grammy Awards at the Beverly Hilton Hotel in Beverly Hills, California. Stan Getz and Joao Gilberto captured Record of the Year ("The Girl From Ipanema") and Album of the Year (Getz/Gilberto). The Beatles took home the awards for Best New Artist and Best Performance by a Group for "A Hard Day's Night". (Note: some websites mistakenly put the date as February 13. The correct date, according to the official Grammy website, is April 13.)
1966: Without any prior rehearsal, the Beatles began recording "Paperback Writer", developing the song over 6 1/2 hours at EMI Studios in London. Overdubs were completed the following day.)
1967: The Rolling Stones appeared in concert behind the old Iron Curtain with two shows at the Palace of Culture in Warsaw, Poland.
1968: This was one of the best years in music and Bobby Goldsboro's classic "Honey" was one of the reasons why. It moved from 10 to 1 to sit atop the charts on this date. That represents the seventh-biggest jump to #1 in Billboard chart history. "Young Girl" by Gary Puckett and the Union Gap was #2 and the former #1 (Sittin' On) The Dock Of The Bay" by Otis Redding slipped to 3. The remainder of the Top Ten: The Box Tops had #4 with "Cry Like A Baby", Aretha Franklin held down #5 with "(Sweet Sweet Baby) Since You've Been Gone", the Beatles were at 6 with "Lady Madonna", Georgie Fame had #7 with "The Ballad Of Bonnie And Clyde", the Delfonics were at #8 with "La-La-Means I Love You", the Monkees slipped to 9 with "Valleri" and Manfred Mann moved into the top Ten with "The Mighty Quinn (Quinn The Eskimo)".
1968: "Love Is Blue" topped the Adult Contemporary chart for a ninth week in a row.
1969: Diana Ross appeared without the Supremes on the Dinah Shore show Like Hep.
1970: Genesis appeared at Friars in Aylesbury, England.
1970: Led Zeppelin became the first act to sell out the Montreal Forum.
1973: Roger Daltrey, lead singer of the Who, released the solo album Daltrey. (Note: some websites report that the album was released April 20, but according to 'Gold Mine' magazine, it was released April 13.)
1974: Paul McCartney & Wings had the #1 album with Band on the Run. John Denver's Greatest Hits slipped to second with Mike Oldfield's Tubular Bells lining up to take #3. Joni Mitchell was fourth with Court and Spark. The rest of the Top 10: Love Is the Message from MFSB, Elton John was still in the Top 10 with Goodbye Yellow Brick Road, Barbra Streisand's The Way We Were, the Soundtrack to "The Sting" from Marvin Hamlisch moved to #8, the Doobie Brothers cracked the Top 10 with What Were Once Vices Are Now Habits and Burn by Deep Purple was #10.
Redbone was in the Top 10...
1974: Elton John scored another #1 with "Bennie And The Jets" on this date. Blue Swede fell to #2 with "Hooked On A Feeling" after a week at the top. MFSB was at #8 with "TSOP", Sister Janet Mead moved "The Lord's Prayer" to #4, Redbone had #5 with "Come And Get Your Love", John Denver was at 6 with his former #1 "Sunshine On My Shoulders", Gladys Knight & the Pips were at #7 with "Best Thing That Ever Happened To Me", Terry Jacks fell to #8 with his former #1 "Seasons In The Sun", Ringo Starr moved into the top ten with "Oh My My" and Carly Simon & James Taylor had song #10 with "Mockingbird".
1975: The Captain & Tennille released the single "Love Will Keep Us Together".
1979: Donna Summer released the single "Hot Stuff".
1978: The Supremes (without Diana Ross) played the first of three nights at the Palladium in London.
1979: Just five nights into Van Halen's tour, lead singer David Lee Roth collapsed on stage from exhaustion at the Spokane Coliseum.
1980. The play Grease closed on Broadway after 3,388 performances and $8 million in ticket revenue. (Note: several websites report that there were 3,883 performances. Not on Broadway. According to the official website for 'Playbill', 'Grease' played 3,388 times.)
1985: Phil Collins had the top album for a third week with No Jacket Required.
1985: USA for Africa rose to #1 with "We Are The World"--it would stay there for four weeks. The rest of the Top Ten--#2 was "One More Night" by Phil Collins, Madonna at 3 with "Crazy For You", the Commodores without Lionel Richie were at #4 with "Nightshift", Madonna slipped to #5 with "Material Girl", Bruce Springsteen was climbing up with "I'm On Fire", DeBarge had #7 with "Rhythm Of The Night", "Lovergirl" by Teena Marie was #8, Animotion had a fast-rising "Obsession" at #9 and Diana Ross moved into the top ten with "Missing You".
1985: "One More Night" spent one more week at #1 on the Adult Contemporary chart for Phil Collins.
1991: Londonbeat moved into the #1 slot with their great song "I've Been Thinking About You". Wilson Phillips used their harmonies to hold down #2 with "You're In Love". Tara Kemp had song #3 with "Hold You Tight", Amy Grant was moving towards the top with "Baby Baby" and Enigma had "Sadeness Part 1" at #5.
1991: Wilson Phillips spent their third of four weeks at #1 on the Adult Contemporary chart with "You're In Love".
1993: Governor William Weld of Massachusetts declared it "Aerosmith Day".
1994: Billy Joel and Christie Brinkley announced their separation.
1996: Celine Dion remained at #1 for the fourth week with "Because You Loved Me". Mariah Carey had #2 with "Always Be My Baby", Tony Rich Project remained third with "Nobody Knows" and Alanis Morissette moved up with "Ironic".
1996: The album Jagged Little Pill by Alanis Morissette wasn't done in its amazing run on the Album chart. It moved back to #1 for the fourth time and a seventh week.
2000: Gavin Rossdale of Bush collapsed at the end of a show in Los Angeles.
2000: Metallica filed a law suit against Napster, Yale, USC and Indiana University for copyright infringement. (Note: some websites claim the suit was filed April 12, but the correct date is April 13, according to 'Forbes' magazine and the book 'Shawn Fanning: The Founder of Napster' by Renee Ambrosek.)
2001: Midnight Oil backed out of a proposed tour with INXS and Men At Work. (Note: several websites report this occurred on April 18, but the news broke when INXS reported the cancellation on its official website on April 13.)
2003: The Beatles' Apple Corporation was listed as the fastest-growing firm in Britain with a growth rate of 194%.
2005: Switchfoot won four awards, including Artist of the Year, at the Gospel Music Association Awards.
2005: Johnnie Johnson, keyboardist with Chuck Berry died at age 80 in St. Louis, Missouri; he was the inspiration for the standard "Johnny B. Goode".
Born This Day:
1936: Tim Field of the Springfields ("Silver Threads And Golden Needles")
1940: Lester Chambers, lead singer of the Chambers Brothers ("Time Has Come Today" from 1968), was born in Lee County, Mississippi
1942: Bill Conti (the "other" theme from Rocky) was born in Providence, Rhode Island.
1944: Jack Casady, elite bass guitarist of Jefferson Airplane and Hot Tuna, was born in Washington, D.C.
1945: Lowell George, singer-songwriter, multi-instrumentalist and producer of Little Feat, was born in Hollywood, California; died from drugs in Arlington, Virginia June 29, 1979.
1946: Soul g
reat Al
Green was born in Dansby, Arkansas. ('Rolling Stone' magazine says Green was born in Forrest Hills, Arkansas, but according to the book 'Encyclopedia of American Gospel Music' by W.K. McNeil, Al was born in Dansby, a small town near Forrest Hills.)
1951: Max Weinberg, drummer of the E Street Band, was born in Newark, New Jersey. (Note: 'Billboard' magazine reports that Weinberg was born in South Orange, New Jersey, but 'MTV' and Bruce Springsteen say that Weinberg was born in Newark.)
1954: Jimmy Destri, the keyboardist with Blondie, was born in Brooklyn, New York.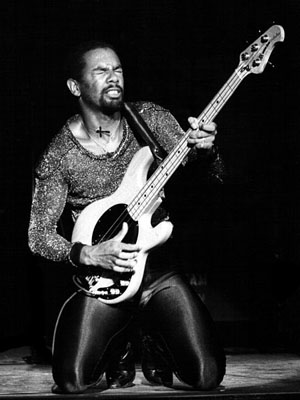 1955: Louis Johnson, bass guitarist of the Brothers Johnson, was born in Los Angeles.
1957: Wayne Lewis, keyboardist of Atlantic Starr ("Always"), was born in White Plains, New York.
1961: Butch Taylor, keyboardist for the Dave Matthews Band, was born in Shawsville, Virginia.
1962: Hillel Slovak, original guitarist for the Red Hot Chili Peppers, was born in Haifa, Israel; died from heroin in Los Angeles on June 25th, 1988.
1966: Marc Ford, lead guitarist of the Black Crowes, was born in Los Angeles.
1972: Aaron Lewis, lead vocalist, founding member and rhythm guitarist with Staind, was born in Rutland, Vermont. (Note: some websites report Lewis was born in Springfield, Vermont. While there are no credible sources for either city, our best research indicates that Lewis was born in Rutland, and later moved to Springfield.)
1975: Lou Bega ("Mambo No. 5" from 1999) was born in Munich, West Germany.