1956: Elvis Presley performed at Randolph High School in Mississippi.
1957: Elvis Presley made his third and final appearance on The Ed Sullivan Show in New York City, singing "Hound Dog", "Don't Be Cruel", "Love Me Tender", "Heartbreak Hotel", "Peace In The Valley", "Too Much" and "When My Blue Heart Turns To Gold Again".
1958: Gibson patented its Flying V electric guitar. Jimi Hendrix, Billy Gibbons of ZZ Top and Marc Bolan of T. Rex are among those who played the Flying V.
1958: Bobby Helms filmed for the movie The Case Against Brooklyn.
1958: Danny & the Juniors moved to #1 on the R&B chart with "At The Hop".
1960: Percy Faith & His Orchestra released "The Theme from 'A Summer Place'".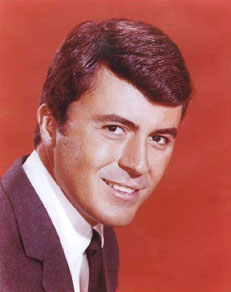 Bobby Vee had another hit with "Run to Him"...
1962: The Tokens once again had the #1 song as "The Lion Sleeps Tonight" resided there for a third week. Chubby Checker's "The Twist", after reaching #1 in 1960, gained new popularity and was now up to #2 again two years later. "Run To Him" from Bobby Vee slipped a bit, Joey Dee & the Starliters had "Peppermint Twist" and Elvis Presley moved up to #5 with yet another big hit--"Can't Help Falling In Love". The rest of the Top 10: "Happy Birthday Sweet Sixteen" from Neil Sedaka, James Darren was down with "Goodbye Cruel World", Leroy Van Dyke dropped with "Walk On By", the Lettermen scored a Top 10 with "When I Fall In Love" and Ray Charles joined the group with "Unchain My Heart".
1964: The Rolling Stones began their first tour as a headline act with two shows at the Grenada Theatre in Harrow on the Hill, England.
1968: Gladys Knight & the Pips collected their sixth week atop the R&B chart with their version of "I Heard It Through The Grapevine".
1968: Magical Mystery Tour moved to #1 on the Album chart for the Beatles, their 11th #1 album in 13 releases. The Rolling Stones were no match with Their Satanic Majesties Request and would have to settle for #2. Just behind them, the Monkees with Pisces, Aquarius, Capricorn & Jones Ltd. and Diana Ross and the Supremes: Greatest Hits, two former #1 LP's. The Beatles also had #5 with Sgt. Pepper's Lonely Hearts Club Band. The rest of the Top 10: The Soundtrack to "Doctor Zhivago", "The Sound of Music" Soundtrack at #7 after 147 weeks, the Mamas & Papas with Farewell to the First Golden Era, Strange Days from the Doors and Love, Andy by Andy Williams.
1971: Neil Young performed at the Queen Elizabeth Theatre in Vancouver, British Columbia, Canada, his first appearance in his homeland since he left in 1965 to join Buffalo Springfield.
1973: Stevie Wonder became the proud owner of the new #1 R&B song--"Superstition".
John Denver's classic helped him land his first Top 10 album.
1973: The Moody Blues dominated the Album chart for a seventh week with Seventh Sojourn. Stanley, Idaho's Carole King was second with Rhymes and Reasons with Jethro Tull (Living in the Past), Al Green (I'm Still In Love with You) and James Taylor (One Man Dog) holding their positions. The rest of the Top 10: Carly Simon moved from 12-6 with her third album No Secrets, Seals & Crofts rode the Summer Breeze to #7, Cat Stevens was on the way down with Catch Bull At Four, Homecoming, the new release from America, moved into the Top 10 and John Denver's Rocky Mountain High was #10.
1973: Listeners loved Lobo, and his new song "Don't Expect Me To Be Your Friend" was one of the hottest songs on the radio, moving from 81 to 54.
Albert Hammond with his biggest career hit...
1973: Carly Simon had the new #1 song--"You're So Vain". Gilbert O'Sullivan would have to settle for #2 with "Clair" as Billy Paul was down with "Me And Mrs. Jones". Stevie Wonder advanced from 16 to 4 with "Superstition" and Donna Fargo's "Funny Face" moved up as well. The rest of the Top 10: Albert Hammond and "It Never Rains In Southern California", Johnny Rivers with his 25th career hit "Rockin' Pneumonia - Boogie Woogie Flu", the new duo Loggins & Messina with "Your Mama Don't Dance", Curtis Mayfield maintained at #9 with "Superfly" and Al Green stopped off at 10 with "You Ought To Be With Me".
1975: Bachman-Turner Overdrive released the single "Roll On Down The Highway".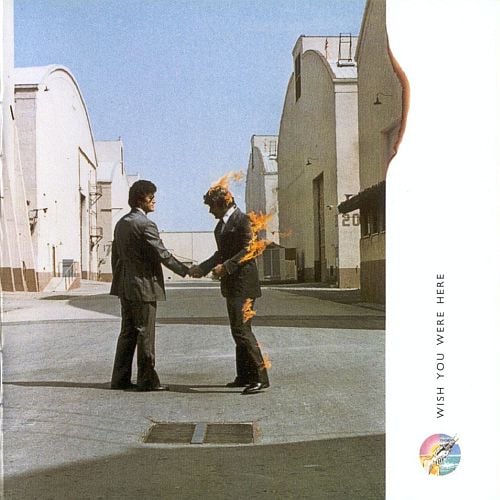 1975: Pink Floyd began recording their tribute album to former lead singer Syd Barrett, Wish You Were Here.
1975: A thousand Led Zeppelin fans apparently didn't want to see the group in concert, as they rioted while waiting for tickets to go on sale at Boston Garden in Massachusetts. They did $30,000 in damages, forcing Boston Mayor Kevin White to cancel the concert.
1976: Peter Frampton released the album Frampton Comes Alive!
"American Popular Song", Neil Diamond's song about what we love...
1979: Barbra Streisand already had a second Greatest Hits package and Barbra Streisand's Greatest Hits, Volume 2 moved to the #1 position on the Album chart. Steve Martin remained second fiddle with A Wild and Crazy Guy while the former #1 52nd Street from Billy Joel was third. Chic and C'est Chic was fixated on #4 with the "Grease" Soundtrack fifth after 34 weeks. The rest of the Top 10: Jazz from Queen, the Blues Brothers were the flavor of the day as Briefcase Full of Blues rose from 70 to 7, The Best of Earth, Wind & Fire, Vol. 1 was #8, Eric Clapton found the Top 10 with Backless and Neil Diamond shot up from 18 to 10 with You Don't Bring Me Flowers.
1979: Al Stewart had a firm grip on the Adult Contemporary chart with a 10th straight week at #1 with "Time Passages".
1979: Helen Reddy also had a hit with this but Barry Manilow's version of "Somewhere In The Night" moved from #57 to #31 on this date.
1979: The red-hot Bee Gees had their fourth straight #1 with "Too Much Heaven", and it could have been five had they released "More Than A Woman" from Saturday Night Fever. After two trips to the top "Le Freak" by Chic fell, and Billy Joel was looming at #3 with "My Life". The former #1 "You Don't Bring Me Flowers" from Barbra Streisand & Neil Diamond was next, followed by newcomer Alicia Bridges and "I Love The Nightlife (Disco 'Round)". The rest of the Top 10: "Sharing The Night Together", one of Dr. Hook's biggest hits, "Y.M.C.A." from the Village People, Toto's first hit "Hold The Line" at #8, Andy Gibb remained at #9 with "(Our Love) Don't Throw It All Away" and Linda Ronstadt scored her sixth Top 10 with her 18th career solo hit "Ooh Baby Baby".
1983: Barry Manilow made it three weeks at #1 on the AC chart with "Read 'Em And Weep".
1986: The Bangles released the single "Manic Monday". (Note: some websites erroneously report the date of release as January 27, the date the song debuted on the charts. As people in the business know, it is physically impossible for a song to be released, added to radio station playlists, be reported to the trade papers, and be printed and published all on the same day.)
1986: INXS released the single "What You Need".
1987: Jody Watley released the single "Looking For A New Love".
1987: Elton John had to cancel all live performances for a year after undergoing throat surgery.
1987: Eric Clapton played the first of six shows at the Royal Albert Hall in London. Clapton has played the Hall more than any other artist in history.
1990: Alanis Morissette spent the day working at a soup kitchen in Ottawa, Ontario, Canada.
1990: Babyface had the top R&B song with "Tender Lover".
1990: Michael Bolton moved to #1 on the Adult Contemporary chart with his version of "How Am I Supposed To Live Without You".
1990: Phil Collins' new album But Seriously... was a good one, so good that it became the new #1 on this date.
1990: Phil Collins remained in the top position with "Another Day In Paradise" for the third week, holding off "Rhythm Nation" from Janet Jackson. Linda Ronstadt and Aaron Neville were on the way down with "Don't Know Much".
TLC with their ninth career hit...
1996: Mariah Carey and Boyz II Men continued to dominate with a sixth week at #1 for "One Sweet Day". Whitney Houston had enjoyed a brief stay at the top with "Exhale (Shoop Shoop)" but remained at #2 for the sixth week. LL Cool J was next with "Hey Lover" while Coolio's great song "Gangsta's Paradise" was still hanging around. TLC remained fifth with "Diggin' On You" while the Beatles moved to #6 with "Free As A Bird". The rest of the Top 10: "Breakfast At Tiffany's" from Deep Blue Something, Mariah Carey's former #1 "Fantasy", Monica was behind her with "Before You Walk Out Of My Life/Like This And Like That" and the Goo Goo Dolls were at #10 with "Name".
2004: Steven Van Zandt, guitarist for the E Street Band, announced he had been hired as a creative consultant for Sirius satellite radio.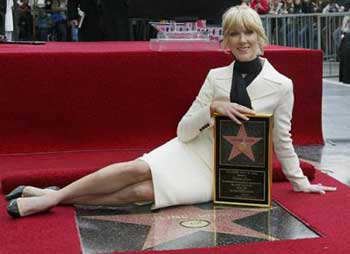 2004: Celine Dion was awarded a star on the Hollywood Walk of Fame.
2005: Aaron Carter escaped danger after his SU
V ca
ught fire while driving to Orlando, Florida.
2005: Ringo Garza, drummer of Los Lonely Boys, was arrested for possession of marijuana in San Angelos, Texas.
2005: Mario owned the #1 song for a third week with "Let Me Love You".
2006: In today's episode of Inmates Run Rap Music, Ms. Dynamite was arrested for assaulting a police officer.
Born This Day:
1924: Earl Scruggs ("The Ballad Of Jed Clampett" for the Beverly Hillbillies and "Foggy Mountain Breakdown" from 1969), an elite banjo player, was born in Scotville, North Carolina, formerly known as Flint Hill; died of natural causes on March 28, 2012 in Nashville, Tennessee (Note: some websites list his birthplace as Shelby, North Carolina, others in Cleveland County, North Carolina. According to the newspaper 'The New York Times', Scruggs was born in Scotville.)
1937: Doris Troy (real name Doris Higgensen), who gave us "Just One Look" from 1963, a song redone by the Hollies and Linda Ronstadt, among others, and who also was a backup singer for Pink Floyd, George Harrison, Carly Simon and Dusty Springfield, was born in the Bronx, New York; died of emphysema in Las Vegas, Nevada February 16, 2004. (Note: some websites spell her real name Higgenson, but it was Higgensen, according to the newspaper 'The Guardian').
1944: Van McCoy, who gave us one of The Top 25 Instrumentals of the Rock Era* ("The Hustle" from 1975), was born in Washington, D.C.; died July 6, 1979 of a heart attack in Englewood, New Jersey. (Note: 'Allmusic.com' and other websites incorrectly report his birth year as 1944; it was 1940, according to 'Billboard', 'The BBC', and the book 'Washington, D.C.: 1963-2006' by Tracey Gold Bennett.)
1946: Syd Barrett, the original lead singer and guitarist of Pink Floyd, was born in Cambridge, England; died July 7, 2006 of pancreatic cancer in Cambridge.
1947: Shirley Brown ("Woman To Woman" from 1974) was born in West Memphis, Arkansas.
1947: Sandy Denny of Fairport Convention was born in Merton Park, England; died April 21, 1978 after falling and hitting her head on concrete in March during a period of heavy alcohol and cocaine use, then falling into a coma April 17. (Note: some websites list her birthplace as London or Wimbledon; according to the newspaper 'The Wimbledon Guardian', Denny was born in a hospital in Merton Park.)
1951: Kim Wilson, vocalist with the Fabulous Thunderbirds, was born in Detroit, Michigan.
1953: Malcolm Young, founding member, songwriter and rhythm guitarist of AC/DC, was born in Glasgow, Scotland.
1959: Kathy Sledge of Sister Sledge ("We Are Family" from 1979) was born in Philadelphia, Pennsylvania.
1959: Neil Simpson, bass guitarist for Climax Blues Band, was born in Stoke-on-Trent, England.
1964: Mark O'Toole, founding member and bassist of Frankie Goes To Hollywood, was born in Liverpool, England.