1955: Elvis Presley performed in Booneville,Virginia.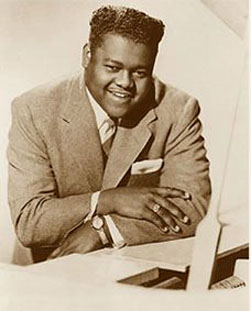 1957: Fats Domino recorded "I'm Walkin'".
1960: Bobby Darin and Connie Francis performed together on The Ed Sullivan Show.
1963: The Beatles began a four-date tour in Scotland at the Two Red Shoes Ballroom in Elgin to promote their debut single "Love Me Do". The tour was to have begun the previous night, but the date was canceled due to a snowstorm. (Note: many websites incorrectly state that the tour began on January 1. The first scheduled date was January 2, and it was canceled, so the tour actually began on January 3.)
1964: The Beatles re-released the single "Please Please Me" in the United States on Vee Jay Records, a little over a week after Capitol finally released their first Beatles song, "I Want To Hold Your Hand".
1964: The Beatles appeared on television in the United States for the first time as a performance of "She Loves You" in Bournemouth, England was shown on
The Jack Paar Show
.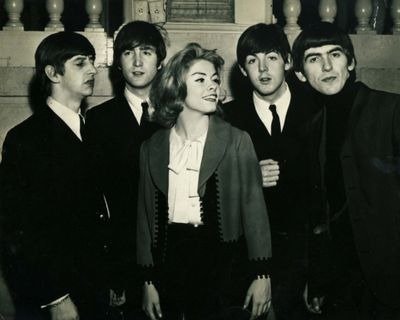 1966: The Beatles appeared on
Hullabaloo
, performing "Day Tripper" and "We Can Work It Out".
1967: Carl Wilson of the Beach Boys refused to be sworn in after receiving a draft notice from the United States Army, saying he was a conscientious objector.
1968: For the fourth consecutive week, Marvin Gaye held on to #1 on the R&B chart with "I Heard It Through The Grapevine".
1970: The Beatles recorded the song "I Me Mine", the final song they recorded together.
1970: Davy Jones, lead singer of the Monkees, announced he was leaving the group, a year after Peter Tork quit.
1969: B.J. Thomas owned the #1 Adult song for a fourth week with "Raindrops Keep Fallin' On My Head".
1970: Thomas moved to #1 overall with "Raindrops Keep Fallin' On My Head" as "Someday We'll Be Together" by Diana Ross & the Supremes slipped to third. Peter, Paul & Mary remained in between those two while CCR's double-sided smash--"Down On The Corner"/'Fortunate Son" was fourth again. Steam's former #1 was still at 5--"(Na Na Hey Hey) Kiss Him Goodbye" while Led Zeppelin reached #6 with "Whole Lotta' Love". The rest of the Top 10: "I Want You Back" from the Jackson 5, the Shocking Blue moved from 19 to 8 in their fourth week of release with "Venus", Neil Diamond was at #9 with "Holly Holy" and Bobby Sherman hopped in with "La La La (If I Had You)".
1974: Bob Dylan and the Band began a tour at Chicago Stadium in Illinois, Dylan's first American tour in eight years. Don't worry--he more than made up for it by doing a tour every year for the next 50. Just funnin', Bob.
1976: Paul Anka continued his comeback by landing the #1 song on the Adult chart with "Times Of Your Life".
1976: Former Temptation David Ruffin scored a #1 R&B solo hit with "Walk Away From Love".
1976: The Bay City Rollers hit #1 with their first single release--"Saturday Night".
"Questions 67 & 68" from Chicago's compilation album...
1976: Chicago IX, the group's greatest hits package, was #1 for a fourth week on the Album chart. The great live album Gratitude from Earth, Wind & Fire remained #2 while History, America's Greatest Hits was #3. Joni Mitchell was a strong #4 with The Hissing of Summer Lawns and Paul Simon was Still Crazy After All These Years.
1979: Although the song didn't appear on the chart until six weeks later, a new wave group released their first single on this date. Blondie released "Heart Of Glass".
1979: The Hype appeared at McGonagils in Dublin, Ireland. We know them better by the name they took on later--U2.
1981: Kool & the Gang were flying high as "Celebration" remained #1 on the R&B chart for the third straight week.
1981: John Lennon remained at #1 with the song released just weeks before his death--"(Just Like) Starting Over".
1983: The Greg Kihn Band released the single "Jeopardy".
1983: The group After the Fire released the single "Der Kommissar".
1984: Huey Lewis & the News released the single "I Want A New Drug".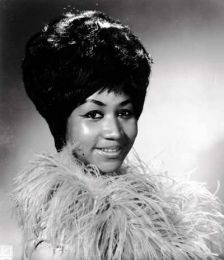 1987: Aretha Franklin was inducted into the Rock and Roll Hall of Fame, the first woman to be so honored. Then when you have the induction of acts like the Beastie Boys and others, it really cheapens Aretha's selection.
1987: Billy Ocean continued to have the #1 Adult Contemporary song with "Love Is Forever".
1987: The Bangles were at their peak with "Walk Like An Egyptian", holding on to #1 for the third week.
1992: Jim Kerr, lead singer of Simple Minds, married Patsy Kensit at the Kensington & Chelsea Registry Office in London.
1992: Whitney Houston was at #1 for the fifth week with "I Will Always Love You".
1995: Byron MacGregor ("The Americans") died from pneumonia in Detroit, Michigan at age 46.
2001: In today's edition of Dangerous Inmates Run Rap Music, Vanilla Ice was arrested and thrown in jail in Broward County, Florida after a fight with his wife. Better just to not be with him in the first place, sweetheart.
2003: Joe Strummer, co-founder, lyricist, rhythm guitarist and lead vocalist of the Clash, was cremated. The funeral procession took his remains by the Elgin pub in West London where the group played some of their early shows.
2012: Bob Weston, guitarist for Fleetwood Mac, Graham Bond and Long John Baldry, died of a gastrointestinal hemorrhage in Barnet, London at the age of 64.
2013: Phil Everly, half of one of the greatest duos in music history as the Everly Brothers, died of chronic obstructive pulmonary disease (a combination of emphysema and bronchitis) in Burbank, California at age 74 after a lifetime of smoking. Phil and brother Don churned out 38 hits, more than any other duo ever, and enjoyed 15 Top 10 hits and four #1 songs.
Born This Day:
1926: George Martin (second from left, above), producer of the Beatles, was born in Holloway, London. (Note: some websites claim Martin was born in Highbury, but according to the newspaper 'The Guardian', the book 'Tune In: The Beatles: All These Years' by Mark Lewisohn, 'MTV', and the magazine 'Salon', George was born in Holloway, London.)
1941: Van Dyke Parks, lyricist on the Beach Boys album Smile, who also wrote, arranged and produced with the Byrds, Ringo Starr, Harry Nilsson, Ry Cooder and Keith Moon, was born in Hattiesburg, Mississippi.
1945: Stephen Stills, vocalist and elite guitarist of Buffalo Springfield and Crosby, Stills & Nash and a solo artist, was born in Dallas, Texas.
1946: John Paul Jones, bassist of Led Zeppelin, who also played on and arranged songs for the Rolling Stones, the Yardbirds and Jeff Beck, was born in Sidcup, Kent, England

.
1955: Helen O'Hara of Dexy's Midnight Runners ("Come On Eileen" from 1983) was born in Bristol, England.
(Note: websites claim she was born on either November 5 or 8 of 1956, but the 'BBC' states she was born on January 3.)